Using your built up home equity can really be to your advantage. Here are our picks for the best cash-out refinance lenders to help you do just that.
Ultimately, your primary residence can be one of your largest assets and can really help you along financially. But that is only if you maximize it to its fullest potential. Taking a cash-out refinance loan can be one of the best ways to do this in a lot of cases.
Choosing the best lender, and product, can be the hardest part of the whole process, though. So we have gone through them and picked the best cash-out refinance lenders for different situations to help make the process easier for you.
What is cash-out refinancing
Cash-out refinancing is one way to tap into the built-up equity in your home. This is when you refinance your home loan, or mortgage, for a higher amount than what you owe on the property. You then have the additional funds at your disposal to with what you like.
A good example of this is:
Your current primary residence is worth $250,000

You only owe $120,000 on the existing home loan

The bank will let you refinance up to 95% of the property value (this is not always the case, so figure out which lender is the best option for what you are trying to do first)

Therefore, you will now have a new mortgage of $237,500

But, since you only owed $120,000 previously, you now have an extra $117,500 to do with what you would like, minus whatever closing costs you might have rolled into the loan though, of course.
A cash-out refinance like this can be used for many different things, such as:
Home repairs

Paying off a car

Paying down debt
Just remember to use the cash wisely since you are now paying interest on all of this money in your new refinanced home loan.
Best cash-out refinance lenders overview
In-depth analysis of the best cash-out refinance lenders
Credible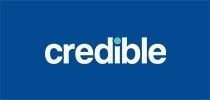 Credible has a great digital platform to apply for a refinance.
They can tell you within approximately three minutes if you will be approved and it won't even impact your credit score.
The way they operate is by offering you multiple refinance options by varied lenders so that you can compare rates and products before you actually apply. This platform is similar to how Kayak works when shopping for airfare.
Credible Operations, Inc. NMLS# 1681276, "Credible." Not available in all states. www.nmlsconsumeraccess.org."
Learn more about refinancing through Credible.
Reali Loans
Reali Loans is formerly Lenda. They have an all-digital application process, which helps to streamline things.
Besides having some great interest rates, which will vary by individual, their loans have no application or lender fees.
This is huge because it can reduce your overall cost of the loan, which just means more money in your pocket for both the short-term and the long-term.
Learn more about refinancing with Reali.
Ally Bank

Ally Bank is a great option for some of the lowest interest rates. They are also well known for their expedient and excellent customer service. You don't have to wait on the phone forever to get a live person to answer any, and all, of your questions.
They also make it very easy to apply directly through their website, as well as track all loan information and documents digitally from any device. This certainly helps take some of the pain out of the application process.
Bank of America

Bank of America has lower interest rates currently as well depending upon the length of the loan, and whether it is a fixed or variable rate.
They also have a few different types of loans, such as adjustable rate, fixed-rate, and VA loans. These can all be refinanced for a cash-out loan, and for different lengths of time, to make their options extremely customizable.
As a bonus, some people may also qualify for their Preferred Rewards program, which can net them an extra $200 – $600 off the mortgage origination fee.
Learn more about refinancing through Bank of America.
Chase
Chase is another service provider that has a plethora of options for you to choose from.
They give you a lot of choices between loan length, fixed or variable, and potentially how much loan to value you want to refinance.
A few bonus features they offer are that they give discounts for existing Chase customers, as well as a guaranteed 21-day closing cycle once all financial documents have been received, or they give you $1,000 if they can't meet it.
Learn more about refinancing through Chase.
New American Funding
New American Funding has a good selection of options for a cash-out refinance.
The fact that they offer quite a few different VA and FHA refinance options, makes them a great resource to potentially utilize a greater percentage of the equity in your house if you qualify.
Their current rates vary depending upon the length of the refinance. In this market, their current rates are considered pretty darn competitive.
Learn more about refinancing with New American Funding.
Summary of the best cash-out refinance lenders
| Company | Unique features |
| --- | --- |
| Credible | Very intuitive digital platform and application |
| Reali Loans | All digital, no application or lender fees |
| Ally Bank | Great customer service, very digital friendly |
| Bank of America | Various options, Preferred Rewards program for discounts |
| Chase | Various options, 21 day closing or $1000 cash if they can't meet it |
| New American Funding | Many options for VA and FHA refinance |
How we came up with this list
There are so many great companies offering awesome rates for home refinances these days. That made it difficult to choose the best cash-out refinancers. But, ultimately, it all comes down to a few key points:
Interest rate

Closing costs

Origination fees

Points

Loan options and flexibility

How much you can borrow against your house

Application process

How their customer service ranked
Not every category is as important to each of us. So knowing which points are the most important to you will help you choose the best cash-out refinancer.
The most important features of cash-out refinance lenders
The most important features of cash-out refinancers begin with the aforementioned points.
Interest rates
Getting a good interest rate is a very big determining factor when choosing a refinance product because it affects just how much you actually spend over the life of the loan.
Closing costs
Closing costs and origination fees are also important to consider because if you can find a product that doesn't have any, then you spend less out of pocket up front.
Points
Determining whether or not you want a refinance product with points is entirely up to you and the potential interest rate you are getting.
If you want a lower interest rate over the life of the loan, then points are the way to go. One point equals 1% of your total mortgage amount and how many points you choose to pay at closing is up to you and the lender.
Loan options
Loan options and flexibility can be very important for most of us since we are all in slightly different situations. So finding the correct loan option for your situation is integral to getting the best product for the least overall cost.
How much you can borrow
Another determining factor is how much you can actually borrow against your property. If you happen to need a large chunk of money, then you will need to keep an eye out for refinancing products that will loan as close to 100% of your home's value as possible.
Application process
Sometimes the biggest barrier to entry is the lengthy application process. In today's digital age, a lot of us prefer to do as much as possible electronically.
Not all lenders are up to speed with this process yet, unfortunately. So if this is important to you, then find a lender that will do most or all of the application process electronically instead.
Customer service
Customer service rating is one more key point to keep in mind. This is due to the fact that refinancing can be very time consuming and expensive if you choose the wrong product.
Finding a company that is exceptional with customer service means that they are very willing (and able) to help you find the best fit for you.
Who is cash-out refinancing for?
A cash-out refinance can be good for many different people in different situations. Since banks have multiple types of cash-out refinance products, you can pick and choose which one is right for you and your situation.
Therefore, it really can be best for pretty much everyone, as long as you have positive equity in your house.
Who isn't cash-out refinancing for?
A cash-out refinance can be a good option for just about anybody, in most cases. But, sometimes, the interest rate will actually end up being higher than taking out a HELOC instead.
When this is the case, taking out a HELOC is the better option. So you just need to take a look at all of the current rates, since they are subject to change fairly regularly.
It will also depend upon which cash-out refinance product you choose. If you choose a limited cash-out refinance, then the things you can use the money for are limited.
This option will vary depending upon the bank and the product. If you are needing the cash for a variety of things, this is probably not the best option for you.
Is cash-out financing worth it?
Ultimately, cash-out refinancing can really be worth it, depending upon your situation, and how you plan to use the money. If you plan to use the funds to create more future positive cash flow or assets, then this may be the way to do it.
Some of the best ways to do this are to increase the value of your primary residence through renovations or upgrades, or by purchasing buy and hold real estate. These types of properties can create continual cash flow via renters, which then just puts more money in your future pocket. This is especially true while the interest rates are continually going down.
A great way to see how much money you may be able to get from a cash-out refinance is by using our new Cash-Out Refinance Calculator. This tool is very simple to use and can help you determine ahead of time whether or not a cash-out refinance may be a good option for you.
Take a look at Money Under 30's cash-out refinance calculator:
You only need to put in a couple of data points to get a result, which can be changed with facts from different lenders. The only information you need to input is:
– Your current home value (You can use the tax value or current market value by looking it up on Zillow or Realtor.com)
– Your outstanding mortgage balance (You can find this on your current mortgage statement)
Once you have those, simply click the calculate button. It will automatically generate your current loan-to-value ratio and tell you approximately how much you can get from a cash-out refinance at the standard 80% LTV rate. But, if you find a lender that is willing to loan at a higher LTV, then you can potentially get even more out.
Pretty cool, huh?
Alternatives to cash-out refinancing
A cash-out refinance may not be the best option for you, even though there are a lot of great benefits to getting one. But, if this product doesn't fit your situation, here are a few other great things to try:
HELOC
HELOC – a home equity line of credit – is one of my other favorite tools to use, personally, since a lot of times the interest rate on a HELOC can be lower and you don't have to pay interest on any money that you aren't using.
So this is a great alternative to a cash-out refinance, depending upon your situation and the current rates for both options.
Personal loans
Personal loans can be other great options if you don't qualify for a cash-out refinance, or if you don't have enough equity in your primary residence to make it work. Usually, personal loans come with a much higher interest price tag though, so this is something to keep in mind.
If you're looking for a personal loan, Fiona (formerly Even Financial) is a great place to compare tons of rates from different loan lenders, and it's free to check your rates! You can get a loan from anywhere between $1,000 to $250,000 and they will work with borrowers who have fair to poor credit which is a bonus if your credit history is not stellar.
Summary
Overall, a cash-out refinance can be a fantastic way to use the equity in your primary residence. This can maximize what you can get paid off at lower interest rates or can help you do home renovations to increase the value of your home, which then only increases the amount of equity in your residence.
Whether you choose to take advantage of a cash-out refinance or not will depend upon your own unique situation. But, there are a lot of great service providers in this genre to fit almost any situation.
So just make sure to find the best fit for you before you sign on the dotted line.
Read more: