In today's day and age, you can shop for almost anything on the internet — including your next home.
Whether you're in the market to buy a new home or rent an apartment, chances are you've spent some time browsing real estate websites to see what's available in your desired neighborhood. In fact, according to a recent report from the National Association of Realtors, 95% of homebuyers are using online tools for their house search.
The question that remains, however, is which real estate website you should rely on?
Although the act of buying or renting property typically still requires meeting with a realtor or landlord face-to-face, many of the best real estate websites can help you find your dream home from the comfort of your couch.
Here's a look at the pros and cons of the best real estate websites in the business.
Overview: Best real estate websites
As America's largest real estate website, Zillow is what all the top real estate websites want to be when they grow up. Zillow's web traffic is king among its competitors, reaching an average of nearly 70 million monthly visitors. In fact, by Zillow's own estimate, 67% of U.S. home buyers use Zillow (the website, the app, or both) to find their next home.
Nevertheless, bigger is not always better. While Zillow is definitely one of the top dogs in the real estate game, it's not without its drawbacks.
Pros
Largest database – Compared to its competition, Zillow boasts the largest database of homes for sale and rent, with more than 135 million properties listed.
Free service – Since Zillow makes its money via advertisers, you won't be charged for using their site. Whether you're looking to sell your home or searching for a rental, Zillow is completely free!
Search specificity – The best thing about Zillow is how specific you can get in your search. If you're looking for an oceanfront home with a garage, pool, a good school district, and three bedrooms, you can put all these search terms into the "more" tab and chances are Zillow will find you your home.
Cons
Inaccurate estimates – Using proprietary algorithms, Zillow can tell you the going rate of your home (if you're thinking of selling) or the rate in a particular neighborhood if you're looking to move. Unfortunately, these "zestimates" are often contested and are frequently inaccurate.
In the real estate world, the two companies that compete for the most commercial time are Trulia and Zillow. While Zillow has a few more features than Trulia, the two are fairly similar (likely due to the fact that Zillow bought Trulia back in 2015).
As a Zillow subsidiary, Trulia has access to Zillow's enormous real estate database, but Trulia advertises those listings uniquely. Trulia features homes and rentals from the eyes of the surrounding neighbors, sharing everything from popular eateries to whether or not the neighborhood is safe for kids to play outdoors.
Here's what else sets Trulia apart from its parent company and its competition:
Pros
User-friendly app – One of the biggest pros when it comes to Trulia is its app. It's easy to navigate and allows users to be highly selective in their search. You can filter properties by price range, home style, number of bedrooms, and so on, or you can search with custom keywords.
Access to Zillow's database – Since Trulia is owned by Zillow, the site also features Zillow's extensive and enormous database.
Interactive map – Another unique feature Trulia offers its visitors is an interactive map with details on the surrounding restaurants, shopping centers, and even the local school district(s). You can even browse reviews on the neighborhood from those who already live there.
Cons
Inaccurate information – Since Trulia uses Zillow's database, it also shares Zillow's incorrect estimates.
Realtor.com: Best for accuracy
While arguably not as "trendy" as Zillow, realtor.com presents an air of professionalism that many of its competitors lack.
As the official listing website of the National Association of Realtors (NAR), realtor.com's listings are highly detailed and frequently updated. In fact, 99% of MLS-listed "for sale" properties are featured on the site, the vast majority of which are refreshed every 15 minutes! With this said, realtor.com is particularly reliable compared to its competition.
Pros
Accuracy of listings – Because of realtor.com's ties with the NAR, the data listed on their site is pulled directly from regional MLS systems and updated regularly, making realtor.com's listings arguably more reliable than other real estate websites.
Connection to Realtors – Thanks to realtor.com's relationship with NAR, the site makes connecting with a Realtor simple.
Neighborhood data – Realtor.com provides a variety of helpful statistics about each home, including comprehensive details on the neighborhood. The site's interactive map features everything from surrounding schools and businesses to noise levels, traffic norms, and environmental risks like flood and fire.
Cons
Sellers can't list directly – Realtor.com's operating agreement prevents homeowners from directly listing their properties on the site, so there are no FSBO (for sale by owner) properties listed.
Redfin: Best for connecting with agents
Redfin is all about the real estate agents.
While it has many of the same services as Trulia, Zillow, and realtor.com, Redfin's claim to fame is finding you the best real estate agent for the best price. This is because Redfin is actually a broker, so they promote their own real estate agents. This also allows Redfin to offer users a competitive listing fee of just 1.5% (compared to the standard rate of 3%).
Unfortunately, for some customers the perk of affordability may come with a price: quality.
Pros
Affordable rates for agents – Because Redfin works with agents directly, they're able to provide home sellers and buyers with discounted services, offering an attractive 1.5% listing fee, compared to the standard 3%.
Regular updates to listings – While they don't offer as many home listings as other competitors like Zillow and realtor.com, Redfin claims to update their offerings every 10 minutes.
Advanced, user-friendly technology – Redfin features 3D tours of their home listings, which helps users get an accurate feel for a home before scheduling a tour.
Cons
Inconsistent customer service – Redfin's collection of agents work with particularly large client bases and may not be able to provide focused attention and quality customer service to their home sellers and buyers.
Homefinder: Best for first-time homebuyers
HomeFinder may not be as well-known as sites like Zillow and Trulia, but they've been on the scene since 1999.
With more than two decades of experience under their belt, HomeFinder has honed the details and data most essential for modern-day homebuyers.
"While other real estate portals have become more complicated and busy," they say, "we have laser-focused on the consumer experience giving the prospective homebuyer a friendly, simple user experience while accessing the critical information it needs to make a sound homebuying decision."
This mission and more make HomeFinder the ideal real estate website for first-time homebuyers.
Pros
Clear and simple presentation – HomeFinder prioritizes quality over quantity. Their search feature is uncomplicated and effective, showcasing the most pertinent information in the most efficient way — including local details like the percentage of homes with children and loan information like the taxes and HOA fees associated with a property.
Mortgage calculator – HomeFinder's mortgage calculator isn't unique to their site alone, but like many of HomeFinder's search features, the formatting and personalization options are detailed and easy to use. You can plug in information like your down payment and loan term to forecast future monthly payments, taxes, and more.
Cons
Fewer listings – Compared to competitors like Zillow and realtor.com, HomeFinder has a smaller inventory.
Apartments.com: Best for renters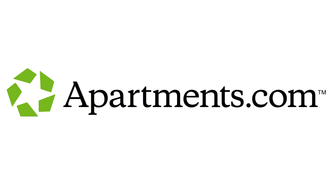 Before you assume Apartments.com lists apartments exclusively, let's set the record straight. This popular website features houses, townhomes, condos, and — of course — apartments. Their niche, however, is properties available for rent, not for sale.
Apartments.com is the top resource for rental listings in the U.S., with more than one million available units. For each listing, Apartments.com has extensive data on the rental's unique amenities and features, as well as the surrounding neighborhood.
Here's why you should consider Apartments.com for your rental search:
Pros
Neighborhood details – Apartments.com provides thorough information about each rental's surrounding neighborhood, including community reviews, points of interest like shopping centers and parks, as well as scores for details like walkability, bikeability, noise pollution, and more.
Research team vets properties – Apartment.com has the industry's largest professional research team, which visits and photographs properties all across the country to verify listings.
Rental affordability calculator – Like many of the mortgage calculators available on popular real estate websites, Apartments.com features a nifty Rental Affordability Calculator to help prospective tenants determine their rental budget and locate available properties that fit those parameters.
Cons
Pay to submit applications – If you use the site to browse listings, you won't pay a dime for Aparments.com. However, if you opt to use the site for submitting rental applications, you'll pay $29 (plus tax) to submit up to 10 applications in a 30-day period.
Shopping for a home is an exciting process — but it's also intimidating.
Beyond searching for simpler details like aesthetics and amenities, you have to consider crucial data like the neighborhood's reputation, the home value history and forecasting, the surrounding school district(s), the environmental risks, and much more. Not to mention, you'll need to think through the mortgage, taxes, and insurance costs associated with each property and how that will affect your finances long-term.
But no matter your preferences and interests, the real estate websites listed above should set you up for success in the hunt for your dream home.
Read more:
How do you know if you're ready to buy your first home?
How much house can you afford?