Going green is not only good for the environment, but also for your wallet. I show you why eliminating disposable products can save you some green.
Every year I try to make strides with my finances, among other things. One of the other big things I'm working on is reducing my carbon footprint by going greener. And I've found that a great way to start going about this is to begin eliminating the disposable products in my home.
Don't let your budget get away from you – Sign up for MoneyPatrol
After all, this is something that I have 100% control over. So why not start there?
But, can going green can also help you save some green. I wanted to come up with a comprehensive list of ways you can save simply by eliminating common disposable products in your house.
Paper plates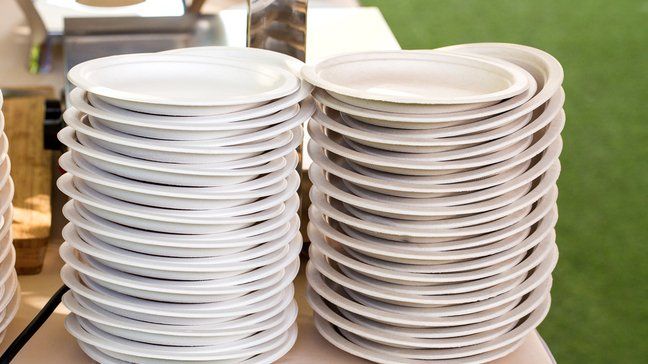 Paper plates are a great place to begin. They are so commonly used that most of us don't even think about the overall cost of them. Of course, they make more sense at big company parties or holiday functions, but for regular everyday use, they make very little financial sense.
You can purchase a 300 pack of 9" Disposable White Uncoated Paper Plates for $14.99. Or, you can purchase a six-pack of 10" Porcelain Round Dinner Plates for $42.99. While that may seem a lot more expensive than the disposable paper plate option, buying the porcelain plates can save you a ton of money in the long run.
Let's pretend this plate purchase is for a family of four. This family would use the plates for breakfast, lunch, and dinner on the weekends and just breakfast and dinner during the week. Therefore, they will need a total of 64 plates per week.
Using this math, the 300-pack of disposable plates will last them 33 days. Making it so they will need to purchase a new package once a month. So the overall cost for the year is $179.88.
But, if they purchase four packages of the porcelain plates, they will spend a grand total of $171.96. While there is no set durability rating for porcelain plates, they can easily last over 10 years. I have had a set of porcelain dishware for close to 20 years now with only some mild chipping on a few of the dishes. That is due to my dropping them multiple times, though!
To give you a sense of how much you can save, here's a chart that compares the cost of paper plates vs. reusable plates over a 10-year period.
So, if this family chooses to purchase the porcelain dishes instead, they will break even right before the full year mark. But, every year after that they keep the porcelain dishes, they will be saving an additional $179.88. If they use them for a full 10 years, they will save $1,618.92.
That money could be used for an awesome vacation on a smaller budget!
Napkins
Napkins are very similar to paper plates with regard to how much all of us use them. All in all, there are so many better reusable options than paper napkins. But, in the context of large parties, sometimes they do still make the most sense.
With regard to the cost of paper napkins, it can vary widely. This is dependent upon the brand and napkin count. For the sake of this article, let's presume the hypothetical family gets the standard Bounty 200 count 1-Ply Paper Napkins for $2.99 from Target.
They will each need one napkin per meal, as previously noted. Since they will need the same 64 napkins per week, as the plates they use, this 200 pack of napkins will only last them 22 days. Therefore, they will need to purchase 17 packages to get them through a full year, equaling an annual cost of $50.83.
However, if this same family decided to purchase cloth napkins, they would definitely save some money – and some trees – in the long run. So, if instead, they decided to purchase this colorful 24 pack of 20 x 20 Cotton Craft Dinner Napkins for $29.99, their break-even point would be at a little over seven months – as illustrated in the chart below.
And, since cloth napkins don't have a specified durability rating either, let's just stick with the average 10-year life span for math's sake.
If they keep the napkins for a full 10 years, they will be saving an additional $457.47, plus the $20.84 they saved in the first year after the break-even point. This will give them an extra $478.31 in their pocket, just for switching to cool, and colorful, cloth napkins.
Paper towels
In most cases, you'll use many more paper towels than napkins. That is because they are a catch-all for everything that needs to be wiped up or down. Which only means that you go through many more of these than you do napkins, in general. Since that is the case, the cost of disposable paper towels over time is ultimately going to be much greater.
Let's say this family of four uses an average of one roll of paper towels per week. If they purchase these eight rolls of Bounty Select-a-Size for $16.99, they will last them approximately eight weeks. So, in order for them to have a full year supply, they will need to make this purchase a total of seven times, for a total annual cost of $118.93.
Now, there are a lot of great paper towel alternatives out there these days. However, one of my favorite options happens to be the Lola Wowables Reusable & Biodegradable 30 Count Paper Towels for $19.99. They come in four really fun colors and one roll equals 13,260 disposable paper towel sheets. Plus, each roll can last for up to two years. That is insane!
However, they do not offer free shipping on orders under $30. So you will either need to buy two rolls for a four-year supply, or pay approximately $6.35 for shipping of the one roll. For me, I prefer to just go ahead and purchase the two rolls since it will be cheaper in the long run.
So, for this example, I will presume the family purchases two rolls for a total of $39.98 for a four year supply or five rolls at $99.95 for a 10 year supply.
This means that their break-even point happens right before the 10-month mark. If the family uses the Lola towels for a full 10 years and doesn't buy any more paper towels, then they will ultimately be saving a grand total of $1,089.35. Their savings by eliminating disposable products are really racking up at this point!
Silverware
The topic of silverware can be a bit trickier. As the majority of us use a reusable silverware set to begin with. But, just as with the previous topics, there is certainly a time and place for disposable silverware.
However, if you are one of those families that do use disposable silverware for most meals, then switching to reusable can save you a boatload of money.
For a family of four to use disposable silverware, they would go through approximately 84 forks, 56 spoons, and 28 knives per week. Of course, this is based on how most disposable silverware is sold and packaged. So, for the sake of argument, these are the numbers I will be using for this example.
If the family purchased this 600 Clear Plastic Silverware Set for $19.99, it would last them 25 days. Therefore, they would have to purchase another set before the end of month one, and by the end of the year, they will have spent a grand total of $299.85 on plastic cutlery.
Although, if the family chooses to purchase a set of reusable silverware instead, they will end up saving themselves thousands of dollars. There is a great 60-Piece Stainless Steel Hammered Silverware Set with Service for 12 that is going for $40.95 right now. If they purchase two of these sets, to stick with the theme of 24 pieces, then they will have spent a grand total of $81.90.
Over a ten-year period, here's how much a family would spend on disposable vs. reusable silverware:
This means that their break-even point for switching to reusable silverware is just over the three-month mark. And seeing as silverware has a very long life span, this set will easily last them more than 10 years. But, just for the 10-year period alone, they will be saving themselves a grand total of $2,916.60 by switching from disposable to reusable silverware. That is just crazy!
Water bottles
Cool water bottles are all the rage these days. Which is awesome, with regards to going green and how much money it can ultimately save you. But, there are still a lot of people who prefer to purchase disposable water bottles instead. Not only is this a whole lot more expensive, but it contributes dramatically to the amount of waste in our landfills.
While, on average, you are told to drink eight glasses of water per day, at eight ounces each, the formula for each person is slightly different. The range for how much water you should be taking in really ranges more between 11 and 16 cups of water per day. But, usually, around 20% of that will be from other sources than water.
That being said, most adults I know are barely able to scratch the surface towards the eight cups a day recommendation. So carrying around a water bottle helps you achieve your daily water intake goals more effectively.
So let's presume this family of four is only getting the eight glasses recommended per day. That is a total of 64 ounces per person, per day. This means that a week's worth of water consumption should come in at 1,792 ounces.
One of the most common bottled water brands is Nestle who has a 24 Pack of 16.9 ounce Bottled Water for sale at Target currently for $3.59. At 16.9 ounce bottles, that means each family member would need to drink four bottles per day. That equals 16 bottles of water per day or 112 bottles per week. Therefore, the family would have to purchase 19 cases of water for a full month supply, or 243 cases to supply them for an entire year. That comes out to approximately $68.21 per month or $872.37 annually.
But, if the family chooses to purchase a Simple Modern 22 ounce Double Walled Water Bottle with 2 Lids, they will pay $18.99 each, or $75.96 for all four family members. These water bottles come in a lot of really fun colors and designs and the two different lids make this water bottle ideal for anybody. Since it holds 22 ounces, they will only need to fill it up three times a day. That is a pretty easy number to remember, which makes life simpler.
Ultimately, stainless steel water bottles should last for many years. But, the reality is, all of us have a tendency to misplace things at times, let's presume each water bottle will only last two years instead. That means the family would have to purchase new ones every two years, for a total of five water bottles in a 10 year period, per family member. Therefore, they will be spending a grand total of $379.80 on reusable water bottles for the family over 10 years.
With this math, you are looking at a break-even point of around the five and half-month mark. And if you thought you were saving a lot of money in the silverware department, wait until you hear just how much you could save in the water bottle department.
Just by switching from disposable bottled water to a reusable water bottle, you could save a grand total of $8,343.90 over a 10 year period for a family of four. I don't know about you, but that is a heck of a lot of money to blow on disposable bottled water that contributes to the environmental issues the Earth is facing.
Straws
Last but not least, let's discuss the topic of disposable straws. Metal straws have been all over social media recently as an answer to plastic straws. So just how much could you really save by switching?
First of all, that will depend upon how often you actually use a straw at home. If it is a daily occurrence, then you will obviously save the most amount of money over someone who uses straws occasionally.
In this instance, let's presume the family of four uses straws regularly. Let's guess the usage is the same as the plates department, in that they probably won't be at home for lunches during the week. Therefore, you are looking at a weekly usage of approximately 64 straws per week.
If they have been purchasing these fun Neon Flexible Drinking Straws (500 ct) for $7.99, then they would have to buy one package every 55 days. This would mean they need to purchase seven packages a year, coming in at a total of $55.93 spent for the year, which doesn't sound like a ton of money.
But, if they moved over to this Set of Eight Reusable Stainless Steel Metal Straws instead, they would only spend $5.09.
This means the break-even point would be within the first month! And, to err on the side of caution, let's say the set needs to be replaced each year. Even with replacing the metal straws every year for 10 years, the break-even point is still under a year. And the family would still only be spending a grand total of $50.90, as opposed to $559.30. That is a savings of $508.40 in this department.
Summary
Overall, there are so many ways to stretch your budget further when you eliminate disposable products. Of course, eliminating these products helps to decrease your carbon footprint and helps to reduce the amount of waste circulating in trash dumps. Even though those are two great reasons to consider eliminating disposable products in your life, saving a ton of money comes in as another big win.
If you really want to rack up on the savings, here is what it could look like, per category, over a 10 year period:
Paper plates to porcelain plates – $1618.92.
Paper napkins to cloth napkins – $478.30.
Paper towels to reusable towels – $1,089.35.
Plastic silverware to reusable silverware – $2916.60.
Plastic bottled water to reusable water bottles – $8343.90.
Plastic straws to reusable metal straws – $508.40.
Here's a visual that illustrates these savings:
This means you could potentially save $14,955.47. That is a HUGE chunk of change that could be much better spent somewhere else. I know I would prefer to put that into some retirement accounts instead. Then, not only would I be helping the planet, but I could also potentially retire earlier. This sounds like a win-win to me!
Read more: