College is expensive. Very expensive. By doing things like getting "free" money, starting a side hustle, and watching your credit card usage, you can graduate a little less broke.
Once upon a time, I was a college student — a very broke college student, I might add.
I can't tell you how many times I went to the Social Fridays at the museum just to score some free booze and fill myself up with cheap hors d'oeuvre.
Was I budget-conscious? Yes.
Did that stop me from racking up credit card debt or taking out thousands in student loans? No.
Do I regret some of my choices? I mean, who doesn't?
In my defense, money wasn't a hot topic around my house or my school, so I didn't know any better. But that's why I'm here. To help you do better by giving you some practical and sage advice based on my hard-learned financial lessons, plus a few expert opinions.
1. Max Out All Sources of "Free Money"
Yes, you read that right, I said "free money."
When I talk about sources of free money, I'm referring to any type of financial aid that doesn't require you to pay it back, specifically these two:
How do you score these forms of financial aid?
Sallie Mae's latest report revealed that scholarships helped cover 16% of education costs for students who attended college during the 2020-21 academic year. Despite this, 44% of families reported not using scholarships, primarily because they didn't know about them or thought they wouldn't qualify.
So, if you're in doubt, here are a few starting points for your quest:
Fill out the Free Application for Federal Student Aid (FAFSA).

You'll have to do this every year, but this will tell you if you qualify for things like the Pell Grant, which currently has a

limit

of $6,495 per academic year, as well as for work-study programs and federal student loans.

Talk to your school's financial aid counselor.

Your school's financial aid office is there for a reason — use them!

It's FREE.

Financial aid counselors can help you figure out what scholarships and grants you may be eligible for, plus help you fill out the application.

Join an association. Are you a nursing student? Join the National Student Nurses' Association. Are you majoring in accounting? Become a member of the American Accounting Association. Associations usually offer grants, scholarships, and other awards for students majoring in related fields.
2. Download a Budgeting App
Debit card, credit card, Venmo, Zelle… It's hard to keep tabs on your finances when you have money flying around in every direction you can think of.
To avoid financial mayhem, Dana Kelly, vice president of Professional Development and Institutional Compliance at the National Association of Student Financial Aid Administrators (NASFAA), recommends downloading a budgeting app.
Benefits of using a budgeting app in college (and any stage of life)
You'll get an overall picture of your finances.

You'll be able to manage ALL of your accounts on a single platform.

You'll get notifications when your payments are due.

You'll see where your money is going.

Some of them offer free credit monitoring.
There are many budgeting apps out there, however, Kelly personally recommends Mint, which offers all of the above, plus it's free.
3. Have Fun — the Smart Way
There's absolutely nothing wrong with treating yourself to some fun every once in a while. After all, you're working hard for that degree, aren't you? A little bit of self-care can't hurt.
Well, it doesn't have to. The key is making sure that you know how to have fun without overspending.
How to have fun on the cheap
Keep an eye out for college-sponsored events. You would be surprised how much fun you can have at school-sponsored events. Look out for opportunities to have fun on campus, which are often free to students, before you head out on the town. Sports games, comedy shows, theater performances, guest speakers, and themed dining hall nights, are just some of the things that your school might offer.
Look for places that offer student discounts. What do Chipotle, ASOS, Best Buy, Dairy Queen, and ModCloth have in common? They all offer student discounts. Whether you're shopping or just grabbing a quick bite, look for places where you can use your student status to your advantage.
Plan your outings.

Remember my Social Fridays at the museum? That's what I'm talking about. There are certain places, like movie theaters, museums, parks, and clubs, that have special days where students can get in for free or are only required to pay a nominal fee.

Go out in groups.

They say sharing is caring — and it is, especially in college. Kelly, from NASFAA, says it's always a good idea to go out in groups, so you can split the bill.

Download discount apps.

Groupon, Honey, and RetailMeNot are some of the apps you can get to browse hundreds of discounts at local restaurants and shops, big retailers, and more.
4. Get a Side Hustle
It's hard to have both a full-time job and good grades, I get it. But there are certain gigs you can do on the side in order to have some extra cash without making a huge time commitment.
Here are some ideas:
Rideshare services (if you have a car, of course). Both

Lyft

and Uber allow drivers to set their own schedules and the number of hours they'd like to work, plus you're your own boss.
Paid surveys. Websites like Survey Junkie,

Swagbucks

, and i-Say, will pay you for your opinion either in the form of cash or rewards. The best part? You only need a computer and a steady internet connection.
Become a brand ambassador.

A lot of companies, and I mean a LOT, look for college students to promote their brands on campus. You'll get paid either monetarily or by getting freebies from that brand (which you can also sell).

Sell your old stuff. That old bag and those jeans you don't use anymore? List them on eBay, Poshmark, or ThredUp, and make a quick buck. Those textbooks from last semester? Sell them on Amazon or at Barnes & Noble.
Pet-sitting.

Do you love fluffy creatures? Well, this job is for you! You can offer to watch other people's pets while they're on vacation or walk them in the evenings.
Having a side hustle can help you cut back on how much you'll need to borrow while in school (if anything), so it's worth giving it a shot.
5. Set Up an Emergency Fund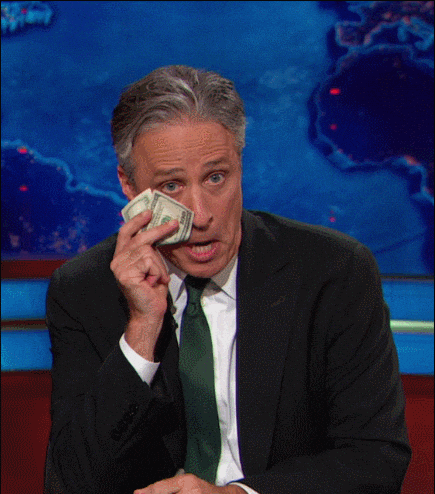 "It's important to have something to fall back on because you never know when you're going to have an emergency in college," Kelly, from NASFAA, says.
This is why you should make it a point to have a separate account designated for emergencies (you know, to avoid temptation).
How much do you need to have in your emergency fund?
Okay, I know that as a college student you're probably not earning as much as someone who has a full-time job, so naturally, you won't be able to put away a significant amount each month.
Kelly says that if you have a steady income from a part-time job, 10% of that should go toward your emergency fund.
If you don't have a job, you can still build a small nest egg with any extra cash that comes your way. Think birthday gifts from your grandparents or your monthly allowance.
6. Watch Out for Fees
When you're out and about with your friends, ATM or checking account fees are probably the last thing on your mind, however, they shouldn't. Leon C. LaBrecque, chief growth officer of Sequoia Financial Group, a Michigan-based financial planning firm, says:
"I've seen college students go to the ATM five times in one day and rack up $10 to $15 in ATM fees."
Likewise, some bank accounts charge you an additional withdrawal fee if you use an ATM outside of their network, or if your balance is less than a certain amount.
To avoid this, try the following:
Sign up for a

no-fee checking account

.

Withdraw all the money you need at once, instead of going to the ATM multiple times.

Ask for cash back at the store (like when you shop at CVS or Walgreens).
7. Use Credit to Your Advantage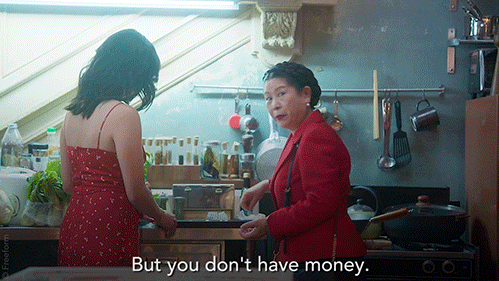 Some experts will tell you to steer clear from credit cards at all costs while in college — not Brian Schmehil, director of wealth management at The Mather Group, an independent wealth management firm.
"Get a credit card ASAP. You should never use a debit card because you're giving up benefits you otherwise would receive using a credit card."
What benefits is he talking about?
Cash back and rewards.

Special sign-up offers.

The chance to build good credit (when used wisely).
Credit cards can be a wonderful tool, however, you need to pay your balance in full each month, for them to work to your advantage. Otherwise, you start carrying a balance and paying interest, which can lead to future financial woes.
Also, if possible, try getting a student credit card, as these have less strict credit requirements than traditional credit cards, plus they tend to offer lower APRs and don't charge annual fees.
8. Go Vintage
Need new clothes? Take a page from Emma Chamberlain's book and go thrifting.
After all, why would you pay $40 for that Urban Outfitters replica when you can get the real deal for half or even a third of the price if you get it at a thrift store? The same applies to furniture and other decor items for your apartment or dorm.
Benefits of buying second-hand
9. Buy Your Books after Classes Start
Sometimes we bite off more than we can chew — this also happens to professors.
They'll send you a super long list of books you need to get for the class. You rush to the store to get them, spending hundreds of dollars, only to find out that only half of those books will actually be used. Fantastic.
That's why you should wait until classes have actually started to get the books.
If possible:
Buy them used to save money.

Get a digital copy since they tend to be more inexpensive.

Keep them in mint condition, so you can resell them once you're done.

Ask your professor if a previous edition, which is cheaper, will be suitable.
This will help you cut your budget big time.
10. Use Student Loans Wisely
I'm not going to sit here and lecture you about student loans as if I hadn't racked up $80K on those — I won't. But precisely because of that, I can give you some advice on how to actually use them properly.
Student loans 101
Think about your major.

Before you apply for student loans, do some research to find out what people in your field actually earn (aka the return on investment, or ROI), so you don't end up getting into a ridiculous amount of debt you won't be able to afford.

Run the numbers.

"Just because you have the availability for it, doesn't mean you should utilize it," Kelly, from NASFAA, says. In other words, just borrow what

you actually need.

Go the federal route.

If you absolutely need to get student loans, apply for federal student loans first. Why? They have lower interest rates than private loans, the interest is fixed (forever and ever), and they offer

flexible repayment options

once you graduate.

Shop and compare private loans. Private student loans offer some of the same benefits as federal student loans, like no payments required while in school and a six-month grace period after you graduate. However, they can have fixed or variable interest rates, which can be as high as 16%. If you need to take out private student loans, always compare lenders before you sign on the dotted line. This will help you get the best rates!
Summary
College is the time to develop and practice good financial habits. After all, you want to be able to reap the benefits of your degree without having to give a considerable portion of your earnings to creditors.
Read more: