Hurdlr Review - An Easy Way To Track Your Business Expenses
The Hurdlr software and app allows you to take control of your business finances and gives you insight into your business's tax situation throughout the year. You can track your income and business miles so tax season can be a whole lot easier.
---
Best for:
Easy mile tracking
Income tracking
Easy sign-up
---
Editor's Note - You can trust the integrity of our balanced, independent financial advice. We may, however, receive compensation from the issuers of some products mentioned in this article. Opinions are the author's alone. This content has not been provided by, reviewed, approved or endorsed by any advertiser, unless otherwise noted below.
Running a business isn't for the faint of heart. As a business owner, you're responsible for setting a vision, developing products or services, selling to customers, and for the well-being of your employees.
On top of keeping your business running, you have to keep up with your business income, expenses, mileage driven, and other tax information to make sure you can properly file your taxes.
What if there was a simple solution that could help you with tracking your expenses to make sure you don't miss anything when you fill out your tax return next year?
That's where Hurdlr comes in.
What is Hurdlr?
Hurdlr is a website and app you can use to track mileage, expenses, income, taxes, and how you spend your time.
The company focuses its product offerings to help self-employed entrepreneurs like freelancers, realtors, hosts, drivers and couriers. This makes sense because as a self-employed person, you have to keep up with a ton of tax information that W-2 employees don't have to deal with.
Hurdlr offers both free and paid options which both come with different sets of features. For example, the paid version allows you to link accounts for automatic income and expense tracking while the manual version requires you to enter the information yourself.
How does Hurdlr work?
So how exactly does Hurdlr work? First, you have to sign up for an account to get started.
Signing up for an account
First, visit Hurdlr.com and click "Try It Free" in the top right corner or "Get Started" on the left side.
Next, select your business type from the list and click "Next" on the bottom right corner of the screen.
After you select your business, you may be asked to select which companies you work with or what type of work you do within the profession.
Since I selected "Freelance" as my business, I was asked to select my work. After you select your company or work, you can add another business if you'd like or click "Next" to continue.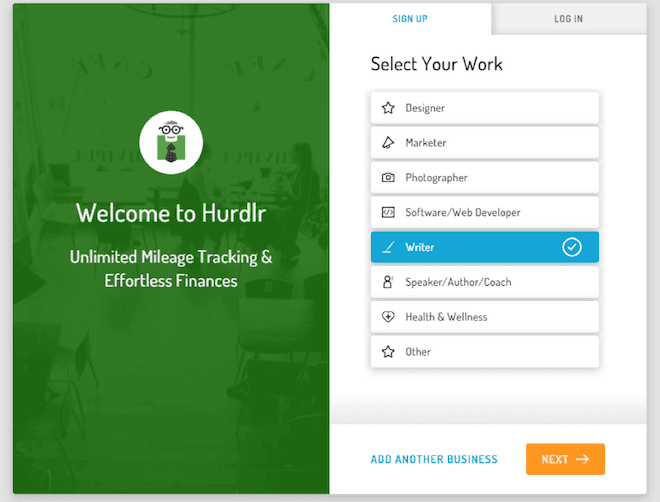 Finally, enter your email and create a password to finish signing up for your new account.
After you sign up for Hurdlr, you'll need to adjust all of the settings to meet your particular situation. When you log in for the first time, the list of items to adjust is at the top of your screen.
Setting up tax information
First, you can set up information for your tax calculations by clicking "Setup Now". First, Hurdlr asks what state you live in.
Next, they ask for your tax filing status for both state and federal taxes in two separate steps, if applicable to your state.
They then ask if you have a full-time job. This is important because having a full-time job can significantly impact the tax estimates the Hurdlr software comes up with.
Finally, Hurdlr warns their tax calculations are estimates and not the actual amount you'll owe. They don't know your complete tax situation, so they want to let you know your actual tax owed may be different than what they calculate.
Enabling automated reports
Next, you can enable automatic reports. This setting, if turned on, automatically emails you expense, income and mileage reports at the end of every month.
Pick your income tracking method
You can either input your income automatically by linking your financial accounts to the software or choose to add your income manually.
It's important to note, linking your accounts is a premium feature that you'll need to pay for after the seven-day free trial of premium.
Pick your expense tracking method
Next, you'll need to pick your expense tracking method. It's the same as income tracking. You can either link accounts or input your expenses yourself.
Download the Hurdlr app
You can also download the Hurdlr app on your phone. The phone app allows you to track your mileage and time more easily than you could on a desktop computer.
The app allows you to turn on auto-tracking for mileage. You can do this by giving Hurdlr access to your location data. Additionally, you can have mileage tracking start when you connect your phone to your car via Bluetooth. This can be helpful if you only drive a specific car for work trips and another car for personal trips.
Hurdlr summary pages
After Hurdlr gathers information from your inputs or linked accounts, it outputs useful reports to help you run your business and manage your business's tax situation.
I manually input some test information to see how the reporting looks. Here's an example of the mileage overview report.
Here's an example of the income overview.
Here's an example of the expenses overview.
The most impressive overview is the tax overview. You can view this on an annual or a quarterly basis. However, you need to be really careful when viewing this overview.
Hurdlr calculates your taxes owed in two main reports. The default overview is year to date. This overview isn't super useful to me because it doesn't extrapolate your income to a full year view to show you how much tax you're going to owe for the full year.
That's why I think it's super important to change the filter to the current year, full year option. It appears this option takes the income and expenses you've incurred to date and projects the same amount of income and expenses out throughout the rest of the year.
While this isn't perfect, especially if you have a business that has high months and low months, it's better than using a year to date report early in the year in my opinion. Take a look at both reports and see which works best for you.
Hurdlr reports
Hurdlr also offers a handful of reports which you can see in the screenshot below. Be sure to explore these reports to see which are useful for your situation to help you manage your business.
Hurdlr pricing details
Hurdlr offers their service for free, but the free version relies on you manually inputting all of your information which defeats the purpose of the service, in my opinion.
If you want to automate the input of income and expenses by linking your accounts as well as gain access to other automated features, such as reports, and more detailed calculations for taxes, you can upgrade to a premium account.
A premium account costs $60 if you pay for an annual subscription or $7.99 per month if you opt for a monthly subscription.
Why should you use Hurdlr?
Hurdlr can be a great tool for business owners that don't stay on top of their business finances, especially if you pay for a premium account. Linking accounts allow Hurdlr to pull the necessary information to calculate how your business is doing in any given month.
It can also help you keep track of your business deductions, which is super valuable if you often find yourself forgetting what you've spent on your business. Each dollar in tax deductions that Hurdlr finds that you would otherwise forget could result in savings come tax time. Add in the fact that Hurdlr can automatically track your business mileage with a premium subscription and you could have even more tax savings.
Pros & Cons
P
r
o
s
Affordable subscriptions — There's a free option, but Hurdlr's premium subscription for Hurdlr is still affordable at just $7.99 per month or $60 per year.
Easy-to-use software — The software is fairly intuitive to use and has a very clean look to it, as well. It's easy to switch between reports and overviews to find the information you're looking for.
C
o
n
s
Limited free version — While the free version of Hurdlr is a nice opportunity to get your feet wet, it doesn't provide much value. The real value comes from linking accounts and the reporting that can offer, but you have to pay for a premium subscription to gain access to it.
Not customizable — There didn't appear to be an easy to find option to make your own expense categories. Since every business is unique, sometimes you need a special category for expenses you like to keep track of separately.
Summary
The Hurdlr software and app allows you to take control of your business finances and gives you insight into your business's tax situation throughout the year. This information can be well worth the relatively small fee Hurdlr charges.
If you're interested in seeing what Hurdlr can do for your business, sign up for a free account to get your feet wet. If you like what you see, upgrading to a premium account may be a smart move.
Read more