Real estate investing is a big business with increasing popularity. Comparing to find the best real estate investment options in a crowded marketplace can mean a sound investment and deliver lucrative returns.
Those looking for a passive, long-term real estate investing platform will appreciate our top pick, Fundrise. Online investing platform, Fundrise, allows regular, nonaccredited investors to get started building a portfolio of private assets that includes real estate without compromising for a minimum of only $10 in less than 5 minutes.
Overview: Best real estate investment marketplaces
We've compiled some of the best real estate investment options from the top brokers to help inform your decision.
Fundrise: Best for low budget investors
Fundrise allows non-accredited investors to invest in properties starting with just $10. This low threshold opens up the service to investors who do not possess the wealth required for many real estate brokerages.
Fundrise
Fundrise is an online crowdfunding real estate investment platform that allows you to invest in both residential and private commercial properties. The cool thing about Fundrise is that anyone can invest. It's not just for wealthy investors.
Pros:
Open to all investors

Low investment minimum

Simple and easy to get started
Cons:
Not a short-term investment

Variety of fees may be difficult to understand
Sign Up
This is a testimonial in partnership with Fundrise. We earn a commission from partner links on MoneyUnder30. All opinions are our own.
Fundrise makes loans to buyers of commercial real estate and bundles those loans into investments, called eREITs. These are Fundrise's proprietary version of real estate investment trusts. Fundrise then sells shares of the eREITs to the investing public through their website, allowing you to invest.
When you find an investment you want to invest in, all it takes is a couple of clicks and you've entered the real estate business. Fundrise has one of the lowest minimum investment requirements ($10) among the various crowdfunded real estate startups. Fundrise's typical fees end up totaling 1% (0.15% investment advisory fee + 0.85% asset management fee), but other fees may apply.
» Sign up for Fundrise or check out our full Fundrise review.
Roofstock: Best real estate investment option for new investors
Ideal for those new to investing in property, RoofStock allows an accessible introduction to the property market and provides a variety of features that are user-friendly.
Great for investing beginners
Roofstock
Roofstock is the perfect platform for any first-time real estate investor. They offer low fees, homes with tenants already occupying them, and you don't have to be an accredited investor to open an account. It's one of the most convenient and cost-effective ways to purchase investment properties.
Pros:
Lower fees than traditional agents

Homes have already been inspected

Homes have existing tenants
Cons:
Requires all the work of owning a rental property

Large downpayment may be required

Must do your own research
Open Account
Signup is entirely free with Roofstock. Its additional fees are a lot lower than most investment brokerages due to how the service is technology-based.
The primary focus of RoofStock is single-family rental investments. Many of the properties listed on their site already have tenants in them. This feature is one of the many reasons RoofStock is so beginner-friendly. As an investment, it can lead to immediate passive income. It's also worth noting that all RoofStock properties must get certified before listing. The stipulation adds more security to your investments. They hold their listed properties to high standards.
» Open an account with Roofstock or check out our full Roofstock review.
Crowdstreet: Best for variety of properties
CrowdStreet allows you to compare multiple investment properties at once to seek out the best opportunity. The diverse options let you make the best investment for your unique criteria.
CrowdStreet
CrowdStreet is a commercial real estate investment platform only for accredited investors that provides a pathway to invest directly in real estate projects from some of the nation's top project sponsors and developers.
Pros:
High rates of return advertised

Variety of investor resources

Diversified Funds and tailored portfolios
Cons:
High minimum initial investments

Only for accredited investors
Sign Up
You will need to be an accredited investor to move forward with any investments, which means CrowdStreet isn't an option for most investors. 
There are no startup or membership fees associated with CrowdStreet. The broker acts as more of a marketplace for investment options rather than a specific brokerage service. If you use its Blended Portfolio service, you will need to pay a 1% management fee, alongside a 2%-2.75% fee on assets under management for the first year. Once this initial year is over, that percentage drops to 0.25%.
» Sign up for CrowdStreet or read our full CrowdStreet review.
Also great
Those looking for high-quality properties or commercial REITs when considering investing with a platform that offers real estate options can check out the rest from our best-of list. Another option is a self-guided trading platform that offers REIT ETFs along with stocks and mutual funds.
RealtyMogul: Best for non-accredited investors
RealtyMogul stands apart from many competitors because it accepts both accredited investors and non-accredited investors. This flexibility allows for more people to use their services, but it does result in higher fees.
RealtyMogul
RealtyMogul gives you a chance to invest in real estate without a hefty downpayment or a ton of detailed research on your local real estate market. While the service isn't perfect, it does offer opportunity and diversification for those interested in investing in real estate.
Pros:
Open to both accredited and non-accredited investors

Not limited to a single project

REIT options
Cons:
Need to sign up to view some details

Fees can be more transparent
Open Account
Fees
A 1% – 1.5% fee management fee applies, with additional fees attached depending on which services you use. You will also need a $5,000 account minimum.
Investment options
There are three investment types available through Realty Mogul:
Joint venture equity.

1031 exchange.

Non-traded REITs.
Only accredited investors can invest in joint venture equity. Non-accredited investors can invest in non-traded REITs.
» Sign up for RealtyMogul or read our RealtyMogul review.
---
EquityMultiple: Best high-quality properties
The first thing noticeable on EquityMultiple's website is its commitment to property standards. They limit and screen their property submissions and accept an amount usually under 10%. If you invest in an EquityMultiple property, you know it's quality assured.
EquityMultiple
EquityMultiple is a real estate crowdfunding platform that gives accredited investors the ability to invest securely in managed quality investments with a minimum of $5,000.
Pros:
Easy to sign up and invest

Multiple asset types including commercial real estate

Potential for high returns
Cons:
Only for accredit investors

High fees that can be more clear
Sign Up
Fees
For common equity investments, there is an annual fee generally between 0.5% and 1.50% alongside a potential cut from an Investor's profits after recovery of the initial investment. This scheme is what industry experts call profit share. Other investments may include other fees associated with them.
Investment options
You must be an accredited investor to use EquityMultiple's services. Their investment options currently fall under three pillars: Keep, Earn, and Grow. EquityMultiple advertises and defines them as below.
Keep: Yield-focused cash management. Compelling rates, shortest terms.
Earn: CRE investments offering current yield, payment priority, and a relatively short term. An income focus.
Grow: CRE investments offering significant upside potential.
---
Streitwise: Best for commercial REITs
As its name may suggest, Streitwise is more REIT focused than other real estate brokerages. If you're looking for REIT specificity, then look no further. In addition to cash, you can fund your account using your IRA or trust, as well as your Bitcoin or Ethereum account. An iOS app makes monitoring your portfolio easy.
Streitwise
Streitwise is a real estate investment platform focusing on commercial real estate. As an investor, you can get started with just $5,000 and be a part of large-scale real estate projects. Both accredited and nonaccredited investors are able to participate – something many of its competitors shy away from. .
Pros:
Anyone can invest

Low initial investment

Generous lockout period
Cons:
Limited options, usually one REIT

Upfront fee is high
Open Account
Fees
There is a 3% investment fee with a 2% annual management fee.
Investment options
Both accredited and non-accredited investors can use Streitwise. They offer a full portfolio, mostly consisting of office buildings as opposed to housing. They also accept investors outside the U.S.
Their primary focus is making commercial investment opportunities available to lower-income investors.
» Sign up for Streitwise or read our full Streitwise review.
---
J. P. Morgan Self-Directed Investing: Best for REIT ETFs
J. P. Morgan Self-Directed Investing is a self-guided trading platform where you can invest in stocks, ETFs, options, fixed income, and mutual funds; OR  you can use J.P. Morgan Automated Investing – which offers pre-blended and managed portfolios.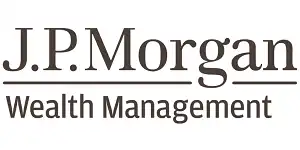 J.P. Morgan Self-Directed Investing
J.P. Morgan Self-Directed Investing offers Chase clients tremendous convenience and new investors a clean and intuitive investing toolkit. The research-based interface makes it ideal for those who are interested in learning the market with no investment minimums attached.
Offer: Get up to $700 when you open and fund a J.P. Morgan Self-Directed Investing account with qualifying new money by 10/12/2023* with our link.
Pros:
Exceptional customer support

Simple, intuitive interface

Integration for Chase customers
Cons:
Limited functionality

Portfolio Builder requires $2,500 min.
Open Account
Fees
If you open a J. P. Morgan Self-Directed Investing account to purchase REIT ETFs, you'll get unlimited commission-free online trades for ETFs, as well as individual stocks and options trades. Some option contracts do have a fee, and there are some other minor fees assessed.
If you decide to open a J.P. Morgan Automated Investing account, you'll have a flat 0.35% management fee.
Investment options
With J.P. Morgan Self-Directed Investing, you can open any one of these account types:
Individual taxable brokerage account.

Traditional IRA.

Roth IRA.
And within each account type you can invest in the following equities:
Stocks.

Exchange-Traded Funds (ETFs).

Options.

Fixed Income.

Mutual Funds.
With J.P. Morgan Automated Investing, you'll be matched to a pre-mixed blend of investments based on your risk tolerance and other financial goals.
There's a minimum investment requirement of $0 for J.P. Morgan Self-Directed Investing and $500 for J.P. Morgan Automated Investing.
» Sign up for J.P. Morgan Automated Investing or read our full J.P. Morgan Automated Investing review.
Disclosure – INVESTMENT AND INSURANCE PRODUCTS ARE: NOT A DEPOSIT • NOT FDIC INSURED • NO BANK GUARANTEE • MAY LOSE VALUE
How I came up with the list of best real estate investment marketplaces
To come up with this list, there were a few things I wanted to make sure I considered:
Low barrier to entry – W

hile some of the options on this list require upwards of $10,000 to get started, many are much lower. The goal here was to allow you to invest in real estate for a much smaller amount than you would by buying a full investment property.

Ease of use –

 All of these platforms are easy to use, have a slick online interface, and plenty of supporting content on how to best use the researches available to you.

Investment options – I

 chose firms that give you several different options for investing while staying within the real estate space. This includes things like REITs, funds, as well as actual investment properties.

Reasonable fees –

 Considering the type of investment (real estate investing isn't as cheap as stock investing) I looked for firms that a) had transparent pricing and b) had reasonable pricing for what they offered.
Why you should use a real estate investment brokerage
There are numerous reasons why you should make use of a real estate investment brokerage. To make things a little easier to digest, I've compiled just some of the most important:
Streamlined connections
As an investor, you may find it challenging to find a trustworthy developer or property owner who is worthy of your investment. It's hard to know which opportunities are worth pursuing when you're out on your own. Real estate investment brokers bridge this gap and directly provide you with worthwhile properties.
Financial security
Most real estate investment brokers perform background and security checks into both the properties they list and the developers/owners that list them. This investigation minimizes the risks for you. It keeps you from pouring money into a property that's only going to either vanish or close up months later.
Immediate cash return
Some investment brokerages (such as RoofStock, for instance) provide investment properties that already possess tenants. With these options, you can begin to see capital returns on your investments almost immediately.
Why you shouldn't use a real estate investment brokerage
You don't have the money
To earn big in the world of real estate investment, you need to spend big. This game can be dangerous if you don't have the wealth to back up your investments. The vast majority of investment brokerages require a minimum amount in the thousands of dollars, and that's before you consider annual management costs and other such fees.
You aren't committed
Investment and real estate are two of the fastest moving markets in the financial world. Mix them, and you have a recipe for a highly lucrative, but complicated, business prospect. Granted, the purpose of brokerages is to make all of that more straightforward, but this isn't a get-rich-quick scheme. Investing in real estate takes time and effort if you want to see real rewards.
What to look for in a real estate investment brokerage
Experience
Specifically, you need to know how experienced your chosen brokerage is with your local market. Many of the newer brokerages operate entirely online, so they will likely source properties from across the nation for your investments. However, it still may be possible to keep track of which locations they promote the most and if that is practical for your requirements.
Connections
Succeeding in investing is all about far-reaching connections that place you in the best position to seize a lucrative opportunity. Signing up with a brokerage lets you make the most of those connections. Don't waste your money on a service that can't provide you with the best possible opportunities.
Patience
This point might sound a little Aesop's fables at first, but trust us, it's crucial. If a brokerage is dangling the opportunity of making tens of thousands in your first month investing with them, give them a wide berth. 
Investment in any area is a marathon, not a sprint. In real estate, this caution is especially true. The more grounded in reality, the expected outcomes an investment broker offers you, the more trustworthy a company they're going to turn out to be.
What is a real estate investment brokerage?
A real estate investment brokerage connects investors to available properties. They present a variety of properties via specific portfolios and perform due diligence checks to ensure that the properties offered are up to standard.
In many ways, brokers act just like real estate agents, except they work with investors as opposed to homeowners. They provide security to your transactions and a wealth of advice that you wouldn't have access to otherwise.
Fees associated with brokerages deduct from your investment earnings, so you aren't going to get scammed out of your profits.
Summary: Best real estate investment marketplaces
Real estate investing can be a complicated business to move into, but when you do it properly, it can be highly rewarding. Above, I've listed and reviewed some great options for the best real estate investment platforms. 
However, deciding which is the right one for you comes down to your financial circumstances and goals. Whether you're looking for an easily liquidated investment property or a long-term source of income, there's a brokerage suited to you.