Investing in the stock market definitely involves some turbulence, but many investors have success when they research and time their trades right. While there's never any guarantee of profit in investing, it's now easier than ever before to get started trying your own hand at the market.
A slew of convenient apps simplifies the trading process, reduces costs, and removes the threshold of high balance requirements. In other words, there's finally some equal opportunity when it comes to investing. And no matter what level of expertise you have, there's a stock trading app made for your comfort zone.
Overview of the best stock trading apps
Public
Minimum balance – $0.

Commission fee – None.


Fractional shares available? – 

Yes.
Public's mobile app lets you build your own portfolio with individual stocks. Choose between both full shares or fractional shares so that you're not kept out of high-performing companies that may interest you that would otherwise be inaccessible because of price. Think Chipotle and their guacamole (CMG), which started 2023 trading at around $1,400 a share.
Public
Public is a free investing app that offers fractional investing with no commission fees or account minimums. Public lets you invest with context in stocks, ETFs, and crypto – all in one place. With a tool like Public, anyone can own a piece of a company they believe in and build a diversified portfolio
Offer: Open an approved brokerage account today and claim a reward ranging from $1 to $300. Terms and conditions apply.
Pros:
Trade U.S. stocks and ETFs commission-free

Can deposit funds with your debit card

Real-time fractional trading
Cons:
Not internationally available
Sign Up
This does not constitute investment advice. Investing involves the risk of loss, including the potential loss of principal. Brokerage services for US-listed, registered securities available on Public are offered by Open to the Public Investing, Inc. (OTTP), a member of FINRA & SIPC, and a wholly-owned subsidiary of Public Holdings, Inc. Brokerage services for alternative investments are offered by the Dalmore Group, LLC, a member of FINRA & SIPC. Alternative investments are over-the-counter equity securities that have been issued pursuant to Regulation A of the Securities Act of 1933. Cryptocurrency trading is provided by Apex Crypto LLC (NMLS ID 1828849). Apex Crypto is licensed to engage in the virtual currency business by the New York State Department of Financial Services. New customers of OTTP receive free stock valued between $3 - $1,000 (0.3% receive the maximum value).
One standout feature you'll notice with the Public app is the built-in social media element. Users can post about their investment experience and strategies. You can choose to follow your favorite peers and keep learning. There's also a chat feature so you can have private conversations with connections and groups.
Public also makes it easy to explore new stocks by organizing public companies into different themes. Some available themes include:
Public Top 20 (the app's most popular investments).

Women in Charge.

Gaming and eSports.

Dividend Stocks.
Whether you believe strongly in the growth of a certain industry or want to incorporate some values-based investing, it's easy to do with the Public app.
Another benefit is that it's easy to get started investing with Public. You can open an account with any amount of money and there are no commission fees for trading. 
Sign up for Public or read our full Public review here.
Robinhood
Minimum balance – $1.
Commission fee – 

None.

Fractional shares available? – 

Yes.
The Robinhood app is another commission-free platform that lets you invest starting with just $1. In addition to choosing specific companies, you can also invest in exchange-traded funds (ETFs), gold, cryptocurrency, and options. Bonds and mutual funds, however, aren't available on the trading app.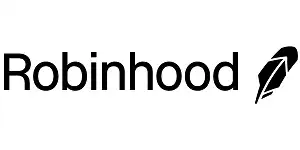 Robinhood
Robinhood is an intuitive stock trading and investing app that offers zero-commission trades on thousands of investments.
The slogan behind Robinhood is "We're on a mission to democratize finance for all," which speaks to the company's obsessive focus on keeping investing approachable.
Offer: Sign up today and link your bank account or debit card and you'll receive your first stock for free, valued up to $200!
Pros:
Commission-free trading

Easy to use, well-displayed dashboard

No minimum account balances required
Cons:
No bonds or mutual funds

Crypto fee transparency
Open Account
Advertiser Disclosure – This advertisement contains information and materials provided by Robinhood Financial LLC and its affiliates ("Robinhood") and MoneyUnder30, a third party not affiliated with Robinhood. All investments involve risk and the past performance of a security, or financial product does not guarantee future results or returns. Securities offered through Robinhood Financial LLC and Robinhood Securities LLC, which are members of FINRA and SIPC. MoneyUnder30 is not a member of FINRA or SIPC.
If you own any stocks that offer dividends, Robinhood lets you reinvest those dividends. This strategy is called DRIP, and it's easy to automate the process through the app. All you have to do is toggle the "dividend reinvestment" feature in your app settings and Robinhood will automatically purchase more company stock on your behalf once the dividends are distributed to your account.
Robinhood also excels when it comes to information and tracking features. You can create a watchlist in the app so you can easily keep an eye on stocks like you would with the best stock tracking apps and websites you're interested in buying if they reach a certain price. 
You can also create your own newsfeed alerts, making the app a one-stop-shop for everything you need for investing. Plus, Robinhood has its own podcast if you prefer to digest your stock news in audio format. 
Open a Robinhood account or read our full Robinhood review here.
E*TRADE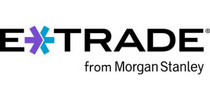 Minimum balance –

 $0.

Commission fee –

 $0 for US-listed stocks, ETFs, and options.

Fractional shares available? – 

No.
E*TRADE is a popular app for frequent traders because it offers a variety of in-depth research and analytical tools for users. You'll find interactive charts, LiveAction features to identify volatility, and multiple prediction analyses for potential options trades. 
There is also a wide selection of investments to choose from. In addition to stocks, ETFs, and options, you can invest in bonds, mutual funds, and futures. And there are a lot to choose from within each category. For instance, E*TRADE offers 250 commission-free ETFs, and 4,400 no-transaction-fee mutual funds. 
The E*TRADE app also offers a robo-advisor feature that manages your portfolio on your behalf, if you prefer. There are multiple tiers of management portfolios that start with a minimum investment of $500 and an annual advisory fee of 0.30%. 
You can also customize your core portfolios with socially responsible investments, which will exclude or reduce exposure to certain companies and industries that don't meet certain environmental, social, and governance standards. 
Check out our E*TRADE review here.
TD Ameritrade
Minimum balance –

 $0.

Commission fee – 

$0 for stocks, ETFs, and mutual funds.

Fractional shares available? –

 No.
TD Ameritrade actually offers two separate investing apps: the TD Ameritrade mobile app and the thinkorswim mobile app. With the standard TD Ameritrade app, you can trade stocks and ETFs. In addition to watchlists, you can set price alerts so you know exactly when to buy your favorite stocks at your target price. The app also has extensive charting capabilities. 
TD Ameritrade
TD Ameritrade is one of the biggest online brokers in the market that offers a comprehensive trading experience. Whether you are an experienced trader or just starting your investment career, TD Ameritrade will appeal to you because of its easy user interface and advanced investor options.
Pros:
Comprehensive trading options for diversification

Great for new or experienced traders

Active and reliable mobile trading app
Cons:
Does not offer international stock trading

Different trading platforms for various commodities
Open Account
These features work well for both experienced investors and beginners who want to learn more about trading. You can also integrate your market news delivery to other apps you use every day, including Facebook Messenger, Amazon Alexa, and your Apple devices. It makes it incredibly easy to access stock information on the go, even if you don't have the TD Ameritrade app directly open on your phone.
When trading on your own, you'll enjoy $0 commissions on stocks, ETFs, and mutual funds. 
TD Ameritrade now also allows you to invest in forex and futures. However, you'll need to download a separate app, called thinkorswim, to access those additional investment opportunities. Thinkorswim also has extra customizable data features.
Learn more about TD Ameritrade or read our full TD Ameritrade review here.
Webull
Minimum balance –

 $0.

Commission fee – 

$0.

Fractional shares available? – 

No.
Webull is a free trading platform that lets you choose between trading through the mobile app or your desktop. You can invest in stocks, ETFs, options, and cryptocurrency. Webull is completely self-directed, so it's important to have confidence and clarity in your investment strategy.
Webull shines when it comes to real-time data. You can build watchlists, analyze charts, and place trades from anywhere in the world. In addition to individual brokerage accounts, Webull also offers IRAs.
Webull is also one of the only trading apps that offers crypto investing. The minimum investment is just $1 and you can buy Bitcoin, Ethereum, Bitcoin Cash, and Litecoin. Plus, there are no trading hour limitations so you can trade crypto any time and any day of the week. 
In addition to opening a cash account, Webull investors can also open a margin account. This lets you leverage your current investments in order to buy additional stocks. Obviously, this is designed for more experienced and sophisticated investors, so don't jump into margin accounts right away.
Get started on Webull or check out our head-to-head comparison of Webull Vs. Robinhood. 
SoFi Active Investing
Minimum balance – $0.

Commission fee – $0.

Fractional shares available? – 

Yes.
SoFi Active Investing has several investment options, including stocks, ETFs, and cryptocurrencies. Fractional shares are also available for over 40 individual stocks that may otherwise be difficult to access for investors who are just getting started. However, you won't see options, mutual funds, or any other types of investment choices. 
Amazon, Apple, Disney, Facebook, and other major company shares are available to purchase with as little as a dollar. Just note that fractional trades are only made once a day rather than in real-time, so the price may change by the time the purchase is made. 
A new and unique feature from SoFi Active Investing is IPO investing through the app. You'll be notified as soon as trading goes live for a new public company, allowing you to buy shares as soon as they're available. You must have at least $3,000 across your SoFi Invest accounts. Then you need to submit an indication of interest before confirming your buy order. 
Investors using the SoFi Active Investing app can also sign up to reinvest dividends. Just opt-in through the app and the entire process will be automated. 
Learn more about SoFi Active Investing. 
Summary of the best stock trading apps
Stock trading app
Available investments
Unique features
Public
Stocks and ETFs
Offers fractional shares and a social media feed
Robinhood
Stocks, ETFs, options, gold, and crypto
Allows you to automatically reinvest dividends. You can also customize your own news alerts
E*TRADE
Stocks, ETFs, options, futures, mutual funds, bonds, and CDs
Has some of the most diverse investment offerings for experienced traders
TD Ameritrade
Stocks and ETFs

Futures, and forex also available on thinkorswim app

Offers two separate investing apps to correspond with your level of expertise and trading preferences
Webull
Stocks, ETFs, options, and crypto
Offers margin accounts for seasoned investors who want to leverage existing investments to purchase more
SoFi Active Investing
Stocks, ETFs, and crypto
Includes a new IPO investing feature that lets you sign up for IPO notifications for immediate access when a company first goes public
How we came up with our list of best stock trading apps
To compile this list of top investment apps, we started by looking at the apps themselves. Are they easy to use? Are they available for most mobile devices? 
We also focused on companies that prioritize accessibility and low entry levels for investors. They all come with no or low commission fees and either no account minimum or just a very low deposit in order to get started.
We also included some options with more sophisticated resources for experienced investors or those who grow in their comfort level after getting started with investing. 
What is a stock trading app?
A stock trading app for your smartphone lets you invest and make trades using an app on your Android and iOS devices, like the best stock trading apps for Android users. There are a number of different types of apps to choose from, such as automated robo-advisors and active investment platforms that are designed to let you make frequent trades based on your own research. Expect to find stocks on any app, but some also offer more specialized investments, like options or cryptocurrency. 
Traditionally, you would have to call your broker and pay an expensive fee in order to make a stock trade. With an app, however, you can control your entire portfolio with just a few swipes. And most have zero commissions with each trade so that you can start at low levels without completely wiping out your gains. 
Why should you use stock trading apps?
You make frequent trades
Stock trading apps make it cheap and easy to invest in individual stocks. If you prefer a hands-on approach to your investments, then this is probably a good option for you. Most apps offer research and resources to give you ongoing stock insights.
As you track your investments and companies you're interested in, you'll be ready to buy or sell when the price is right. You don't have to call your investment broker or fire up the laptop to log onto a dashboard. Your entire portfolio is at your fingertips so that you can react quickly to market changes. 
You have a small starting balance for investments
Many large investment brokers have a high minimum balance in order to invest with them. Most stock trading apps are designed for investors of all types. So even if you just want to transfer $5 a month into the market, you can do that. You don't need $25,000 just to get started.
Why shouldn't you use stock trading apps?
You qualify for other tax-advantaged accounts
Stock trading apps generally focus on taxable investment accounts (although some may have a subset of retirement accounts available). That means you have to pay income tax on the money you use to invest, and you'll pay capital gains tax anytime you sell an investment.
Before you get started actively trading, you should make sure you're taking advantage of tax-advantaged accounts that help you save for retirement and other long-term expenses. Examples include an employer-sponsored plan, a traditional IRA, a Roth IRA, and even some health savings accounts (HSA). Each of these accounts comes with its own unique tax advantages that save you money either now or in the future.
You're not maxing out your employer plan match
Once you're contributing to a tax-advantaged retirement plan, also check to see if your employer offers any type of matching contribution to your plan. It's common to receive a dollar-for-dollar match on every contribution you make, up to a certain percentage of your salary.
It's free money and, if it's a 401(k) or something similar, you won't have to pay taxes on the earnings once you start making withdrawals during retirement. 
Most important features of stock trading apps
When comparing stock trading apps, pay careful attention to the following features.
Available investments
You'll obviously find publicly listed stocks on investment apps, but make sure they have every type of investment you're interested in. ETFs have become increasingly popular, so check to see what's available on each app, especially if you're interested in a specific fund. Options, forex, and cryptocurrency are less common investments, especially since they're more complicated than standard stocks. If you're a more savvy investor, choose the app that truly meets your needs.
Fees
Most stock trading apps claim no or low commission fees. But there are likely other fees you'll face, which can eat into your margins. There may be a funds transfer fee for investors transferring money from another brokerage account. And while your investment app may not charge commission fees, ETF investors may face expense ratios that are charged by the fund manager. Do some digging to get a true picture of the costs associated with your favorite app.
Passive vs. active investment strategy
Many investors prefer active trading, while others may prefer a more automated approach to guide them. In fact, starting off with a passive investment app can help you get comfortable with investing when you're just starting. Then you can add an additional layer of complexity by adding your own stock picks to your portfolio.
Summary
Stock trading apps are a low-cost way to enter the world of making your own investment picks. This list offers plenty of options for investors of all experience levels. Make sure you understand all of the costs involved and investments available, then pull out your smartphone to get started.