Coinbase is best for crypto investors, both new and advanced, while Robinhood is primarily a stock trading platform that also offers crypto.
It's no wonder that Coinbase and Robinhood are the most popular crypto trading apps in the U.S. Both companies offer beautifully designed, extremely intuitive mobile apps, a guided user experience, and education to help turn newbies into crypto pros. Both also offer in-app newsfeeds to help users stay up on the current news for each investment on the platform.
Oh, and both have questionable fee structures, but more on that in a minute.
While Coinbase offers a wide selection of cryptocurrency and multiple trading platforms, Robinhood offers crypto, stocks, and options trading with "no commissions."
Yes, both platforms offer access to Bitcoin and other popular crypto, but these apps offer very different approaches to trading and investing. We've compared the crypto selection, fees, security, and features of both Coinbase and Robinhood to help you find the best exchange for your needs.
Robinhood vs. Coinbase Summary
Both Robinhood and Coinbase offer access to Bitcoin, Ethereum, and other top cryptocurrencies; however, Coinbase offers a much wider selection of crypto, and the ability to transfer crypto on and off the platform.
Robinhood offers commission-free trading for all assets on the platform (stocks, options, crypto), but does charge a spread fee.
Both platforms offer access to intuitive mobile apps for trading on-the-go, as well as built-in market newsfeeds.
Fees: $0.99–$2.99, for orders below $200; 1.49%–3.99% for trades over $200. Advanced: up to 0.60%/0.60%, depending on 30-day trade volume.
Trading options: Buy/sell, staking.
Funding options: Wire transfer, ACH, debit card, PayPal, crypto deposit.
Currency selection: 160+ crypto, 5 fiat.
Verification process: 2–3 minutes.
Coinbase is a U.S.-based cryptocurrency exchange founded in 2012 by Brian Armstrong and Fred Ehrsam that has become one of the largest crypto exchanges in the world by trading volume. With over 170 crypto available to trade on the platform, and nearly 100 million customers around the globe, Coinbase has become one of the most popular crypto exchanges on the planet.
Coinbase focuses on simplicity, with an intuitive mobile app ideal for crypto newbies. It also offers an advanced trading platform with more trading tools and charts than the standard platform. Coinbase does charge high fees on the standard version, but the advanced trading platform offers competitive fees for high-volume traders.
Pros
Easy to use. The Coinbase platform and mobile app make for one of the easiest crypto-buying processes around, perfect for beginners.
Large crypto selection. Coinbase offers over 170 crypto (and counting), which isn't the most in the industry, but a respectable selection for any crypto trader.
Educational resources. Coinbase offers built-in video training and a crypto rewards program, encouraging crypto newbies to earn while they learn, without spending hours to grasp fairly complex subject matter (i.e., crypto projects).
Cons
High fees. Straight up, Coinbase charges high fees for orders under $200. Add to that an additional surcharge on debit/credit card purchases, and users can quickly pay over 10% for small purchases. Luckily, the Advanced Trade platform just launched to offer much more reasonable fees.
No margin or derivatives trading. While Robinhood offers margin trading on its platform, Coinbase removed margin trading back in 2020. It also does not offer any future trading or derivative products.
Fees: No fees on stocks, ETFs, options, or crypto trades. Robinhood does collect a "spread" fee, which is the difference between the buy and sell price of a trade.
Trading options: Buy/sell, options trading.
Funding options: Bank account, wire transfer (USD only).
Currency selection: 11 crypto, 1 fiat (USD only).
Verification process: 2–3 minutes.
Robinhood is a popular stock trading app based in the U.S., boasting fee-free trading of stocks, ETFs, options contracts, and crypto. While "commission-free" trading sounds attractive, it's important to note that Robinhood does collect a "spread" fee, which is the difference between the buy and sell price of an asset.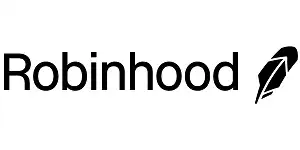 Robinhood
Robinhood is an intuitive stock trading and investing app that offers zero-commission trades on thousands of investments.
The slogan behind Robinhood is "We're on a mission to democratize finance for all," which speaks to the company's obsessive focus on keeping investing approachable.
Offer: Sign up today and link your bank account or debit card and you'll receive your first stock for free, valued up to $200!
Pros:
Commission-free trading

Easy to use, well-displayed dashboard

No minimum account balances required
Cons:
No bonds or mutual funds

Crypto fee transparency
Open Account
Advertiser Disclosure – This advertisement contains information and materials provided by Robinhood Financial LLC and its affiliates ("Robinhood") and MoneyUnder30, a third party not affiliated with Robinhood. All investments involve risk and the past performance of a security, or financial product does not guarantee future results or returns. Securities offered through Robinhood Financial LLC and Robinhood Securities LLC, which are members of FINRA and SIPC. MoneyUnder30 is not a member of FINRA or SIPC.
Robinhood has designed one of the most intuitive investing apps for beginners, making it easy for new traders to get started. It also offers access to 11 cryptocurrencies, including Bitcoin and Ethereum.
Robinhood is known for meme "stonks" and some shady savvy ways that they earn money, but overall provides a simple user experience and access to a wide range of assets.
Pros
No-fee trading. Yes, Robinhood charges a spread, but overall, the "no-fee" trading is a perk for users who want to avoid paying high fees for trades.
Access to more than crypto. While crypto has been a popular asset on the platform, investors can diversify into stocks, ETFs, and even options trading on the Robinhood app.
Mobile app. The Robinhood mobile app is hands-down one of the simplest trading apps around, with guided tours of the trading screens, simple summaries of each investment, and a live, built-in newsfeed.
Cons
Hidden fees. Robinhood has been in hot water for accepting "payment for order flow," receiving fees for routing payments to preferred processors, as well as collecting a spread fee, possibly charging you more than an asset is worth. Keep an eye on those order prices.
Very small crypto selection. There are only 11 crypto to choose from, which is 10x less than most exchanges, limiting your selection of crypto to trade.
Try Robinhood or read our full review.
Coinbase vs. Robinhood Fees
Coinbase charges fees for buying, selling, and trading crypto, with several different fee structures, depending on the transaction and platform used. Purchases made with a debit or credit card also charge a very high surcharge in addition to the trading fee. There is no fee schedule on the standard platform, making it hard to decipher how much you are actually paying until the final trade confirmation screen.
Robinhood does not charge commission or fees on buying or selling crypto on its platform, but does collect a "spread," which is the difference between the "bid" and "ask" price of a transaction. This fee is non-transparent, and may result in you paying more for an asset than its current value.
Coinbase offers free crypto deposits, and crypto withdrawal fees are based on the currency and blockchain network. Robinhood does not currently allow crypto deposits or withdrawals.
Robinhood has a waitlist for its crypto wallet launch, which will eventually allow users to deposit and withdraw cryptocurrency from the platform. You can see a breakdown of Coinbase exchange fees and Robinhood exchange fees on their websites.
Read more: Best crypto wallets to stash your Bitcoins
Here's a side-by-side comparison of Coinbase and Robinhood fees:
Coinbase fees
Robinhood fees
Buy/sell fees
$0.99–$2.99, for orders below $200.

1.49%–3.99% for orders over $200

● No fees on stocks, ETFs, options, or crypto trades
● Robinhood does collect a "spread" fee, which is the difference between the buy and sell price of a trade
Trading fees
Coinbase Advanced: Up to 0.60%/0.60% (maker/taker), depending on 30-day trade volume
● No fees on stocks, ETFs, options, or crypto trades
● Robinhood does collect a "spread" fee, which is the difference between the buy and sell price of a trade
Credit/debit card fees
3.99%
N/A
ACH transfers
Free
Free
Wire transfers
● Deposits – $10
● Withdrawals – $25
Free (bank may charge fees)
Crypto
● Deposits – free
● Withdrawals – varies by currency
N/A
Coinbase vs. Robinhood Security
Both Coinbase and Robinhood offer solid security features, guarding crypto assets and user data with bank-level protection.
Here are a few of the security features shared by Coinbase and Robinhood:
Cold storage. Both platforms keep a majority of your crypto assets in offline cold storage, removing the risk for online cyber attacks.
Two-factor authentication (2FA). Both platforms offer setting up 2FA with a third-party app (like Google Authenticator) to secure your account.
FDIC insurance. Both platforms offer up to $250k in FDIC insurance for cash deposits. Robinhood also carries SIPC insurance for stock and ETF balances.
In addition to these security features, each platform offers more unique ways to protect your coins:
Robinhood crypto asset insurance. Robinhood carries insurance against a portion of user crypto holdings underwritten by Lloyd's to protect against theft.
Coinbase vaults. Coinbase offers an optional cold-storage vault service that protects user funds with multi-signature wallets, time-delayed withdrawals, and offline storage.
Overall, both Robinhood and Coinbase offer great security for crypto traders and have not lost any user funds due to a security breach, though Robinhood did suffer a data hack back in November of 2021.
Coinbase vs. Robinhood Features
While Robinhood and Coinbase both offer access to crypto trading, they are very different platforms. Here are some of the features that are unique to each platform:
Coinbase features
Crypto selection: Coinbase offers over 170 cryptocurrencies for trading, with more being added on a regular basis. While this isn't the largest selection of any crypto exchange, it far exceeds Robinhood's 90+ crypto selection.
Coinbase Learn: Coinbase offers a unique learning program, built into the website and mobile app. Users can learn about cryptocurrencies through short-form videos, and even earn crypto rewards by taking a quiz after each video series.
Robinhood features
Stock trading: Robinhood offers access to more than crypto, and is primarily a stock trading platform. It offers thousands of individual stocks and ETFs for trading, as well as options trading.
Margin trading: Robinhood offers access to margin trading on the platform, with only a $2,000 balance required for access.
My Experience with Coinbase and Robinhood
Coinbase is my main crypto trading platform, having been a user since late 2020. As my first crypto experience, Coinbase was easy to sign up and start using, and I was able to quickly verify my identity within the app. I connected my bank account through Plaid and deposited funds that were immediately available to trade with.
Buying crypto was a straight-forward experience, with the fees clearly listed before making a purchase.
I have also used Coinbase Pro, which is a more advanced trading platform with lower fees. Now that Coinbase has launched "Advanced Trading," the fees are identical on both platforms, and I'll be switching back to the standard Coinbase app.
Overall, Coinbase is an easy-to-use platform that was perfect for a beginner like me.
I used Robinhood to buy a meme stock in 2021, which was a fun, but short-lived experiment. The sign-up process and identity verification were fairly straightforward and quick. The trading platform is very simple, with easy-to-read charts and an order form that makes it easy to buy and sell.
Overall, Robinhood was as advertised: a simple trading platform that walked me through each screen to learn how to trade.
Who is Coinbase Best for?
Crypto Newbies
Coinbase caters to new crypto investors, offering a simple onboarding experience, easy-to-use mobile app, and helpful educational videos.
Advanced Crypto Traders
With the launch of Advanced Trade, Coinbase offers more trading tools for active crypto traders, as well as lower fees all around.
>>> Try crypto trading with Coinbase.
Who is Robinhood Best for?
New Investors
Robinhood pioneered "no-fee" trading, and its simplified design helps new investors get comfortable making their first trade.
Stock Traders
Yes, Robinhood offers crypto, but only 11 of them. It is first and foremost a stock trading app, offering access to thousands of stocks and ETFs, as well as options trading for more advanced users.
>>> Try crypto and stock trading with Robinhood.
So, Which One is the Best?
Coinbase and Robinhood both help beginners start investing in crypto with simple-to-use mobile apps and a focus on user education. Both also help protect your coins with offline cold storage and both carry popular crypto for trading.
Coinbase offers far more crypto to trade, and is a full-featured crypto exchange, offering ways to earn interest on coins, as well as the ability to transfer crypto assets on and off the platform. Coinbase also offers advanced trading with low fees, ideal for active crypto traders and professional investors.
Robinhood, on the other hand, is great for beginners who want access to more than crypto. With thousands of stocks and ETFs, as well as options contracts and margin trading, Robinhood is more aimed at active traders. It offers no-commission trading, but does charge a spread, so keep an eye on the prices paid for assets.
Overall, Coinbase is our favorite platform for crypto beginners, but Robinhood can be a decent option for lowering fees and allowing users to trade more than just crypto.
Read more: