E*TRADE and TD Ameritrade offer similar trading options, comparable fees, and equally user-friendly platforms. With only a handful of differences between the two, choosing the best one for you ultimately comes down to personal preference.
Over the past few years, self-directed investing has exploded in popularity. It used to be that people handed over responsibility for their investment portfolio to traditional investment brokers. But today, more people than ever are using low-cost online trading platforms to invest their savings for themselves.
Whether you are interested in passive investing or prefer to take a more active role in your investments through individual stocks, an online brokerage account can be the ideal platform to do so.
While there are many advantages to using an online broker to buy and trade, it can be somewhat difficult choosing the right option for your particular needs.
In this review, we do a head-to-head comparison of online brokers E*TRADE and TD Ameritrade, so you can decide which brokerage firm best matches your investment style.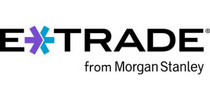 In 2019, E*TRADE emerged as one of the first online brokers in the United States. Like many of its competitors, E*TRADE offers users commission-free trading on stocks, ETFs, and options, so it is far more affordable than a traditional, in-person broker.
Once you sign up for E*TRADE, you can take advantage of a wide range of offerings, including a variety of web-based trading platforms and your choice of two app-based mobile platforms.
E*TRADE is incredibly intuitive and beginner-friendly. Unlike using the services of a traditional, in-person broker, which can be prohibitively expensive and intimidating when you're just starting your investment journey, creating and using an E*TRADE account is simple.
Visit E*TRADE to learn more or read our full E*TRADE review.
Like E*TRADE, TD Ameritrade is a full-service online brokerage that offers commission-free trading on stocks, ETFs, options, and more. As such, it is also a much more affordable alternative to using a traditional brokerage or hiring a professional portfolio manager to handle your investments.
TD Ameritrade
TD Ameritrade is one of the biggest online brokers in the market that offers a comprehensive trading experience. Whether you are an experienced trader or just starting your investment career, TD Ameritrade will appeal to you because of its easy user interface and advanced investor options.
Pros:
Comprehensive trading options for diversification

Great for new or experienced traders

Active and reliable mobile trading app
Cons:
Does not offer international stock trading

Different trading platforms for various commodities
Open Account
Just like E*TRADE, TD Ameritrade offers the choice between a web-based version of the platform or a user-friendly mobile app.
TD Ameritrade stands out because it was designed as an online brokerage for beginners. It offers a wide range of educational videos and tutorials to help even the most amateur traders learn the basics of investing their money.
Just like E*TRADE, TD Ameritrade offers an incredible selection of investment products, including stocks, bonds, mutual funds, ETFs, options contracts, and even the ability to purchase some forms of cryptocurrency.
Visit TD Ameritrade to learn more or read our full TD Ameritrade review.
Which is Easier to Use, E*TRADE or TD Ameritrade?
Fortunately, both of these online brokers make it easy to access the markets. With both platforms, you can choose to navigate a web-based version, a dynamic and customizable desktop version, or a user-friendly mobile app version.
The layouts are all fairly simple and customizable, so you only see the information you want to see. With both online brokers, you can get real-time updates about your account balances, watchlists, stock prices, and more.
Since both online brokers are incredibly easy to use, choosing which is better is simply a matter of personal preference. The fact that they are both highly customizable and come with built-in instructional tutorials means that investment beginners and those with many years of experience alike will be happy with either.
E*TRADE's web platform includes market analyses, screeners and optimizers, and third-party research for anyone looking for new investing ideas or inspiration. There is also an extensive library of educational resources designed to help you learn more about yourself as an investor. For the most part, you can do everything on the mobile app that you can do on the web platform. That said, you'll have the easiest time and fastest experience when making simple trades or checking on your portfolio.
TD Ameritrade has more comprehensive platforms overall and gives you more options for investing. Traders can strategize and plan for their investments on a granular level and TD Ameritrade allows for advanced actions like conditional trading. The mobile app, called thinkorswim, mirrors the desktop app closely. It can be a bit overwhelming for beginners, but it's intuitive to use.
What Do E*TRADE and TD Ameritrade Offer?
In terms of offers, E*TRADE and TD Ameritrade are just about the same, offering stocks, bonds, ETFs, mutual funds, futures, certificates of deposit, and even a few types of cryptocurrency coins.
Some of the main differences are that E*TRADE offers more fee-free mutual funds to choose from and TD Ameritrade offers foreign exchange trading while E*TRADE does not.
With comparable offers, you can choose to go as simplistic or as advanced as you like in your portfolio on both platforms.
What are the Costs Associated with Using E*TRADE and TD Ameritrade?
Both E*TRADE and TD Ameritrade offer commission-free trading for stocks and ETFs.
With that said, TD Ameritrade charges $0.65 per option trade, while E*TRADE charges the same $0.65 rate, but with a reduced transaction fee of $0.50 for traders who make more than 30 trades per quarter.
Both trading platforms also charge a flat $25 fee for broker-assisted trades.
One area where the pricing structure differs is the cost of mutual fund trades. TD Ameritrade charges a $74.95 fee, but E*TRADE only charges $19.99. If you are attracted to mutual funds, this could be motivation to choose E*TRADE over TD Ameritrade.
What Learning Materials Do they Offer?
When you are just starting out, it makes sense to choose an online brokerage firm that will help you learn the basics as you go. Not only can this help you familiarize yourself with the platform, but it can also give you a base level of understanding of the world of investing. This is incredibly valuable, especially if it helps you avoid some of the common and costly mistakes many beginners make.
Fortunately, both E*TRADE and TD Ameritrade have vast amounts of educational material built into their platforms. Whether you are a beginner and know very little about investing, or you are a seasoned trader who is just looking to pick up a few platform-specific tips, both E*TRADE and TD Ameritrade can help.
Both brokers have a back catalog of useful content available. If you were looking for a winner between the two, we find that E*TRADE's educational content is slightly more extensive, but the difference between the two is quite negligible. The truth is, both platforms do a really good job of curating educational content for their users, including educational articles and video tutorials.
While E*TRADE might publish more content, it is worth noting that TD Ameritrade does a better job of tailoring its content to your specific goals, holdings, and trading history. If, for example, you are a more conservative investor who tends to focus on ETFs, TD Ameritrade will suggest articles and other pieces of educational content that appeal more to a less active trading style.
How is the Customer Service for E*TRADE and TD Ameritrade?
Whenever you invest your money through a broker, you want to ensure they can deliver high-quality customer service. This matters just as much with an online broker as it does with an in-person broker.
Luckily, both E*TRADE and TD Ameritrade offer 24/7 telephone-based customer support. They also offer live text-based chat if you prefer not to speak over the phone. Given that neither of the two online brokers charges commissions for trades, it is impressive that they give users the option to speak with a live customer service agent at all hours.
They also both have features where you have the option to speak with a live broker. TD Ameritrade also gives its users the ability to speak with a qualified financial advisor; however, there are limits on how long and how often you can speak with them. On the other hand, E*TRADE only offers qualified customers the opportunity to speak with a financial advisor, but this feature is free once you are approved.
What surprised us is how responsive the customer service lines are for the two online brokers. Given that they are largely free to use, you would not expect them to have the fastest or most responsive customer service support systems; however, TD Ameritrade has an average customer service hold time of just 43 seconds. While E*TRADE's customer service response time averaged closer to 10 minutes, this is still fairly quick for an online broker.
Both E*TRADE and TD Ameritrade also featured extremely detailed and informative FAQ sections, which can usually resolve most questions that a typical customer would have.
While both online brokers offer impressive customer service support, we have to give this category win to TD Ameritrade, thanks to its much faster response time.
Overall Comparison: E*TRADE vs. TD Ameritrade
Who is E*TRADE for?
E*TRADE is a well-rounded, secure, and affordable option for new investors. It is ideal for basic trading and learning about investing using free educational resources.
The option to pick between a web-based, desktop-based, or mobile-app version of the platform is helpful. No matter which you choose, each platform has intuitive and easy-to-use trading tools.
Those who prefer active trading and like to track the markets closely will appreciate how quickly E*TRADE updates, as well as the wide range of zero-fee trades you can make. We recommend E*TRADE if you plan to regularly trade stocks and you're interested in mutual funds, as there are more fee-free funds available.
E*TRADE Pros:
Commission-free trading.
Intuitive and flexible mobile app for those who prefer to invest via their smartphone.
Free and automated portfolio builder feature within the app.
Low fee for mutual fund trades.
E*TRADE Cons:
No access to international exchanges.
Fractional share purchases are only available if you opt for a dividend reinvestment plan (DRIP), which is not for everyone.
Slightly less responsive customer service line than that offered by TD Ameritrade.
Who is TD Ameritrade for?
TD Ameritrade offers many of the same features and benefits you get with E*TRADE, including multiple platforms that are useful for all levels of trading expertise.
With that said, TD Ameritrade's desktop version offers some advanced features that will appeal to experienced day traders, like charting tools and advanced analytics. Although these features are aimed at more experienced traders, the platform still has plenty to offer beginners.
Overall, it is affordable, flexible, and offers an incredibly wide range of offerings, so it is a great option if you're not yet sure what you want to invest in or how. We recommend TD Ameritrade if you want to trade, invest, and research from your phone or if you're looking for a higher level of customization and options. With that said, this broker might be more difficult to use if you're brand new to trading.
TD Ameritrade Pros:
Commission-free trading.
Intuitive and flexible mobile app for those who prefer to invest on their smartphone.
Offers a free and automated portfolio builder feature within the app.
Incredibly responsive customer service support.
TD Ameritrade Cons:
No access to fractional shares.
Expensive fees for mutual fund trades.
Cannot use credit or debit cards to transfer funds.
If you are deciding between E*TRADE and TD Ameritrade, consider how you plan to trade. E*TRADE is a simpler platform and lets you invest quickly and easily in stocks, mutual funds, and ETFs. TD Ameritrade allows for more depth and customization, as well as more advanced investing.
But overall, the differences are too insignificant for us to choose a clear winner between the two. They both offer a wide range of investment options and easy ways to invest and make stock trades. For most people, E*TRADE versus TD Ameritrade comes down to your personal preferences. The best thing to do is simply pick one and test it out.