TD Ameritrade is one of the biggest online brokers in the market that offers a comprehensive trading experience. Whether you are an experienced trader or just starting your investment career, TD Ameritrade will appeal to you because of its easy user interface and advanced investor options.
Please note that TD Ameritrade has been acquired by Charles Schwab. The same wide range of investing solutions and tools will be carried over under the Schwab umbrella with existing accounts either already transferred over or in the transition process. Check out our list of the Best Investment Accounts to compare the top current options for you to start investing today.
---
The platform offers many benefits you would get from a full-service broker and fulfills a variety of investors' needs. It is great for active traders who want live feeds from the market and want to trade on a reliable platform.
What is TD Ameritrade?
TD Ameritrade has been around for a long time. It is based in Omaha, Nebraska. The company was originally founded in 1975 as First Omaha Securities. 
It's grown over the years because of mergers and acquisitions of other brokerage firms. It merged and acquired several additional funds, including Ameritrade, TD Waterhouse, and, most recently, Scottrade.
Each acquisition brought new features and services to the firm, helping it grow into the broker it is today. The company has over 11 million funded broker accounts and well over $1 trillion in total client assets.
The firm offers almost every type of investment option you would need. Its products include common and preferred stock, bonds, mutual funds, ETFs, commodities, and money market accounts. You can also open a margin account through the broker.
The company is similar to other online brokerages but offers many more branch offices around the country than you would typically find with one.
TD Ameritrade has hundreds of investment consultants you can hire through its 100+ branch offices. The physical presence of its offices gives TD Ameritrade a level of authenticity you would not find with other online brokers.
How does TD Ameritrade work?
The best feature of TD Ameritrade is its wide array of accounts and trading choices. The company offers educational resources, professional consultancy, and diverse platforms for trading online.
As a full-service brokerage firm, TD Ameritrade provides almost any investment account you want. The accounts include:
Individual.

Traditional IRA.

Roth IRA.

Rollover IRA.

Joint Tenants WROS (With Rights of Survivorship).

Trust.

UTMA/UGMA.
The trading platforms
The TD Ameritrade broker offers two main platforms that give traders plenty of options. They allow you to trade in a wide variety of commodities.
Web platform
This is the classic platform offered by the broker. You can perform all the fundamental actions here, such as trading in stocks, bonds, ETFs, and mutual funds.
The web platform also gives you the option to watch streaming news, read third-party research, and watch lists for your analysis.
Thinkorswim platform
This platform takes things to the next level. It allows trading in futures, forex,  and commodities besides the web platform's tradable securities. You can trade in these securities at any time, 24 hours a day, five days a week.
The platform also gives access to over 400 technical analysis studies, charting tools, and advanced market analytics. It is a professional-grade platform that offers many of the analytical tools that more experienced traders want.
Main investment categories
Stocks
The platform offers access to all major US trading markets, including the NYSE and NASDAQ. It also allows trading in OTC stocks. Although I don't recommend them, you can even invest in penny stocks.
ETFs
Another popular choice for traders. You can buy and sell ETFs like any other stocks on the TD Ameritrade platform. There are hundreds of ETFs to choose from, and they are all commission-free.
Mutual funds
You can invest in some of the top mutual funds through your TD Ameritrade account. The platform offers well over four thousand mutual funds with no fee for buying and selling.
Futures
Futures trading is available on the Thinkorswim version of the platform. More experienced traders generally prefer these. If you think you can handle their complexities, you can trade futures contracts with competitive pricing.
Forex
Foreign exchange trading has been popular with investors as it offers excellent potential for making a profit. TD Ameritrade brokerage account supports around 24 global currencies, including the popular Euro, British Pound, Japanese Yen, Swedish France, and many others.
Managed portfolios
You can also invest in a set of portfolios that work similarly to how robo-advisor firms work. Investments are automatically allocated to funds based on your goals and investment choices. The TD Ameritrade platform also allows you to work with a professional financial advisor who can build a custom portfolio for you.
Other products
Last but not least are investments in cash accounts, IRAs, bonds, CDs, and annuities. You can trade in these investments giving you the choice of building a very dynamic portfolio online.
Pricing for TD Ameritrade
TD Ameritrade offers well over 300 commission-free ETFs. They also offer investment in over 4,000 mutual funds without a fee.
So if you are looking to invest in these funds, you could do it through the broker and pay no trading commission in effect. That will be a significant plus for investors who focus specifically on funds and not concerned much with other securities.
Also, there's no commission on online option trades (some terms apply).
TD Ameritrade features
The TD Ameritrade platform offers a lot of appealing features that will attract new and long-time investors.
Some of their best features include the following:
A wide selection of investments
TD Ameritrade allows you to invest in almost anything with a single broker. The web platform offers stocks, bonds, and the Thinkorswim upgrade will even let you trade in forex, futures, and funds.
The broker is also allowing investors to trade in cryptocurrencies through the ErisX regulator exchange. Thought cryptocurrencies are not something I recommend trading in, but if you want the option as a trader, you are free to try it out.
A plan is also in works by the broker to offer to trade in spot and futures contracts. How they implement is yet to be seen, but it does make TD Ameritrade one of the most comprehensive brokers in the market.
Easy access to the feature-rich platform
The best thing about TD Ameritrade brokerage is there are no additional trade or account value thresholds you have to meet for getting access to the Thinkorswim gold standard version. You can simply upgrade to the better version.
This differentiates TD Ameritrade from its competitors. Other brokers usually offer an interface with limited features to casual investors, and the more advanced platform is provided to more active traders.
With TD Ameritrade, you can move to the more advanced platform at any time if you feel you need advanced or in-depth technical analysis.
Guidance and research
Another considerable advantage of TD Ameritrade is that it offers education and advice for new traders. The platform provides live webcasts, news, and analysis on almost every relevant market topic.
You can browse guides on pretty much everything. The platform offers a wide variety of educational resources that will help you make the best use of TD Ameritrade.
You can also get in touch with consultants directly who are working for the company. A trader can take in-house training sessions for investors held at its branch locations occasionally.
Casual investors only looking to trade in specific stocks will also appreciate the research offered by the broker. The platform provides updated reports from Morningstar, CFRA, Credit Suisse, The Street, and many other financial sources. Every stock page lists updated data from SEC filings, company earnings transcripts, and any other related news, so you will always be up to date and need not go anywhere else to read reports.
Mobile apps
TD Ameritrade is also great for trading on the move. The broker offers not one but two mobile apps! Each app corresponds to the broker's two trading platforms.
The TD Ameritrade mobile apps are built with a similar design to their desktop versions. This makes it easy for traders to switch from the desktop version to the mobile app. The apps have a simplified user interface that offers practical functionality in an easy-to-use package.
Pros
Comprehensive trading options for diversifying your portfolio — TD Ameritrade is loaded with options to help you quickly build a diversified portfolio at a low cost.
Great for new or experienced traders — With multiple platform options and a variety of investment types (as well as low fees), it's great for all types of investors.
Active and reliable mobile trading app — The mobile app is slick and easy to use, and makes trading on the go a breeze.
Multiple branch locations for more accessible contact support — If you want to speak with someone face to face, you can by visiting one of their many branches.
Cons
Does not offer international stock trading — This is a big downside for experienced traders who want to invest in international markets.
Different trading platforms for various commodities — Having to use different platforms to invest in different types of securities can quickly become annoying, so it's best to have a plan to stay organized ahead of time if you're going to be investing in multiple investment types.
The competition
While TD Ameritrade is great, it's not the only affordable online broker out there.
| Company | Minimum investment | Fees | Investment options |
| --- | --- | --- | --- |
| TD Ameritrade | None | None for online stock trades, ETF trades, option trades | Stocks, options, ETFs, mutual funds, futures, cryptocurrency |
| J. P. Morgan Self-Directed Investing | None | None for self-directed trades; 0.35% for managed portfolios | Stocks, ETFs, options, fixed income, mutual funds |
| Fidelity | None | Stock trades cost $4.95 | Stocks, mutual funds, ETFs, options, bonds |
| Vanguard | Typically $1,000 | $20 for most accounts | Stocks, mutual funds, ETFs, options, bonds |
TD Ameritrade vs J.P. Morgan Self-Directed Investing
J. P. Morgan Self-Directed Investing is owned by Chase Bank, long known for their excellent customer service and has become a popular bank for things like online checking and savings. But they offer some superb investing options too.
Great sign-up offer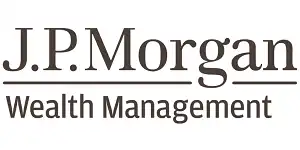 J.P. Morgan Self-Directed Investing
J.P. Morgan Self-Directed Investing offers Chase clients tremendous convenience and new investors an intuitive investing platform with unlimited commission-free online stock, ETF and options trades.
The clean research-based interface makes it ideal for those who are interested in learning the market with no investment minimums attached.
Offer: Get up to $700 when you open and fund a J.P. Morgan Self-Directed Investing account with qualifying new money by 01/22/2024* with our link.
Pros:
Exceptional customer support

Simple, intuitive interface

Easy integration for existing Chase customers
Cons:
Basic functionality for more advanced traders

Portfolio Builder requires $2,500 min.
Open Account
You have the option to either invest on your own (J. P. Morgan Self-Directed Investing) – meaning you buy your own stocks, bonds, and ETFs – or you can opt for their robo-advisor option (J.P. Morgan Automated Investing). 
With J. P. Morgan Self-Directed Investing you'll have no minimum investment requires and you can trade stocks, ETFs, mutual funds, and options for free. With a little know-how, this could be the perfect fee-free platform. 
» MORE: Sign up for J.P. Morgan Self-Direct Investing or Read more in our review of J.P. Morgan Self-Directed Investing.
Disclosure – INVESTMENT AND INSURANCE PRODUCTS ARE: NOT A DEPOSIT • NOT FDIC INSURED • NO BANK GUARANTEE • MAY LOSE VALUE
TD Ameritrade vs Fidelity
Fidelity is one of the biggest investment companies in the world, and they offer a ton of options for both account types and investment types. You can add iShares ETFs to your portfolio with a $0 commission, and other stock trades cost just $4.95 – which is pretty cheap.
You'll also have access to thousands of mutual funds, be able to do option trading, and invest in bonds.
Historically, Fidelity was more expensive, but they've softened their prices. Note, however, that some fees may still be higher than competitors so you'll want to have a complete look at their pricing before you sign up.
» MORE: Read more in our review of Fidelity.
TD Ameritrade vs Vanguard
Vanguard is really popular, especially in the personal finance community. They have a ton of different funds you can invest in at no cost, but you can also buy stocks, bonds, ETFs, and mutual funds through Vanguard.
I used to invest exclusively with Vanguard and I loved it. The one thing to be aware of, though (and the reason I ultimately switched to Wealthfront), was how hands-on the investing is. Not only do you have to know what you're looking for, but to me, their online system was a bit antiquated. It's not as slick and easy to use as some of the newer brokerages.
So if you want to invest in a handful of cheap funds and hold them, it's great. But know that you'll have to monitor your portfolio. If you want a more hands-off approach, go with a robo-advisor or another broker.
» MORE: Read more in our Vanguard review.
My experience using TD Ameritrade
Signing up
Signing up for an individual brokerage account with TD Ameritrade was ridiculously easy. It took me about five minutes start to finish.
Here's what the main account screen looks like once you get in:
The online navigation with TD Ameritrade is fine, but nothing to write home about. The area at the bottom where you can quickly research a stock is a nice feature, but it's obstructive and I found it very annoying:
Placing an order
Placing an order is very easy. Here's a snapshot of me placing an order for stock in Apple. All I had to do was type in the ticker and fill out two more fields and I was good to go.
The chart pops up automatically for a quick review, and you can place your order from there:
As you can see, it's easy to place option or conditional orders.
Screeners
In the research area, one thing I liked was how easy it was to create a custom stock screener:
This way, I was able to create something customized to what I need from my investments. More hands-on, yes, but it helps me find the exact right stocks I want to buy without doing a TON of research.
Education center
Finally, the last thing I wanted to call attention to was the education center. TD Ameritrade offers a plethora of free resources for you to learn about stocks, investing, and everything related.
You won't always get these educational tools from other brokers, so I was pleasantly surprised.
Summary
TD Ameritrade won't blow you away with revolutionary features that you can't find anywhere else, but they're a long-time, well-established brokerage that offers great pricing and a very good platform.
I found the navigation to be less-slick that some of the newer brokers, but it works. If you know what you're looking for, or if you want to invest in many different types of securities, TD Ameritrade is definitely worth a look.