Travel insurance is more ubiquitous than ever thanks to COVID-19's merciless assault on the travel industry. It's pushed by travel agents and planners, and prominently placed at the checkout page of hotel and airline websites.
But is travel insurance worth it? And what does travel insurance cover? The answer to both those questions totally depends on your trip. Personally, I've always opted against it, but that doesn't mean I'm taking a financial risk should trouble arise. In fact, I've received thousands of dollars in compensation for things that have gone wrong.
I'll show you how I do it — and whether you should consider buying travel insurance.
What does travel insurance cover?
There are various types of travel insurance to cover a variety of travel purchases. Here are the most prominent coverages:
Baggage delay insurance. Reimburses you in the event that your checked luggage is delayed. You'll get money for things like toiletries and clothes if you need them.
Trip cancellation insurance. Reimburses you for prepaid nonrefundable travel in case something goes wrong before your trip begins.
Trip interruption insurance. Covers prepaid expenses that you didn't get to use if something goes wrong while you're on your trip.
Emergency medical transportation. Pays for you to be taken to a special facility because of injury or illness during your trip.
Trip delay insurance. Reimburses you if your trip is delayed for a specific amount of time (for example, your flight is cancelled and you must stay overnight). You'll be covered for things like lodging, toiletries, food, etc.
Primary rental car insurance. Covers you up to the cash value of most vehicles for theft or damage. It won't cover the car you slam into, or any injuries to people inside the car.
You can also purchase Cancel For Any Reason (CFAR) insurance, which allows you to receive a large portion of your airfare as a refund (sometimes up to 90%) for a small charge. As the name suggests, you can cancel your travel simply because you changed your mind.
Do I really need travel insurance?
You don't need travel insurance.
The fact is that even with the travel industry in a bit of turmoil thanks to the residuals of coronavirus restrictions, you probably won't use it. However, if misfortune shoehorns its way into your vacation, you might have to pony up thousands of dollars that would otherwise have been covered by paying a nominal fee upfront. The peace of mind that comes with travel insurance may itself be worth the money.
Perfect example — during a trip to Ireland, insurance saved me twice:
My checked bag never showed up in Dublin. Because I had baggage delay insurance, I received $500 to buy new clothes.
I scraped my rental car in a parking garage. The rental agency charged $2,400 to get it fixed. But because I had primary rental car insurance, I didn't have to pay a shiny dime.
That sort of stuff doesn't usually happen. But there are a few key insurances that I always make sure I have, just in case.
Wait. Didn't I say earlier that I never buy travel insurance?
Well, I get my insurance for free by booking my flights and rental cars with my Chase Sapphire Preferred® Card. But if you don't have a credit card that includes insurance, you can also buy a policy that includes these things for about $100 or more — along with other helpful coverages you won't find on a card, such as COVID-19 cancellation.
Again, cancel for Any Reason (CFAR) insurance is especially useful nowadays in the wake of all the recent mayhem inflicted on the travel industry.
Where to get travel insurance
If you're looking to buy insurance, there are a variety of reputable providers. Sites like Seven Corners, John Hancock, and Tin Leg offer loads of options, so it's easy to customize your insurance for exactly what you need.
Here are some price points:
If you're traveling overseas and are scared about coronavirus sticking its finger in your plans, you can tailor a policy from Seven Corners for $65 that comes with benefits like:
Trip cancellation and interruption coverage
Medical coverage for COVID-19
Coverage for medical quarantine
No medical deductible
If you're traveling to Miami during hurricane season and plan to rent a car, you can cobble together a plan from John Hancock for $106 that covers:
Trip cancellation and interruption
Hurricane and weather insurance covering flight delays up to 48 hours, and reimbursing you if you must leave your accommodations due to weather
CFAR insurance, giving you the option to simply change your mind if you don't want to deal with the unknowns, and receive 75% of your money back
Rental car insurance covering up to $50,000 in case inclement weather such as floods damage the car
If you're taking a cruise, a $38 Tin Leg insurance policy can get you all the suggested coverages for that activity, such as:
Hurricane and weather insurance
Medical coverage for COVID-19
Medical evacuation and repatriation up to $250,000
Travel delay (kicks in after six hours)
Baggage and personal items loss of up to $500
But the most common time you'll probably be tempted to buy insurance is at the checkout page of an airline website. Here, you'll find insurance that offers things like trip cancellation insurance, lost baggage insurance, and medical insurance. You'll also get a healthy dose of alarmism and fearmongering.
Below is a dummy booking with United Airlines just to check prices. For a $1,039 flight to Venice, you'll be pitched an insurance policy for $75.35.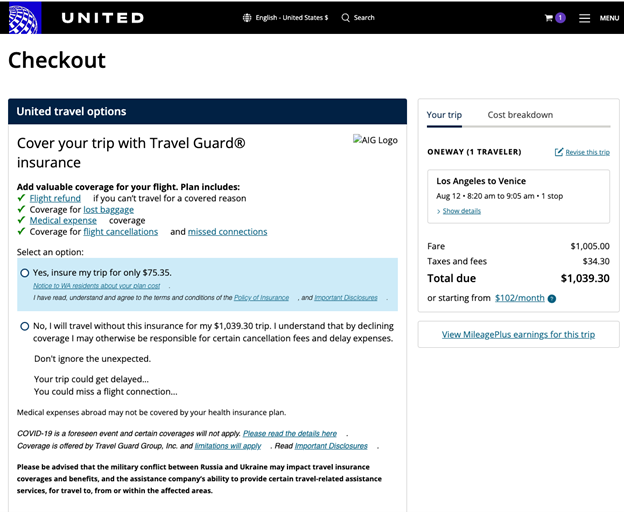 You could get a very similar policy through Tin Leg for $52. However, you may find the convenience of simply clicking a check box worth the extra $23.
It's also extremely important to remember that, as I mentioned earlier, certain travel rewards credit cards come with built-in travel insurance. As long as you pay for your travel with one of these cards, you'll receive automatic coverage.
Which is exactly what I do.
The bottom line: Is travel insurance worth it?
I wouldn't want to discourage you from doing whatever you need to do to achieve peace of mind during your travels. However, for the vast majority of occasions, purchasing travel insurance is unnecessary if you've got even a basic travel credit card.
For the best travel insurance available on a credit card, consider something like the Chase Sapphire Reserve® Card or the Capital One Venture X Rewards Credit Card. The annual fees are higher than normal, but if you'd otherwise purchase things like rental car insurance and trip cancellation insurance, the annual fees are well worth it.