Now that Biden has been elected President, student loan forgiveness could be a priority for the new administration. Millions of Americans saddled with student loan burdens are hoping that the President-elect will follow through.
Now that Joe Biden is the President-elect, his policies regarding student debt could soon become a reality. Forgiving student loans has become an increasingly popular policy platform in recent years, with 58% of registered voters supporting eliminating all existing student loan debt according to a 2019 poll.
While Biden's policy proposals are more modest than those of some of his competitors in the Democratic party, he has proposed forgiving some federal student loans, introducing free public community college and university tuition under certain circumstances, revising current income-based repayment plans in order to reduce monthly payments, and making it easier to qualify for public service loan forgiveness.
Today, I take a deeper dive into what President-elect Biden's student loan forgiveness could look like for your wallet.

Biden's student loan platform
In general, the President-elect's student loan platform falls short of more radical student debt forgiveness plans, such as those proposed by Senators Elizabeth Warren and Bernie Sanders. However, even Biden's more modest proposals could have a positive impact on many borrowers. Policies including canceling somewhere between $10,000 and $50,000 of federal student loan debt, free college tuition, and revised income-based repayment plans are all on the table for the new administration.
Canceling federal student debt
While Biden hasn't yet made a definitive statement on his position when it comes to canceling federal student debt, there's evidence that he might support such a proposal. In an interview with author Anand Giridharadas, Senator Chuck Schumer indicated that debt forgiveness could be a top priority for the new administration. Schumer and Senator Elizabeth Warren have put forth a plan for the next President to cancel up to $50,000 in student loan debt in 2021. The President could use his executive authority to cancel federal student loans.
In the past, Biden has lent support to a proposal that would cancel up to $10,000 in federal student loans for all borrowers in response to the financial strain caused by the pandemic. He also supported forgiving all undergraduate tuition-related federal student debt from two- and four-year public colleges and universities for debt-holders earning up to $125,000. These more limited proposals wouldn't help as many borrowers as universal federal student loan forgiveness, but they could provide relief for some borrowers struggling with the burden of student loans.
Revised income-based repayment plans
Current income-based repayment plans generally require borrowers to pay 10% of their discretionary income toward student loans each month. Depending on the specific repayment plan, discretionary income is defined as the difference between a borrower's annual income and 100%-150% of the poverty guideline for the borrower's family size and state of residence.
Under Biden's plan, borrowers making under $25,000 per year would not owe payments or accumulate interest on their undergraduate federal student loans. Biden would also lower the required payments from 10% to 5% of discretionary income. After 20 years of on-time payments, loans would be forgiven entirely with no tax penalty. This plan only applies to undergraduate federal student loans, so borrowers with graduate federal student loan debt would not be eligible.
Public service loan forgiveness
The government's current Public Service Loan Forgiveness Program gives borrowers who are employed by a U.S. federal, state, local, or tribal government or not-for-profit organization a chance at getting their federal student loans forgiven. However, the program requires borrowers to make on-time payments under an income-driven repayment plan for 10 years while working for a qualified employer before they're eligible for forgiveness. These restrictions make it difficult for the vast majority of borrowers to qualify.
Biden's plan would simplify the forgiveness process, offering $10,000 of undergraduate or graduate student debt relief for every year of national or community service for up to five years. This means that qualifying borrowers could get up to $50,000 worth of debt forgiven within five years. Like the current Public Service Loan Forgiveness Program, forgiveness would be limited only to borrowers who work for schools, government organizations, and qualifying non-profits.
Free college tuition
Biden has put forth several proposals that advocate for free college tuition under certain limited circumstances. This includes proposals for two years of free community college tuition, as well as tuition-free public colleges and universities for families with incomes below $125,000. These plans would build on policies proposed by Senator Bernie Sanders and Representative Pramila Jayapal in 2017.
Other education policies
While the policies listed above would offer the most relief for cash-strapped borrowers and those looking to pursue further schooling, Biden has several other related policies when it comes to higher education. These include:
Investing in community colleges and workforce training

– Biden has proposed creating a new grant program to support community colleges and invest in community college facilities and technology.

Doubling the maximum value of Pell Grants

– Biden has supported doubling the maximum value of Pell Grants, which would increase the grant value for borrowers who are already eligible and expand the eligibility criteria to include more Americans.

Regulating predatory for-profit education

– Biden would require for-profit colleges to prove their value to the U.S. Department of Education before gaining eligibility for federal aid.

Allowing student loan discharge in bankruptcy

– Although Biden voted for a 2005 bill that

stripped private student loans of bankruptcy protections

, he has pledged as President to enact legislation that would allow individuals holding private loans to discharge them in bankruptcy.

Investing in HBCUs, TCUs, and MSIs

– As President, Biden would invest in Historically Black Colleges, Tribal Colleges and Universities, and Minority Serving Institutions.
What about private student loans?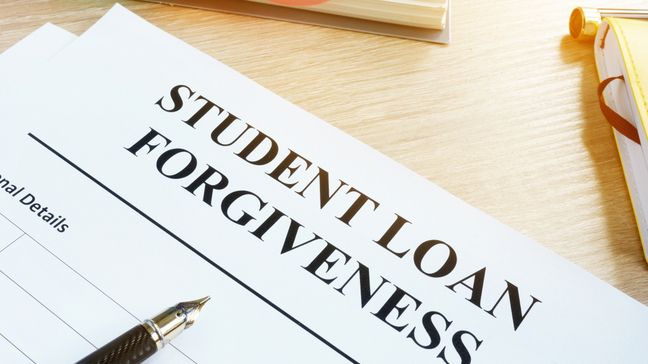 Most of Biden's policy proposals concern federal student loans, since those loans are issued by (and could potentially be forgiven by) the federal government. For borrowers saddled with private student loans, options are still limited. While one policy proposal would allow borrowers to discharge student loans when filing for bankruptcy, this is still a last resort for Americans struggling to gain their financial footing.
Another way to ease the burden of private student loans is to refinance them at a lower interest rate. In essence, when you refinance a student loan, you take out a new loan with new terms and a new interest rate that pays off some or all of your existing debt. Refinancing student loans can help save you money and pay off your loans faster. Because refinancing often makes borrowers ineligible for debt cancellation, public service loan forgiveness, and income-based repayment plans, in many cases it's a good idea to only refinance private student loans.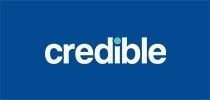 Credible can help borrowers refinance their student loans at a lower rate in order to save money. They feature a simple, two-minute application process, and checking your rates won't affect your credit score. Credible allows you to prequalify for loans, compare your options, and review real rates based on your credit profile. If you choose to refinance a student loan using Credible, you can get a final offer in as little as one business day.
Fiona is another service that lets you refinance your student loans in order to save money. Fiona lets you compare student loan refinancing offers from top providers so that you get the best deal possible. The service provides real-time rates from a variety of lenders, and checking your rates won't hurt your credit. Fiona is free to use and can help you refinance loans from $1,000 all the way up to $250,000.
The effects of student loan forgiveness
42.3 million Americans currently owe over $1.5 trillion dollars in federal student loan debt (according to studentaid.gov).
Eliminating student loan debt would have an immediate impact on the lives of millions of Americans currently struggling to make monthly payments.
According to a recently updated paper published by the Roosevelt Institute, Black college graduates are more likely to take on student loan debt and carry a larger debt burden than their white peers, and mass student debt relief would help to close the racial wealth gap and encourage racial equality.
Forgiving student loans could also have a positive impact on the economy. According to a 2018 report from the Levy Economics Institute of Bard College, student debt cancellation could boost real GDP by an average of $86 billion to $108 billion per year. The same report also theorized that eliminating student debt would reduce the unemployment rate and create millions of new jobs.
Because student debt elimination would have such a profound positive impact on the lives of many Americans, more widespread effects of a student loan forgiveness policy are also likely. More Americans could obtain higher education degrees, form small businesses, start families, and reduce their vulnerability to the effects of economic downturns.
Student loan forgiveness does come with a cost, in the form of a modest increase in the federal government's deficit-to-GDP ratio. Debt cancellation would also likely face opposition from Republican members of the House and Senate.
How student loan forgiveness could impact your finances
If you're currently paying off federal student loans, the impact of loan forgiveness is pretty simple: your debt would be forgiven, and a big financial burden would be lifted from your shoulders. The money you would save on student loan payments could be used to boost your emergency fund, pay down debt, save up for a house or other significant purchase, invest in retirement, and more.
If you've already finished paying off student loans (or if you never had any to begin with), student loan forgiveness could still positively impact your finances. Studies suggest that mass debt forgiveness would stimulate the economy, create jobs, and encourage racial equality.
Will student loan forgiveness happen?
While student debt forgiveness has made headlines in the wake of Biden's victory, there are still plenty of obstacles in the way of student debt relief for millions of Americans. There are two in particular that pose a threat:
More pressing concerns may be on the horizon
Biden's student debt platform is more conservative than many of his challengers in the primary. Faced with more pressing concerns, including the ongoing pandemic and a faltering economy, Biden could view student loan forgiveness as less of an urgent priority.
However, he has received encouragement from both progressives and moderates to act boldly to help Americans when he assumes office, and generous student debt forgiveness isn't off the table.
Republican opposition could halt the process
With the composition of the Senate still uncertain and only a slim majority in the House, the Biden administration will likely face Republican opposition to policies concerning student debt forgiveness. However, polling from Data for Progress indicates that student loan forgiveness is popular with voters of both parties, with 26% of Republicans saying they would strongly support forgiving student debt and an additional 27% saying that they would somewhat support it.
Summary
Now that Biden has won the presidential election, Americans are eager to see if he will follow through with proposed policies surrounding student loans. Some amount of student loan forgiveness, along with free college tuition, revised income-based repayment plans, and expanded public service loan forgiveness are all on the table for the Biden administration.
Credible Credit Disclosure - To check the rates and terms you qualify for, Credible or our partner lender(s) conduct a soft credit pull that will not affect your credit score. However, when you apply for credit, your full credit report from one or more consumer reporting agencies will be requested, which is considered a hard credit pull and will affect your credit.


Read more: