With so many ways to cut down on spending and save on your budget, how do you know which to choose? Check out these six tips to trim your monthly budget.
You've probably learned by now that saving and budgeting can be difficult.
If you turn to Google for help you'll find millions of results (literally) with lists of hundreds of product or purchases to cut out of your spending. We've even done plenty of lists like these at Money Under 30.
But here's a few saving techniques that get left out and can save you more than quitting your coffee drinking habit (which, let's be honest, you're not going to do no matter how many times someone tells you to).
1. Switch to a pay-as-you-go-phone
Most of us spend way too much time on our phones, which can cost us a lot. If you're someone who doesn't need the unlimited plan most of us have, or you want to limit the amount of time you spend on your phone, switching to a pay-as-you-go phone could save you $20 or more a month. That's $20 you can use for your coffee habit, or, if you're more responsible, an emergency fund.
As an example—a 5GB plan (which is probably way more than you need) from Virgin Mobile costs $35 and has no contract, while a Verizon unlimited plan costs $45 a month and a T-Mobile plan costs $70. Both require a contract of a year or more.
If you use even less data, you can get unlimited talk and text and 1GB of data from TPO mobile for just $16 a month! Instead of paying $540 a year with Verizon's unlimited plan, you can pay just $192 with a much simpler plan.
2. Don't waste food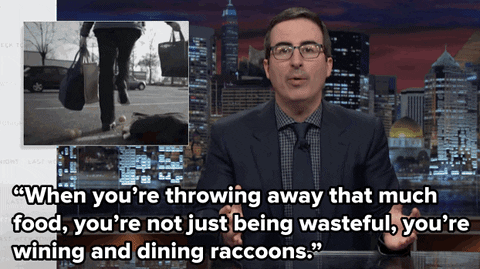 The amount of food the U.S. population throws away each year is astounding.
…roughly 50 percent of all produce in the United States is thrown away—some 60 million tons (or $160 billion) worth of produce annually.
What does this look like for individual families?
This means that a family of four loses about $1,600 annually in wasted food.
So how do you go about adjusting your food waste expense? It's actually pretty simple.
Don't put so much on your plate
We drastically overestimate how much we should be eating. Often, smaller portions of the right foods can fill us up.
Start paying attention to how much you're actually eating and only put that much on your plate. Go back for seconds later if you're still hungry.
Make a grocery list
Take a look in your refrigerator and your cupboards before you go grocery shopping. This will save you from buying repeat items. And try only buying what's on your list. If you take enough time to assess what you eat, the items you put on your list are all you need.
Eat healthier food
Not only can eating healthy help you cut out expensive fast food and processed food (that actually leave you hungrier), but it can help you avoid doctor bills you'll incur later on in life from years of unhealthy habits. A long-term expense, but still one you should consider.
Eating healthy also gives you more energy which means you can walk or bike more places and save on expensive gas.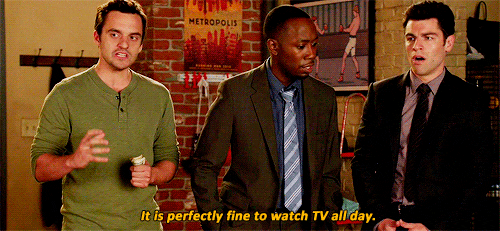 Your streaming accounts can really add up now that there are so many out there to choose from.
Here's a quick breakdown of the cost of some of the major streaming services
Netflix: $8.99 (without DVD service)
Hulu Plus: $7.99 a month (for the basic plan)
HBO Now: $14.99 a month
Amazon Prime: $99 a year, or $8.25 a month
Spotify: $9.99 a month (or $4.99 with a student discount)
Your total cost if you have all of these: $50.21. Plus, add $10-$15 more if you opt for the more expensive plans.
The good news? Most of these services allow you to have multiple people on an account. Sharing accounts can save you $30 or $40 a month.
If you've got roommates, one of you can pay for Netflix, one pays for Hulu, the next for Amazon Prime and so on.
Related: Find The Best Streaming Service For You
Become a minimalist
You probably just rolled your eyes at this suggestion. I understand. Minimalism may just seem like another Millennial fad going around, but there are plenty of people that are minimalists but don't use the term because you'd roll your eyes at them and probably immediately dismiss everything they have to say.
I will agree that certain people who claim minimalist identities are unaware of the privilege they have in doing so, but minimalism encompasses a lot of good financial advice. And many people have adopted the identity out of necessity.
If Brad Pitt in Fight Club can be a minimalist, anyone can.
Even if you don't want to fully adopt a minimalist lifestyle, there's a few good tips within the philosophy that can help you trim your budget.
Follow the three-day rule
Take a while (in this case, three days) and ask yourself, do you really want whatever it is you're about to buy?
Do you need it? Is going to bring value to your life? If not, don't buy it.
Okay, that sounds a lot easier than it really is, but recognize that sales are designed to make you spend.
Unless the sale is for something you can't live without (and I mean actually live without), the discount exists solely to make you buy something you don't need.
Get rid of stuff
Every year my Dad swears he's going to have a yard sale and get rid of all the stuff my parents have bought and shoved in the basement over the last 25 years.
As you can probably guess, he still hasn't done it.
But this year, I've finally convinced him to, so we've been reorganizing everything in his basement and we've found that we could probably make a couple hundred dollars, if not more, off of everything that's down there.
The Minimalists (the two guys who have written and talked the most about Minimalism) suggest following a 90/90 rule when trying to get rid of stuff. Ask yourself, have you used the item in the last 90 days or will you use it in the next 90 days? If yes, keep it, if no, get rid of it.
Go to the library
The creation of Amazon has been a god-send for those of us who read as much as we watch Netflix. But buying books on Amazon still involves spending a decent amount of money.
Going to your local library not only brings up a happy sense of nostalgia, but you can save a lot, especially if you're a college student.
My first semester of college I followed my professors' orders and bought all my textbooks. This cost me around $300. I quickly realized my budget wasn't going to be able to afford that. Between my campus library and the local town library I was able to find all my text books for the next three and half years for free!
Libraries aren't just home to books. Most people forget that they often offer movies, TV shows, and video games among their selection of books. Yes, this puts you on more of schedule when it comes to what you watch and when, but it's not a very high price to pay when you consider how much you spend on streaming subscriptions.
The library also has free internet (both on their computers and Wifi).
Live outside of a city
Maybe moving isn't the best option for most people, but if you're thinking of it anyway, opting to live outside of a city can save you a lot of money.
I'm moving to a town outside of a metro hub and what I'll pay in travel costs is about half of what I'd pay on the extra rent to live in the city, plus I don't have to pay for parking.
Yes, there's a lot of advantages to living in a city. Easier access to night life, it might be closer to where you work, you don't have to own a car (sometimes), and some people just like the hustle and bustle of a big city. But sometimes it's just not worth constantly being broke.
Public transportation can be a less costly alternative to driving, but some cities (like Portland, Maine, where I live) don't have the greatest public transportation system, so you're stuck owning a car anyway, which you'll likely have to pay extra for.
A decent apartment and parking (between $75-$200 for a parking pass) in Portland costs somewhere in the range of $1,100-$1,600 dollars. Sometimes people just get lucky and find the perfect apartment with all the right amenities for under these prices, but it's a hard find, unless you want to live in an apartment not much larger than a wide hallway.
In a town about 20-30 minutes away I'd pay about $850 (even less in some places or with roommates) for all utilities included and free off-street parking and plowing (which is important in Portland).
Summary
There are a lot of ways to trim your monthly budget. But whether it's cutting down on coffee, moving someplace new, or the hundreds of other way alternatives, it's not as hard as you might think to save a little.
Read more: