Halloween expenses like candy, costumes, and decorations can quickly add up. How can you save big on Halloween without sacrificing spooky fun?
Halloween is my favorite holiday. When else can you dress as a Jedi, watch a horror flick with friends, and pass out under a pile of Reese's wrappers free of judgment? Best of all, Halloween is a harbinger for fall, signaling cooler weather, turning leaves, and hot cocoa.
Everyone deserves to enjoy Halloween to the fullest, regardless of budget. So here are five ways to save BIG on Halloween 2020.
1. Buy your candy right before Halloween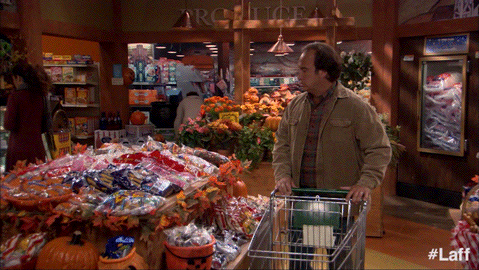 If you're like me, you probably don't buy 15-pound sacks of candy very often (well, maybe after an especially brutal breakup). So when giant bags of Halloween candy appear on shelves in September, it's hard to tell when you're getting a good deal and when you're getting ripped off.
Traditional wisdom would dictate that you should buy early. Surely retailers will begin jacking up prices for candy as Halloween quickly approaches. They know that consumers will have little choice but to pony up for overpriced candy, lest they suffer the wrath of the hungry neighborhood children, wiping smashed eggs off their house on November 1st.
However, you're much better off waiting until the last minute. Halloween candy prices tend to fall within three to four days of Halloween, as retailers are eager to clear shelves for Christmas supplies. Prices can plummet 10, 20, even 50%, directly rewarding the patient (and procrastinators).
So don't be afraid to play a little game of Halloween Candy Chicken with your local Costco or Aldi, and swoop in on your broom at the last second for the best deals.
If you take the money you save from candy alone, you can earn a frightening amount of interest when you put your Halloween savings in a high-yield savings account like Chime, which earns you a 0.50% APY.
2. Only buy as much Halloween candy as you need
Let's say you're browsing discounted candy at Kroger on October 30th. You haven't truly saved money until you can answer a riddle as old as All Hallow's Eve itself:
How much Halloween candy do I really need?
It's a delicate guesstimation with potentially devastating consequences. Run out of candy too soon and the neighborhood kids could get angry. Buy too much candy, and you might be left with a pile of sugary temptation on your desk.
Thankfully, Taryn Williford over at Apartment Therapy has composed a now-famous equation for calculating precisely how much candy you'll need to meet your quota.
If you haven't done algebra since high school and aren't looking to break your streak now, just know that most households are perfectly safe with one standard, 5.75-pound bag of candy. Just be sure to remember the TAKE ONE sign!
Oh, and to protect your health (and thus your wallet), consider purchasing candy that most people like but that you don't like. That way you'll please the trick 'r treaters and won't be tempted by the leftovers.
A chart generated by Money Under 30's top scientists.
3. Don't buy a costume; get creative
Years ago, my buddies and I traveled to nerd mega-convention Dragoncon and were horrified to discover that we were virtually the only ones not dressed up. Since we'd only packed beach clothes, I got the idea to hike up our shorts, pop our collars, and go as "Confused Frat Bros." Our fellow con-goers ate it up, strangers asked for selfies, and everyone had a tongue-in-cheek blast.
Point is, sometimes the best costumes are the ones that make others smile for less. You should absolutely skip the $70+ premade costumes since you can easily design your own, just as good getup for as little as $5.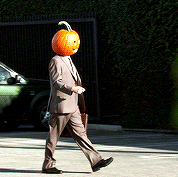 Start by browsing your existing wardrobe for fun or unique clothing that could serve as a "base" for a costume. Since nobody owns the rights to clever costumes, you can also borrow some ideas from Pinterest or Reddit.
Once you've found a base, you can purchase accessories like glasses, fake jewelry, and tiny stuffed animals from Goodwill and the dollar store.
Lastly, don't be afraid to recycle costumes from year to year. The Fashion Police take Halloween night off, and most folks will forget what you wore last year anyhow (no offense).
If you'd rather dress as something new this year, consider offsetting some of your Halloween budget by selling your old costume and accessories! There might be a Bride of Frankenstein wig or an Indiana Jones lasso taking up room in your closet; at any other time of the year they'd be destined for the Goodwill pile, but during Halloween when demand is high, they can fetch a pretty penny.
October is also an excellent month to sell old clothes in general, since folks may be shopping for warmer clothes and costumes on a budget. For example, your listing could say: "Comfortable black evening dress – good for women's Halloween costume."
As for websites, I strongly recommend using eBay, Facebook Marketplace, and Nextdoor as alternatives to Craigslist. All three are safer, easier to use, and offer better buyer protection than the incumbent (sorry not sorry, Craig).
4. Purchase Halloween decorations at the dollar store
Look, I've been a fan of real pumpkins ever since I saw It's the Great Pumpkin, Charlie Brown. And while I don't worship them like a blanket-toting Linus, I do sincerely appreciate how they flavor my lattes and provide a canvas for jack-o-lanterns.
However, I never adorn my steps with them. Why? Because as far as Halloween decorations go, pumpkins just aren't cost-effective. Real, organic pumpkins average around $5, which sounds menial, but you can't just buy one pumpkin. Two still feels like too few, three is a weird number, so you're spending ~$20 on four pumpkins that will last one season.
(Oh, and don't be like me and convince yourself that your Halloween pumpkins will double as Thanksgiving decorations because there's nothing less pleasant to schlep to the curb than soft, rotting pumpkins).
Anyways, for the same $20 you'd spend on four pumpkins at Publix you can buy twenty Halloween decorations of various shapes and sizes at the dollar store. You can absolutely fill your place with spooky signs, spider webs, and *faux* pumpkins for little more than the cost of a movie ticket.
Best of all, even dollar store decorations tend to hold up over time. Several of my friends are still using #DollarStoreDecor they bought in college, meaning they've kept their place decorated for less than $2 a year.
5. Shop for Halloween 2021 in November
Before my dad even taught me how to change a tire he gave me this little nugget of wisdom: shop for Halloween in November.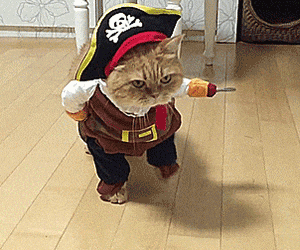 While it may feel downright strange to shop for Halloween…right after Halloween, there's no denying the staggering deals you can find on costumes, candy, and decor. Desperate to clear space for Christmas, retailers like Walmart, Target, Walgreens, and even Home Depot will mark down Halloween stuff by up to 75%.
There are a few caveats. First, not all stores offer a post-Halloween discount. Spirit Halloween, which is owned by Spencer's, simply packs up the day after Halloween and puts everything in storage until next year.
Second, not all stores offer a discount on November 1st. Some retailers like Target let their price optimization algorithms dictate the best day of the week for a Halloween sale to maximize profits.
To save both time and money on Halloween 2021 decorations, monitor your local retailers' newsletters and websites, and consider setting a Google alert for "Halloween Sale" in November.
Multiply your savings by doing these two things
Stick your money in a high-yield savings account
Once you've saved $25, $50, even $100 on Halloween, why not multiply your savings by parking them somewhere they'll earn even more? I'd highly recommend the Chime Savings Account.
I'm a big fan of Chime for a few reasons; first, the good-natured financial app doesn't mess around with hidden fees. Second, they offer a 0.50% APY, which is pretty good these days. And lastly, Chime has an automatic savings feature that automatically rounds up purchases and deposits the extra cents in your savings account.
Use rewards app to make your purchases
Clipping coupons is a thing of the past…sort of. Now, coupons and rebates have moved almost entirely online. Nearly every purchase you make – including your Halloween decorations and candy – can qualify for cash back. My two favorites ways to rake in rewards are by using Capital One Shopping and Dosh.
Capital One Shopping is completely free to use and will help you find coupons if they're out there, scouring the internet for a possible deal. But what makes Capital One Shopping especially appealing is that Capital One Shopping lets you earn credits (which you can then turn into gift cards) when you shop at big-names like Walmart and eBay.
Disclaimer - Capital One Shopping compensates us when you get the browser extension using the links we provided.
Dosh operates in much the same way as Capital One Shopping, but makes earning rewards even easier. All you do is link your favorite card to your Dosh account, and you'll automatically start earning from participating retailers – Walmart is just one example of the many companies that participate (it's also one of the cheapest places to buy Halloween candy).
Summary
Here's a quick recap of the five ways to save on Halloween 2020:
Buy your candy right before Halloween.

In an effort to clear shelf space, many retailers will discount Halloween candy by up to 50% within three days of Halloween.



Only buy as much Halloween candy as you need.

A five-pound bag of individually-wrapped candies is plenty for most households.



Don't buy a costume; get creative.

Visit your wardrobe and Pinterest for costume ideas, and purchase accessories at dollar stores and Goodwill.

Purchase Halloween decorations at the dollar store.

For under $20 you can fill your place with porcelain pumpkins, spider webs, and spooky signs.

Shop for Halloween in November.

Many big-name retailers will discount Halloween costumes, candy, and decorations by up to 75% at some point in early November to make space for Christmas products.
Follow these five rules and I promise that you'll save big on the low-key best holiday of the year (one writer's subjective opinion).
Read more: