It is currently a seller's market, but should that stop you from becoming a homeowner? Find out if you should put your dreams on hold or make an offer.
It's late 2020. The nation is reeling from the COVID-19 pandemic and the most divided political climate in modern history. Millions of Americans are out of work and the economy is struggling. And yet, the housing market is red-hot in some parts of the United States.
If you want to buy a home in America right now, you might have a hard time finding one at a fair price. Mortgage rates are at record lows and housing inventory is in short supply in many parts of the country.
If you're looking to buy a home, get ahead of other buyers and secure funding fast when you use Rocket Mortgage by Quicken loans
Some markets are further squeezed by buyers fleeing big cities either because of COVID fears or simply because they can now work from home. Everywhere else, hungry buyers are competing over the best listings and driving up prices for everyone.
That's the way things are right now where I live, metropolitan Portland, Maine. Things are so hot, realtor.com named one local zip code – South Portland – 2020's fifth hottest real estate market in the country.
Most single-family homes here selling for anything less than $400,000 are under contract in a matter of days. The most desirable houses are selling for $50,000 or even $100,000 more than the list price. And the mania isn't limited to moderately-priced homes – some buyers are acting just as aggressively over seven-figure listings.
In 2017, the median home price in my county was $282,000. Today, realtor.com shows the median listing price in our county as $369,000! Although the list price is not always the same thing as the sale price, that represents a massive increase in just three years.
If you want to buy a house in a hot market like mine, you're probably wondering if you should wait. Maybe you've been wanting to begin a search for a home. Or, perhaps you've made offers on one or more homes only to be outbid.
Let's tackle the question: should you buy a home in a seller's market? Or, should you rent (or stay put) until the real estate market cools?
Does 'buy low/sell high' apply to your home?
If you're smart with money, you know that it's best to "buy low and sell high". But there are several problems with applying this logic to your home.
Your house is not an investment
Firstly, you should not consider your primary residence as an investment. It's true that real estate tends to appreciate over long periods of time. But when you take inflation into account, real estate appreciation is often underwhelming.
More importantly, a great investment generates cash flow while you own it. Price appreciation is nice, but secondary. Rental properties provide cash flow. Your home does not.
Owning real estate also requires large carrying costs. These include insurance, property taxes, and maintenance.
Taken altogether, even if a property appreciates steadily for many years, it's rare a homeowner can live somewhere for an extended period of time and walk away with a profit. When it happens, it's due to one of two things:
A homeowner may profit from lucky timing (yes, buying low and selling high).

Or, a savvy owner may be able to renovate their home just before the sale in a way that generates profits to recoup carrying costs.
You're a person, not a hedge fund
Even if you ignore your primary residence's carrying costs and lack of cash flow, buying low and selling high is a long row to hoe.
Although real estate markets are less volatile than stock markets, it's impossible to time either perfectly. Billionaire hedge fund managers employing dozens of the finance industry's brightest minds can sometimes do it. Sometimes.
For now, let's assume you can nail a market's bottom and top. This now means you have to upend your life and move when the market bottoms and then again when it tops. In other words, you're going to let the market – not your life – determine where you live!
The investment blogger Ben Carlson recently addressed a reader question on this topic. The reader has been waiting to buy a home since early 2018 because he's trying to time his purchase with the end of an economic cycle that has yet to arrive. It's not a matter of affordability; he's been financially ready all this time. Now, working from home in a small apartment, his wife is tired of waiting. Yet, he still wants to "rent something bigger" instead of buy.
To me, this is the perfect example of why buy low/sell high doesn't apply to your home. We only get one short go-round on this planet. Don't delay a purchase for the sake of saving a few bucks, that 1) would improve your life (even if only by making your spouse happy!) and 2) you can readily afford. This last point is vital, and I'll revisit it shortly.
You're a human being. You're buying a home in which to live, not to be a line item in a pension fund's portfolio. A hedge fund can wait a decade or more for the right time to buy into something. When it comes to your home, you shouldn't.
What's wrong with renting?
There is absolutely nothing wrong with renting.
There are always people who give renting a bad rap. They'll tell you "you're throwing your money away." Don't listen to them.
Yes, paying a mortgage on a home can serve as a forced savings account. It's true, you build equity over time. It's also true that you can deduct mortgage interest.
But you also must pay that mortgage interest in the first place. And you must pay all the other carrying costs of owning a home. When you rent, your landlord pays those.
After 5-10 years, there often begins to be a slight financial advantage to owning as opposed to renting. The longer you stay in one place, the better owning becomes. (If you move around every few years, renting is usually a better deal). Of course, it all depends on many other factors as well. Try scenarios for yourself with MU30's buying vs renting calculator.
How much should I spend on a home?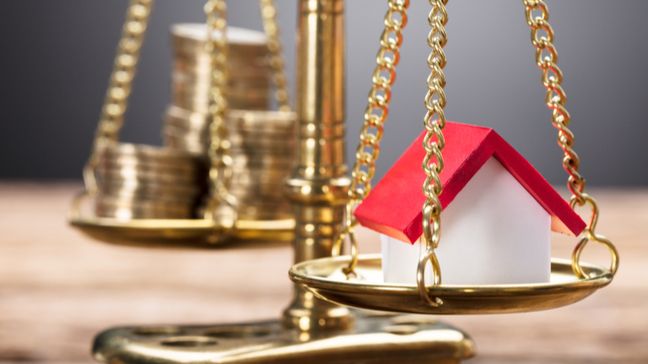 When house-hunting, there's a temptation to stretch your budget. Rarely do you find an affordable house with everything you want. Cue the realtor to show you a few "just a bit over your price range".
In ordinary times, you might be able to negotiate with a seller and snag a pricier listing at a discount. Unfortunately, that's just not going to happen in a seller's market. If anything, the opposite can happen when a seller comes back to you and says: "I have multiple offers; what's the highest you're willing to pay?"
Unless you're swimming in money, that's really not how you want to buy a home.
Earlier, I explained why a heady real estate market shouldn't necessarily dissuade you from purchasing a house if you can afford it. At the same time, you do not want to let a frenzied market pressure you into spending more than you should.
When you're buying a home, know how much you can afford before you step foot in a home for sale.
Your housing budget should be based on the monthly cost of the house (mortgage, insurance, and tax) as a percentage of the monthly income you have leftover after making other debt payments (student loans, car loans, etc.).
Unfortunately, this means that if real estate prices rise faster than your income, you'll have to settle for less house.
You can determine your housing budget with MU30's home affordability calculator.
Tips for buying a home in a seller's market
When it comes to finding the right house at the right price in a tight real estate market, you're going to want the best buyer's agent you can find. This isn't the time to help out your friend who just became a realtor (apologies to your friend).
Find an experienced real estate agent
An experienced agent will know how to find prospective homes before they're listed, have important relationships with listing agents, and know the best strategies for writing compelling offers without overpaying.
In hot markets, the most desirable homes are often under contract within days. Sometimes a seller will collect multiple offers after just one open house! Locally, I've even seen realtors hold an open house and then collect offers for a couple of days to encourage competitive bidding.
Consequently, if you want a shot at such a home, you're going to have to view the house the day it comes on the market and be prepared to make an offer immediately.
Prepare to make a quick offer on a house
Being ready to make an offer on a home immediately after seeing it requires four things:
Knowing that you can afford the home.

Knowing the home meets your criteria.

Being pre-approved for a mortgage (if necessary).

Having money for an earnest money deposit on hand.
As I pointed out in the previous section, I can't stress enough the importance of going into the buying process with a solid, non-negotiable maximum budget.
Know what you're looking for
Equally as important is a list of must-haves and nice-to-haves so you can quickly judge whether a house meets your criteria. We'd all love to have the luxury of time to contemplate the biggest purchase of our life. Sometimes, that's just not in the cards.
Get pre-approved
Unless you're planning to pay cash for your home, I highly recommend that you get pre-approved for your mortgage before you begin house-hunting. Pre-approval is a simple process. Most of the tedious work required to apply for your mortgage will come after you're under contract. But a pre-approval letter will give the seller confidence in your ability to secure financing and close the deal. Unfortunately, it's not uncommon for sellers to accept a lower all-cash offer over a higher offer that's contingent on financing.
When looking for a pre-approval letter, go with a company that's going to make it easy. Rocket Mortgage by Quicken Loans is a great place to start. With their Verified Approval℠ process, you can get pre-approved quickly and easily thanks to their streamlined application. Plus, their "search and share" feature allows you to connect your bank to Rocket Mortgage so they can pull all the relevant information for you. Compared to more traditional lenders, Rocket Mortgage takes the headache out of homebuying.
Have enough saved up beforehand
When you're buying a home, you'll want to have enough money in your checking account to write an earnest money check.
Earnest money is a good-faith deposit that most buyers submit to the seller along with their offer. The amount depends on the value of the property but is somewhat arbitrary. The more you offer, the more serious it makes you look. But you can also lose your earnest money if you back out of the contract without cause. Your realtor will advise you regarding how much to offer.
Understand the bidding process
Hopefully, when you find the house of your dreams, you're the first to make a competitive offer and you go under contract without issues. Sometimes, however, you'll be forced to submit an offer against other bidders. If you don't have room in your budget, the decision should be easy: walk away and keep shopping.
If, on the other hand, you can afford to increase your offer, know the strategies for surviving a bidding war. These include things as simple as making a personal appeal to the seller. But you can also be aggressive by removing conditions to the sale (such as a home inspection), being flexible on the closing timeline, or offering an outsized earnest money deposit.
Summary
Nobody wants to buy a home in a seller's market. At the same time, you shouldn't let a heated real estate market prevent you from buying a home if buying a home is what you want to do and, importantly, you're financially prepared to do so.
Your home isn't an investment so much as a place to live. Save buying low and selling high for true investments like stock funds and rental properties. But don't let a real estate frenzy push you into spending more than you can afford.
We all know what happened in the mid-2000s. The real estate market became overly exuberant. Millions of Americans bought homes they couldn't afford. In the aftermath, many homeowners lost their houses to foreclosure. And the country suffered its worth recession since the Great Depression.
Just as we don't know whether the stock market is going to keep going up, down, or sideways, we can't be entirely sure what the real estate market will do, either.
Buy a home that you can afford when buying a home makes sense in your life. If you can wait, it's OK to wait. Just remember that prices aren't guaranteed to fall.
If the market is overvalued, adjust your expectation of what you can get within your budget. Work with an experienced realtor. Then, simply try to enjoy the exciting process of shopping for and buying your new home.
Read more: