Millions of Americans will have another reason to celebrate this Labor Day, as many are quitting their jobs for new opportunities. But is this the right move?
I've never been the one to keep up with trends. I mean, I still shop at J.Crew, and Gerard Way is still my #1 crush.
However, that changed this year — at least career-wise — as I took part in one of the biggest trends in the job market: the Great Resignation of 2021.
Yes, I quit my job.
My cozy job with full benefits. The job I thought I'd never, ever leave.
Honestly, I didn't mean for my bold choice to coincide with this big movement. As corny as it may sound, the pandemic made me realize that life is too short to stay at an unfulfilling job.
I'm happy with my choice, but does that mean you should quit, too? No. But hopefully, this piece can help you figure that out — fingers crossed!
Why Americans are quitting
The numbers don't lie. Over 11 million Americans have voluntarily quit their jobs since April in what economists have dubbed the "Great Resignation."
But what exactly is causing this massive exodus? Let's unpack that, shall we?
The Great Resignation: a story of discontent and empowerment
Most of us weren't thrilled to be stuck at home when the pandemic started. But lo and behold, remote work started to grow on us.
After all, zero commutes meant that workers had more time to do what they actually wanted.
They also got to experience other unknown luxuries like:
Not having to scarf down their lunch.

Being able to work in comfy clothes.

Sneaking a load (or two) of laundry in between tasks.

Taking their dog for an afternoon stroll.
When vaccines started to roll out, more employers wanted to reel workers back into the office — that's when things started to fizzle, as many didn't want to give up their newfound freedom (I mean, who would?).
So, did workers trade their yoga pants for slacks and head into the office?
Well, not really. Instead, working from home became a, seemingly permanent, part of American work culture.
So, what are people actually looking for in a job these days?
According to a recent survey by Bankrate, these are the five things people are now prioritizing when looking for a job:
Flexibility.
Higher pay.
Job security.
More time off.
Better work culture.
The pros & cons of participating in the "Great Resignation"
The Great Resignation is far from over; a new report by Gallup revealed that 48% of America's working population is actively looking for jobs.
But is now the time to give in?
A massive wave of quitters is bad for companies, but great for job seekers, as employers are getting creative to attract and retain potential candidates.
The pros of quitting
You could score a higher salary

.

Many companies have raised their wages in hopes of obtaining candidates, and I'm not just talking about fast-food chains, this has extended to other industries, like retail and pharmaceuticals.

A sweeter benefits package.

Free college tuition? Check. 401k matching? Check. More paid time off? Check. Employers are in a bidding war to secure the best talent for their business, which means that you may be in a better position to negotiate a contract with better perks.

More possibilities.

Remote interviews mean you can talk to multiple employers in the same week and expand your prospects.

Faster hiring process. Employers are actively seeking. If they see you have potential, chances are they'll try to come up with an offer faster, so the competition doesn't steal you away.
The cons of quitting
You could lose your health insurance. If you are on your employer's health insurance plan, quitting (especially without another job lined up) could leave you responsible for the full price of any needed medical care.
Competitive sign-on bonuses and benefits mean more job competition. With so many people on the hunt for a new job, you can expect to face increased competition for jobs with high sign-on bonuses and good benefits.
Relocation can be difficult. If you find a new job that requires you to relocate, it may be hard to find affordable housing due to a national housing shortage.
To quit, or not to quit? That is the question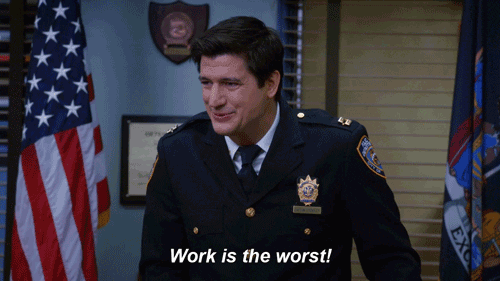 Whether or not you quit your job is a very personal decision, one that you shouldn't make just because you want to follow a trend.
I asked Melissa Molinero, a New Jersey-based career coach and job counselor, to tell me what some of the telltale signs that you should be quitting your job are.
Here's what she told me:
You're not respected.

Your boss or colleagues disrespect you with dismissive comments or actions or don't respect your boundaries (expect you to work after hours, call you on your days off, etc.)

Your job doesn't align with your vision.

Either with your aspirations or with your morals or ethics.

Your mental health is suffering.

You find yourself constantly stressing about work, causing you to lose sleep and not enjoy your time off.

You work in a toxic environment.

Colleagues that will do anything to get ahead, even if that means stepping over you, inconsiderate management, cliques, constant gossip, etc.

You have outgrown your role.

You don't feel challenged anymore and are slowly but surely losing interest in your job.

There aren't opportunities for growth. You've talked to your bosses about your aspirations for the future but nothing ever happens, despite your qualifications.
You've explored other alternatives to no avail. You've switched teams or departments, but something just doesn't click.
Consider what's at stake before you step away
Before you rush to the decision to quit your job, it is important to consider what you might be giving up. No one should have to work in an environment that doesn't align with their needs, values, and career path, but the decision to leave shouldn't be taken lightly.
After all, you may have a killer health insurance plan that helps you manage a chronic illness or maybe even shares of unvested stock that you don't want to lose out on.
Nicholas Weiser, a Denver-based financial advisor, says that before you give your notice, you should ask yourself the following questions:
Is your health insurance through your job? Losing health insurance, especially if you have a chronic health condition, can set you back financially. Is quitting your job worth losing your health insurance?
Does the new job you're considering have a waiting period before you can get on their health insurance? Even if your new job offers health insurance, you may be made to wait three months, or more, to sign-up for this benefit.
Do you have company stock that is unvested? If you have unvested stock, you could lose it if you quit before your contract is fulfilled. If you signed a vesting agreement, read it carefully!
Have you been contributing to a deferred compensation plan? What is the payout schedule of the deferred comp? Deferred compensation plans, like pensions or employee stock options, may be affected if you quit your job. Make sure to contact the HR department at your current job to learn how your deferred compensation plan will be paid out to you, should you give your notice.
This will help you figure out if the timing is right.
Come up with an exit strategy
If you're dead set on leaving, that's fine, but make sure you have a plan. Remember: the goal is to improve your working life, not end up worse off.
Here are some tips for planning your great resignation:
Think about what it is that you really want. Molinero says

that otherwise, you may end up unfulfilled faster than you think — even if you have a new job.

Don't leave without backup. You never know how long it can take you to land the perfect job opportunity, so wait until you've got something lined up before you leave.
Make sure you have enough saved. Have at least three to six months' worth of your income saved for emergencies. Hey, you never know what can happen!
Keep your plans confidential.

Maybe you're tempted to tell your colleagues that you're planning to leave or are thinking about announcing it to your boss, so they know that you're done. But this can backfire and you could end up out the door faster than planned.

Weigh your options carefully.

Compare job offers and benefits packages before you leave. This will ensure you're better off.
Summary
Having a bad day at work is normal, but constant discomfort isn't. If that's your case, now may be the right time to start looking into new opportunities that better align with what you want out of a job.
Read more: