Saving money in the military is easy to do thanks to the many programs available. Here are 12 helpful tips to help our men and women in uniform do just that..
As a young enlisted man or woman, you're choosing a career like no other. The discipline and dedication required will challenge you every single day. Friendships will become family, and the experiences will define your life.
Your patriotism is reflected and rewarded in your salary, and that's something you need to take advantage of. You have a unique opportunity to turn your salary into a resource that will outlive your military service.
Here are some tips for saving money in the military.
1. You'll get a great income as a service member – make sure you know how to save it
As a young person in the military, you can count on almost 100 percent of your paycheck being disposable income. You're so busy training, eating in the chow hall, and sleeping in barracks that it's easy to accumulate money quickly.
Saving it is the real challenge, especially once you're off base. So long as you keep your head, you should be able to accumulate significant savings. How do you do that? Plan, persevere and persist.
Open a savings account
If you don't already have a savings account, open one. USAA offers great banking for military members, since it's a bank only available to past and present military members and their families. Or, try a high-yield savings account like the FDIC insured Discover Online Savings account, which offers a 0.60% APY with no minimum balance required.
Start a budget
Even though you won't have to budget for housing, food, and other expenses while in the military, you will have to someday. Starting a budget now can help you plan for the future, even if it just includes your going out money and savings.
Luckily, there are tons of apps you can try to help you budget. Here are a few:
2. Plan for your future
We all know that person, the guy who completed his service and retired to enjoy his comfortable life. It's no mystery how he achieved that—he merely planned well. No matter what rank you are, looking ahead will help you manage your savings. As you progress through the ranks, try to live the same way and keep the same habits. Don't live above your means.
Behavioral scientists Dr. Elizabeth Dunn and Dr. Michael Norton explore the idea of "happy spending" in their book, Happy Money: The Science of Smarter Spending. They offer spending advice and recommendations that everyone can adopt, not just those in the military. They tend to lean towards advising you to plan your spending and investing in experiences and moments rather than material things.
In a culture that is slowly moving away from consumerism towards a more minimalist lifestyle, such ideas are no longer New Age baloney but accepted wisdom. Embrace the idea that planning to save now will allow you to spend time later.
3. Pay yourself first
When David Chilton wrote The Wealthy Barber in 1989, it became an instant hit. The advice was simple and straightforward. Pay yourself first. Ten percent of all your income should immediately go into savings. The percentage amount may change for you, but the premise is the same.
If you're just starting out, you won't have debt or significant bills, so paying yourself is the priority. Decide what percentage of your salary will go into savings. Setting up multiple savings accounts is another way to compartmentalize your savings. One account could be for property savings, one for education, and so on. Consider this transaction just as automatic as your taxes.
Monthly direct transfers that distribute your salary into your savings accounts are a good idea especially if you're living on base with low expenses. Setting up a Thrift Savings Plan or Individual Retirement Account is a great idea to get started.
4. Use the right credit cards
There are some credit cards that are better for military members and veterans. Here's a few:
Capital One® QuicksilverOne® Cash Rewards Credit Card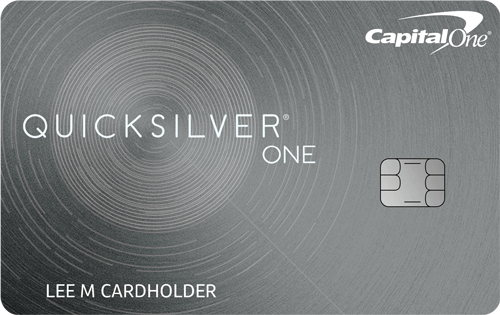 In A Nutshell
If you don't have the excellent credit needed to score some of the bonuses other Capital One credit cards offer, consider the Capital One® QuicksilverOne® Cash Rewards Credit Card. It's a terrific card for average credit and you can still earn 1.5% cash back on all purchases with a modest $39 annual fee.
Read review
Credit score requirements:
Credit Score requirements are based on Money Under 30's own research of approval rates; meeting the minimum score will give you the best chance to be approved for the credit card of your choice. If you don't know your credit score, use our free credit score estimator tool to get a better idea of which cards you'll qualify for. *Money Under 30 uses a [FICO 8] [Vantage 3.0] score, which is one of many different types of credit scores. *A creditor may use a different score when deciding whether to approve you for credit.
What we like:
1.5% cash back on all purchases

Be automatically considered for a higher credit line in as little as 6 months

No foreign transaction fees and a modest $39 annual fee
The Capital One® QuicksilverOne® Cash Rewards Credit Card may not be just meant for military members, but it is a great cash back card, offerings 1.5% unlimited cash back on any purchase..
But, one of the best qualities this card has for military members is that your interest rate is capped at four percent while you're on active duty.
5. Education is the best investment in your future
The military knows that education is vital for everyone. Which is why there is such a substantial value placed on it during your service. In many cases, the intense training you received in boot camp will translate into certain college credits. However, you should be wary of this and find out exactly what the details are since some training is ineligible or the credits received are obscure.
The GI Bill is available for you to take college, vocational, business technical, distance learning, certification tests, apprenticeships, flight training, and job training for veterans and reserves.
The Montgomery GI Bill education benefit can be worth over $69,000. That's thousands of dollars worth of investment in your future while you're enlisted and long after. The other bonus is that while you're in the military, you have the time to study since your daily routine is different than a civilian. This makes it the ideal time to upgrade your skills and education. If you're married, there are educational incentives available for spouses as well.
6. Invest
There are a bunch of ways to invest your money. Trusting a professional with your money is smart, especially if you have little experience with the stock market and other investing options.
Investing ideas
Buying a franchise, property, land, or currency
Try a roboadvisor
Roboadvisors take the hassle out of investing. You input your risk and investing goals and a roboadvisor will invest your money for you. We recommend the following roboadvisors:
7. Utilize VA loans
The Veterans Administration home loans remain one of the most useful military benefits. Qualifying for this loan can help you buy or refinance a home mortgage with a $0 deposit, fair rates, and financing up to $424,000. The critical thing to remember is that you don't need to buy a mega-mansion.
Large homes quickly become expensive to maintain, and you will always need a significant reserve fund for emergencies.
Commercial and industrial properties are often overlooked as investment opportunities, but these can provide long-term tenants, which means long-term money generated for you. Your credit rating will directly influence your eligibility to qualify for VA loans, so you always need to be smart about your spending.
8. Save on healthcare
Protecting the freedoms of millions is a task that service members do not take lightly. And putting your life on the line is a sacrifice that we are all thankful for. Due to the risks involved with serving in the military, all service members, and, in many cases, their dependents are entitled to free healthcare.
The Department of Veterans Affairs provides free hospital and outpatient healthcare that is classified as necessary to "preserve and restore health." Although the plans may differ, some of the primary coverage includes treatment for brain injuries, post-traumatic stress disorder (PTSD), blindness rehab, radiation exposure treatment, and more.
When it comes to determining coverage and eligibility, the Veterans Health Council is always available to answer questions, help with claims, and offer exceptional and accurate advice.
Additionally, dental care is free for active duty members because excellent oral hygiene is required to maintain your deployment status.
9. Use your military discounts
No matter whether you're in a conflict zone or on the base in California, military discounts are available for you to save money. Many entertainment venues offer discounts for military families; often all you need to do is ask.
Your spouse is also entitled to educational support through the Military Spouse Career Advancement Accounts for scholarships and tuition assistance. Get to know exactly what you're entitled to and benefit from the many businesses that are happy to support our military. You'll be surprised how many companies veterans own. FedEx, Walmart, and Nike are all owned by veterans.
10. Focus on the little things
Once you have set up your savings accounts and you have taken advantage of the educational and mortgage benefits offered by the military, it's time to start thinking about the smaller perks. The old saying look after the cents and the dollars will take care of themselves rings true here.
Get gas on base
There are many little things you can do as a service member to save money here and there. For example, did you know that gas is usually cheapest on base? Fill up your tank before leaving the base to take advantage of some of the lowest gas rates in the area.
Shop at the commissary
Service members can also take advantage of shopping at the commissary, which often boasts prices even lower than Walmart and other discount chains. This is because the commissary is required to sell items at cost, which translates to massive savings on your groceries and home items.
The commissary also doesn't charge regular taxes on products. However, they do charge a five percent surcharge instead. Additionally, the commissary has coupons that can be used, and they will also accept civilian retailer coupons. However, you cannot combine these offers for extra savings.
11. Learn about tax breaks
One of the most significant surprising perks of being in the military is the tax breaks available. For example, if you're deployed to a combat zone, you're entitled to a Combat Pay Exclusion. This means your earnings for that period are tax-free. Additionally, there are expenses you can deduct including Uniform Deduction, ROTC Allowances, and the Reservists Travel Deduction.
These are just a few of the government perks you can expect for the sacrifice you are making for your country. The best idea would be to work with a tax expert to make sure all these benefits are in full effect for you and your family, or use a tax software like TurboTax that can help you figure out all the benefits and deductions you're eligible for.
12. Utilize the help that exists for your spouse
Military life is hard. In addition to the extensive training and risks involved with serving in the military, your family may feel the pressure of constant relocations. Packing up and relocating to a new base every few years can take its toll, and make it challenging for the spouses of military members to secure a job.
The Veterans Employment Center can help take away some of that stress by assisting spouses to connect with new employers and find jobs that are suitable for the military life.
Summary
Serving in the military is a decision that will impact every aspect of your life. The sacrifices you make for this country are not discounted, and there are many significant opportunities that you can take advantage of to make things easier.
Whether you're saving for something big or you merely wish to make sure your family can always live comfortably, saving money for military personnel is an essential task that should always be on your mind.
Your turn: do you have any more tips or tricks for saving money in the military?
Read more