Wells Fargo recently announced the sale of its student loan division. If you have a student loan with Wells Fargo, here's what you need to know.
The news came in late 2020: Wells Fargo was selling its $10 billion student loan division. But the results weren't immediate. It took a couple of months for borrowers with existing student loans to be affected.
As with any major change, borrowers are understandably worried about the transfer. Will their interest rates change? Will they have to pay the loan off sooner?
The good news is, there's little to worry about!
Loan transfers are common
If you've ever had a mortgage, you probably already know that loan transfers are common. In fact, the odds that you'll have the same mortgage company throughout the life of your mortgage are pretty small.
Wells Fargo sold its student loans to Firstmark, whose parent company, Nelnet, is well-established in the student loan industry. If you have a student loan with Wells Fargo, the transfer will be made with no action necessary on your part.
The thing about these loan transfers is that you have a contract with Wells Fargo. Unless you sign a new contract with Firstmark or Nelnet, the company has to honor your original terms. If you choose to refinance the loan with Firstmark in the future, you'll then have new terms, but they'll be terms you agree to follow.
So, what should you do?
The best thing you can do as you wait for further instruction is to make sure your contact information with Wells Fargo is up to date. Any letters, email messages, or phone calls will likely happen using what Wells Fargo has on record for you. Firstmark will probably rely on this same information to get in touch.
You should receive directions on anything you need to do from now until the transfer becomes final. These communications will probably come by postal mail even if you've opted in to receive all information about your account by email.
When your transfer is complete, review any new documents Firstmark sends. Compare this to your original loan terms to ensure that your original agreement is being honored.
Weighing your other options
Firstmark is a respected lender with an online portal that makes managing your account easy. If you have autopay set up, you'll just need to make sure that will continue smoothly.
Although your terms will stay the same after the transfer, that doesn't mean you can't shop around. You might find a lower rate and better terms with a competitor.
Luckily, it's never been easier to research loan options. If your loan is with Wells Fargo, you may have already gone through the process of refinancing a federal loan. Refinancing a private loan is a similar process.
Here are some great private student loan options to help you start your search.
Fiona
If you're just looking to get an idea of what rates are available to you, Fiona is a great place to start. Just select student loan refinancing from the drop-down box and you can see current offers from a few lenders. If you want to get a customized look at rates, you can input a few details and compare your options to what you're getting with Wells Fargo.
With Fiona, your quotes will be based on your creditworthiness, your current loan balance, and whether you choose a fixed or variable rate. Once you find a rate and terms that work for you, you'll continue the application process with the lender of your choice.
Credible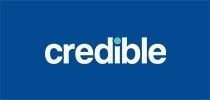 Another site that lets you compare multiple lenders is Credible. Just input some information on your education and income and review the offers. You can choose from multiple lenders, and there's a low rate guarantee (so you'll get $200 from Credible if you find a better rate). 
Currently, rates are starting at 4.44% fixed APR (with autopay)* and 4.74% Var. APR (with autopay) See Terms* for private loans and starting at 5.08% fixed APR (with autopay)* and 4.78% Var. APR (with autopay) See Terms* for refinanced loans.
Credible Credit Disclosure - To check the rates and terms you qualify for, Credible or our partner lender(s) conduct a soft credit pull that will not affect your credit score. However, when you apply for credit, your full credit report from one or more consumer reporting agencies will be requested, which is considered a hard credit pull and will affect your credit.


CommonBond
For a direct loan, there's CommonBond, a private lender that can help you refinance your student loan into one with a lower rate. With CommonBond, you can choose from a fixed-rate, variable-rate, or hybrid loan. Hybrid loans give you several years at a fixed rate, followed by a variable rate.
If there comes a time when you need a break from payments, CommonBond offers forbearance of up to 24 months over the course of your loan. Rates are currently 2.59%-6.74% for fixed, 2.55%-6.86% for variable, and 2.98%-6.57% for a hybrid loan. All rates will be discounted by 0.25% if you set up autopay.
PenFed
PenFed also offers direct student loan refinancing, with fixed rates starting at 2.99% APR and variable rates as low as 2.16% APR. You can refinance both student and parent loans using PenFed, and the rate you're quoted will be based on your credit score and your income.
You can get a no-obligation quote from PenFed as part of your research and compare it to other offers. You'll just have to input some basic information about yourself, your finances, and your loan needs to get started.
Upstart
Upstart is a direct lender that offers a wide variety of loan types, from personal loans to debt consolidation. You can refinance student loans of up to $50,000 using Upstart. Terms of three and five years are available with rates ranging from 8.94%-35.99% APR.
One of the best things about Upstart is how quickly the process goes. If you're taking a cash-out loan, this is obviously more important, but it can be a relief to know your paperwork will go through the system within a few days.
Loan transfers and your credit score
As with a mortgage loan, transferring from one servicer to another won't negatively affect your credit score. However, you could see a brief dip in your score until things stabilize. After that, your score should be where it was before.
The important thing is to make sure you're paying your loan on time every month to keep your score strong. As your loan moves from Wells Fargo to Firstmark, there could be confusion about where to send your payment. Pay close attention to any communication you receive from either lender to make sure you know if there are special instructions.
Summary
Even though Wells Fargo is halting its student loan program, your loans will be transferred automatically to Firstmark. You shouldn't need to change lenders as long as you're happy with the student loan terms you currently have.
However, it can never hurt to shop around for other options. You may find that by refinancing with a new lender, you get better terms and lower rates, saving you money on your monthly payments.
Read more: