Travel has been significantly altered by COVID-19, but what if you have the travel bug? Here is what travel will look like for the rest of the year.
Every other year my family packs up the car and drives from Pennsylvania to Michigan to spend a week by a lake in the woods. 2020 turned out to be a "Michigan year," so for months I've been debating the merits of going or not going. When cases started going down and my county went into the green phase of reopening in June, I decided once and for all to go. Luckily, I got my trip in before the fall and early-winter spikes in cases.
Need to travel in 2021, the Chase Sapphire Preferred® Card offers superb travel insurance and rewards to match
But as we turn the corner to 2021, I have hope that this year may bring a little more normalcy. Experts are currently predicting that most people will have access to the vaccine by spring. That means we could reach herd immunity by fall. That has led Americans everywhere to wonder if it's okay to start making 2021 travel plans. Will it be safe to travel over the summer? Will it be safe to travel in the fall? Although no one can say for sure, it is looking pretty promising.
In this article, I can't make a travel decision for you, but I'll give you the information you need to make your best choice. From where to go and how to stay safe, to the potential value of using travel insurance and credit card rewards points.
Here's what travel will look like in 2021.
Air travel vs. road trips – what's the better option?
If you're itching to get away after a year of staying home, you're not alone. In fact, according to a survey from Travel Leaders Group, 70% of consumers in the U.S. and Canada plan to travel in 2021. The survey focused on frequent travelers, finding that 45% had already made 2021 travel plans.
Here's a breakdown of what travel looks like for various types of trips and destinations in 2021.
Air travel
The top mode of travel cited in the survey was air, a striking difference from 2020 when vacationers were still wary of air travel. But outside of frequent travelers, that confidence might not be so strong. Other surveys have found that many Americans planned to change their travel habits post-COVID-19, and 36% said they plan to fly less.
Although 2021 will likely see a vaccine, experts still advise safety precautions. The jury's still out on whether those who have the vaccine will be able to carry the virus to the unvaccinated. Still, the air filtration and extra disinfecting airplanes have been doing have increased consumer confidence in flying.
Even once you're vaccinated, though, an airplane may not be the best bet. If you need to take public transportation or a rideshare to and from the airport, you'll have to check out the safety of those. You'll also still need to maintain social distancing, wear a mask, and frequently wash your hands while in the airport and waiting at the gate.
Still, it can be done. Try to book flights during low-volume travel times. Mondays and Fridays tend to be popular with business travelers, but weekends are busy with vacationers. This may be a great year to take the redeye or head out on the first flight available, and you may avoid crowds by booking your flight in the middle of the week rather than at the start or end of it.
Road trips
With many people still don't want to fly, car trips will continue to be popular. Until you're vaccinated, it's important to try to keep trips short to minimize the need to stop and use public restrooms, restaurants, and gas stations. Even if you're planning a trip after you think you'll be vaccinated, it's best to plan to take every precaution possible.
So, where can you go in your car? Visiting and camping in state and federal parks will probably remain a popular option since the likelihood of COVID-19 transmission is lower outdoors. Check your state park system for opening status, hours, and camping guidelines. The National Park Service continues…
"to adapt to changing conditions while maintaining public access, particularly outdoor spaces. Before visiting a park, please check the park website to determine its operating status."
If, like me, you prefer to sleep under a roof, short-term rental websites have rolled out new procedures for cleaning and cancellations. Check out the COVID-19 updates from Airbnb and other short-term rental sites. You can get away, enjoy a backyard pool or beach, and order takeout to minimize your contact with the outside world.
Finally, an RV rental or glamping site may be the perfect compromise between camping and renting a vacation home.
What does domestic travel look like?
If you want to travel outside of your own state in 2021, check the quarantine requirements and other local restrictions at your destination. Conditions on the ground can change rapidly, so it may be best to make last-minute plans for out-of-state travel.
I recommend looking for flight deals through Google Flights. For example, the homepage currently shows me three destinations from Philadelphia with one-way tickets under $50 each. Airlines have different approaches to social distancing, so check the website to make sure you're comfortable flying with that particular airline.
What does international travel look like?
Although many popular international destinations remain closed to American travelers as of this late-December writing, there are still plenty of places to visit. Some of these destinations have restrictions, though Here's where the U.S. stands with some of the most popular international travel destinations:
Canada – The U.S.-Canada border is currently closed

to discretionary travel

until further notice

.

Mexico – Similarly, the U.S.-Mexico border is closed

through

at least January 21

st to non-essential travel. Individual Mexican towns near the border are also blocking Americans from visiting.

United Kingdom –

Travel from the U.S.

is currently allowed

, but that could change. Currently, you'll need to complete a passenger locator form before you depart. You also may be required to self-isolate for 10 days upon arrival. It's important to note, though, that as of late December, the U.S. has restrictions on travel from the U.K. that could impact your return visit. You'll have to provide your journey and contact details. You may also have to self-isolate when you return.

European Union – The EU Council recommends a gradual lifting of restrictions on travel from "third countries," but unfortunately the U.S. is

still

not on the list of approved countries

.

Asia-Pacific –

Restrictions can vary from country to country, but currently, essential travel is largely restricted. It's important to check restrictions for the specific area before traveling. You should also check U.S. restrictions on re-entry, since currently,

you won't be able

to re-enter the U.S. if you've visited certain Asia-Pacific countries in the past 14 days.
Check Travel.State.Gov for up-to-date travel advisories in your desired destination.
What about cruises?
The cruise industry was the "canary in the coal mine," so to speak, with some of the earliest cases of COVID-19 infections in Americans. But the industry is optimistic about 2021, with many major cruise lines reporting strong bookings for the last half of 2021.
If you're hoping to get on a cruise ship this year (and seriously think about it first) to take advantage of a good deal, check out when the three major cruise lines expect to set sail again.
Norwegian Cruise Line – Voyages are currently suspended

through March 2021

.

Royal Caribbean – All sailings are suspended

through

February 28th

, with select cruise lines suspended into

March

and

April

.

Carnival Cruise Line –

The

latest news

on Carnival has cruises suspended through January 31st

.

However,

their website

doesn't commit to a date, merely saying they're working on a phased approach to reopening.
What are the risks of travel during COVID-19?
With a vaccine just around the corner, safe travel seems like it's within reach. But planning a 2021 vacation can be tricky, especially since you won't have a firm date for your vaccination. Even once you're vaccinated, though, you'll want to stay informed and practice good hygiene to reduce your risk of transmitting the virus to someone else.
Although planes have kept flying throughout the pandemic, confidence in air travel dropped immediately. But demand during the holidays showed air travel may be poised for a big comeback once passengers once again feel safe.
If you plan to travel by air this year, wear a mask, wash your hands frequently, and look for an airline that isn't booking the full cabin yet. If you can stay socially distanced from strangers on the flight, your risk will go down. You can also consider opting for shorter flights, much like people are opting for shorter car rides.
General travel safety tips
However you travel this year, practice these healthy habits for mitigating the spread of COVID-19.
Frequent handwashing for at least 20 seconds or use of hand sanitizer when washing isn't an option.

Try not to touch your face, especially if you haven't washed your hands recently.

Use a cloth face-covering in all indoor public spaces, even if it isn't required.

Wearing a mask outside can be beneficial, too, when social distancing isn't possible.

Try to avoid crowded settings and maintain a six-foot distance from strangers.
If you are going to travel, make sure you absolutely get travel insurance
If you're planning a trip in 20201, you may want to get travel insurance. First check, the cancellation policies of the booking site, hotel, airline, etc. You may be able to cancel for any reason right up to your trip date. If not, look for travel insurance policies that let you cancel for any reason.
In fact, many credit cards offer travel insurance built-in which is much preferable to costly policies.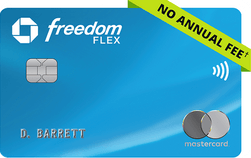 Proceed
Card info has been collected by MoneyUnder30 to help consumers better compare cards. The financial institution did not provide or approve card details
The Chase Freedom Flex℠ is one great option. The Chase Freedom Flex℠ offers up to $6,000 per trip if your trip gets cut short or canceled due to any number of extreme circumstances. It also offers emergency assistance while you travel, as well as up to $800 per claim and $1,000 per year in cell phone protection.
Pair that with the generous 5% cash back on all travel purchases through Chase Ultimate Rewards®, and there's a lot to love about this card. Plus new cardholders can earn a $200 bonus after you spend $500 on purchases in the first 3 months from account opening.
You can save even more with travel rewards credit cards
Do you already have a travel rewards card? Now may be a good time to use your accumulated points, when many companies are freezing the expiration of points and fares are low. Or, you can continue to use your card to rack up those points for a better time to travel.
If you don't have a travel rewards card, check out MU30's best travel rewards cards of 2020 list.
In particular, I love the Chase Sapphire Preferred® Card for its excellent 5X points on travel purchased through Chase Ultimate Rewards®, 3X points on dining, 2X points on all other travel purchases that you then can transfer to airline and hotel partners.
It's no accident that this card has become the standard-bearer of travel rewards cards, what with all the travel protections it offers, and the great rewards.
There's also an 60,000 bonus points after you spend $4,000 on purchases in the first 3 months from account opening. That's $750 toward travel when redeemed through Chase Ultimate Rewards®.
Summary
As you can see, the state of travel right now and for the foreseeable future is a state of flux. Everyone is feeling cooped up and eager for the open road or skies. At the same time, the vaccination program is relatively new and there's no guarantee that you'll be vaccinated by spring, summer, or even fall. So if you book a trip, make sure the cancellation policy is flexible or get travel insurance.
Consider staying close to home, where social distancing is possible at a campground or vacation rental. And keep the faith that you'll visit Europe without quarantining someday in the not too distant future. Whatever you do, be sure to wash your hands frequently!
Read more: