First things first: Yes, the popular credit monitoring site Credit Karma really does give you your credit score and report for free.
But while Credit Karma's services are free, it's of course a for-profit company, and it gets its bread by recommending (advertising) financial products to you.
While this model may be off-putting to some, you don't have to entertain Credit Karma's product suggestions. If you want a zero-dollar way to keep an eye on your credit score and ensure your report stays in good shape — and you can handle some product pushing along the way — Credit Karma has you covered.
Credit Karma - Free Credit Score
Credit Karma sources your credit score and credit report from Equifax and TransUnion. Your credit reports can be updated weekly and you can check your credit scores and reports as many times as you want without hurting your score.
Pros:
Free to use

Simple, clean interface

Explanations for scores and reports

Strong site security
Cons:
Only two credit bureaus included

Lots of product recommendations

Not an all-in-one financial platform
Sign Up
What is Credit Karma?
Kenneth Lin co-founded Credit Karma in 2007 to broaden consumer access to credit details. Lin had trouble finding an accurate version of his own credit score, and he wanted to make the process of understanding credit scores easier for others.
Fast forward several years, and Credit Karma boasts more than 120 million customers as of 2022 — they claim half of all Millennials use the site. The company's success can be credited to its free-with-ads model. Consumers get free financial info, and Credit Karma uses this info to tailor its partner advertising offers to users.
How does Credit Karma work?
Signing up for Credit Karma is super simple. You do need to enter your Social Security Number so Credit Karma can pull up your financial data. Because customer details are sensitive, the site takes security seriously with the standard 256-bit encryption and two-factor authentication.
Once you're on the site, you can see your credit scores and credit reports from the two bureaus Credit Karma works with, TransUnion and Equifax. The site uses the VantageScore 3.0 scoring model. The first things you see when you log in are your scores from each bureau.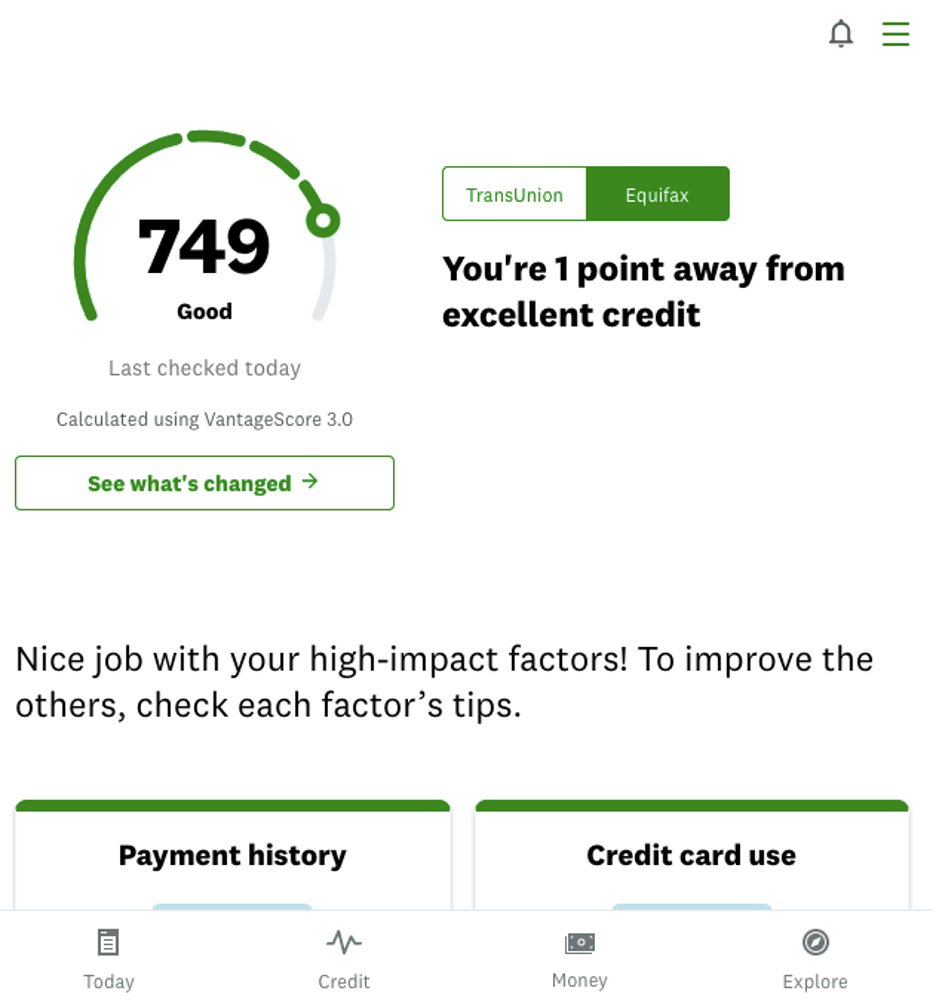 Credit Karma alerts you whenever there's a new inquiry or important change to your report. And you can check your credit whenever you want without any effect on your score.
There's a section with details on your credit accounts, like student loans, credit cards, auto loans, mortgages, and collections. Credit Karma uses your personal information to pull up a lot of data, including loan balances, closed accounts, and any record of missed payments.
If you want to add other info, like the value of your car or your home, you'll have to enter it manually.
How much does Credit Karma cost?
On the surface, Credit Karma is a completely free service with no premium access levels. You never have to enter credit or debit card details.
Like a lot of "free" fintech resources, however, Credit Karma is compensated by targeted advertising. Essentially you're paying for the service by offering data about your financial habits.
Credit Karma uses this data to find loans, credit cards, and other products you qualify for based on your credit — then it recommends these products to you, regardless of whether or not you've expressed interest in them.
That means when you use the site, you'll see a lot of offers like this one I got from Discover:
How does Credit Karma make money?
If one of the ads catches your eye, and you sign up for the product through the Credit Karma link, Credit Karma makes a commission. It's not unlike targeted advertising on social media platforms based on your online shopping habits.
This has been a spectacularly successful model for Credit Karma, which exceeds $1 billion in annual revenue.
Credit Karma is transparent about its use of advertising. It mentions that its compensation from advertisers affects which ads you see and what order you see them in — so the offers on your page may be from Credit Karma's top partners, but they're not necessarily the best choices for you.
If you're uneasy about your personal credit data being used for advertising purposes, I don't blame you. Consumers have different comfort levels with data sharing, and financial data can be very personal. That said, Credit Karma does a good job keeping your info secure from unaffiliated third parties and would-be hackers.
Credit Karma features
Credit score tracking
Understand how you got your credit score by looking at the different factors Credit Karma measures, like payment history, collections history, credit utilization, and credit card usage. This is a great feature if you want to learn more about how credit scores are calculated.
If you're curious about how your credit compares to other people by age and income brackets, you can find that out too.
Credit reports
Access updates to two different versions of your credit report, provided by TransUnion and Equifax.
There may be differences between these reports, which is normal. Lenders aren't required to report your info to all three credit bureaus, so they may report to Equifax and not TransUnion, for instance.
If you find an unusual entry on your report and want to file a dispute, Credit Karma links you directly to TransUnion. To dispute your Equifax report you'll have to go to the Equifax site.
Identity monitoring
The identity monitoring arm of Credit Karma has pretty basic tools, including a detailed list of where your information showed up in past data breaches. It's a good reminder to make sure your "data footprint" is protected on all the sites you visit.
There are encouragements to lock or freeze your credit if you're worried about identity theft. Credit Karma won't take this step for you — you'll need to go through the individual bureaus.
Account and loan monitoring
Credit Karma keeps tabs on your student, home, and personal loan progress, as well as other accounts with open balances. You can see how much you owe and to whom — this is helpful, if unsettling.
For other loans, like auto and home loans, you'll enter the data yourself. Enter the year, model, and mileage of your car, for instance, and Credit Karma will estimate and track its value.
There's a similar option for your home if you have a mortgage, so you can see how your house's estimated value rises and falls over time. In both cases you'll get plenty of lender recommendations for refinancing.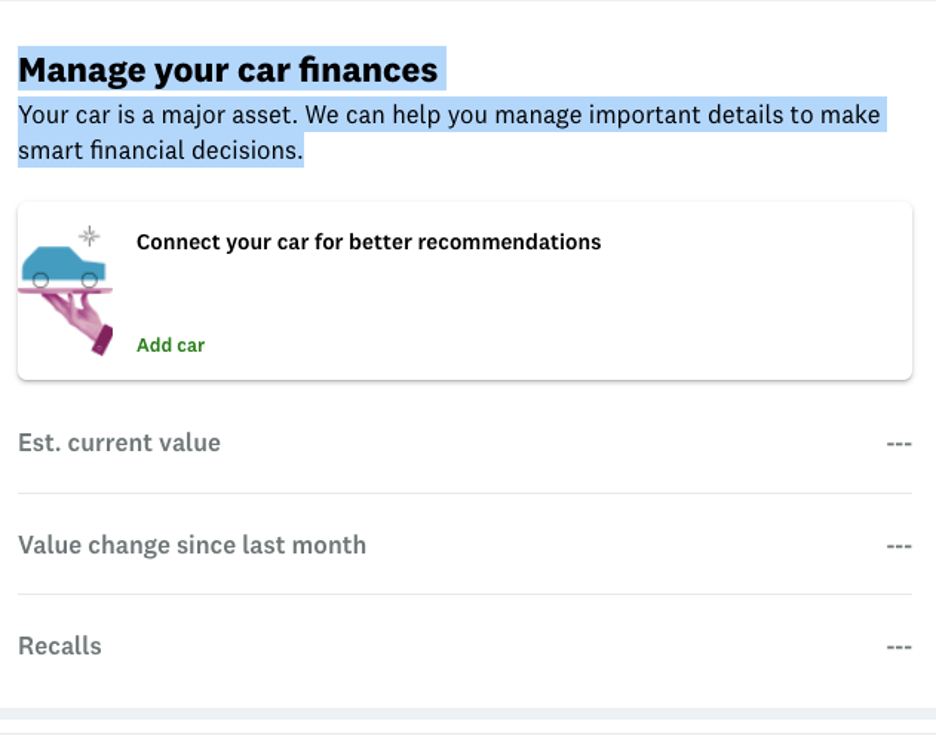 Credit score simulator and calculators
The credit score simulator helps you forecast how your credit might change in certain situations (like opening a new card). It's not an exact science, just a tool to help you make decisions.
Other interactive calculators help you estimate how much you can afford to borrow for a mortgage, how much you could save if you refinance a house, and when you could potentially pay off your debt.
Other features
Checking and savings accounts: 

free to open with no minimum balance requirements

Relief Roadmap: a section with links to financial resources if you're struggling.
Taxes:

Credit Karma provides a tax refund estimator and refund tracker.

Mobile apps: for iOS and Android.
My experience using Credit Karma
This is one of the simplest fintech sites I've signed up for. Its interface is incredibly clean and uncluttered, so I could see all the data I needed in one or two glances. I've always known I needed to monitor my credit regularly but had trouble following through, and Credit Karma makes this part easy.
The site security is on point; the browser logs you out after several minutes of inactivity, and two-factor authentication automatically kicked in before I checked out the savings account page. You can opt to save your log-in info or take the extra step of two-factor logins each time.
The identity theft monitoring tools are as basic as they come (there's no built-in protection, just data breach alerts), but not bad for a free platform.
The product recommendations aren't really a perk of the platform the way Credit Karma suggests, but they aren't extra annoying either. I pretty much ignored the ads. Unless you click on the "Recommendations" tab, they're easy to overlook.
If I were in the market for a new credit card or an auto or home loan, I might take a look at Credit Karma's offers, but I recommend supplementing these offers with your own independent research. Credit Karma doesn't show you every option that's out there, only the options available through their partners.
That said, the recommendations are a helpful way to suss out what kind of interest rates and loan amounts you can expect based on your credit, without filling out a million pre-approval offers.
I don't think I'll use Credit Karma all that often, but I'll keep the account open. It can't hurt to track my credit with a trustworthy source.
Who should use Credit Karma?
People new to credit
If you're just getting the hang of this whole "building credit" thing, Credit Karma's credit score breakdown illustrates the concept well. You can see exactly how different factors affect your score, and trace your progress over time.
People repairing credit
Credit Karma's graphs and data analysis provide great visuals, so you can quickly see which actions might give your credit score the biggest boost. Watching a score improve in real time can be motivating. As a bonus, you can check your credit scores and reports from TransUnion and Equifax as many times as you want without hurting your score.
Borrowers with multiple loans
The site lets you see all your open accounts at once, and the visual can help you keep your loans organized. Comparing loans side by side makes it easier to figure out repayment priorities.
Who shouldn't use Credit Karma?
People who prefer a full-service financial product
Credit Karma isn't an all-in-one finance site or app. It's pretty laser-focused on credit.
It doesn't have budgeting features, payment trackers, or any way to track your investments. And unlike some other sites, Credit Karma won't let you import transactions straight from a bank account.
People who want budget guidance
While Credit Karma does offer some financial management suggestions, it won't give you a template or any specific budgetary tools. Other sites offer a little more hand holding and step-by-step progress tracking.
People who need credit scores from all three bureaus
Credit Karma doesn't provide scores or reports from the credit bureau Experian.
People who need their FICO scores
Credit Karma uses the VantageScore model, not the FICO model.
Pros and cons of Credit Karma
Pros
Free to use — There are no subscription levels; all Credit Karma features are free, all the time.
Simple, clean interface — It's easy to find what you're looking for.
Explanations for scores and reports — Credit Karma breaks down your credit score data for you.
Strong site security — You can trust Credit Karma to handle sensitive data.
Cons
Only two credit bureaus included — Since your Experian score and report may be different, Credit Karma doesn't offer the whole picture.
Lots of product recommendations — Credit Karma's partners keep popping up with ads for loans and credit cards.
Not an all-in-one financial platform — Credit Karma isn't a one-stop shop for budgeting, savings, and investment, like some other platforms.
The competition
Here are some competitors to Credit Karma that offer similar type credit score services.
Credit Karma vs Credit Insights by SoFi
Credit Insights by SoFi is a free financial app providing credit score monitoring, account aggregation and budgeting, and tools to help you manage the repayment of your student loans and other debts.
Credit Insights by SoFi
Credit Insights by SoFi is a free tool that tracks your credit score and helps you budget. See all your accounts in one place, get weekly credit score updates, and manage student loan and other debt repayment.
Pros:
Free credit monitoring and budgeting in one

One-of-a-kind student loan management tools

No affect on your score score
Cons:
Uses VantageScore, not FICO
Learn More
Credit Insights by SoFi gives you a complete picture of your finances and credit score. It's accessible via web browser or the SoFi mobile app.
Using Credit Insights by SoFi is completely free, and you do not need to be an existing SoFi member to enroll. After you sign up, you'll have immediate access to your VantageScore 3.0 credit score, provided by the credit bureau TransUnion. Your score will automatically update each week so you can see how it changes over time and learn to manage your finances in a way that will gradually improve your credit.
You'll also be able to link your external financial accounts (checking and savings accounts, credit cards, and investment accounts) to keep track of your spending and your entire net worth. While there are many competitors that allow you to either monitor your credit score or track your spending and net worth, very few offer both in a user-friendly (and entirely free) package.
» MORE: Get started with Credit Insights by SoFi or read our Credit Insights by SoFi review.
Disclosure: SoFi's Credit Insights tool offers users the ability to connect both in-house accounts and external accounts using Plaid, Inc's service. When you use the service to connect an account, you authorize SoFi to obtain account information from any external accounts as set forth in SoFi's Terms of Use. SoFi assumes no responsibility for the timeliness, accuracy, deletion, non-delivery, or failure to store any user data, loss of user data, communications, or personalization settings. You shall confirm the accuracy of Plaid data through sources independent of SoFi. The credit score provided to you is a VantageScore® based on TransUnion® (the "Processing Agent") data.
Credit Karma vs Credit Sesame
Credit Sesame's basic service is free, but you can pay for upgraded subscription levels. Free membership comes with credit and account monitoring features that are similar to Credit Karma's. But Credit Sesame only tracks scores from one bureau, TransUnion, so the info won't be quite as comprehensive.
Credit Sesame
Credit Sesame offers of services for free to help manage your credit. It offers a credit score, credit monitoring, and personalized tips to help you reach your financial goals — free with no catch.
The experts at Credit Sesame can also help you find the perfect credit card match right away 100% free based on your credit score and approval odds.
Pros:
24/7 free credit monitoring

Free credit score with no credit card needed

Provides personalized credit card offers
Cons:
Premium required for score & report from all three main credit bureaus

Some offers may be limited to Credit Sesame partners
Find A Match
The free version gives you a "credit report card" that assesses where you stand. However, you can only get your full credit report if you purchase one of the paid versions. At $9.95/month, "Advanced Credit" gets you a monthly report from all three major bureaus.
Credit Sesame does have some nice identity protection features. The "Platinum Protection" plan at $19.95/month doubles down on identity security, including lost wallet protection and public records monitoring. The free version of Credit Sesame comes with identity theft insurance, which hopefully you'll never have to use.
» MORE: Apply for Credit Sesame or learn more by reading our full Credit Sesame review.
Credit Karma FAQs
How accurate is Credit Karma?
Credit Karma scores use the VantageScore model, one of two popular scoring models for credit (FICO is the other). Each scoring model gives different weight to factors like credit history, payment history, and amounts owed, so they won't come up with exactly the same three digits for each person.
VantageScore models tend to result in a higher score than FICO models, which can lead to some confusion if you're looking at a VantageScore model and your lender uses FICO. So while Credit Karma's not inaccurate, it's smart to check your FICO score too.
How often does Credit Karma update?
You can refresh your TransUnion and Equifax scores daily with Credit Karma; this happens automatically whenever you log in. Credit reports for each bureau are supposedly updated on the same timetable, though report changes will vary based on when lenders send in information.
Why is my Experian score higher than Credit Karma?
Each credit bureau — Experian, TransUnion, and Equifax — uses a slightly different scoring model. They each maintain their own information database, which means a lender may report a payment to one bureau but not another.
As a result, you can have two different scores from two separate bureaus at the same time. Credit Karma only considers TransUnion and Equifax scores, which differ from Experian.
Who owns Credit Karma?
The financial powerhouse Intuit, which includes services like TurboTax in its umbrella, acquired Credit Karma in 2020.
What that means for the future of Credit Karma is, hopefully, more advanced and diverse features with the help of its merger partners. It remains to be seen if Credit Karma will add a cost to any of these features.
Summary
For keeping customers informed about their credit without requiring them to do much work, you can't beat Credit Karma.
It's not a complete picture of your credit, and it doesn't have the bells and whistles of other fintech apps, but it's a smart addition to your financial management toolbox.