Explore student loan refinance options and learn where to find lenders, how to get approved for the best rates, and how much you can really save by refinancing.
If you have a good credit history and a consistent income, it's a good idea to explore your student loan refinance options as soon as possible. Refinancing your student loans may lower your interest rate, consolidate multiple student loans into one monthly payment, and possibly reduce your total monthly student loan payments.
With millions of Americans struggling to pay off their student loan balance and the collective educational debt in the trillions, it's a good enough time as any to really unpack options for refinancing your student loans.
Why explore student loan refinance options?
Student loan refinancing consolidates all of your federal and private student loans into one monthly payment.
Refinancing consolidates all of your individual student loans, with different servicers and due dates, into one easy-to-manage loan. Refinancing usually also reduces your APR and the total interest you will pay over the life of your loans.
Although anyone with at least $5,000 of student loans may be eligible to refinance, if you have a lot of student debt and/or high interest rates on some or all of your loans, you should definitely consider refinancing. Not only will refinancing make your life easier—you'll have one student loan payment to consider, not dozens—it will likely save you a huge amount of money.
How much can I save by refinancing my student loans?
How much will refinancing save you? That all depends on a lot of factors, such as:
Your existing loan balance(s) and interest rate(s)
The interest rate at which you refinance
The term of your refinance loan (how many years you'll take to repay)
Whether you make any early payments on your new loan
The lower your interest rate and the faster you repay your student loans, the less interest you will pay.
Student loan refinance calculator
Try our student loan refinance calculator to see how much you might be able to save by refinancing.
Options for student loan refinancing
How does a student loan refinance work?
When you refinance your student loans, you apply for a new private student loan that will pay off all of your existing loans (private or federal).
Applying for student loan refinancing is like applying for any loan or line of credit. You'll need to submit an application that documents your loan balance(s), employment, and financial accounts. The bank will do a credit check (although some student loan refi lenders are forgiving of poor credit scores if your finances are in otherwise excellent shape).
If you are approved to refinance, the new lender will pay your old loans and you will have one new (big) student loan with one due date and one interest rate.
Do I qualify for student loan refinancing?
To qualify for student loan refinancing, you'll need either a good credit history and stable income or a co-signer.
Most student loan refinance options require very good credit, which means having at least three years of responsible credit use—the longer the better. Most applicants will need good or excellent credit to get approved for student loan refinancing.
Some lenders like SoFi and Earnest, however, will approve a loan based on other factors—like your academic and employment history—even if you don't yet have established credit.
Finally, you can always apply with a co-signer and the bank may approve the loan based upon the co-signer's income and credit history. Even with a co-signer, however, remember that repaying your loan will be your full financial responsibility.
When should I refinance my student loans?
You should consider refinancing your student loans as soon as possible unless you can't yet qualify or have mostly federal loans.
Student loan refinancing makes sense if you have:
More than $10,000 in combined federal and private student debt
An average APR of 6 percent or more
A reliable income or a co-signer
There are a few situations in which student loan refinancing might not make sense.
If you're already having difficulty making your student loan payments, there's a good chance that will not qualify for a student loan refinancing. This is when you should look at reduced loan repayment options or forbearance on your federal student loans until your cash flow improves.
If a large percentage of your loans are subsidized federal loans, think carefully before refinancing, because you will lose all of the benefits unique to federal loans including deferment, forbearance, income-based repayment, and federal student loan forgiveness programs.
How to compare student loan refinance rates
Credible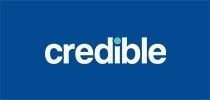 Credible is a student loan marketplace that gives you personalized real-time student loan refinance options (including live rate quotes) from leading lenders.
Credible enables you to see what interest rates and payments you qualify for in just minutes—without an upfront hard credit inquiry, so it won't affect your credit score.
Next, Credible allows you to fill out one application for several lenders. When you choose the lender with the best offer to refinance your students loans, you then only have to complete the one full application and credit check.
Credible works several different banks to offer student loan refinancing:
You can find your personalized student loan refinancing rate in about two minutes on Credible without affecting your credit score. You'll simply need to provide:
The college(s) you attended and your degree(s)
Estimates of your income, student loan balance(s) and monthly housing payment
Your name, date of birth, and address
Credible will then show you the interest rates and monthly payments you are qualified for from several different banks. It's free to get these quotes, there's no obligation, and it does not affect your credit score. If you choose, you can then apply to one of the selected lenders and will complete your application directly with the bank.
Check your rate and payment with Credible—it's fast, free, and won't affect your credit score:
Plus, Money Under 30 readers who refinance their student loans with Credible can get a $100 bonus! All bonus payments are by gift card. See terms
Read more about Credible in our review or head over to Credible to see your personalized APR and monthly payments now.
Top student loan refinancing lenders
Although not currently included in Credible's tool, SoFi and Earnest are two student loan refinancing companies worth checking out for well-qualified applicants.
Both companies offer extremely low variable APRs for the most-qualified applicants, but they also have alternative underwriting practices that take into account your entire life—not just your FICO score. That's not to say you can qualify for one of these loans if you've got spotty income and recent late payments to creditors. But, for example, if you graduated from an excellent school, have a stable, high-paying job, and good cash flow but have a shaky FICO score for reasons that are out of your control, these lenders might give you a shot.
If you're a new doctor, dentist, lawyer, or similar professional, you might make these refinancing lenders their first stop. Although medical school or law school can come with large student loan balances, the income potential and job security your profession provides make you an attractive candidate for refinancing.
SoFi
SoFi offers student loan refinancing aimed at bright students with great prospects, but big student loan debt.
Approval with SoFi takes just five easy steps that can be done mostly online, beginning with a three-minute pre-approval that will not affect your credit score. In addition to SoFi's easy approval process and great rates, they offer a number of other benefits like unemployment protection and on-staff wealth advisors.
Earnest
Earnest lets you consolidate and refinance federal and private student loans into one low-rate payment.
Earnest offers a feature called Precision Pricing which allows you to pick the exact term you want: 5, 10, 15, 20 years—or anything in between—with lower rates for shorter terms. For example, let's say you can't quite afford to pay off your loan in 10 years, but you could probably do it in 12. When other lenders offer one rate for a 10-year and a higher rate for a 15-year term, Earnest will adjust your rate down for the 12-year term that's right for you. Of course, you can always save money by paying off your loan faster if you're able, but with this pricing you can begin saving right away.
Summary
Exploring your student loan refinance options is wise, as you could save you thousands if you qualify. It's easy to explore your student loan refi options before you commit. Looking up your personalized rates and monthly payments will not affect your credit, so you can use real numbers to decide if refinancing is right for you.
Visit Credible to get your personalized student loan rates now
Credible Credit Disclosure - To check the rates and terms you qualify for, Credible or our partner lender(s) conduct a soft credit pull that will not affect your credit score. However, when you apply for credit, your full credit report from one or more consumer reporting agencies will be requested, which is considered a hard credit pull and will affect your credit.