How Upstart Gives Loans To Young Adults Without Credit Scores
Rating as of based on a review of services January 30, 2023.
Upstart Loans uses a proprietary algorithm to determine the pricing on your loan, instead of just your credit and income.
---
Best for:
People with newer credit files but good jobs
Those with great credit looking to tackle large projects
Anyone who wants to go through the loan process super fast
---
Editor's Note - You can trust the integrity of our balanced, independent financial advice. We may, however, receive compensation from the issuers of some products mentioned in this article. Opinions are the author's alone. This content has not been provided by, reviewed, approved or endorsed by any advertiser, unless otherwise noted below.
Finding a loan when you're newer to credit can be almost impossible. And on the other end of the spectrum – even if you have great credit, sometimes getting a personal loan doesn't necessarily give you the best terms.
So in this review, I am going to look at Upstart Loans – a company that uses AI and other factors outside of just your credit and your job to give you personal loans at favorable terms.
What is Upstart Loans?
Upstart Loans is a personal loan provider that uses AI and machine learning to determine rates and make the process for you as a borrower completely automated. Upstart does this by utilizing a proprietary algorithm that allows them to determine your creditworthiness. It focuses on things like standardized test scores, job history, education, and overall career path.
The company was launched in 2012 by a group of people that used to work for Google (hence the whole AI and machine learning thing). Their goal is to "improve access to affordable credit while reducing the risk and costs of lending for [their] bank partners."
Upstart also states that by leveraging their artificial intelligence platform, they are able to "have higher approval rates and lower loss rates, while simultaneously delivering the exceptional digital-first lending experience their customers demand."
In short, they want to make the loan process easy and fair, and particularly help people who don't have a long credit history to reduce their debts. In fact, when the company first got started, they targeted primarily recent college grads. Now, though, they've grown to a full-scale loan provider and have facilitated close to $6 billion in loan originations.
How does Upstart Loans work?
Upstart provides personal loans so you can use the money however you want (i.e., consolidate debt, renovate a kitchen, or pay for a wedding). But what's really interesting is how they do this.
As I mentioned earlier, Upstart was founded by ex-Googlers and they've developed an algorithm that gives them a lower risk of default and allows them to automate about 70% of their loan applications. It's really changed the way loans are built.
They saw there was a gap in the way the system currently defines risk and assigns loan rates to consumers. According to Upstart, more than 83% of Americans have never defaulted on a loan, yet only 45% of them have access to prime credit.
So they figured, with a smarter lending model, they could give more access to better credit to more people. And because of this, they've been able to achieve much lower loss rates:
So what does this mean for you as a borrower?
You have a fast and easy way to get approved for potentially some of the best rates available. Because Upstart-backed lenders are looking at the whole picture (not JUST your FICO score).
And because this is all done with machine learning and AI, odds are the entire process will be automated for you, so it's a heck of a lot easier. And by easy, I mean their loan process is all of three steps:
Answer a few quick questions to check your rate within five minutes.
First, answer how much you want to borrow, and for what:
After that, provide relevant, personal details like your name, address, and phone number:
You then provide your highest level of education and primary source of income:
Estimate your savings and state if you've taken a loan in the last three months:
And how you'd like to make your payments (believe it or not, this goes into their risk calculation since auto payments are more likely to be made):
After that, you'll agree to the terms and conditions to see your pre-approval rate.
Accept the terms of the loan and get your money as soon as the next business day.
Once you review the terms of your loan and find that you like it, you can proceed with the process and get approval within minutes. After acceptance and approval, your money will arrive in your account in as little as one business day.
Repay your loan – set up automatic payments so you can set it and forget it.
I always like to recommend automatic payments. For one, it allows you to not have to worry about making payments on time and every month. Also, you get used to that dollar amount being withdrawn from your account and you'll begin not to count on it. So after you get your money, you'll start repaying the loan the next month.
Pricing for Upstart Loans
Pricing is competitive for Upstart loans but will depend on how their algorithm scores you – again this is based on your standardized test scores, job history, education, and overall career path. Rates for all unsecured loans fall within 6.46% and 35.99% APR.
Upstart Loans features
Wide range of loan amounts
With Upstart, you can get loans for as little as $1,000 and as much as $50,000. And remember, after you're approved and you accept your loan terms, you can get the cash in your bank account as early as the next business day, making this a great solution for those needing to move quickly on their loan.
Lots of loan uses
You can use your Upstart loan for pretty much anything. Here are some of the primary loan types they provide funding for:
General personal loans.

Credit card consolidation.

Home improvement loans.

Wedding loans.

Moving loans.
While these are just some of the options Upstart shares, again, you can use the money however you'd like.
They also state that, on average, their customers save around 22% compared to their current credit card rates.
Proprietary lending algorithm
Most lenders look at just your credit score and your years of having credit – and often that's it – to determine your loan approval and corresponding rate. Upstart looks at:
Your credit score.

The years of credit you have.

Your education.

Your area of study.

Your job history.
This helps them understand your full potential as a borrower, often providing you a much better rate.
Quick and secure process
Getting a loan through Upstart is super fast and completely painless. Getting a rate quote takes about five minutes. After that, you can choose your loan terms and have your loan funded right away, receiving your money as early as the next business day.
The loan process is also completely secure. According to their privacy policy:
"We care about the security of your information and take reasonable measures designed to protect your personal information from unauthorized access and use by maintaining physical, electronic and procedural safeguards in compliance with applicable law. These measures include computer safeguards and secured files and buildings."
Three & five-year terms with no prepayment penalty
You won't get stuck sitting on a loan for five years if you want to pay it off early because Upstart has no prepayment penalty. This means you can pay off the loan as early as you'd like if you come into some extra cash or just decide you want to make a higher monthly payment to save money on interest.
You can choose either a three or five-year loan term with Upstart, as well.
My experience looking into Upstart Loans
I'm fortunate to not have debt, but I wanted to see what the process was like for myself anyway, so I decided to check rates on a loan as if I were applying for one. The first thing to do is head over to Upstart's home page and click the button that says "check your rate":
Then, you simply fill out a one-page information sheet, covering most of your basic information. I outlined the screenshots of what you will see above, but I loved that this was all on one page so it only took me about two minutes to fill out.
After that, Upstart will review your rate-check (it takes a couple of minutes) and present you with a couple of loan options if you qualify and if the loan is offered in your state. Unfortunately, Upstart wasn't currently available in my state, so I got a PDF letter explaining that.
The process took me all of three minutes, though, and there's no risk or obligation.
Who is Upstart Loans for?
Upstart is for anyone looking for a personal loan to help improve their financial situation. Whether you're planning a wedding, looking to remodel your home, or pay off existing debt at a lower rate, Upstart is a great place to start.
It takes no more than a few minutes to get a quote and there's no obligation – so if you don't like the rate you're given, you don't have to move forward. Basically, there's no risk in you checking a rate (it doesn't impact your credit).
Who is Upstart Loans not for?
If you have STELLAR credit and you can find other means of getting financing for what you want (like a 0% promotional offer on a credit card that you'll quickly pay back), then Upstart probably isn't for you.
Or, if you have cash set aside that you can use to fund your expense – it may not be worth taking on a loan at a higher interest rate – especially if that money isn't earning much in savings right now. All in all, those with great credit and funds available probably don't need Upstart.
Pros & cons
P
r
o
s
Fast and secure process — As I shared earlier, the process is easy, straightforward, and completely secure. Plus, there's no obligation.
Low rates for personal, unsecured loans — On the low end, Upstart's rates are a shade over 6% - which is excellent for an unsecured loan if you can qualify for it.
No prepayment penalty — You can pay off your loan as early as you want to by making lump sum payments or larger monthly payments than your loan requires.
Full-picture lending algorithm — If you don't have a deep credit profile, but you have a good income, a strong career path, and what Upstart would consider "potential," you're more likely to get approved for a loan.
Massive loan amounts — You can get up to $50,000 with Upstart. That's enough to completely renovate your home, start a business, or make some other major financial impact by going through a few clicks online. It's also a better rate than you might find on things like a HELOC or a business loan (plus you eliminate all the messy paperwork).
C
o
n
s
Rates on the high end are very high — While the low end is pretty good, rates go up quite high.Be aware that you may get an outrageous interest rate if your profile is not strong.
Limited options for terms — While I love that there's no prepayment penalty, your only options for loan terms are three and five years. Those are great for smaller loans, but if you take the max $50,000, that's a short window of time to pay it back. I'd like to have seen more options.
Upstart Loans vs. competitors
| Feature | Upstart | Prosper | Credible |
| --- | --- | --- | --- |
| Rates | 6.27% - 35.99% APR | 6.95% - 35.99% APR | starting at 5.40% APR (with autopay), See Terms* |
| Max loan | $30,000 | $40,000 | $600 - $100,000 |
| Loan terms | 3 & 5 years | 3 & 5 years | 12 to 84 months |
Prosper
Prosper is a peer-to-peer (P2P) lending platform that allows you to get loans through crowdsourcing. This means that other people can basically loan you money for whatever your need is.
As a borrower, you have to provide relevant documentation to show your financial capability of repaying it (i.e., income, credit score). After you're approved at this stage, your loan will be listed on the Prosper platform for other people to review and invest in. It's different than Upstart, in that it's a crowdsourcing platform, but it's a great way to get a loan at a reasonable rate.
Credible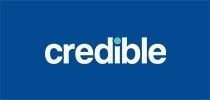 Credible is another loan provider that does things a bit differently than Upstart. Rather than providing loans directly themselves, they curate a list of providers to get you the best possible rate. What also makes Credible stand out is that they give you real-time rates – meaning the rates you get quoted as up to date as possible so you can know exactly what you'll pay.
Like Upstart, getting a quote from Credible doesn't cost anything and won't impact your credit, and it gives you a few more options.
Credible Credit Disclosure - To check the rates and terms you qualify for, Credible or our partner lender(s) conduct a soft credit pull that will not affect your credit score. However, when you apply for credit, your full credit report from one or more consumer reporting agencies will be requested, which is considered a hard credit pull and will affect your credit.


Summary
I really like what Upstart is trying to do. They have a fast process that's secure, and it really does feel like the future of lending. I'm not crazy about their rates, especially on the high-end, but if you qualify for the best rates it could be a lot better than what you'd find going to a bank (and a lot faster).
Because the rate check is free and takes just a couple of minutes, I would strongly suggest going through the process to see what you can qualify for.
Read more: