COVID-19 and advancements in digital technology have caused a rapid evolution in the way Americans want to work. According to a 2021 FreshBooks report, 40% of traditionally employed Americans are considering a transition to self-employment in the near future, up from 29% in 2020.
As someone who went from working at a corporate office to running my own business, I've met many would-be entrepreneurs who mistakenly believe they need tons of capital to work for themselves. But not every venture requires a bajillion dollars, and you might be surprised by the minimal funds needed to get some businesses off the ground.
Businesses you can start with no money
Consult, contract, or freelance
There are several ways to start a business without money. Look no further than what you already do for your full-time job.
An administrative assistant can easily pick up virtual assistant gigs that require a similar skill set. Book appointments and travel for executives? Farm out the same skill. Reach out to your network and let them know you're available.
Start a YouTube channel
Like video? Enjoy talking to a (potentially) big audience? All you need is a camera and internet access to start a YouTube channel.
Plenty of YouTubers had humble beginnings with nothing but an iPhone to get started. Just note that in order to reach monetization on YouTube, you need to have 1,000 subscribers and have acquired 4,000 watch hours over the last 12 months. 
Start a blog
Okay, so maybe you can't start a blog with no money, but there are plenty of cheap options to get started.
First, you need a domain and a place to host your website. Web domain costs can be as low as $0.99 to get started via GoDaddy.
Web hosting services, like Bluehost, can start for as little as $4.95 per month. You could get a blog up and running for less than six bucks!
Read more: How to make money online
Best business to start with $1K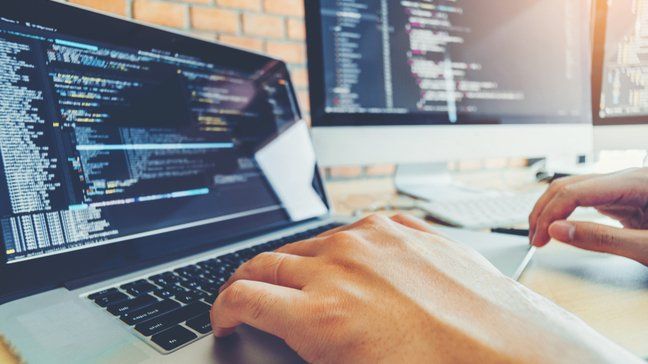 Develop an app
Software developers can use their skills to build their own web app for $1,000 or less. All you need is some seed money for server fees, a domain name, and marketing campaigns. According to research by Grid Dynamics, there will be $27.7 million software developers worldwide by 2023. That number is expected to reach 45 million by 2030.
Kyle Bumpus, a software engineer and blogger based out of Seattle, says it's easier than you think to get started.
"It's cheap to throw an app on the web. If you have programming skills, that's just about all you need," said Kyle.
That said, an extra grand or so does come in handy, at least to get started.
"The biggest advantage an app creator can have is the money to spend on marketing and user acquisition," Kyle adds.
» MORE: 30 businesses to start with little money
Best business to start with $5K
Become a real estate agent
If you want to profit off of a business with just $5,000, you might consider getting your real estate license. Andrew Herrig, blogger at WealthyNickel, and his wife Emily decided to fork over roughly $3,000 so Emily could be a licensed real estate agent.
"We do real estate investing as well. My wife got her real estate license with the intention of using it to save money on commissions for our own personal transactions," said Andrew. 
In order to get a real estate license, you'll need to take a course. Coursework can be accessed online or in person, and typically takes just a few months to complete. In one year, Emily made more than $17,000 through six real estate transactions. "It's a very part-time job right now since she stays at home with our kids, so the flexibility is nice," said Andrew. 
Expect to pay roughly $3,000 to $4,000 per year on dues, subscriptions, and education to stay current with your license. As long as you continue to network and sell houses, this could be a profitable business.
Read more: How to become a real estate agent
Best business to start with $10K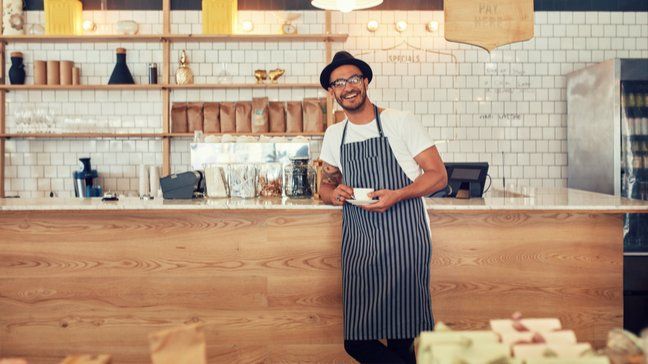 Open a food truck
Entrepreneurs with more sizable capital can venture into the food industry. For $10,000, you could start your own shaved ice business. Scott Morrison, owner of SnoMo's Shaved Ice in Clermont, Florida, spent roughly $10,000 to launch his shaved ice shop.
"Our shop is a food trailer set up in one location. The initial $10,000 bought the trailer and supplies," said Scott. Surprisingly, there weren't a lot of shaved ice businesses around Greater Orlando and Scott seized his opportunity. Plus, with a small trailer, Scott doesn't have to worry about leasing a retail space, which keeps his overhead costs low.
Within a few months of opening, Scott was able to recoup his initial investment. He was also adamant about getting kids involved in the business.
"We have five kids and we use SnoMo's to teach them about entrepreneurship and working. Plus, we wanted to provide a local place for teenagers to work," said Scott.
Best business to start with $20K
Invest in real estate
Real estate investing can be lucrative, so long as the math works in your favor. Just ask Avery Breyer, author and real estate investor. She and her husband decided to put $20,000 toward a down payment on a newly built condo. The property was purchased in 2008 for $216,000. Today, they have about $95,000 in equity.
"We bought this property for the purpose of building up equity that would become part of our retirement nest egg one day," said Avery.
They eventually refinanced in 2013 at 3.39%. The property is worth around $280,000 today. Here's how the math works out each month:
| Monthly expense/income type | Monthly cost/profit |
| --- | --- |
| Mortgage payment | -$928 |
| Property tax | -$276 |
| Condo fees | -$227 |
| Rent charges | +$1,580 |
| Profit from rental property | +$149 |
Avery says she sets aside the profit from the rental property for maintenance or unexpected events. "It's a fairly new condo, so there's not much to expect for repair costs. We keep on top of things though, so costs don't accumulate," said Avery.
If you want to start a real estate investing business, look for homes that require less work, like what Avery and her husband found. Keep your eye out for new builds in a trouble-free neighborhood. And remember: This type of real estate investment business is a long-term game, but it could help you earn a steady income over time.
Read more: How to invest in real estate
Whether your business is virtual, on site, or wrapped up in a real estate property, you could run into hidden costs. Once the entrepreneur high subsides, you'll see that there are several expenses you should shell out for, including:
Creating an LLC or S-Corp — 

These expenses can vary depending on where you live. An LLC costs $300 if you register in 

Texas

or $70 if you register in California.

Business tax certificate — Costs of a

 DBA and business tax certificate can similarly vary by state, e.g., $25 for a DBA in New York vs. $65 in Massachusetts. 

Business insurance — Business insurance protects you from major financial trouble if something unexpected happens. General liability insurance typically starts at around per month.
App and software subscriptions — 

App and software subscriptions can run from $100 to several thousand dollars. If you anticipate using a teleconferencing software like 

Zoom

, basic plans for small businesses are free, but larger businesses may need to pay up to $250 per year to meet their needs.

Payment gateway fees — Think Stripe or PayPal. 

If you plan on selling items, remember that Stripe and PayPal charge a payment gateway fee. PayPal charges

a fee of 2.99% for online transactions

plus a fixed fee based on currency.

Self-employment tax — 

The federal self-employment tax rate

is 15.3%

. Note, you can deduct the employer-equivalent portion of your self-employment tax when calculating your adjusted gross income.

Legal consulting fees — 

Legal consulting fees can range from a few hundred to a few thousand dollars initially and/or annually.

LegalZoom

starts its services for LLCs at $79, and you can expect to find higher fees with individual CPAs and attorneys.

Conferences and travel — 

Conferences and travel may also be part of your business costs. While a conference ticket could run a few hundred bucks, don't forget to factor in the cost of transportation, hotels and meals, and other expenses.
Sure, in the back of your mind you might know that you have to pay for these expenses, but they creep up while you're busy making something awesome or having important business meetings. Legal setup fees can quickly stack up if you're not careful.
I started my first business as a marketing consultant and needed a contract created that I could send to clients. I had a small business lawyer draft the contract with the right language included to protect myself. That document ended up costing me $500, an expense I certainly didn't foresee when starting out.
How to keep the cost of starting a business low
Use free banking
There are plenty of free business bank accounts, so there's no need to pay hefty fees to keep your money safe and accessible.
Use bookkeeping software
Once you've decided on what business to start, it's imperative that you keep overhead to a minimum. Regular bookkeeping can help you see what money is coming in and going out each month. 
Don't forget to budget for your business
In addition to using bookkeeping software, I also maintain a simple budget spreadsheet so I can actually feel those transactions hit. It makes me think twice about accepting another business lunch meeting (did you know you can only deduct 50% of the meal for tax purposes?).
Consider a business credit card
If you are a responsible credit card user, I suggest applying for a business credit card. It keeps your business transactions separate from your personal transactions (you should never mix 'em!). And cards that earn cash back or rewards points can put some extra money back in your pocket when you spend on common business purchases, like office supplies, utility bills, gas, travel, etc.
Where to get extra funding for your business
If you need some financial help getting your business off the ground, or to keep it afloat, getting a business loan is one of your best options. These loans come with a repayment schedule that allows you to make manageable payments each month, rather than having to come up with a large chunk of cash upfront.
Read more: Best small business loans of 2022
Things to keep in mind before starting a business
Before you venture out into the unknown (cue Frozen 2) with your business, know that there will be failures. There will be heartache and tough days.
And when those tough days come, you have to remember your why. Why did you create a business in the first place? If it was to make money alone, then you're in the wrong business.
Choose a business doing something that you would do for free. I initially started my personal finance YouTube channel not because I wanted to make a ton of money, but because I genuinely love creating personal finance videos. The money came after a lot of hustle!
Remember that when you decide on what business to start.
Starting your own business can be both exciting and terrifying. But the fear of not having enough bootstrapped cash shouldn't necessarily prevent you from becoming an entrepreneur. 
If your funds are limited, consider starting one of the businesses listed above. But think long and hard about whether or not you'll truly enjoy running that kind of business. It's hard to get through tough days when you started your business venture based solely on a passion for revenue, rather than a passion for the business itself.