Don't get us wrong; we love PayPal.
The OG payment app has been around since 1998 and manages to offer an excellent jack-of-all-trades experience that still makes it one of the best payment apps. You can send money to friends, handle payments as a business, and even earn 5% back on PayPal purchases through certain rewards cards.
But 24 years is a long time to let competitors catch up. And while none have managed to topple the titan, contenders like Venmo, Wise, Payoneer, Zelle, and Cash App have gained serious ground by offering a better experience for certain users. Some let freelancers get paid with fewer fees. Others let you pay your friends overseas in their currency of choice. And one is perfect for sending payments to people who don't have any payment apps installed (e.g., your parents or grandparents).
So which payment app is best for what? And most importantly, which is best for you?
Let's investigate the 10 best alternatives to PayPal.
PayPal alternatives overview
Venmo: Best for paying friends
Wise: Best for international transfers and currency conversions
Google Pay: Best for sending money through Gmail
Payoneer: Best for receiving online payments as a freelancer
Square: Best for receiving in-person payments as a freelancer/small business owner
Stripe: Best for receiving online payments as a small business owner
ProPay: Best for receiving offline payments as a freelancer/small business owner
Zelle: Best for sending money to people who don't use payment apps
Cash App: Best for converting received payments into hard cash
Apple Pay: Best for sending, receiving, and paying at the register for iPhones and Apple Watches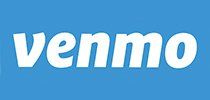 Fees for personal use: 3% credit card processing fee
Fees for business use: 9% merchant fee plus 10 cents per transaction; Venmo tax applies to all transactions marked "goods and services"
Venmo is so widespread these days that "Do you have Venmo?" has become the new "Cash is king."
Even though Venmo is technically a subsidiary of PayPal, the numbers show that the former is now nearly as popular as its big brother. PayPal handled a total of $330 billion in transactions in 2021, while Venmo handled $230 billion — up a staggering 44% from the previous year.
And there's a reason why so many people use Venmo as their go-to payment app: it's simple, safe, and reliable. Transfers are free, payments to friends and family are free, and the app even has a built-in "newsfeed" showing who among your friends is paying whom for what. There was even a time when Venmo showed you the precise amounts they were paying for rent, food, and more, but naturally that TMI feature was retired.
While popular, Venmo isn't perfect. It takes between one and three days to withdraw your Venmo funds to your bank account, or you can pay a 1% instant transfer fee. Plus, if you use it to invoice clients, there's no "tip" option on their end — they have to manually initiate a separate payment.
There are also a few default settings I'd strongly recommend you change if you download Venmo.
Settings > PIN code and biometric lock. Set a 4-digit PIN so that if someone borrows or steals your phone, they can't Venmo themselves the maximum $3,000 (happens more often than you'd think).
Settings > Privacy > Private. Unless you really want your entire friends list to see who you're paying and for what, I see no reason to broadcast this sensitive data. Turn it off.
Pros and cons aside, Venmo is so popular that someone's bound to ask you to use it. Luckily, once you succumb to peer pressure, you have a rock-solid PayPal alternative waiting for you.
Fees for personal use: Sending rates from 0.41%; conversion rates from 0.41%
Fees for business use: Same as personal, plus a $31 account setup fee
There are plenty of apps to help you split the cost of a pizza with your buddies, but what about your international friends? Wise, formerly TransferWise, helps with that. You can send money to consumers in 51 countries, with new currencies added on an ongoing basis.
Wise is custom-built for any international payment or money transfer you want to make. I just have to enter how much I want to send in USD, then choose the currency of the receiving party. Right there, it shows how much I'll pay for a monthly fee. There are bank fees and Wise fees, but they are minimal.
To send $100 USD to Europe using Wise's personal account, I'd pay $0.16 in bank/debit card fees, plus a $0.96 Wise fee. Compare that to $5 per transaction fee for a personal international bank transfer with PayPal payments. That alone makes this perhaps the best PayPal alternative around.
Wise business members pay a fixed fee of $1.40 to send money. PayPal, in contrast, charges a 1.50% international business payments fee in addition to the standard fee (2.89% and up).
I've only been a Wise payment recipient, so I had to check out how paying someone works. It's pretty simple – well, as simple as paying internationally ever is. You'll need the email address, full legal name, and mailing address of the person. You'll also need the International Bank Account Number (IBAN) of the recipient, as well as the type of account it is and the name and address of that bank.
The business side of Wise has some advanced features, including invoicing and compatibility with Stripe. You'll also pay a one-time $31 fee to set up your account for international banking.
Fees for personal use: 9% credit card processing fee
Fees for business use: 9% merchant fee plus $0.30 per transaction for transactions under $3,000. Rate drops to 2.5% for transactions above $3,000; 2.2% for $10,000+; and 1.9% for $100,000+.
Google Pay allows you to send money from your bank account or GoogleWallet through Gmail for free. Just look for the $ symbol when you're composing an email and input the amount of money you want to send. If you're like me, you already do most of your communication through Gmail, so this may boost Google Pay to the top of your list.
Signing up for Google Pay is easy if you use your Google account for most of your business interactions. You just have to download the app and add your phone number. Google automatically pulls in all your frequent contacts.
The interface with Google Pay is not all too different from Venmo's. You just choose a name from your contacts and input the amount you want to pay. You can also add a note.
One feature I like with Google Pay is that you can easily split payments with friends. Just tap on "Split with Friends" from the Pay screen and choose the friends from your contacts. There's also a Scan QR Code feature that will make it easy to pay a business that accepts Google Pay.
Speaking of business use, Google Pay has the same weakness Venmo does when it comes to paying vendors. You'll have to figure out the tip and add it to what you're paying. But these apps are designed to keep things as simple as possible, so that's one unfortunate by-product.
Get Google Pay for iOS or Android.
Fees for personal use: N/A
Fees for business use: $0 for payments from other Payoneer customers; 3% credit card processing fee; 1% ACH debit fee; marketplace fees (Network, Fiverr, et al) vary by marketplace; 0% to 1% receiving account fee
Payoneer is an online payment system and peer-to-peer payment solution that allows you to transfer money to anyone anywhere in the world, in addition to making purchases. It provides you with a pre-paid Mastercard that you can use anywhere Mastercard is accepted.
As a freelancer, I'm familiar with Payoneer through sites like Upwork. The service is useful, but if you're not a freelancer, there are better options. Professionally, what I like about it is that you can send payment requests to clients and they can pay you directly through the app.
Payoneer is another great option for freelancers who are crossing international borders with their work. You'll pay no fees on the money your clients send to you, and if you send money, there are no fees as long as the recipient is a Payoneer member. Otherwise, you'll pay 3% for a credit card payment and 1% on ACH transfers.
But, chances are, if you're using Payoneer, you've encountered it on one of the many platforms that use it. Upwork is where I've seen it, but it's also a payment option on Fiverr, Wish, and Airbnb, among many others. If you pay for products and services on sites like that, a Payoneer account for personal use could come in handy, but otherwise, it's mostly for freelancers and small business owners.
Get Payoneer for iOS or Android.
Fees for personal use: N/A
Fees for business use: First card reader is free; 2.6% credit card processing fee plus $0.10 per transaction; 3.5% plus $0.15 fee for payments that are manually keyed in
Not every in-person business operates in a storefront with a cash register. Square helps with that, equipping small business owners and freelancers with a way to easily swipe a card. The reader attaches to a phone or tablet, allowing you to accept payments anywhere.
I made the mistake of not using Square when I had an in-person event where I needed to accept cards a few years ago. I used the PayPal reader because I figured I already had an account so it would be easier. The swiper didn't work, so I had to manually enter every single credit card. It was a pain.
For the next event, I ordered a Square reader and never looked back. It works every time, which comes in handy when you have a line of customers holding credit cards. Fees vary from 2.6% + $0.10 for swiped cards to 3.5% + $0.15 for manually keyed transactions, so while it might come in handy to be able to swipe your buddy's credit card to pay you back for dinner, one of the apps built for personal payments will likely be better for that.
But Square isn't just for taking in-person payments on the go. You can use it as a one-stop shop for all your business's sales. You can send invoices directly from the dashboard, set up gift cards that you sell directly through their site, and even take sales on your website using their platform.
What I like about Square, though, is that you can see, at a glance, your total daily sales. If you're regularly collecting money from customers — in person or online — having this easy access to your progress comes in handy.
Is it for personal use? Not really. You could swipe your friends' cards using the reader, but the fees will cut into whatever you're taking.
Get Square for iOS or Android.
Fees for personal use: N/A
Fees for business use: First card reader is $59; 2.9% credit card processing fee plus $0.30 per transaction; 3.4% plus $0.30 fee for payments that are manually keyed in; 0.8% fee for ACH transfers
Another option geared toward the needs of small businesses is Stripe. The payment platform can be integrated with your online store or used separately by directing customers to pay you there.
Stripe is for business. You could use it to send money to friends, but the fees make it cost-prohibitive. Fees start at 2.9% + $0.30 for each successful card charge. You can also accept international transactions, with an additional 1% fee added to each transaction.
Compared to its direct competitor Square, Stripe has higher fees but better tools for online integration. If you're swiping customer credit cards in-person, use Square. If you accept most payments online and want to offer options like recurring billing and subscriptions, use Stripe.
I've used Stripe to accept payments from clients, and I loved the easy sign-up process. They do require identity verification, but all I had to do was snap a photo of my driver's license and set up two-factor authentication to start accepting payments.
What I like most about Stripe is the dashboard. When you log in, you can see, at a glance, how much you've made today, as well as your financial activity over the past seven days. You can also see any disputes customers have filed on previous charges.
Yes, you can send invoices using Stripe, and that's how I get paid for what I do. But where Stripe really shines is in its API. You can easily add Stripe to your website to start taking payments, and, in fact, if you use one of the top web hosting services, you probably see Stripe as an option when you're setting up your e-commerce store.
Stripe also has terminals and mobile payment options. You don't need a card reader to accept in-person payments — simply hold the card in front of your phone and the camera will capture the information you need. If you regularly take payments on the go, it's worth considering.
Get Stripe for iOS or Android.
Fees for personal use: N/A
Fees for business use: $39.95 signup fee; $39.95 annual renewal fee; 2.60% credit card processing fee; 3.55% fee for payments that are manually keyed in; $0.35 bank transfer fee
ProPay offers payment processing tools for businesses of all kinds. Whether your business is small, on the road, or global, they can work with you.
ProPay is for the business that's serious about accepting payments on the go. You can swipe cards using the ProPay JAK™ card reader. If you aren't near your card reader, you can manually input the information. You can also opt to securely save a customer's payment information to make things go more quickly the next time they buy from you.
One thing I love about ProPay is that it works even if you are offline. I've sold items at libraries, book fairs, craft fairs, and even in the parking lot after an event. You aren't guaranteed to have Wi-Fi or even cellular connectivity at all times, and this app comes in handy for that. The transaction is logged the next time you go online.
For personal payments, this is another app that won't really help you much. But if you're a freelancer or work in direct marketing, this is a great app for processing payments. 
As for fees, they depend on the type of card being used and the account you have. Rates start at 2.40% for swiped transactions. The complete rate chart is posted here.
Get ProPay for iOS or Android.
Fees for personal use: None
Fees for business use: None (though there are no business-specific features)
You may already know Zelle as "the payment app my bank wants me to use."
That's because while competitors like PayPal and Vemno were marketing themselves to businesses and individuals respectively, Zelle was chatting up the banks. As a result of all that relationship-building, Zelle now interfaces with over 1,000 banks and banking apps worldwide, making it extremely easy to send and receive money directly through your banking dashboard.
The other benefit of using Zelle is it makes it way easier to send money to people who don't use payment apps at all. For example, let's say I wanted to send $200 to my grandparents to help them pay for a new fridge. If I said to them, "Do you have Venmo or Cash App?" they'd probably look at me like I was speaking a foreign language.
I don't want to stress them out with the prospect of downloading an app (or buying a smartphone), so I'll just send it via Zelle. They'll receive an email from Zelle that shows them step-by-step instructions on how to enroll and put the money in their account, no apps required.
The other benefit to Zelle is simplicity. You simply send and receive money with no fees ever. That's it. There are no newsfeeds, social features, nada. And frankly, the only reason I don't recommend Zelle over Venmo is because the latter is just more recognizable.
Fees for personal use: 3% credit card processing fee; 0.5% to 1.75% instant transfer fee ($0.25 minimum); $2 ATM withdrawal fee with Cash Card
Fees for business use: 2.75% transaction fee
Like Venmo, Cash App is another one of those payment apps that everyone's heard of, and everyone uses. It's extremely simple, with a no-frills dashboard and no fees for personal use, and for better or worse it lacks the social features of Venmo.
Cash App
Cash App is a safe, low-cost payment app option that lets you transfer money, make purchases, and more from your mobile device. Expanded offerings including free tax services, trading capabilities, and a teen-friendly debit card set it apart from other money transfer apps.
Pros:
Offers instant deposits

Free transfers from bank account

Early direct deposit
Cons:
Low limits on unverified accounts

Credit card transfer fees

Deposit fees on instant transfers
Download
At first glance, Cash App seems to be the Paris Hilton of payment apps: popular just because it's popular. There's no option to tip contractors, not much to appeal to business owners, and until you verify your personal information, you're capped at sending $1,000 every 30 days.
Pretty soon, Cash App's initial value proposition — barebones simplicity — may start to feel limiting when you see competitors offering compelling features like bank dashboard integration, currency conversions, and free credit card readers.
Thankfully, Cash App starts making way more sense when you learn about the Cash Card. The Cash Card is a debit card linked to your Cash App balance that lets you withdraw your funds from any ATM for a $2 fee.
That's a big deal for folks who want their cash instantly, since the alternative is to:
Initiate an instant transfer for a fee ranging from 1% to 3%
Find an in-network ATM, or pay out-of-network ATM fees of ~2.5%
Let's say you receive a $300 payment and want to convert it into cash. With Cash App, the total fee would be $2 or 0.67%. With another app, you could pay up to 5.5% or $18.33 in fees alone, plus having to wait up to 30 minutes for the "instant" transfer to your bank account.
True to its name, Cash App is the best payment app for converting received payments you receive into cold, hard cash.
Fees for personal use: 5% instant transfer fee (min. $0.25, max $15)
Fees for business use: No additional fees for merchants (though standard credit card issuer fees may apply)
Apple Pay offers more than just another way to send and receive money from friends. The app will also let you securely store all your credit and debit cards in a neat-looking virtual stack. Then, when you reach the register, you can just pull up the card you want to use, hover your phone near the payment terminal, and wait for payment to clear. No need to fiddle with your wallet or let your card out of your sight!
Apple Pay also works with Apple Watch, so you can simply pull up your card there and hold your wrist over the payment terminal until payment clears, signaled by a gentle tap from your watch.
For online stores and in-app purchases, you've probably noticed that Apple Pay isn't quite as widely accepted as PayPal, but it's getting there. Apple boasts that as of late 2022, over 85% of U.S.-based retailers accept Apple Pay — even vending machines and taxis.
As you might expect, Apple Pay is a perk reserved for iOS users only. In fact, it's one of the apps that comes factory-installed on Apple devices. At least Android users like me still get Google Pay.
Get Apple Pay for iOS.
Benefits of online payment apps
First, it can help to take a look at the overall features of online payment apps. Online payment apps make it easy for a business of any size to collect money from customers. Peer-to-peer payment apps make it easy to transfer money to your friends.
Here are some benefits to consider:
Easily pay friends and family members
Transfer funds from your bank account to someone else's with a few clicks
Set up recurring payments to friends or family members
Avoid carrying cash around with you
Skip the trip to the ATM before you go out with friends
Accept secure payments for products or services on your small business website
Set up a Point Of Sale system in a brick-and-mortar business using a tablet
Accept payments on the go using a card swiper
Provide an alternative to personal checks, which can be risky
Some of these won't appeal to you, while others will. By looking through all the various features that are available, you can start to narrow down what you're looking for in a payment app.
Features to look for in a payment app
As you're researching payment apps, there are some features to consider. You may not even realize you can do some of these things using a payment app until you see one offering it.
Fees. Of course, we'd all love for everything to be fee free, but we know there's a cost associated with some financial transactions. I look for an app that at least has a "friends" option, letting me send money without fees to people I know personally. Often you'll have to link up a checking account to do this, though, as credit card-based transfers will typically incur a fee.
Social feeds. This isn't something I look for, but with peer-to-peer payments, some find social updates valuable. When you pay your buddy for your half of those summer concert tickets, this lets all your other friends know about it.
Security. Yes, the verification process can be a pain with some of these apps, but I like it. It means that the platform takes security very seriously, which boosts my confidence that my financial data is safe with them.
Send to email. Some peer-to-peer payment platforms let you send email to someone else using an email address or information from your contacts list. You can even send money within some email and messenger apps with just a tap on the screen. I found this comes in handy when you're interacting with someone about upcoming plans. You can submit your share of the funds within the same message string to make sure the other person sees it.
All-in-one functionality. Some apps combine the best of peer-to-peer and online payments, letting you pay using the same app. You'll need to identify which businesses accept payment that way, but it can be a handy way to manage your budget.
Expand payment options. Businesses face the ongoing issue of keeping things as convenient as possible for customers. The more payment options you can offer, the less likely you'll lose customers who are limited in how they can pay.
International payments. The internet has opened businesses up to reach out to an international customer base. Being able to accept payments across multiple currencies with minimal fees is a huge bonus if you want to go global.
If your business uses financial software, check for integrations. Being able to import information about your transactions can help you stay on top of things while reducing your own workload.
Choosing the Right PayPal Alternative for Your Needs
Picking the most suitable PayPal alternative for your business requires an evaluation of multiple elements like fees, features, and user feedback. Although some providers might have lower fees or superior features, these factors should be evaluated against your unique needs and the demands of your target audience.
For instance, if your business primarily caters to customers within a single country, a payment solution with lower domestic transaction fees, such as Skrill, may be more suitable for your bank account. However, if your business operates across multiple countries and deals with credit card transactions, a solution like Adyen, with its support for over 150 currencies, may be more appropriate.
Also, you need to assess the user-friendliness and adaptability of each payment solution, including QuickBooks Payments. While some providers like Stripe may offer more advanced features, these may require coding proficiency to implement fully. In contrast, user-friendly options like SpotOn can be more accessible for businesses without extensive technical resources.
In the end, the ideal PayPal alternative for your business is determined by your specific needs and objectives. By carefully evaluating the fees, features, and user reviews of each payment solution, you can make an informed decision that best suits your needs and helps your business succeed.
The beauty of payment apps is that you don't have to choose just one. You can have a half dozen installed on your phone, so long as you protect yourself with extra layers of security like PIN codes and biometric logins.
And knowing which payment app to use in which scenarios can save you time, stress, and hundreds on fees.
Frequently Asked Questions
Is Venmo better than PayPal?
Venmo offers fewer fees and social features that make it a great option for sending funds to family and friends. However, PayPal is better suited for small businesses and e-commerce transactions due to its higher transaction limits, international availability and e-commerce options.
Is PayPal or Google pay better?
Based on the reviews, Google Pay and PayPal are both well-liked payment options with excellent ratings. However, PayPal offers significantly more reviews which point to a more reliable, widely trusted service.
Is Stripe better than PayPal?
Overall, Stripe is a better option than PayPal for businesses that process lots of transactions, as it charges lower fees and provides more customization options. For service-based companies, however, PayPal's invoicing tools may be the more suitable choice.
What factors should I consider when choosing a PayPal alternative?
When selecting a PayPal alternative, it is important to consider factors such as fees, features, and user reviews to ensure the chosen payment solution meets your needs.