Want to learn the best investing hacks that you should take advantage of? Find out more with MoneyUnder30 today.
Investing is one of the best ways to build wealth. Although you should not expect to get rich quick through investing, it can allow you to grow your money over time.
While investing can build wealth, it is important to invest effectively to get the most bang for your buck. Today, I share some of the investment hacks that I live by.
Always start by educating yourself
Before you invest a dime, take some time to educate yourself about how to invest. Don't jump into the market without doing some research. Although it can be tempting to simply throw your money into some investments and hope for the best, it will require more effort. Without a basic understanding of investing, you might end up losing your money quickly.
Luckily, you are in a good place to start learning about investing. MoneyUnder30 offers some helpful posts that can point you in the right direction if you are interested in learning about value investing, how to invest stocks, and even investing in gold.
After you take some time to educate yourself about investing, you'll be better prepared to make the best decisions for your future. Plus, you'll be able to avoid some common mistakes.
Consider your risk tolerance
As you start to learn more about investing, you'll discover that your risk tolerance is a key part of a successful investing career. Essentially, someone with a high-risk tolerance is more able to withstand a highly volatile portfolio. On the other end of the spectrum, someone with a low-risk tolerance is less able to handle the ups and downs of the market.
Many investing plans fail because the investor forgot to factor in their risk tolerance. For example, someone with a low-risk tolerance might find themselves selling off volatile stocks each time the market dips. In the long run, they are likely hindering their portfolio's ability to grow.
Consider your risk tolerance and build an appropriate asset allocation around it. As your investments grow, make sure to rebalance your portfolio to reflect the asset allocation you want on a regular basis. You should at least check in once a year to rebalance your portfolio if necessary.
Invest while you're young
The sooner you are able to start investing, the better. As I mentioned, investing can help you build wealth over time. This is not a strategy that will take you to millionaire status overnight, but it could with enough time.
Let's say that you start investing in your 20's. That gives your retirement accounts around 40 years to build over time. With the power of compounding and the growth potential of the market, you could see large returns over time.
Don't wait until you have 'enough' to invest
There is no magic number that you need to start investing. In fact, it is more important to get started. Don't wait until you hit a certain number that you had in mind for investing.
However, you shouldn't ignore your other financial obligations to move forward with investing. If you have high-interest debt, such as credit card debt, then it makes sense to pay off that debt that before you start investing
Start with spare change apps
On that note, consider your options for investing small amounts of money. If you don't have a lot of money lying around to starting investing, then spare change apps can be a good place to get started.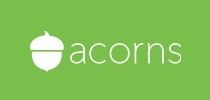 My favorite is are Acorns. Acorns allow you to start investing with as little as $5! After you sync your bank accounts to the app, it will automatically round up your purchases to the nearest dollar and invest the difference for you.
Although the spare change approach might not seem like much, it could help you build a solid investment portfolio. In fact, you might just be pleasantly surprised by your growing balance.
Consider a robo-advisor
If the idea of building your own investment portfolio from scratch is overwhelming, then consider using a robo-advisor. Once you set up your preferences, the robo-advisor will take over and automatically invest your money for you. A robo-advisor can take the stress out of investing, so it can be a good option.
If you are interested in using a robo-advisor, then check Betterment. It is one of my all-time favorite robo-advisors.
You can invest in stock and bond ETFs through Betterment, meaning your portfolio will always be diversified over multiple investments.
When you sign-up, Betterment will walk you through a questionnaire that will give them a sense of what you're looking for from your investments.
From there, they build your portfolio, with whatever risk level you want.
Learn more/sign-up or read Betterment full review
Invest in low-cost mutual funds
Low-cost mutual funds can allow you to invest in large portions of the market in one fell swoop. The key to this hack is to seek out truly low-cost mutual funds. Unfortunately, many mutual funds have fees that can take a large bite out of your portfolio's growth.
One company that offers low-cost mutual funds is J. P. Morgan Self-Directed Investing. If you use their self-service platform, you can invest with no minimum and with no fees.
If you'd prefer to turn your investments over to experts, J.P. Morgan Automated Investing connects you with its team of expert brokers for as little as $500. You'll pay a small advisory fee of 0.35% annually with this option. Get up to $700 when you open and fund with qualifying new money. Offer expires 4/13/2023.
Disclosure – INVESTMENT AND INSURANCE PRODUCTS ARE: NOT A DEPOSIT • NOT FDIC INSURED • NO BANK GUARANTEE • MAY LOSE VALUE
Pay attention to the fees
No matter what investment strategy you choose, there will usually be fees associated with your choice. Robo-advsiors, mutual funds, and traditional investment advisors are required to explain their fees to you.
As you set up your investment portfolio, pay attention to the fees along the way. Do your best to avoid any high dollar fees.
Get your employer match
If you are lucky enough to have an employer that offers a matching contribution to your retirement account, then please take advantage of that. If you miss that opportunity, you are giving up free money.
When your employer adds their match to your retirement account, it will essentially amount to a 100% return on your investment. For example, if you contribute $1,000 to your 401(k) and your employer matches that dollar for dollar, then you'll have $2,000 in your 401(k) without any additional effort on your part.
Use tax-advantaged accounts
Even if you don't have access to an employer match, you may be able to contribute to a retirement account through your workplace. The options might include a 401(k), 403(b), or 457 (b). Each of these accounts will allow you to contribute in a pre-tax way. That could help you build a larger portfolio since you'll pay less in taxes each year.
Beyond your employer, you also have the ability to contribute to an IRA, or individual retirement account. With either a traditional or Roth IRA, you can optimize your tax obligations to suit your expected lifestyle.
If possible, you should consider maxing out your retirement accounts before starting to invest in a taxable account. The tax advantages of these accounts can allow you to have more control over the growth of your portfolio.
Consider funding an HSA
With the current healthcare system in our country, the costs of a medical emergency can be outlandish. Even with health insurance, it may cost you thousands of dollars to maintain your health each year. One solution is to fund an HSA, or health savings account. This is a pre-tax account that you can invest money within to fund your medical expenses throughout your lifetime.
Although the money you grow in this account can only be used for healthcare costs, it is likely that you will need the funds at some point.
Set up an automatic investment plan
In my opinion, the most difficult part about investing is sticking to my investing plan. When I first got started, I promised myself that I would log in to transfer money into my taxable investment account and buy the funds I had chosen each month. Long story short, I stuck to the plan for a few months but then life got in the way.
Most of us simply don't have enough time to manually transfer money and buy investments each month. The solution is automation. Take a few minutes to set up an automatic investment plan. It will save you time and help keep your investment strategy on track.
Invest in stocks until you're 40
As you age, your priorities and risk tolerance will change. The closer you inch towards retirement, the more likely you will want to reduce your portfolio risks. With that, it might be a good idea to stop investing in the stock market when you reach 40 years old.
Of course, you should still invest your money. But you might want to choose less risky options such as bonds or CDs. Both will grow your money, but likely at a slower pace than the stock market.
Diversify your investments
You don't want to put all of your eggs in one basket. Although it can be tempting to go 'all-in' with a particular investment that you have a gut feeling about, that can be incredibly risky. It could leave you in a bad position if that investment underperforms.
Instead, make the effort to diversify your investments. You should diversify within the stock market, but also with investments beyond stocks. A few to consider include real estate, bonds, and precious metals.
Invest in yourself
My final investing hack is to not overlook the power of investing in yourself. Yes, it might sound kind of corny. But investing in myself was the best decision I've ever made. I've made decisions to invest money that helped me build skills and build a business. With that, I've been able to generate an income for myself that has more than repaid my initial investment.
What skills would you like to learn? Consider investing time and money to build that skill set for both personal satisfaction and monetary gains.
Summary
If you look at investing as a fun adventure that could help you grow your wealth, then it can be exciting to implement these hacks. Take the time to find out which ones work for you and which ones you need to tweak for your lifestyle. Let us know what your favorite investment hack is in the comments!
Read more: