The Capital One Platinum Credit Card doesn't offer a flashy sign-up bonus, cash back, or travel points.
It doesn't offer any rewards, for that matter, but it is an attainable card for people with average credit looking for an unsecured credit card either for emergencies or a convenient way to make daily purchases.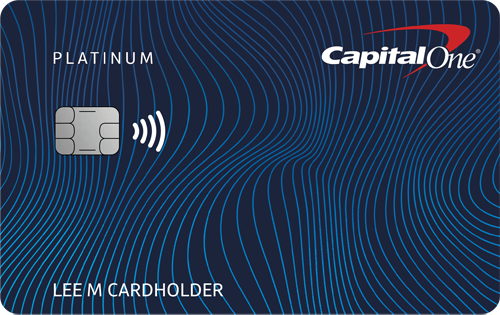 See if I'm Pre-Approved
On Capital One's secure website
No annual or hidden fees. See if you're approved in seconds
Be automatically considered for a higher credit line in as little as 6 months
Help build your credit through responsible use of a card like this
Enjoy peace of mind with $0 Fraud Liability so that you won't be responsible for unauthorized charges
Monitor your credit score with CreditWise from Capital One. It's free for everyone
Get access to your account 24 hours a day, 7 days a week with online banking from your desktop or smartphone, with Capital One's mobile app
Check out quickly and securely with a contactless card, without touching a terminal or handing your card to a cashier. Just hover your card over a contactless reader, wait for the confirmation, and you're all set
Pay by check, online or at a local branch, all with no fee - and pick the monthly due date that works best for you
| | | | | |
| --- | --- | --- | --- | --- |
| Annual Fee | Intro APR, Purchases | Intro APR, Balance Transfers | Regular APR | Credit Needed |
| $0 | N/A | N/A | 30.74% (Variable) | |
Introduction
Capital One offers one of the widest selections of credit cards on the market, and the Capital One Platinum Credit Card is among the most popular. The card is geared towards people with average credit (between 600 – 699.)
It's a good fit for people who have defaulted on a loan in the last five years, or for people with limited credit history. It offers a high level of security and support. There's also no annual fee and no minimum income requirements, so it's within reach of most average Americans.
The Capital One Platinum Credit Card is a versatile card that can help you build out both your credit score and credit line. Here's all you need to know about it and why we think it's is an excellent choice.
Key facts
There's a lot of information here, so before we dig deep into the nitty gritty details of the card, here's a list of the most important things to remember about the Capital One Platinum Credit Card.
Higher line of credit: If you make six on-time monthly payments, you may get an opportunity to raise your line of credit.
High APR: If you don't pay your balance out in full, you'll be paying a 30.74% (Variable) interest rate on the balance. That's quite high. The point is, if you're confident you can pay off the balance each month, this is a good option for you. If you're not so sure, you might be better off looking for a card with an annual fee but a lower APR.
No annual fee: You won't have to worry about a big yearly payoff with this card, so as long as you use it right and avoid paying the APR, this card could have almost no drawbacks.
No rewards or introductory offer: With no annual fee and a low threshold to qualify for the card, you shouldn't expect much in the way of frills. There are no rewards with this card, and the issuer isn't looking to bribe you with a seductive introductory period of low interest.
In-depth analysis
Like any credit card, the Capital One Platinum Credit Card has a lot of complicated details to unpack. We've summarized the important parts above; for the brave souls that want to follow us through the rabbit hole, read on.
Fees and interest rates
The first thing to note is that there's no annual fee, which is highly appealing. The card has an average APR which varies according to the prime interest rate. It's currently sitting at an APR of 30.74% (Variable), which is on the high end of the range.
The Capital One Platinum Credit Card has no fee (with the regular APR) for balance transfers, but with such a high APR there's very little reason to ever transfer debt to this card.
Each month, you'll be expected to pay your balance in full if it's less than $25. Anything greater than that, and your minimum payment will be the larger of $25 or one percent of your entire credit card balance.
One of the biggest draws of the card is that there's no foreign transaction fees, unlike many other cards in this category.
Any purchases you make while abroad are converted into dollars and will bear interest at the regular rate without any extra costs, making this an excellent credit card to use when you travel even without the top insurance and travel protection offers. See Rates & Fees.
Capital One Platinum Credit Card benefits
Capital One Platinum Credit Card has a host of very practical features, which you'll find yourself relying on more and more.
Set up personalized alerts via text message
Virtual credit cards from Eno
$0 fraud liability
Card lock to ensure if you ever lose your credit card, charges do not occur
How does Capital One Platinum Credit Card help you?
It helps to have a credit card that recognizes that we live, shop, and spend in a digital world.
Capital One Platinum Credit Card makes full use of these possibilities by offering the Capital One mobile banking app. It links with your bank account as well as a digital wallet that tracks your spending.
You can use the app to see your recent purchases, turn on auto pay so that you won't forget to pay your bill, and view your overall financial situation.
The digital wallet is handy for anyone like me who is trying to stick to a budget. You can capture photos of your receipts, and the wallet will link them to your recent credit card purchases.
You can also use your digital wallet to lock your card if you're worried that you've lost it, and then unlock it again when you find it without having to wait on the phone for a customer representative.
If you're planning to add additional authorized users, the app and digital wallet will help you track their spending.
You can use the digital tools to set limits on the amount that additional card holders can spend and to check up on recent transactions.
Capital One Platinum credit extends a bit more help in today's busy world by letting you set up email or text reminders about bills and payments that are due. I also found it convenient to be able to choose my own payment date and method.
Capital One Platinum Credit Card support and security
I don't know about you, but I've read one too many news articles about hackers stealing personal details and identity theft to feel confident that I don't need security for my credit card.
Fortunately, Capital One Platinum Credit Card feels the same way I do. Thankfully, there are a bunch of security features around this credit card.
Capital One will send you automatic security alerts by email or text if it detects any unusual activity on your card. And they promise that you're fully covered against fraud.
This means that if someone does steal your card or your card details to run up a bill in your name, you won't be liable for a single dollar of the fraud.
Through the app, you can look up your credit history, check your credit report for signs of fraudulent activity, and set up email alerts in case anything changes in your credit ratings.
If you think you've become a victim of identity theft, Capital One includes free tools to help you.
There's a hotline to call 24/7, all year round, which will support you in reporting the theft. The fraud team will also notify all three major credit agencies on your behalf to warn them. They'll also get a hold of a copy of your credit report for you.
You can ask for template letters to send to your other financial accounts to notify them about the fraud and help you replace all your cards.
Finally, 24/7 customer support gives you backup so that you can talk to someone in case anything goes wrong.
It's available outside of the USA as well as within the 50 states so that you can access English-language support and information no matter where you are.
Pros
Low Fees — This card has no annual fee (See Rates & Fees.)
You Don't Need Perfect Credit — You can qualify with just average credit
Cons
Costly Interest Charges — This card has a high standard interest rate
No Rewards — This card doesn't offer rewards for spending
Should you get the Capital One Platinum Credit Card?
There's no single way to answer this question because no credit card will be right for every person. But, in my opinion, this is one of the first credit cards every adult should seriously consider getting.
It's designed for someone with an average credit score. It's ideal for students and new graduates or anyone who has been an authorized user on someone else's card. It'll take a long time to grow out of, too, thanks to the expanding credit line.
The credit monitoring tools, account reminders, and auto pay features provide great guidance and support to anyone who's learning to balance their budget.
Security-conscious spenders (which should be all of us) will feel reassured by the protection built in to this card.
Ultimately, if you're looking for high rewards or cash back, then this is not the card for you.
But, if you're looking for a solid, reliable credit card that gives you important support and security, and allows you to build up your credit, this should be the first card in your wallet.