In case you thought you couldn't get approved for a credit card with your poor credit score, think again. The Milestone Mastercard® accepts applicants with poor to good credit, so you're almost guaranteed to be approved.
On top of that, the card has a few neat perks, like several plans to choose from and reporting to the credit card bureaus, making it an interesting option for anyone in need of flexible credit card policies.
Take a good look at the Milestone Mastercard® if you are struggling, and find out if it's the answer to financial limbo.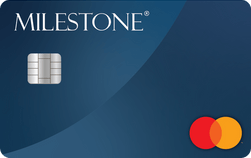 Apply Now →
On Bank of Missouri's secure website
Greater access to credit than before - $700 credit limit
No security deposit required, even with less than perfect credit
Account history is reported to the three major credit bureaus in the U.S
Get a Mastercard accepted online, in store and in app
24/7 access to your account information, even on mobile
Applying is quick and easy with our fast decision process
| | | | | |
| --- | --- | --- | --- | --- |
| Annual Fee | Intro APR, Purchases | Intro APR, Balance Transfers | Regular APR | Credit Needed |
| See terms. | N/A | N/A | See terms. | Poor/Fair |
Best for
People with really poor credit
Anyone wanting to build their credit from scratch
Those looking to rebuild credit after a financial mishap
Anyone who has filed for bankruptcy
Card Overview
The Milestone Mastercard® is an excellent credit card for people with poor credit who have been rejected by other card companies (or never bothered applying) because of their low credit.
Overall, it's a great option for anyone in this category because it'll allow you to build a higher credit score based on reasonable spending and responsible repayments. Plus, you can get a couple of perks while you're at it.
Taking a Closer Look
Similar to a secured credit card, the Milestone Mastercard® is meant to help you build credit. As such, it doesn't have a lot of the bells and whistles other credit cards offer.
The goal is to use your Milestone Mastercard® wisely, establish a good credit history for yourself, and then trade it in for a more rewarding credit card.
For these purposes, the Milestone Mastercard is an excellent choice and even offers a few fringe benefits to assist you along the way to positive credit scoring. As mentioned, the low credit is not a problem, so that already starts this card out on a good foot.
Credit Reporting
Another positive aspect to the Milestone Mastercard® is that it reports your payment history to the three major credit bureaus.
The credit bureaus are the ones who collect information on your spending, repayment, loan, and other financial activities and use this information to build your credit report.
Paying off your credit card bills responsibly and in a timely fashion will increase your credit score and allow you to qualify for better cards in the future.
Rates & Fees
Here's a quick look at the important rates and fees you'll pay with your Milestone Mastercard® card.
Annual Fees
Annual fee: See terms.
You could opt for a no annual fee card like the Capital One Platinum Secured Credit Card but the credit limit is generally low.
You may actually find the Milestone Mastercard® fairs better than many other low credit score credit cards because of the additional benefits that come along with the card.
An important note about fees—these are deducted from your credit limit. So, if you're paying the annual fee with a credit limit, your actual credit limit will only be that amount subtract the annual fee.
Not only does this restrict your spending abilities, but it also increases your debt to credit ratio (not a good thing). To avoid this negative repercussion, pay off the fees regardless of your credit card monthly payment and keep your credit limit.
APR
APR range: See terms.
The Milestone Mastercard® does not have the highest APR around, but is comparable with other low credit score cards.
Also, many people find it comforting to have a fixed rate with no strings attached. It's just easier knowing exactly what your APR is and will always be. Additionally, the Milestone Mastercard® comes with a 25-day grace period, so you can avoid paying interest altogether if you pay off the balance in full each month within this grace period.
Balance Transfer Fees
At present, the Milestone Mastercard® doesn't support balance transfers (so there's no fee for this service). If you're looking to make a balance transfer, take a look at these balance transfer credit cards for your best options.
Penalty APR
The Milestone Mastercard® does not charge a penalty APR; however, you should always pay your bills on time with or without a penalty APR present.
Additionally, you'll pay a late payment fee up to $41 if you miss a payment, go over the limit, or have a payment returned.
Foreign Transaction Fees
The Milestone Mastercard® charges a 1% foreign transaction fee. This is charged whether you're in a foreign country making the purchase or doing so online at a store that charges in a foreign currency.
While there are plenty of credit cards that don't charge any foreign transaction fees like the Chase Sapphire Preferred® Card, there are many other cards that charge significantly more, as much as 3% to 5% in fact.
So, 1% isn't really bad as far as industry standards go.
Cash Advances
The Milestone Mastercard® has a cash advance fee of $5 or 5%, whichever is greater, but will not exceed $100 per advance.
Note that interest will still apply to the cash advance starting at day one.
Rewards & Benefits
The Milestone Mastercard® actually comes with more benefits than most low score credit cards. Of the most significant advantages of the card is the fact it comes complete with the Mastercard® benefits that come along with more exclusive cards. Some of the benefits include:
Identity Theft Resolutions Services
Identity theft resolutions services assist victims of identity theft to fight fraudulent charges, close down accounts, and regain access to their lives after someone has stolen their identities.
Extended Warranty Coverage
Extended warranty coverage offers consumers double the manufacturer's warranty on many purchase items, giving you more security with your purchases.
Price Protection
Price protection is convenient if you hate finding out that you overpaid for an item. If you find the same thing for a lower price within 60 days of your purchase, the Milestone Mastercard® ensures that you'll be reimbursed the difference from what you paid.
Custom Card Designs
While this isn't a deciding feature, custom card designs are a nice touch. It lets you put your personal stamp on your credit card, and for some people, appearances are very important. Choose from a number of prefab designs, as well.
Online Access
Another convenient perk of the Milestone Mastercard® is that you'll be able to have full account access online whenever you want. This allows you to pay bills online, enjoy paperless statements, view transaction history, and check the status of your account at any time.
Security
The Milestone Mastercard® takes the standard security measures to ensure your safety including using SSL encryption, identity verification for your account, and strict privacy policies to keep your information safe.
Alerts
While the Milestone Mastercard® itself doesn't offer direct alerts for your account, its partners offer both account monitoring and alerts services. You can keep an eye on your account to stay ahead of identity fraud.
Also, you can set up payment alerts, so you know exactly when a payment is due and never miss a payment or get charged a late fee.
Customer Support
The Milestone Mastercard® offers phone support seven days a week from 6AM to 6PM PST. You can also visit the customer center or browse through the thorough FAQ section on the website for DIY troubleshooting.
Phone: 866-453-2636
FAX: 503-268-4711
Snail mail: Bankcard Services, PO Box 4477, Beaverton, OR 97076-4477
Pros
You Don't Need Pefect Credit — This card is offered to those with poor credit.
Pick Your Own Design — You can choose a custom card design.
Cons
High Annual Fees — This card has an annual fee.
Costly Interest Charges — This card has a high standard interest rate.
Is the Milestone Mastercard® Right For You?
The Milestone® Mastercard® is a golden opportunity for people with bad credit, no credit, or bankruptcy in their past. However, the annual fees is a bit steep compared to some credit cards.
Plus, you get the assurance of global acceptance at over 33 million stores across 210 countries. While no reward program is offered with the Milestone Mastercard®, you'll still get the advantage of building credit in an easy, non-secured way, making this a good choice for those who are having trouble getting approved elsewhere.