Horizon Gold is a card that offers a chance for people with low credit to start building it. But, Horizon Gold's drawbacks far outweighs it's pros. Here's our full review.
If you've been denied a credit card due to a bad credit score or no credit history, Horizon Gold might be a good option for you. I put a heavy emphasis on might, as it's not a great option for almost everyone except a select few.
Horizon Gold doesn't have any of the perks and benefits that most credit cards come with, but it does have a 0% APR and nearly anyone can be approved.
Best for:
Anyone with a poor credit score and a limited monthly income, who shops regularly at the Horizon Outlet store.
As you can see, this is a very small sub-segment of the American population, and for good reason. For the vast majority of people, you'll likely be able to find better options to build up your credit score.
Horizon Gold Card Overview
Horizon Gold isn't your typical credit card. In fact, it's not actually a credit card at all. Rather, it's a store card that can only be used at the Horizon Outlet store online.
There aren't any bonuses, or even great terms with this card, but there's no credit or employment check to get approved—which should automatically leave you suspicious.
You will receive a $500 credit limit that comes with an unsecured card, which also comes with a 0% APR. In addition, you'll receive roadside assistance, discounts on prescription medicines, and access to My Legal Assistance benefits.
But, these features don't really outweigh some of the cons associated with Horizon Gold.
Horizon Gold Key Features
$500 credit limit
Unsecured
No credit check
Credit bureau reporting
Fast online application
No employment requirements
Benefits like My Privacy Protection, My Universal RX, My Legal Assistance, and roadside assistance
Taking A Closer Look At The Horizon Gold Card
Because Horizon Gold isn't really a credit card, it shouldn't be compared to other cards that deliver more exciting features like enticing cash back rewards.
Instead, let's compare this card to other store cards. Take the REDcard from Target for example.
The first major difference between Horizon Gold and other store cards is that it doesn't require any employment documentation, and the card issuer will not run a credit check when you apply. This is a great advantage for anyone who has lousy credit or that keeps getting denied for a credit card. But, carefully consider if a credit card is the right move for you if you have trouble with over spending. The REDcard requires a credit score of at least 620, so not everyone can get this card.
But, compared to Horizon Gold, the Target REDcard is a great deal. It offers 5% back on all Target purchases (which offer better prices than the Horizon Outlet—but more on that below).
While the REDcard has a higher APR and late fees, it's an all-around better card. It has no annual fee, and as long as you pay off your balance in full each month, you're much better off with a REDcard or other store cards.
The one thing Horizon Gold has going for it is that it has a fairly high credit limit compared to some other bad credit score cards available. $500 is more than double what some secured credit cards offer.
But, it's worth noting that secured cards are another great (and better) option for people with bad credit. Secured credit cards offer a limited credit line (based on a security deposit that you make initially) that can also help you establish good credit.
You could opt for a secured credit card instead of Horizon Gold. Or, you could go with the Capital One Platinum Secured Credit Card. It too starts with a $200 credit limit, but can go up to $1,000. It also reports to the three major credit bureaus, so building your credit with a secured card is a good option. Plus, with both these cards, you can spend anywhere they're accepted (which is almost everywhere), rather than just the Horizon Outlet.
But, speaking of the Horizon Outlet store, let's take a closer look at what it has to offer. The Horizon Outlet store is an online megastore that features a decent number of shopping opportunities including:
Apparel, jewelry, accessories, and footwear for kids, men, and women
Home items such as kitchen and bath supplies, decor, and appliances
Books
Auto supplies
Pet supplies
Toys
The prices on the Horizon Outlet store could save you money, but they're by no means competitive. For example, this sweatshirt is almost $10 more than you would pay at Walmart. And this stuffed animal is $16.99, while one nearly identical at Walmart is just $10. Or, this plaid button up is $19.99, while a similar shirt from Target is on sale for under $10. These are just a few examples, but this theme appears to repeat throughout the Horizon Outlet.
Horizon Gold Rates & Fees
There are some hefty fees to consider when applying for Horizon Gold, including:
Annual Fee
The biggest drawback to Horizon Gold is its annual fee. You'll pay almost $300 per year ($24.95 per month) for the card. That's comparable to (or higher than) some of the premium cards.
Again, this is where secured cards may be better. You'll have to pay you're a down payment to get a credit line, but there's typically no annual fee.
Credit Limit
You'll receive a $500 credit limit with this card, which is competitive compared to some secured cards, but definitely not all.
APR
The biggest benefit of this card is that you don't have any APR or interest to worry about as it's 0%.
The minimum monthly payment is 10% of the account balance, or $25—whichever is greater. If your balance is less than $25, you'll be required to pay your entire balance.
But, as long as you pay your credit card in full each month, you won't have to worry about APR with other credit cards.
Late Payment Fee
Horizon Gold has a $20 late payment fee, which is lower than most credit cards out there (generally $37), but is still high, so make sure you're paying off your balance on time every month.
Additional Fees
Horizon Gold also has a few fees that most credit cards don't. Since it is more like a store card, your orders need processing and handling. Therefore, you'll be charged $2.50 for delivery signature verification and $2 for residential delivery.
Activation Fee
There is a $5 account validation fee charged when you first open your Horizon Gold account.
Horizon Gold Rewards & Benefits
Horizon Gold may not have loads of benefits, but there are a few perks that you can enjoy if you do decide to go with Horizon Gold:
Privacy Protection Plan
This feature provides you with a free credit report. This lets you see exactly what the bureaus have on file for you in terms of financial behavior.
However, this is not the only credit card that offers this feature. If you're a Capital One credit card holder (and even if you're not) you can sign-up for Credit Wise—a free credit monitoring service.
There's also a host of other ways you can check your credit for free without being a credit card holder. For example, you can use Credit Sesame or Credit Karma.
My Universal RX
This is a prescription benefit that can help you save on your medications. At participating pharmacies, members receive up to 40% off of covered prescription medications.
Note that while this is a nice perk, there are plenty of apps that offer the same type of savings. GoodRx, is just one example.
My Legal Assistant
If you require legal assistance for any reason, this feature from Horizon Gold will entitle you to a free 30-minute session via phone or online with a legal professional. The lawyer is someone in your area, so you can always follow up with more appointments if necessary.
Roadside Assistance
Horizon Gold's roadside assistance will help you out in a pinch with things like towing or services. You can make up to three service calls or towing requests up to 15 miles and up to as much as $50. Additional mileage will be your responsibility.
Credit Reporting
Horizon Gold reports to one of the major credit bureaus every thirty days. This is the key point because it is the only way to consistently build your credit. By documenting that you responsibly repay your debt each month, you show lenders that you're trustworthy.
Horizon Gold Customer Support
Horizon Gold offers customer support via either an online contact form or live chat to answer all your questions. You can also call 1-800-251-6144 for assistance Monday thru Friday 9AM-9PM.
Is the Horizon Gold Credit Card Right For You?
As I said earlier, we do not recommend this product for most people. The only people that should bother applying are those who are trying to build their credit but prefer not to have their credit or employment checked.
The one exception is those who like to do all their shopping online. If you're looking to build credit, want a decent credit card limit, 0% APR, a few benefits, and can find decent deals on the Horizon Outlet, this card is worth checking out.
However, the annual fee, lack of rewards, and uncompetitive prices on the outlet could sway even that crowd against applying.
Alternative Credit Cards
Since the Horizon Gold Credit Card is far from perfect, we'd like to suggest some alternatives for folks with poor credit.
Capital One Platinum Secured Credit Card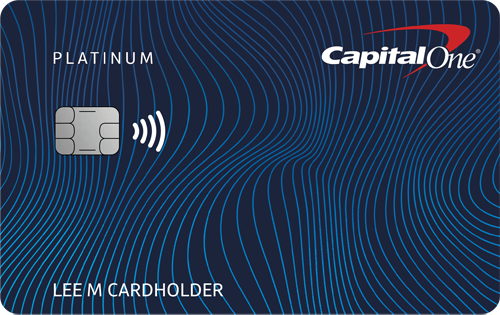 In A Nutshell
If you are worried that you will not get approved for a conventional credit card or have been rejected in the past, the Capital One Platinum Secured is an excellent option. It's rare to find one that doesn't charge an annual fee and Capital One will automatically review your credit limit in as little as six months.
Read review
Credit Score Requirements:
Credit Score requirements are based on Money Under 30's own research of approval rates; meeting the minimum score will give you the best chance to be approved for the credit card of your choice. If you don't know your credit score, use our free credit score estimator tool to get a better idea of which cards you'll qualify for. *Money Under 30 uses a FICO 8 score, which is one of many different types of credit scores. *A creditor may use a different score when deciding whether to approve you for credit.
What We Like:
Put down a refundable security deposit starting at $49 to get a $200 initial credit line.

Be automatically considered for a higher credit line in as little as six months with no additional deposit needed.

No annual fee and no foreign transaction fees.
The Capital One Platinum Secured Credit Card is one option that far surpasses Horizon Gold.
You'll get a $200 credit line after making a security deposit of $49, $99, or $200— determined based on your creditworthiness. But, in as little as six months, Capital One automatically reviews your credit limit, so your line might increase.
This card has no fancy rewards, but with reporting to all three credit bureaus, you'll be on your way to building credit quickly.
With this card, you can earn 1% cash back on eligible purchases including gas, groceries, and services such as mobile phone, internet, cable and satellite TV.
You'll start with a $300 credit limit, but your account is monitored each month, so Credit One will alert you as soon as you're eligible for a higher limit.
Read More