So, you bought some Bitcoin, but now need to sell it?
While not quite as easy as swiping your debit card at an ATM, cashing out Bitcoin (or other cryptos) has gotten much easier over the past few years. So, yes, there are several ways to turn your Bitcoin holdings into cold, hard cash — but there are several things to consider before you do.
Centralized crypto exchanges are one of the best ways to turn your Bitcoin (or other cryptocurrencies) into cash. With access to hundreds of coins, multiple supported fiat currencies, and low trading fees, exchanges offer the most flexibility when cashing out your crypto.
There is a catch, though.
Many crypto exchanges charge high fees if you use their simple "sell my crypto" option. Coinbase, for example, charges $0.99 when selling under $10 worth of crypto (which makes it nearly a 10% fee), and around 1.50% for larger transactions when selling through their platform. The only way around this is to use the "Advanced Trade" platform on Coinbase to sell your crypto, with fees as low as 0.60%. But the user interface is a bit complicated.
The best bet is to use a platform like Binance.us or FTX.us to save on fees, and quickly cash out your crypto for dollars. The mobile apps make it easy to sell, and you can connect your bank account to transfer funds after the crypto is sold.
Many popular online brokers now allow crypto trading, and if you purchased your Bitcoin on one of these platforms, you can quickly exchange your crypto for cash. Trading apps like Robinhood offer several cryptocurrencies to invest in, and you can buy or sell crypto just like on a crypto exchange.
The catch with the best online brokers is that these platforms don't allow you to transfer crypto into the brokerage. You must be holding your Bitcoin with the platform to be able to sell it for cash. This means that if you hold Bitcoin in a digital wallet or on a crypto exchange, you cannot move it to an online brokerage account to sell.
Online brokerages typically have reasonable trading fees for selling crypto. For example, eToro charges a flat 1% trading fee to sell crypto, which is a fairly low rate. Robinhood does not disclose its crypto trading fees, but averages around 0.50% for crypto trades.
Overall, selling Bitcoin for cash with an online broker is best when you already hold the crypto assets on the platform.
Bitcoin ATMs are popping up everywhere, with tens of thousands of them located around the world. Bitcoin ATMs are a physical kiosk — typically located in a gas station or grocery store — that allow you to buy crypto with cash or a digital wallet. While most crypto ATMs allow you to purchase Bitcoin directly, only some of them allow you to sell Bitcoin for cash.
Use a tool like Coin ATM Radar to find a crypto ATM near you. You can also select the "sell" feature to only look for ATMs that allow you to sell your crypto.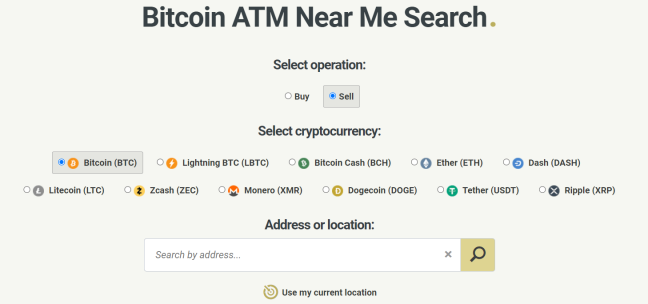 Once you find a Bitcoin ATM that will work, you will typically need to complete the following steps:
Choose to sell Bitcoin (or other crypto)
Provide identity verification documentation (such as driver's license)
Open your digital wallet containing the Bitcoin you wish to sell
Scan Bitcoin ATM QR code to send Bitcoin to the ATM address
Once Bitcoins are sent, the ATM will dispense cash
The downside of Bitcoin ATMs is the high fees that most of them charge. In addition to paying network fees to transfer your Bitcoin, ATMs charge service and transaction fees that can exceed 15% per transaction.
So while Bitcoin ATMs are an option to quickly access physical cash by selling your crypto, there is a high cost for the privilege of using them.
Crypto debit cards are becoming more popular, with many crypto exchanges offering them as a way to spend your crypto balance. Crypto debit cards are typically connected to a centralized crypto exchange account and allow you to swipe the card for regular purchases. The exchange will convert your crypto to cash and use it for the purchase.
For example, Coinbase offers a VISA debit card that allows you to spend your Coinbase crypto balance, automatically selling your selected crypto and using the cash for any purchases you make. You can also earn crypto rewards that deposit into your Coinbase account (reward rates vary).
If you are simply looking to access cash, the Coinbase card can be used at an ATM to withdraw up to $1,000 per day. There are no additional fees to use the card at an ATM, though local ATMs may charge fees for use.
The downside to crypto debit cards is the fees associated with selling the crypto for cash by the ATM. Coinbase charges high fees for small purchases, which might make this an expensive option. An alternative is to use the Crypto.com VISA debit card, which comes with much lower fees (though the ATM limit may be lower, depending on the card chosen).
5. Peer-to-peer crypto trading
As a decentralized currency, Bitcoin was originally designed as a peer-to-peer payment system. Sticking with those roots, using a peer-to-peer (P2P) crypto exchange allows you to sell your Bitcoin directly to another individual in exchange for cash.
There are a few advantages to using a P2P crypto exchange:
Lower fees. Most P2P exchanges offer low fees, and the ability to negotiate with the buyer on price.
No ID verification. While most exchanges and apps require identity verification, selling Bitcoin directly through a P2P exchange does not.
Using a peer-to-peer exchange requires sending Bitcoin (or other crypto) directly from your digital wallet to another user's digital wallet. In turn, you will receive payment through Zelle, PayPal, or another method of deposit to your bank account.
Some popular peer-to-peer (P2P) exchanges include:
Bisq
LocalBitcoins
LocalCoinSwap
Many centralized exchanges also offer P2P exchange options, including Binance, KuCoin, and ByBit.
The downside to P2P exchanges is the risk of losing your funds (Bitcoin sent, but no cash received), and the time it takes to sell, as you need to find a prospective buyer and negotiate the sale.
Many crypto wallets have built-in crypto exchanges, and some even allow you to exchange your crypto for cash directly. While crypto wallets are designed to store and secure your crypto, many of them partner with crypto exchanges to offer trading services.
Some of the most popular hardware wallets offer the ability to sell Bitcoin for cash. Ledger has a built-in exchange service, "Ledger Live," and partners with Coinify to sell crypto for cash. Currently, only Bitcoin selling is supported through Ledger Live.
Trezor, another popular hardware wallet, allows you to sell Bitcoin for cash as well through "Trezor Suite." Trezor partners with Simplex and other third-party providers to offer crypto-to-fiat transactions to cash out your crypto.
The downside of selling from your crypto wallet is fees. Third-party exchanges and fiat gateways typically charge fees from 3% to 5% for converting crypto into cash, which is high. But if you need cash and don't want to transfer your Bitcoin to an exchange, this is a decent option.
If you haven't noticed, most money transfer apps now offer the ability to buy and sell crypto. Apps like Cash App and PayPal have built-in crypto exchanges, making it easy to purchase crypto, as well as cash out crypto holdings.
The key with these apps is you need to already hold your crypto within the app, otherwise you can't cash out. They don't allow you to transfer outside crypto into the app for selling.
If you hold Bitcoin or other crypto within Cash App or another money transfer app, you can sell it pretty easily. You will pay a fee within the app, but it's usually pretty reasonable.
These apps support a very limited selection of crypto, with Cash App only supporting Bitcoin, and PayPal supporting Bitcoin, Bitcoin Cash, Ethereum, and Litecoin.
8. Spend it at a crypto-friendly business
If you are looking to cash out your crypto holdings to make regular purchases, you may be able to do this directly from your digital wallet at a crypto-friendly business. Many retail businesses are now accepting Bitcoin (and select other crypto) to make purchases. You can even buy Tesla accessories with Dogecoin.
With Bitcoin becoming more prevalent around the globe, many businesses have a "Buy with Bitcoin" option at checkout. Most retailers that accept Bitcoin have a sticker on their storefront, or if shopping online, look for the Bitcoin symbol on the checkout page.
Purchasing with Bitcoin requires sending Bitcoin to the retailer's digital wallet. This can be done with a QR code, or by typing in the Bitcoin wallet address to your digital wallet, and sending the requested Bitcoin amount.
Making purchases with Bitcoin does not directly turn your crypto into cash, but it allows you to utilize your Bitcoin like cash. Just be aware that sending crypto over the blockchain requires paying network fees, which can be high during times of crypto market volatility.
Things to consider before cashing out Bitcoin (or other crypto)
If you're itching to exchange your crypto for some cold, hard cash, you'll want to consider the implications of selling.
Tax implications
In the U.S. and most countries around the world, cryptocurrency is considered property, and it is taxed the same way as buying or selling stocks or real estate. If you purchased your Bitcoin at a lower price, and sell it at a higher price, you may owe taxes on the gain in price from that sale.
Taxes can get complicated, especially when it comes to crypto assets. With many unique ways to earn money from cryptocurrency, and both centralized exchange and decentralized applications you can interact with over the course of a year, there may be a lot of transactions to track.
If you are looking to sell your crypto for cash, it may be a good idea to use a crypto tax software to automatically track your digital wallets and accounts, and see what your tax situation looks like before selling. As always, it is also a good idea to consult with a tax professional when buying and selling assets.
Fees
Selling crypto for cash typically comes with fees, but sometimes it is more than you think. While most exchanges and money apps allow you to sell your crypto at a reasonable rate, places like crypto ATMs charge extremely high fees, which may eat into your profits.
When selling crypto for cash, always check the fees before executing the transaction. Most services will list the total fees separately, allowing you to see if it's worth it or not to sell. On the whole, it is cheaper to sell crypto through a centralized exchange or online broker than through other services.
Crypto investing strategy
With all the volatility in the crypto market, it's easy to want to sell when things are looking grim. But if you sell when the markets are down, the opportunity cost may be huge.
Just ask anyone who sold Bitcoin or Ethereum in 2018.
Before selling off your crypto to stash piles of cash under your mattress, evaluate your overall crypto investing strategy. If you are a long-term investor and believe in the assets you hold, you may regret selling after prices recover.
Crypto is a speculative asset that can be part of a larger, diversified investing strategy, but don't panic sell just because the news says "Bitcoin is dead" for the 1,400th time. Instead, take a level-headed approach to your investment strategies, and make decisions based on your long-term goals — not short-term feelings.
There are quite a few ways to cash out your Bitcoin, but you need to know what your goals are before selling. If you simply want to use your crypto to make purchases, you can solicit Bitcoin-friendly businesses, or use a crypto debit card to use the value of your crypto at the store.
If you want to cash out your crypto, using a centralized exchange, online broker, or money transfer app is a low-fee way to sell, but be aware of the limitations that each app has. You can save on fees, but lose flexibility with these methods.
And while peer-to-peer (P2P) exchanges and Bitcoin ATMs offer anonymity, consider the (potential) high fees and hassles of the process.
But despite the limitations, converting your crypto to cash has become much easier than it used to be. So no matter what crypto app you prefer, you should be able to quickly convert it to a stack of Benjamins.