All of us know Robin Hood as a heroic outlaw who stole from the rich and passed those stolen treasures onto the poor. Robinhood — the investing app — is built on a similar philosophy: that everyone should have access to investing tools.
By offering commission-free trading, they make investing available for those of us who don't have overflowing treasure chests in our homes.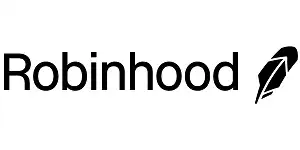 Robinhood
Robinhood is an intuitive stock trading and investing app that offers zero-commission trades on thousands of investments.
The slogan behind Robinhood is "We're on a mission to democratize finance for all," which speaks to the company's obsessive focus on keeping investing approachable.
Offer: Sign up today and link your bank account or debit card and you'll receive your first stock for free, valued up to $200!
Pros:
Commission-free trading

Easy to use, well-displayed dashboard

No minimum account balances required
Cons:
No bonds or mutual funds

Crypto fee transparency
Open Account
Advertiser Disclosure – This advertisement contains information and materials provided by Robinhood Financial LLC and its affiliates ("Robinhood") and MoneyUnder30, a third party not affiliated with Robinhood. All investments involve risk and the past performance of a security, or financial product does not guarantee future results or returns. Securities offered through Robinhood Financial LLC and Robinhood Securities LLC, which are members of FINRA and SIPC. MoneyUnder30 is not a member of FINRA or SIPC.
Robinhood overview
Trading fees: No fees on stocks, ETFs, options, or crypto trades. Robinhood does collect a "spread" fee, which is the difference between the buy and sell price of a trade.
Account fees: $100 transfer out to other brokerages (partial/full); $5/month for Robinhood Gold
Tradeable assets: Stocks, ETFs, options, American Depositary Receipts (ADRs), IPOs (for certain companies), cryptocurrency
Account minimums: $0
Mobile app available? Yes
Education: News feed, basic articles, and videos
Customer service: 24/7 email, social media, and the ability to request a phone call within the app
Robinhood is an intuitive stock trading and investing app that offers zero-commission trades on thousands of investments. The slogan behind Robinhood is "We're on a mission to democratize finance for all," which speaks to the company's obsessive focus on keeping investing approachable. This shows with the low-fee trading choices and $1 minimum investment, unheard-of back when Robinhood launched in 2013.
Robinhood also offers no-fee options trading, as well as access to cryptocurrencies, and has become one of the most popular crypto trading apps in the U.S. While there has been no shortage of controversy surrounding the trading app, it continues to deliver on the essentials: low-fee trading, easy-to-use mobile app, and access to digestible user education to help make users smarter traders.
Pros
Commission-free trading — Save money on fees and commissions with Robinhood.
Visual dashboard — The interface is easy to use and keeps me updated on my portfolio.
No-obligation signup — You can invest as much or as little as you want (starting for as little as $1), with no minimum account balances required.
Cons
Investment option limitations — You can't invest in mutual funds or bonds with Robinhood.
Lack of fee transparency for crypto trades — While Robinhood claims free crypto trading, they charge a spread fee, forcing users to pay more for a cryptocurrency than the market price.
How does Robinhood work?
Robinhood is a free online app that can be downloaded for either iOS or Android. You can quickly sign up with a username and password, and then provide personal information (just like opening a bank account) to complete your account creation.
Robinhood offers a free stock to all new users who sign up and link a bank account or debit card. You'll receive a specified cash value reward amount between $5 and $200 (Robinhood notes 98% of people get a value between $5 to $10), which you can then use to purchase your gift stock or fractional share of a stock from a list of 20 of America's leading companies. If you're not happy with the list of the companies provided, you can sell your gift stock three trading days after you claim it. You can then use the proceeds to invest in another company you prefer or even withdraw the proceeds (after a 30 day window). Terms and conditions apply.
Get a free stock from Robinhood today!
To fund your account, you will need to link a bank account and initiate a transfer. Linking an account is easy; just select your bank from a list and enter your login details. If your bank isn't on the list, you may need to manually enter the details and verify the account by confirming two micro-deposits.
Once the account is linked and money is transferred, Robinhood offers up to $1,000, depending on your transfer, instantly to begin trading while waiting for the rest of the transfer to clear.
Pricing for Robinhood
While Robinhood ads tout "no fees," this is not entirely true. Robinhood offers "commission-free" trading, but that just means Robinhood doesn't collect a commission on trades. There are third-party fees associated with trading, including:
SEC fees: $22.90 per $1,000,000 of principal (for sells only)
FINRA trading activity fee: 0.000130 per share (equity sells) and $0.00218 per contract (options sells) to a maximum of $6.49
ADR fee: $0.01 to $0.03 per share
Overall, these fees are less than 0.01% for most trades, which is extremely low.
That being said, Robinhood charges a spread for crypto trades, so while the trade is "commission-free," you will end up paying a small fee (around 0.1%-0.5%) on all crypto trading activity. Depending on market conditions, this spread may be higher.
As for account fees, there are no fees to maintain your account or transfer funds back and forth. If you upgrade to Robinhood Gold, you'll pay $5 every 30 days in addition to the applicable interest on your margin trades.
Robinhood features
Robinhood is one of many great apps out there that make trading easy. Here are some features that set Robinhood apart.
Taxable and IRA accounts
Robinhood offers both taxable investment accounts and IRAs, both traditional and Roth.
If you choose to open an IRA with Robinhood they will actually match 1% of your contributions, which is pretty amazing.
Trading on Robinhood
Robinhood offers a simple and intuitive trading platform, with simple line charts and easy-to-read information about the stock, ETF, or crypto you are looking at.
Orders can be placed quickly, with shortcuts to buy $1, $10, or $100, and prices are displayed prominently for each asset. Advanced traders can access more order types, called "conditional orders," with access to limit, stop, stop-limit, and trailing stop orders for buying or selling an asset.
Trades are executed quickly, and you can jump to the homepage to view your portfolio. Robinhood even shows you a simple pie graph that represents your holdings, split between stocks, ETFs, options, and crypto.
Overall, Robinhood offers a simplified trading experience that's good for beginners, but lacks more sophisticated trading tools and choices of larger online brokers (such as TD Ameritrade).
Stocks
Robinhood has access to thousands of stocks for trading, including hundreds of international stocks that are available via American Depository Receipts (ADRs).
Stocks can be searched out manually, or users can browse certain sectors, such as tech, pharma, or real estate.
Each stock listed has a news feed with the latest updates on the company, and users can browse through the financial details of a company, including trading volume, market capitalization, price-to-earnings ratio, and more.
ETFs
Robinhood offers access to over 2,000 ETFs, which are tradable funds that typically own a mix of stocks and other assets. The ETFs listed can be sorted by asset class and sector, and are typically much less expensive than their mutual fund counterparts.
ETFs have become popular over the past decade as a more approachable way to build a long-term investment portfolio that is well-diversified. Add to that Robinhood's minimum $1 investment and the ability to buy fractional shares of ETFs and they are some of the best assets on the platform.
Dividend reinvesting
Robinhood now offers dividend reinvestment (DRIP), which automatically reinvests dividends in the underlying stock or fund that distributes it. You will need to elect dividend reinvestment for your account through Robinhood app or website. Each individual stock or ETF that offers dividend reinvestments will allow you to turn the feature on or off in your account settings.
Options
Robinhood stands out as one of the lowest-cost options trading platforms on the market. While most platforms still charge a per-contract (or per-leg) fee for each trade, Robinhood does not.
Margin
Robinhood has made margin access to average investors, for better or worse. If you have a $2,000 balance or 100% of the securities purchase price (whichever is less) on the platform, you can access margin within your account, though there are margin maintenance requirements to keep your account from getting margin called.
Margin investing can be a great way to boost returns, but losses are amplified as well, so it should be used with caution. You can limit the amount of margin available on your account to prevent yourself from going overboard. Margin interest is charged daily.
Crypto
Robinhood has become a very popular place to trade crypto, allowing users to access 17 different cryptocurrencies. Robinhood originally only supported a handful of coins, such as Bitcoin and Ethereum, but has added more as demand has increased over the past few years.
While Robinhood says there are no fees, this is simply not true. Users pay a "spread," which is the difference between the bid and ask price for a cryptocurrency. This fee means you may end up paying a higher price for crypto than the current market price. While this is standard practice for many crypto exchanges, Robinhood is not very transparent about how much this fee is.
Robinhood recently announced the ability to take custody of your crypto assets, meaning you can transfer them off the platform and onto your own crypto wallet. There are some network fees involved in transferring crypto assets, which are displayed before the transfer is executed.
IPO access
Robinhood gives you access to IPOs at the initial price before it begins trading on the secondary market. You can request access through the app, but this does not guarantee you can purchase IPO shares. Users are selected at random for eligibility to buy shares.
You can quickly navigate through IPOs through the app by selecting "IPO Access" in the search menu, and select "I'm interested" if you find one you like. The advantage of IPO access is buying shares at the listed price, which (ideally) is lower than the trading price after launch.
Recurring investments
Robinhood makes it easy to invest regularly, offering recurring investments for stocks, ETFs, and cryptocurrencies. You can find the investment you want to buy regularly, select "buy" and navigate over to conditional orders (upper right corner).
This reveals recurring investments, allowing you to purchase on a daily, weekly, bi-weekly, or monthly basis. There are no additional fees for recurring purchases, and you can customize the dates on which the investments are made. This is ideal for long-term investments where dollar-cost-averaging can help build an investment position over time.
Fractional shares
Robinhood offers fractional share investing, which allows you to purchase stocks, ETFs, and crypto with as little as $1. While some stocks cost hundreds of dollars (like TSLA), Robinhood allows you to buy less than a single share, letting you invest in your favorite companies without needing to fork over huge piles of cash.
Fractional share investing is pretty standard in the industry, but there are still some brokers that don't offer this. And while most require at least $10 to invest, Robinhood makes it even more approachable with the $1 minimum.
Robinhood Gold
Robinhood Gold is a premium service that offers lower margin interest rates, access to more investment research, and bigger instant deposits. Robinhood gold costs $5 per month and you can quickly upgrade your account directly from within the app.
Robinhood Gold is ideal for active traders who want more market data to read through, as well as access to lower rates for margin trading (ideal for options trades and high-leverage trades).
Cash Card
Robinhood offers a rewards debit card called the Robinhood Cash Card. This no-fee card is offered by Mastercard, and pays out rewards up to 8% cash back at select retailers that can be converted to investments on the Robinhood platform.
The cash card draws from your Robinhood spending account, and cash back rewards can be assigned to an investment (stocks, ETFs, crypto) that are purchased on a weekly basis. You can also round up your purchases to the nearest dollar for additional investments each week.
There are no fees to use the card, including fee-free ATMs (in-network only), no account fees, no overdraft fees, and no minimum balance needed.
Watchlists, news, and alerts
Before making a decision about whether to invest in a stock, it can help to monitor it for a while. Robinhood makes it easy by letting you add assets to a watchlist. Simply search for a stock by name and tap the add symbol. Then you can keep an eye on it while you decide whether to make a move.
As soon as I started investing, I became intensely interested in what the markets were doing. Robinhood provides a newsfeed to help me keep up with the news directly in the app.
There's also a newsletter, called Robinhood Snacks, and podcast that provides news in an accessible, easy-to-understand format
Set up notifications so that you'll know as soon as there's significant activity on your account. You customize these notifications in the app's settings. Set your preferences for Dividends, Bank Transfers, Orders, and Price Movements.
Open an account with Robinhood today.
My experience using Robinhood
I signed up for Robinhood back when Gamestop (GME) was taking off in 2021. The process was simple, and I was able to create an account, input my personal information, and connect my bank account without issue. Everything was done on the phone app (Android), and I had no issue depositing funds, which I could use right away.
I was able to place trades pretty easily, and the ability to quickly set limit orders helped me set the price for my trades without needing to closely watch prices. I also received a free stock worth about $6, which is a nice perk. The built-in tutorials are a nice touch as well, helping me get acquainted with the platform without having to dig into the help documentation.
I noticed the crypto prices were higher than on Coinbase and other crypto exchanges that I use, and I still don't trust the spread fees charged by Robinhood. If fees were more transparent for crypto, Robinhood would be my go-to platform, as the recurring buys and no commissions make it a great option.
I can see why Robinhood is so popular. With a responsive, easy-to-use mobile app and all the details I need at my fingertips, the app can be downright addictive. But the lack of transparency around crypto pricing and focus on short-term trading is not my style.
How does Robinhood make money?
Robinhood makes its money in a variety of ways:
Selling trades to different firms (payment for order flow)
Robinhood Gold, a suite of investing tools, which starts at $5 a month
Rebates from market makers and trading venues
Income generated from cash
Stock loan income from counterparties
Interchange fees from purchases made with the Cash Management debit card, and fees from program banks
This is a common practice among online brokers and means that you, the investor, can trade without commissions and excess fees. But Robinhood (and other brokers) have been in hot water recently over payment for order flow (PFOF), and Robinhood derives most of its income from this practice.
SEC chair Gary Gensler has floated the idea of banning payment for order flow altogether, which would be a huge hit to Robinhood as a business.
Who is Robinhood best for?
Margin traders — If you're interested in margin trading, you can upgrade to Robinhood Gold. You'll have access to $5,000-$50,000, depending on your account balance at the time you make a deposit into your Robinhood account.
New investors — As a newbie investor, I found the interface very easy to use. I loved that I didn't have to make a minimum commitment to start investing. I didn't have to invest at all. It freed me up to try the platform out before I made my first small investment.
Market researchers — With Robinhood, you can learn as you invest. The tools make it easy to research the stock market and various investments. I especially love the podcast, which lets me catch up on the latest financial news while I'm doing other things.
Who shouldn't use Robinhood?
Bond and mutual fund investors — Although it's great that you can invest in cryptocurrencies, I was surprised you can't use Robinhood to invest in mutual funds or bonds. If you're looking for a platform for those investments, you'll need to keep searching.
Robinhood vs. competitors 
Robinhood isn't the only trading app on the market. There's a whole list of Robinhood alternatives. Here's a snapshot below of some others to consider.
TD Ameritrade
TD Ameritrade is one of the biggest online brokers in the market that offers a comprehensive trading experience. Whether you are an experienced trader or just starting your investment career, TD Ameritrade will appeal to you because of its easy user interface and advanced investor options.
Pros:
Comprehensive trading options for diversification

Great for new or experienced traders

Active and reliable mobile trading app
Cons:
Does not offer international stock trading

Different trading platforms for various commodities
Open Account
TD Ameritrade offers $0 commissions on online stock, ETF, and option trades for all new and existing clients. It's one of the biggest online brokers in the market that offers a comprehensive trading experience. Their platform is easy to navigate and works perfectly on both the app and desktop/laptop computers.
The best feature of TD Ameritrade is its wide array of accounts and trading choices. The company offers educational resources, professional consultancy, and diverse platforms for trading online that make it not only a competitor to Robinhood but one of the best overall brokerage options.
---
Public
Public is a free investing app that offers fractional investing with no commission fees or account minimums. Public lets you invest with context in stocks, ETFs, and crypto – all in one place. With a tool like Public, anyone can own a piece of a company they believe in and build a diversified portfolio
Offer: Open an approved brokerage account today and claim a reward ranging from $1 to $300. Terms and conditions apply.
Pros:
Trade U.S. stocks and ETFs commission-free

Can deposit funds with your debit card

Real-time fractional trading
Cons:
Not internationally available
Sign Up
This does not constitute investment advice. Investing involves the risk of loss, including the potential loss of principal. Brokerage services for US-listed, registered securities available on Public are offered by Open to the Public Investing, Inc. (OTTP), a member of FINRA & SIPC, and a wholly-owned subsidiary of Public Holdings, Inc. Brokerage services for alternative investments are offered by the Dalmore Group, LLC, a member of FINRA & SIPC. Alternative investments are over-the-counter equity securities that have been issued pursuant to Regulation A of the Securities Act of 1933. Cryptocurrency trading is provided by Apex Crypto LLC (NMLS ID 1828849). Apex Crypto is licensed to engage in the virtual currency business by the New York State Department of Financial Services. New customers of OTTP receive free stock valued between $3 - $1,000 (0.3% receive the maximum value).
Public works differently than most investing platforms. They do offer stock investments and ETFs — allowing you to invest all in one place — but what makes them truly unique is that they add a social media aspect to the whole process. Making investing social helps beginner investors connect with others and learn why they should (or shouldn't) invest in certain companies.
Public wants to allow young investors to invest in companies they truly believe in, so they offer fractional shares and have no minimum investment requirement.
The bottom line
It's hard to go wrong when you're investing with no fees and no minimum obligation. But if you're serious about getting started on building a portfolio, it can help to choose the right platform from the start.
I find Robinhood a great choice because it's not only easy to buy and sell, but the app is approachable to beginner traders (like myself). I don't buy crypto on the platform due to a lack of transparency around fees, but it's not a bad option compared to some platforms.