Buying your own health insurance can be scary – especially if you're used to just getting it through your employer. But if you're self-employed, have recently become unemployed, or have another reason for needing or wanting to buy your own health insurance, you'll want to make sure you find a balance between cost and coverage.
Ambetter attempts to do just that, by offering three different levels of plans in a variety of states. In this Ambetter Insurance review, I'll do a deep dive of the company so you can determine if they're right for you.
What is Ambetter Insurance?
Ambetter Insurance is a health insurance provider that aims to reduce the cost of healthcare. So, they design health insurance plans to meet both your needs as well as your budget.
But Ambetter goes beyond just their health insurance plans. They're committed to making sure their customer's well-being goes beyond just your doctor's visits and day-to-day life. As an organization, they say they're active in local communities and dedicated to helping their customers live well.
Each of their plans includes programs, tools, and support. A few examples include Telehealth (visit your doctor using a video conference), a rewards program, integrated care management, a 24/7 nurse advice line, and more.
Their products are offered through Centene Corporation, which is a multinational Fortune 500 company that has more than 30 years of experience in the Managed Care industry. They also have a massive portfolio of health solutions that are specialized to the organizations they work with, such as Ambetter.
How does Ambetter Insurance work?
Ambetter Insurance works by offering you three different types of plans – Bronze, Silver, and Gold. Each has its own pros and cons, and you'll have to determine which suits you and your situation the best. 
Each plan will also vary slightly based on where you live (assuming it's available in your state). Here's a brief breakdown of each level:
Bronze: T

his is what Ambetter considers its Essential Care plan. It covers your most essential healthcare needs. You'll tend to see lower monthly premiums but higher out-of-pocket expenses.

Silver: T

his is the Balanced Care plan from Ambetter and it strikes a balance between the monthly premium you'll pay and your out-of-pocket expenses. 

Gold:

 This is what Ambetter calls its Secure Care plan, and it's designed to give you peace of mind with all of your healthcare needs. To accomplish this, you'll see higher monthly premiums, which will help limit the out-of-pocket expenses you may have later on.
Here's a visual on how the three plans work, regarding costs:
Each state has its own plans within those three levels, and you can see the full plan details from your state here. Plans are currently offered in the following states:
Arizona.

Arkansas.

Florida.

Georgia.

Illinois.

Indiana.

Mississippi.

Missouri.

New Hampshire.

Nevada.

North Carolina.

Ohio.

Pennsylvania.

South Carolina.

Tennessee.

Texas.

Washington.
Once you've identified your state and a plan you want, you fill out the required information and get a quote for a policy. Regardless of the plan and coverage you choose, each plan has coverage for:
Emergency Care.

Outpatient or Ambulatory Care.

Preventive & Wellness Care.

Maternity & Newborn Care.

Pediatric Care.

Mental Health & Substance Abuse Care.

Laboratory Services.

Prescription Drugs.

Therapy Services.

Hospitalization.
How much does Ambetter Insurance cost?
Costs are so variable with any type of insurance, but particularly health insurance. Because of that, it's hard to nail down an exact price, or even a range of pricing for what you'd expect to pay. 
Some websites will try to give you a specific price point for Ambetter (just do a Google search if you don't believe me), but frankly, I wouldn't rely on that. That's a ballpark number based on a fictitious person – not you.
The only way to really understand the costs is to fill out some basic information, including where you live, and get a quote that's tailored to YOU.
Ambetter Insurance features
My Health Pays® program
Earn rewards for completing healthy activities, like eating well, moving more, being smart with your savings, and just living a healthier life. The more actions you finish, the more rewards you get.
Pharmacy program
Ambetter works with suppliers and pharmacists to make sure drugs used to treat an assortment of ailments are covered. Ambetter covers prescription drugs and specific over-the-counter drugs when arranged by an Ambetter supplier.
Note that the Ambetter pharmacy program doesn't cover all medicines – some require Prior Authorization or have limits on age, dose, and maximum amounts. You are able to see their Preferred Drug lists on their website, as well.
Nurse advice line
Ambetter lets you speak to a registered nurse anytime. They're open 24 hours a day, seven days a week, 365 days a year. Their nurse information line will help you and your family receive the attention you need when you actually need it. It is staffed by experienced nurses that are prepared to assist you with things like follow-up appointment questions, urgent matters (i.e., pregnancy pains), or whether or not you need to go to the ER.
Care management
In case you've got complicated medical or behavioral health need, Ambetter provides Care Management services which are "member-centered, family-focused, and culturally competent." Care Managers are licensed nurses or social workers. They could help you with things like better understanding and managing your chronic conditions, finding community resources, and more. 
And in case you've got a serious medical condition, Ambetter has Maintenance Managers that will work with you personally, your primary care physician, as well as handling providers to come up with a plan of care that fulfills your requirements and your caregiver's demands.
Health management programs
If you've got a chronic illness, Ambetter works with their disease management firm to supply you with disease treatment solutions. Ambetter wants you to lead a healthy lifestyle, so they'll reach out on the phone, through educational resources, and with support in other ways, so you can understand and control your condition better and have fewer complications. In addition, Ambetter offers behavioral health services, such as depression management.
Start Smart for Your Baby®
Start Smart for Your Baby® (Start Smart) is Ambetter's unique program for women that are pregnant, to help you look after yourself and your baby every step of the way. To take part in this program, you just contact Member Services or login to your Ambetter member account to complete a Notification of Pregnancy (NOP) form.
Ambetter Telehealth
Ambetter Telehealth is brand new as of this past year, offered through Teladoc. Telehealth is easy and has 24-hour accessibility to in-network Ambetter health care providers for non-emergency health problems.
It is available for you to use whenever you are at home, at the workplace, or even on vacation. It's possible to get medical information, a diagnosis, or even a prescription by either telephone or video conference. You can use Ambetter Telehealth if you need it, or you can schedule an appointment for a future time that works for you.
My experience using Ambetter
Thankfully, Ambetter operates in my state, but it was a little hard to find where I needed to go to sign up, which was somewhat annoying. Regardless, I figured it out and was able to test their service out!
Once I finally found the page to get a rate quote, the information they were asking for was pretty straightforward – zip code, name, email, and phone number. The only thing required, though, was zip code.
Next, I had to enter some basic information about myself, including if I was a tobacco user (a drop-down once you select your gender):
From there, I had to enter how many people I want to be covered and how many people are in my household, as well as my annual income – so they basics of any health insurance application.
Then, based on your income level, Ambetter tells you whether you qualify for savings or not:
Then, Ambetter will ask you the level of coverage you want (this is the Bronze, Silver, and Gold plans):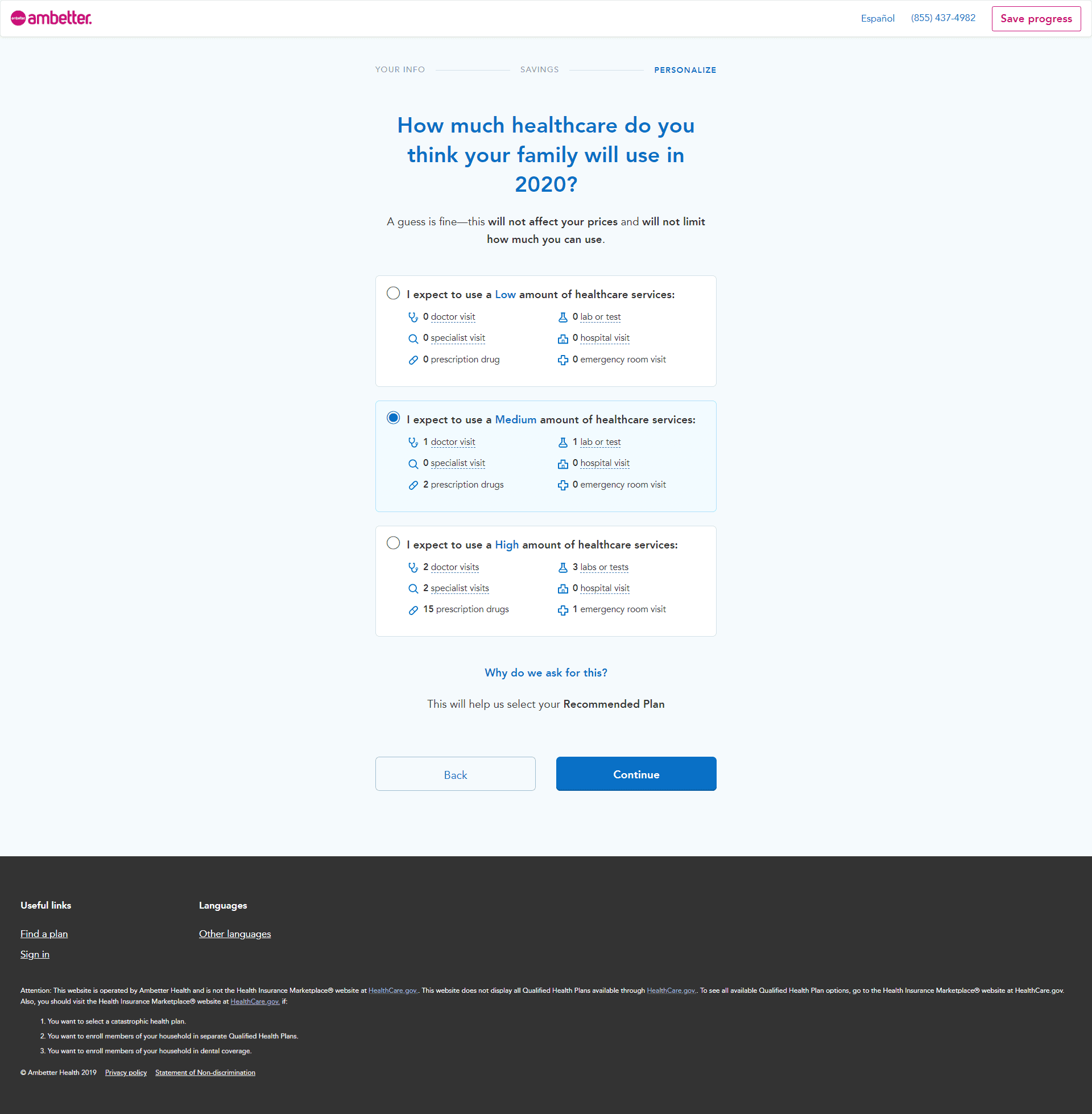 After you select the plan, you choose if you have providers you already see and medications you already take.
Finally, you're presented with some options:
At this point you can modify your options and once you're ready, sign up for a plan. What's important is to make sure your preferred providers are covered – which will show at the bottom of the screen.
Overall, the process was pretty simple. The main two problems I found were finding the place to actually get a quote, and severe limitations on where, and what was offered. I had to try three different zip codes (in areas of coverage) before I found one that had Ambetter coverage. 
And one I found the coverage, the hospitals I selected weren't covered – so you'll need to be flexible if you are in a covered area and want to work with Ambetter.
Pricing seemed pretty normal for buying your own health insurance (I've always estimated about $1,000-1,200 a month for a family if I wasn't employed), so a shade over $300 for one person didn't surprise me.
Who is Ambetter Insurance best for?
Ambetter Insurance is good for people who don't get health insurance through their employer, have plans available in their state through Ambetter, and are looking for competitive pricing.
Also, people with chronic conditions will find value in the different programs offered, such as Care Management. In addition, those who want virtual access to their providers through Teledoc will love the easy access to this service.
Finally, people who like to call a nurse-on-call will be at ease with the 24/7 service that lets you speak with a licensed nurse about anything.
Who shouldn't use Ambetter Insurance?
If you have health insurance through your employer, you probably don't need to worry about Ambetter, since you're probably getting sufficient insurance through them (though if you're not, or if you need dental or vision, Ambetter might be a good supplement).
Then again, if you're reading this article, you probably don't have insurance through an employer. So others that won't benefit from Ambetter are those who live in a state where they don't offer plans – since there's nothing you can really do.
Lastly, there's a chance you won't get the best possible price going through Ambetter. They don't really offer a "bare-bones" service, so you'll be paying a premium for the additional services they offer. So if you're looking for something a little more bare-bones, you might want to look elsewhere.
Pros
Lots of perks that come with all plan levels — Things like Care Management, telehealth, Smart Start, and a rewards program come standard with all plans, regardless of which level you choose.
Multiple levels of plans — You can choose from three different level plans, which gives you the option to find the balance that works for you regarding monthly premiums and total out-of-pocket costs.
A ton of free resources — Ambetter offers a bunch of free resources so you can better understand your coverage and plan.
Cons
Not offered in every state — Unfortunately, Ambetter plans are currently only available in 18 of the 50 states and there's no information indicating they'll expand to other states soon.
Pricing isn't transparent — Part of this is due to the nature of the insurance industry, as pricing is highly dependent on the individual person, but I was disappointed to see Ambetter didn't at least give ballpark figures on their site, or how their pricing compares to competitors.
Ambetter vs. a competitor
| Company | Type | Best for | Cost |
| --- | --- | --- | --- |
| Ambetter | Health insurance provider | All-around health insurance | Varies |
| HealthIQ | Life insurance aggregator | Life insurance for active lifestyles | Free |
HealthIQ
Health IQ uses an innovative underwriting system that the company states more correctly assesses and measures health-related risk, enabling them to provide significant cost savings to folks who keep up with active lifestyles and good health. They unite technology and client expertise to provide their clients with quality policies and assistance.
Health IQ does not supply insurance coverage directly to the customer but rather acts as a broker that links buyers and insurance companies, selling policies from over 30 highly rated insurance companies.
The value is in its own pricing and underwriting solutions, which provide cost savings to people who are healthy. For this, Health IQ has gained mostly positive comments from clients.
Summary
All in all, Ambetter has a pretty good value proposition. They offer affordable health coverage in a variety of states, with a few different options to choose from. And the sign-up process is really simple.
Despite some of the drawbacks, if there is coverage in your area and you need to buy health insurance, it makes sense to at least get a rate quote from Ambetter – especially because they don't require you to give up your email or phone number.
Read more: