With Ark7, you can invest in shares of rental properties and share in long-term returns. Ark7's minimum investment is much lower than competitors, but it also offers fewer investments to choose from than some longer-established companies in the real estate crowdsourcing space.
Invest with as little as $20
Ark7
Ark7 offers fractional real estate investing for as little as $20.
Diversify your investments with real estate and share in the cash-flow and appreciation of single- and multi-family rental properties.
Pros:
Makes real estate investing easy

Open to all investors

Invest as little as $20
Cons:
All investing involves risk

Fees eat into returns
Invest Now
Ark7 key takeaways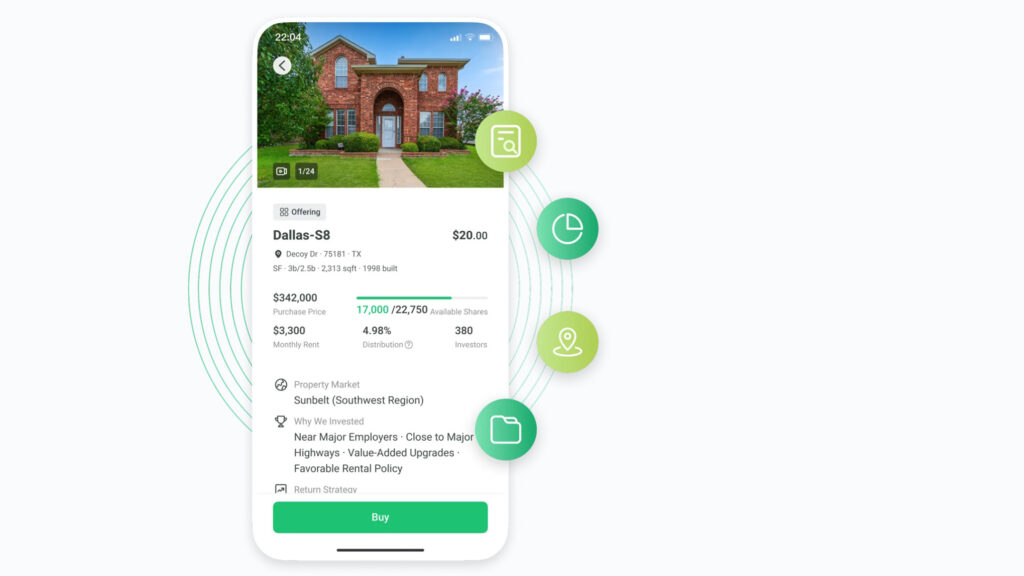 Invest in shares of investment properties for as little as $20
Earn 100% passive income through monthly cash distributions
All investments involve risk, and the fees charged by platforms like Ark7 will reduce potential returns when compared with investing in real estate directly.
Ark7's customer feedback has been largely positive, but it's still a fairly new and small company.
What is Ark7?
Ark7 is a fractional real estate investment platform. (This type of investing is sometimes referred to a crowdsourcing).
With Ark7, you can invest in a diverse range of rental properties, from single-family homes to multifamily units and even short-term Airbnb rentals.
The platform is structured as a series of Limited Liability Companies (LLCs) that own rental properties, enabling investors to:
Purchase fractional shares in each property
Gain a proportionate share of monthly rental cash flow as well as any profits from appreciation when the property is sold
Participate in real estate investing without the need to purchase an entire property outright
Ark7 was founded by Andy Zhao, who has a background in technology and personal experience in real estate investment. His goal was to establish a platform that streamlines and democratizes real estate investing, broadening its accessibility.
Ark7 focuses on properties in areas with strong socioeconomic development, population growth, and pro-growth domestic policies, ensuring a robust selection of investment opportunities for its users. In the upcoming ark7 review 2023, we can expect to see how these factors have contributed to the platform's success.
Getting started with Ark7
Establishing an account with Ark7 is straightforward. All you need is a US bank account and a social security number. Once your account is set up, you can start investing with as little as $20 per share, making it an affordable way to dip your toes into the world of real estate investing. Ark7 provides both a desktop platform and a mobile app, offering investors the flexibility and convenience to manage their portfolio anywhere, anytime.
After creating your account, it's time to explore the available properties and select the ones that best align with your financial goals. Whether you're new to real estate investing or a seasoned pro, Ark7's user-friendly real estate investing platform makes it easy to navigate and find the perfect investment opportunities for your needs.
Selecting properties on Ark7
When it comes to choosing properties on Ark7, there are several factors to consider, such as property type, location, and potential returns. Aligning your property choices with your financial goals and risk tolerance is vital, given each investment's unique characteristics and prospects. Ark7 offers six long-term rental properties for non-accredited investors and additional properties for accredited investors, with ownership stakes ranging from 1% to 20% of the listed properties.
Some investors may prefer single-family rentals, while others might be drawn to multifamily properties or short-term Airbnb rentals. By carefully evaluating each rental property listing and considering factors like neighborhood demographics, local amenities, and market trends, you can make informed decisions that align with your overall investment strategy. Property and managing tenants play a crucial role in determining the success of your investment.
Navigating Ark7
Ark7 prides itself on its user-friendly and intuitive platform, designed to make browsing properties, buying shares, and managing investments a seamless experience. Whether you're using the Ark7 website or the mobile app, the platform offers an easy-to-navigate interface that puts all the information you need at your fingertips.
Every property listing on Ark7 delivers transparent and succinct information about the investment opportunity, featuring details about the neighborhood, acquisition costs, cash flow, and more. The platform also features a comprehensive dashboard that allows investors to track their portfolio performance and make informed decisions on buying or selling shares.
Selling shares on Ark7
A key advantage of investing with Ark7 is the liquidity it provides via its secondary market. After a minimum holding period of one year, investors can sell their shares to other users on the platform, providing an exit strategy for those looking to cash out. This flexibility sets Ark7 apart from many other real estate investment platforms, which often require longer holding periods or lack secondary markets altogether.
Upon selling shares on Ark7, investors have the option to either accept the current market bid price or establish a limit asking price, granting control over the sale process. As properties reach full funding during the initial offering, they gradually transition to the secondary market, ensuring a continuous flow of investment opportunities for both buyers and sellers.
IRA investments on Ark7
Ark7 takes real estate investing a step further by allowing real estate investors to use their Individual Retirement Accounts (IRAs) to invest in rental properties on the platform through real estate crowdfunding. Both Roth and traditional IRA options are available, providing a tax-advantaged way to diversify your retirement portfolio with real estate investments and generate passive income. This unique approach offers the opportunity to invest in real estate without the hassle of managing properties yourself.
Remember to consider the applicable contribution limits when investing through an IRA, as these limits encompass the total annual contributions, including funds deployed in Ark7 IRA accounts. The platform's partnership with Millennium Trust Company as a self-directed IRA custodian ensures a smooth experience for investors, with an annual fee of $100 per property (up to a maximum of $400) that is waived if your balance exceeds $100,000.
Is Ark7 legit?
As a registered company with the Securities and Exchange Commission, Ark7 is a legitimate and compliant real estate investment platform.
With a commitment to transparency and regulatory compliance, Ark7 reliably allows investors to confidently build their real estate portfolio.
Ark 7 pros & cons
Investing with Ark7 comes with its fair share of advantages. Here are some of them:
Low minimum investment of just $20 per share, making it accessible to a wide range of investors
User-friendly interface and dashboard, making it easy for both new and experienced investors to navigate and manage their investments
Option to use IRAs for investing, further enhancing Ark7's appeal as a versatile real estate investment platform.
However, certain potential disadvantages merit consideration. The selection of properties on Ark7 is limited, which might not cater to all investors' preferences. Additionally, the platform requires a minimum holding period of one year before shares can be sold on the secondary market, which might not be suitable for those seeking short-term investments.
Taking into account both the advantages and disadvantages, investors should carefully consider their options and assess if Ark7 aligns with their investment objectives and risk tolerance. While the platform offers a unique and accessible approach to real estate investing, it may not be the perfect fit for everyone.
Customer feedback on Ark7
Customer reviews of Ark7 are generally positive, with users praising the platform's ease of use, flexibility, and accessibility in real estate investing. Transparent pricing, an intuitive dashboard, and excellent customer support have all been mentioned as standout features of the platform.
However, some customers have noted concerns regarding limited investment options, lack of tenants and late payments, and property depreciation. Additionally, a few reviews mentioned a slow response time to negative feedback.
Nonetheless, the overall sentiment in the real estate market remains positive, with many investors finding value in Ark7's innovative approach to real estate investing.
Ark7 fees and investing costs
Ark7, like all fractional real estate platforms, earns revenue by charging investors fees for their service. They are, essentially, a middleman. These fees will reduce the potential overall return of your investment when compared to buying a property outright.
Ark7 charges a one-time sourcing fee of 3% of acquisition costs and a monthly property management fee of approximately 10% of rental income. These fees should be taken into account when evaluating potential returns on investment.
Despite these fees, Ark7 has shown promising historical performance, with an average annualized distribution of 6% from monthly rental income as of July 2022.
This figure does not consider the possibility of property appreciation. Most of the open offerings are quite recent and, therefore, have not yet had a chance to appreciate in value. Nevertheless, the potential returns and unique features of the platform make Ark7 an attractive option for those looking to diversify their investment portfolio with real estate.
Ark7 vs the competition
Ark7 faces plenty of competition in the fractional real estate investing marketing, although no competitors allow investors to begin with so little money (that we know of). To invest with some Ark7 competitors, you must also meet the income and/or net worth requirements of an SEC "accredited investor".
Is Ark7 a worthwhile investment?
Ark7 provides an accessible real estate investment opportunity for investors of all experience levels. With a low minimum investment, potential for attractive returns, and a user-friendly platform, Ark7 is worth considering for those looking to diversify their investment portfolio with real estate.
While the platform may not suit everyone's preferences or risk appetite, its innovative approach to property investing has garnered praise from many satisfied customers.
Summary
Ark7 is revolutionizing the world of real estate investing by making it accessible and achievable for individuals from all walks of life. With a user-friendly platform, a range of property options, and the ability to invest using an IRA, Ark7 is a compelling choice for those looking to dip their toes into the property market. While it's essential to weigh the pros and cons, Ark7's fresh approach to real estate investing offers a unique and promising opportunity for building wealth and securing a brighter financial future.
Frequently asked questions
Is Ark7 a good investment?
Overall, Ark7 is a good investment opportunity, offering the potential for returns and allowing you to quickly and easily invest in rental properties. However, bear in mind that fees can be high and that your money needs to remain invested for at least a year.
How do I contact Ark7?
Contact Ark7's customer support team via email at support@ark7.com or by phone at 1-415-275-0701 (Monday through Sunday from 8am to 8pm PDT). You can also chat with a customer service rep at Ark7.com.
Is fractional real estate a good investment?
Fractional real estate investing can be a great way to gain access to high-quality real estate properties, diversify your portfolio, and potentially earn higher returns than traditional investments. It's also an excellent option for investors with limited funds who don't want the burden of owning and maintaining an extra property.
Overall, fractional real estate can be a good investment if done correctly.
What is the minimum holding period in Ark7?
Ark 7 has a minimum holding period of one year, making it an attractive short-term real estate investment option. After the one year period is up, investors can sell their shares at any time, either for the market bid price or by setting a limit asking price.