Ideal for mortgage seekers who need to be assessed based on non-traditional credit, New American Funding offers borrowers with non-traditional credit history, FHA and VA loans, as well as down payment assistance programs.
In this article, I'll provide a detailed review of New American Funding.
What is New American Funding?
They started as a loan company for immigrant communities
New American Funding started in 2003 as a small company targeting a niche market and has grown over time to be an $11 billion company. It comes under the top 30 lenders nation-wide based on operational volume.
Early on, the founders focused mainly on Spanish-speaking and other underserved immigrant communities. The effort paid off, and New American Funding now dominates the minority lending sector and has significant market shares in California, El Paso, and Los Angeles.
They now reach 48 states
New American Funding has now expanded beyond its niche market and is a nationwide company in 48 states. While the national average of mortgage loans stands at around $256,000, the company's average was at $291,000.
They offer many types of loans
New American Funding has a wide variety of loan products similar to what other large-scale lending companies offer. They offer:
Jumbo loans

Interest-only mortgages

Refinance options

Fixed/adjustable-rate loans

All government-backed lending options such as USDA, VA, and FHA.
Though the company offers unique services not found at conventional lenders such as reverse mortgages, New American Funding does not offer home equity loans (or HELOCs). The last two loan types rarely are provided by non-bank loan providers.
New American Funding also has first-time homebuyer loan programs in place and provides consumers with personalized assistance. First-time homeowners can take advantage of the company's fixed and adjustable rate programs along with government-sponsored FHA and VA loans, which are a great option because of low or no down payment options for military families and mortgage seekers with less-than-optimal credit scores.
Features
In-person underwriting
New American Funding does its underwriting inside the walls of its own company – meaning that an underwriter assesses your application to check eligibility, not a computer algorithm on its own. This personal touch is what makes the company so accessible to the underserved class. 
Most lenders use an automated program or software to sort through loan application requests. But New American Funding's personalized feature makes it easier for people without a strong credit history or those in a unique profession (such as a freelancer) to get approval.
Low credit profiles may apply
In 2013, New American Funding launched a loan service called "I CAN." This mortgage program gives borrowers the ability to select a loan term aligned with their financial situation and budget.
Some of their other features on conventional loan packages include:
Fixed-rate mortgages.

New American Funding offers borrowers the option to pay the same monthly payment over a traditional 30 years, as well as a 15-year option.

Adjustable-rate mortgages.

With an ARM

, you make the same payment for five years, then the option to switch to a market-adjusted rate becomes available.

Jumbo loan.

New American Funding offers loans outside the average market level for bigger houses.

USDA, VA, and FHA loans.

New American Funding's government-sponsored loans for those who need it.

Non-qualifying mortgage.

This program is suitable for those seeking other income verification due to unusual financial circumstances.
Great customer reviews
The company has excellent reviews by its previous clients who have praised New American Funding for a personalized service approach and a non-rushed attitude of their loaning officer. 
Fast application
In addition, since New American Funding does not have an automated application process, those with no or bad credit history aren't automatically rejected.
These features make the company an excellent option for people seeking an alternative choice to conventional lenders. Since New American Funding considers alternative credit markers, it's able to serve unrepresented communities who otherwise would have no access to credit.
One of the most reported features by their customers was that the whole application process was speedy. Once they got through the approval stage, customers said closing times of under a month.
New American Funding fees 
New American Funding charges no fee for quick quotes and information. To check your individual loan eligibility and corresponding pricing, you'll want to request a direct quote online or speak directly with a customer service representative.
Application process
The application process can be done via phone, email, or online. Documents can be uploaded with ease, and the option for an electronic signature is also there.
The average closing time for applications is under 30 days, and New American Funding says there is no additional charge for an interest-rate lock.
If you are seeking pre-qualification, it can also be initiated online through contact with a customer rep that takes place before you receive a verification letter.
The company has English and Spanish speaking agents for assistance and guidance. The New American Funding helpline is available from 7 AM to 7 PM Pacific Standard Time.
The application process has five simple steps
Pre-approval stage

where the applicant provides information on income, expenses, assets, and credit. A loan officer then determines whether an applicant can be approved for a specific amount or not.

An official offer

is sent to the loan seeker which contains details on the down payment, loan amount, purchase price, deposit, and terms.

The borrower then

provides a deposit

.

The application then is forwarded to an

underwriter who assesses the file

and gives the final go-ahead.

New American Funding then

wires the funds

.
Pros
Products — New American Funding offers a wide selection of mortgage products to choose from. There are options for people with many backgrounds, such as bad credit scores and no down payment. There are even jumbo loans for buyers with expensive tastes and adjustable/interest-only mortgages for investors.
Technology and user interface — Technology was a focus when New American Funding was initially founded. This is evident from their website, as it is well laid out and easy to use. For instance, the option "what are you trying to do" gives you a range of different sections to choose from like lower payment, buy an investment property, and purchase a home.
Manual underwriting — The fact that New American Funding uses a real person to determine eligibility for each application is a great asset for people facing unique financial circumstances such as low or no credit history and self-employed individuals.
Customized calculators — The platform uses its own mortgage and refinances calculators. With minimal information, applicants can get an idea on their down payments and possible interest rates.
Loads of assistance — The licensed lending agent assigned to each applicant is dedicated to guiding the whole process.
Flexibility — New American Funding is flexible with the communities they stand to serve, and it is evident with the Spanish and English-speaking staff being always ready for assistance.
Cons
Undisclosed fees — The full range of fees is not known, which makes it harder to estimate the total costs of borrowing, closing, and final impact on the loan amount.
No automatic quote or online approval — Applicants must speak to lending officers via phone or email for quotes after completing an online application. There is no quick quote system in place for people seeking an immediate answer.
Privacy — Since applicants are filling out an online application process to get quotes, they are providing financial information even if they don't ultimately choose New American Funding's services.
HELOCs/Home Equity — Although the company offers a wide range of lending products, they do not provide home equity or home equity's line of credit. Though it is a product conventionally supplied by banks, New American Funding is missing out on such business opportunities.
New American Funding alternatives
LendingTree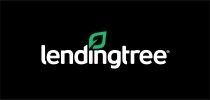 LendingTree is an online platform that acts as a marketplace for loans. It is not a direct provider for funds and loans; instead, it connects borrowers with lenders through a simple online application. The only fees stem from the loan you ultimately choose.
For eligibility, borrowers seeking loans on LendingTree need to have a minimum score of 620 with additional details such as down payment amounts varying across different lenders.
LendingTree's straightforward online form is completed in a short time and grants you access to the most competitive rates from various lenders. The fact that they have partnered up with 1,500+ lenders makes it easy to compare and evaluate different offers.
The only catch is that LendingTree forwards your details including contact information to lenders who can flood you with marketing emails and call even after you have chosen a loan.
Quicken Loans
One of the largest online mortgage providers in the nation, Quicken Loans provides access to a wide range of loans, including fixed, adjustable rates, conforming, and government-sponsored programs.
The most significant advantage that Quicken Loans provides borrowers is a quick online application and fast closing time. The online process is quick and straightforward, which means the only time you have to contact a real rep is at the final sign off time.
The most significant disadvantage the loan provider has is that you need an application deposit even to apply. The deposit you put down will go towards closing costs if you go through with the loan. The other drawback is that some borrowers complained of a hard check showing up on their report without their go-ahead for authorization.
I personally just used Quicken Loans for a quote and it was super fast, but they bugged the heck out of me via email, phone, and text almost every week (sometimes multiple times a week).
Who is New American Funding for?
New American Funding is a platform accessible and meant for all borrowers. But the company excels in catering towards first-time borrowers and the Latino community.
With Spanish-speaking reps and non-automated application process, New American Funding ensures that people are given a proper voice to be heard. This goes against the norm of most lenders who have automated filtration process for their applicants.
New American Funding is striving to help the Hispanic community achieve greater homeownership and initiating more programs geared towards first-time buyers.
Summary
New American Funding is unique as far as a family start-up goes. Through their dedication, knowledge, expertise, and attitude towards their targeted community, they have emerged as dominant players in a crowded space.
New American Funding has mortgage products geared towards a broad spectrum of people, including first-time buyers. People with unique financial situations, veterans, retirees looking for a reverse mortgage all stand to be facilitated by the company.
The site is simple to navigate and is user-friendly. They have tons of information on all their products so loan seekers can understand the loan they are comfortable getting.
The customer service has received great reviews for being kind and friendly with tons of knowledge for addressing many questions. Their customer representatives will guide you through the application process.
Read more
Best Personal Loans For Bad Credit (Credit Score Under 580)
Best Personal Loans