Savvy diamond ring buyers are realizing you don't need to break the bank to get a beautiful diamond ring. What you do need is a crude understanding of what makes a quality diamond. Blue Nile is in the business of educating you about just that — and then selling you an absolute beauty.
Buying jewelry online via a site like Blue Nile is one of the most drastic ways you can cut costs. Online retailers offer a great alternative to the exorbitance you'll find at physical retailers. That's because they buy directly from wholesalers or diamond manufacturers, helping them offer a much wider selection at much lower costs.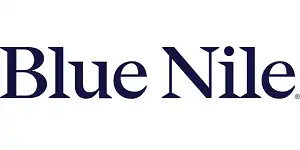 Blue Nile
Blue Nile is hands-down one of the most popular online jewelers — and has been for some time. There are multiple reasons, but the company's appeal comes from three main features:
Discount prices
Simplicity in narrowing down your search to the perfect stone to match your occasion
An astonishingly large inventory of loose diamonds
Pros:
Enormous selection

Easily customizable

Conflict-free diamonds
Cons:
Not all diamonds offer a 360-degree view

Can be time-consuming given selection
Shop Now
About
Blue Nile
Blue Nile is hands-down one of the most popular online jewelers — and has been for some time. There are multiple reasons, but the company's appeal comes from three main features:
Discount prices
Simplicity in narrowing down your search to the perfect stone to match your occasion
An astonishingly large inventory of loose diamonds
Blue Nile also scores points for its conflict-free diamonds. A jarring number of the world's diamonds are mined in a way that violates human rights or includes war or other violence. As a way to disincentivize unethical mining, Blue Nile does not patronize diamonds that have this type of background.
Pros & Cons of Blue Nile
Pros
Enormous selection — Blue Nile has loads of stones to choose from, including precious stones other than diamonds. There's something for every budget.
Both online and physical stores — Blue Nile offers online shopping, but they also have limited shops around the U.S.
Easily customizable — You can build your own ring from scratch with Blue Nile.
Conflict-free diamonds — Blue Nile has a zero-tolerance policy toward conflict diamonds.
Cons
Few stores — While Blue Nile does offer a few stores, there's a limited number (currently 22 across 17 states).
Not all diamonds offer a 360-degree view — You cannot exhaustively study every diamond before you order it. Some diamonds only offer a couple of pictures instead of an interactive 360-degree graphic.
Time-consuming — Blue Nile's catalog is so vast that it's going to take you a long, long time to find the perfect diamond. Many customers prefer an in-house experience where an expert can suggest products to them.
Blue Nile Inventory/Features
Jewelry Selection
Blue Nile has a reputation as a go-to for engagement rings and wedding bands. They've got more than 150,000 loose diamonds at any given time.
But Blue Nile sells more than loose diamonds and pre-marriage paraphernalia. You can purchase earrings, bracelets, necklaces, etc., as well. And you'll find much more than just diamonds. Think pearls, rubies, emeralds, and more.
Most stones can be examined in 360 degrees. Simply roll over the image with your mouse (or finger if on mobile), and you can turn it around and see how the light hits it from different angles. You may also be able to spot imperfections.
Customization
Blue Nile gives you the option to build your own ring from scratch online. You can easily filter each part of your ring by color, cut, carat, and clarity, and other more intricate details.
When customizing a ring, there are nearly infinite permutations you can create between style, quality, and material. And as you can see, the filters are intuitive and illustrative. The selection process can take a long time not just because there are tons of diamonds to choose from, but because the filters are fun to use!
You can also customize other items, such as earrings. This is an advantage over some competitors, such as Rare Carat, which only focuses on rings.
Quality
Blue Nile quadruple checks each engagement ring it ships. The diamonds you see on its site are from highly respected suppliers that sell only the best stones, which are between colorless and faintly colored — and all have stellar clarity.
If you buy a diamond from Blue Nile, it's going to be a stunner.
Upgrade Program
If you've purchased a natural (not lab-grown) and colorless diamond from Blue Nile, you are eligible for the Diamond Upgrade Program. You can trade your current diamond in for another diamond (or multiple diamonds) where your order total comes to at least double the price of your original diamond.
Lifetime Warranty
If your product yields any kind of defect, Blue Nile will make it right. That means either replacing it with a new version or something similar if the item is discontinued.
Blue Nile Pricing
Blue Nile's price range is staggering. You'll find diamonds as low as $200, all the way up to $2,000,000+!
In other words, there are plenty of diamonds that will fit your exact price range. Blue Nile even offers a "Diamond Price Match Guarantee," which states that if you find a diamond of comparable quality and characteristics that costs less than Blue Nile's price, you can request a price match.
There are no financing options unless you open the Blue Nile credit card. You'll then have a few options.
First, you can opt to pay 0% interest on the following purchases:
Between $500 and $1,499.99 — 6 months' deferred interest
$1,500+ — 12 months' deferred interest
$2,000+ — 18 months' deferred interest (promotional rate, not always available)
Deferred interest is extremely dangerous. If you don't completely pay your item off during the 0% interest period, Blue Nile will retroactively charge you 29.99% interest for every month since you made your purchase. Depending on how much you spent, you could be hit with thousands of dollars in interest all at once!
The other option, and likely safer choice, is a flat 9.99% interest charge for the following:
Between $2,000 and $2,999.99 — 24-month plan
Between $3,000 and $3,999.99 — 36-month plan
$4,000+ — 48-month plan
$6,000+ — 60-month plan
The amount you'll be charged each month will ensure that you pay off your purchase within the specified time frame.
You can return your item up to 30 days after your item ships. You'll get a free shipping label, so you don't have to pay a dime. Each customer gets two free returns per year.
And unlike competitors like James Allen, there is no stipulation that says you can't return it if you've worn it.
Blue Nile Shopping Experience
Despite thousands of options, Blue Nile makes the user experience really simple. They're also transparent with the pricing and what is included in your order. If you're confused at any point, you can talk to their live customer service staff, who have a ton of knowledge and can help offer some guidance.
Blue Nile also has retail shops around North America. You get the best of both worlds: a large inventory to pick from with cheaper prices, and in-person experience.
There are currently 22 stores with more coming soon.
It's worth noting that Blue Nile offers a wealth of online educational resources to help even the diamond novices understand what they're buying and how to choose the right diamond.
Who Is Blue Nile Best For?
Blue Nile is perfect for the shopper who has a general idea of what they're looking for and wants to browse through a number of options.
However, even if you haven't done much research, Blue Nile can be the information resource you need. In no time, you'll understand how the grading scales work for factors like clarity or brilliance. You'll be better prepared to make a diamond purchase — be it with Blue Nile or someone else.
Who Shouldn't Use Blue Nile?
If you prefer the experience of feeling and seeing the stone in person, then Blue Nile may not be for you. If you aren't quite sure what you want, and are looking for guidance from a diamond expert, you may feel more comfortable making your purchase in-person.
If you live near one of Blue Nile's few physical locations, great! But for the vast majority, it's probably best to seek out a local jeweler.
Blue Nile Reviews
Blue Nile grades A+ with the Better Business Bureau, and garners a 4-star rating on Trustpilot. Reviews tend to be at both extremes, with five-star and one-star ratings making up 85% of all Trustpilot reviews.
Blue Nile's own website has more than 166,000 reviews. As expected, most reviews are gushing and some 90% of the reviews are four stars or higher.
Blue Nile vs. Competitors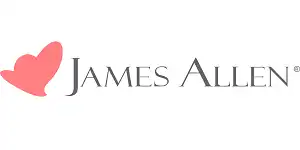 James Allen
James Allen is one of the big online jewelry retailers, famous for its low prices. With thousands of high-quality, conflict-free diamonds to choose from, easy customization options, and lifetime warranty, it's easy to see why James Allen is still considered an engagement ring king.
Pros:
Larger selection

Easy customization for price and quality

Lower prices than brick and mortar
Cons:
Time-consuming selection process

Less expert guidance
Shop Now
James Allen tends to be the favorite of all online jewelers. Blue Nile offers an extremely similar experience to James Allen, though there are some areas where it falls behind.
For example, James Allen offers 360 views of all diamonds. Blue Nile does not. The diamond that perfectly fits your price range may only offer a couple pictures of the diamond — so you can't scrutinize it nearly as closely as a James Allen diamond. That's a really big deal when buying online.
James Allen customer service also tends to be a bit better. For example, the company offers free prong tightening. Blue Nile will charge you for things like this.
As far as the quality of the stones, both sites are top-notch.
Rare Carat
Rare Carat is another popular online jeweler and a competitor of Blue Nile. A big difference with Rare Carat is that you can only buy diamonds and rings. You won't find things like earrings or bracelets, and there are no other precious stones to choose from.
One unique aspect to Rare Carat is its interactive quiz to help you narrow your search. It's reminiscent of a TurboTax user interface, and it's very fun.
A downside to this company is that its vendors don't appear to be as reputable as those selected by Blue Nile. The origins of the jewelry seem a bit ambiguous.
Summary
Whether you buy from an online store or a brick-and-mortar, it's critical that you understand what you're buying with such a weighty purchase. Blue Nile is a great online option for anyone looking to buy a fair-priced engagement or wedding ring, and you'll learn a whole lot while browsing their website, too.