Don't you hate getting slapped with unnecessary fees with your checking account?
I know I do.
What about the awfulness of waiting in line at a local branch to either talk to someone or make a deposit?
Dreadful.
All of us are busy, so banking on-the-go is necessary. You don't have time to keep track of things like a minimum average balance or required spending amounts to ensure you're avoiding monthly fees from your bank.
Discover is looking to solve all of your typical checking account woes with their Discover Cashback Debit Account.
In this article, I'll do a deep-dive and review of this new debit account so you can determine if it's right for you or not. Let's first start with a little background on who Discover is.
Wait, I thought Discover was a credit card company?
Before I dive into the details of the new Discover cashback debit account, I want to clarify a few things and help you learn a little more about who Discover is.
It's a common misconception that Discover is only a credit card company. It's probably because their commercials are all over the place and in some cases, the phrase 'cashback' has become synonymous with a Discover credit card offering cashback.
But Discover is much more than a credit card company. In fact, they want to be the leader in all things banking and payments. This is directly from Discover's company information page:
"We strive to be the leading direct bank and payments services company. Our mission is to help people spend smarter, manage debt better, and save more to achieve a brighter financial future."
To accomplish their mission, Discover offers a wide range of products, in addition to the debit account I'll review below, to make your financial life much better, including:
Credit cards.
Savings accounts.
Retirement CDs.
Personal loans.
Student loans.
Home equity loans.
Now that you know a little more about who Discover is, let's talk about why you should consider them for a debit account.
What is the Discover Cashback Debit Account?
The Discover Cashback Debit Account is a checking account that comes with a debit card that allows you to earn cashback on all of your purchases – which has traditionally been reserved for credit cards.
You'll earn 1% cashback on your purchases, up to $3,000 per month. That means you can earn a total of $360 over the course of the year by simply swiping your debit card. 
Note that this applies to debit card transactions as purchases – not things like peer-to-peer payments or ATM transactions. You'll also get free checks, access to 60,000 fee-free ATMs, and have no balance or activity requirements or fees.
How does the
Discover Cashback Debit

Account work?
You'll have to remember that Discover has become a massive financial institution. That said, without a direct link (thankfully I've given that to you), it's a little tough to find this account.
Learn more about Discover Cashback Debit Account
From the Discover home page, click All Products > Online Banking > Checking account:
This will take you to the landing page for the Discover Cashback Debit Account (note that they are using this and the phrase 'checking account' interchangeably). Just click "Open an Account" in the upper right corner of the page.
Then you can either log in or sign up as a new customer. For the purposes of this article, I am going to sign up as a new customer:
Your first step is to enter your personal information:
And the next screen asks for your address, email, and phone number:
One last screen asks for your citizenship, employment, and income information:
From there, you'll begin the account set-up process. First, you can determine if you'd like a joint owner or not. I'll say no.
Then you'll need to fund your account from either a checking, savings, or you can select that you'll do this later (which I did). If you have an offer code, pop that in here.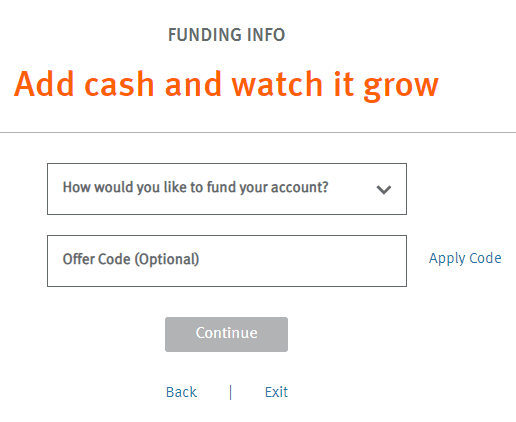 There are then three disclosures you need to read and agree to:
After you go through this process, your identity will be verified and your account will be opened.
Why use Discover for a debit account?
I'm going to go into much more detail about the account itself below, but I want to share a little information on why you may want to consider Discover as your primary bank.
Discover's entire focus is on providing a positive customer experience, and they're 100% US-based. If you haven't seen the commercials, here's a sample of what I'm talking about:
Coming from the banking world, I know that the customer experience has been a hot-button issue for years. Since most banks can offer nearly the same products and the same rates, they're starting to compete on how well they can treat you – the customer.
And this is where Discover nails it.
As you'll see below, their debit account has its pros and cons (like any other financial product), but since customer support is essential to most of us, I wanted to make a special call-out on this. Now let's dive into the details on the Discover Cashback Debit so you can decide if it's right for you.
Discover Cashback Debit Account features
The Discover Cashback Debit account has plenty of features that you don't find with most standard checking accounts. Here are some of the key features of the account:
No monthly maintenance fees
First, you'll experience no monthly maintenance fees. Many checking accounts, especially online-based accounts, will charge a fee if you don't maintain a precise balance, deposit your paycheck via direct deposit, or spend a specific dollar amount each month with the debit card. Discover opts not to do that, and in fact, has no minimum deposit to open an account and no ongoing minimum balance requirement. There's also no fee for inactivity on the account – meaning you don't have to make sure you spend a certain amount each month to avoid a charge.
No fees on other things that many banks charge for
Another feature is the shocking fee structure for the account. Aside from there being no monthly maintenance fees, you won't pay a dime for things that many traditional banks charge you for, such as:
Expedited debit card and replacement (if it's lost or stolen, they'll send it with expedited shipping at no cost).
Standard checks (yes, you can order and use checks with this account for free).
Incoming wire transfers.
Official bank checks.
Returned deposit item.
And there are plenty more fees that are either waived. While this may not seem like a feature you'd care about right away, I've become quickly frustrated with my bank when they try to charge me to get a new debit card or basic checks. I felt like I was paying them to use my own money for goodness sakes.
Access to over 60,000 no-fee ATMs
You'll also have access to over 60,000 no-fee ATMs. You'll have a difficult time finding an ATM in the United States that charges a fee with the Discover Cashback Debit account. Discover is connected to over 60,000 ATMs that don't charge a fee for withdrawing cash, so if you're someone who frequently pulls cash out this is a huge win.
Earn 1% cashback on debit card purchases
The account also features a debit card that earns you cashback, to the tune of 1% on all purchases, up to $3,000 per month ($360 per year!). Even better, your points won't expire as long as your account is open and in good standing.
This is an excellent feature, as many checking accounts don't offer this option with a debit card (instead, they try to upsell you on a credit card). There are some restrictions, but it's mostly on things that would give you physical cash (i.e., ATM withdrawals, PayPal or Venmo transfers, purchasing money orders).
Disclosure – ATM transactions, the purchase of money orders or other cash equivalents, cash over portions of point-of-sale transactions, Peer-to-Peer (P2P) payments (such as Apple Pay Cash), and loan payments or account funding made with your debit card are not eligible for cashback rewards. In addition, purchases made using third-party payment accounts (services such as Venmo® and PayPal™, who also provide P2P payments) may not be eligible for cashback rewards. Apple, the Apple logo and Apple Pay are trademarks of Apple Inc., registered in the U.S. and other countries.  
Another bonus with the cashback you earn is the ability to combine it with the cashback you've earned from your Discover credit card. While the cashback balances will be kept separate, you can transfer your cashback in any amount over to your balance on your credit card. So if you use both debit and credit with Discover, this is another excellent benefit. Alternatively, you can redeem your cashback as a credit to your checking account.
Check usage and easy deposit
As mentioned above, you can order checks for free through Discover by filling out an online request form. While the world is becoming paperless, having physical checks on hand is always nice if you need to use them for things like paying your rent or getting new license plates (both of which I've had to do in the past few months!). They'll send you basic paper checks, no nothing fancy, but it'll get the job done.
It's also super simple to deposit paper checks. Like most other online banks nowadays, Discover will give you a mobile app where you can track your spending, move money, and deposit paper checks, among plenty of other features. Just take a picture of the front and back of the check, and you're good to go.
My experience using the Discover Cashback Debit Account?
The process for opening an account is incredibly easy – even easier than it was when I opened a checking account with Ally Bank a few months ago. While I personally didn't move forward with fully opening an account, I can completely see the value in doing so.
Using Ally as a reference – I basically get nothing for having my checking account there. Yes, I like their service and their savings account is among the best, but I get nothing for using my debit card.
Lately, I have become more of a debit card user, as I've seen my spending go down significantly. I've also used Discover in the past (though not as much recently) and their customer service really is how they show it on the video. I'm guessing their call center doesn't look like that and their reps aren't as funny, but in general it's the best customer service I've seen for a bank.
On the downside, though, using a Discover card (including this debit card) means it won't be accepted everywhere – so what do you do then? Do you have another checking account and debit card or do you pull out the credit card? I don't think any of these matters are deal breakers, but more something for you to consider before you sign up.
Who the Discover Cashback Debit Account is for
The Discover Cashback Debit account is definitely for people who don't mind doing all of their banking online, as there are no physical Discover branches. What you get instead, though, are a bunch of no-fee ATMs and excellent, U.S.-based customer service that's 24/7.
If you're someone who likes to use your smartphone for banking, you'll love this account. The mobile app features things like:
Secure mobile deposit of your paper checks.
A fast login process (by using either fingerprint or a four-digit passcode).
A quick view of your balances and activity without having to log in.
A fast ATM locator.
If security is essential, Discover has you covered there, too. The money you hold with Discover is FDIC-insured up to the maximum allowed by law. They also have $0 Liability Protection which ensures that you're never held responsible for unauthorized transactions.
I'd also recommend this account for someone who uses a debit card over a credit card. Yes, credit cards will typically offer better rewards, but some people prefer using cash instead, for reasons like staying out of debt or keeping track of their spending easier. Since Discover will give you up to $30 back each month (1% on up to $3,000 in spending), it makes it worthwhile for heavy debit card users.
Who is the Discover Cashback Debit Account not for?
Anyone who prefers to use credit cards for their daily purchases probably won't benefit much from the Discover Cashback Debit account. Since the main value proposition of this account is 1% cashback on your debit card transactions, you'll gain little from it if you're a power user on credit card rewards and pay your balance in full each month.
Also, if you prefer a brick and mortar bank to have a checking account with, this account isn't for you.
Pros
No fees across the board! — The account has no monthly maintenance fees, low balance fees, or any other type of account fees you'll need to worry about.
Access to more fee-free ATMs than most banks (60,000) — Discover has a huge network of more than 60,000 ATMs that don't charge a fee – so if you're someone who likes to use cash, this will be a big bonus.
Cashback rewards for using the debit card — The main selling point of the card, you'll get 1% cashback on all debit card purchases – a rare occurrence for debit cards these days.
Free checks — Assuming you still use checks, you'll get them free with the account.
Slick mobile app — Discover's mobile app is among the best – it's clean, easy to navigate, and has everything you need for a checking account.
Award-winning, U.S.-based customer service that never closes — Discover's customer service ranks #1 among competitors according to J.D. Power's 2019 survey.
Cons
No physical branch — No physical branch if you want to sit down face-to-face and speak with someone.
Online tools aren't as useful as big banks — Online tools aren't as useful as big banks (i.e., PNC has terrific online tools that get better when you open multiple accounts with them).
No way to directly deposit cash — Unfortunately, there's no way to directly deposit cash (a major downside if you're a heavy cash-user or cash-based business).
Discover Cashback Debit Account vs. LendingClub Bank
| | Discover Cashback Debit | LendingClub Bank |
| --- | --- | --- |
| Checking APY | None | 0.10% – 0.15% |
| Savings APY | 4.00% | 0.10% – 0.25% |
| Opening balance | $0 | $100 |
| Monthly fees | $0 | $0 |
LendingClub Bank is probably one of the closest competitors to Discover, offering checking, savings, CDs, credit cards, and more. And it provides some fierce competition to the Discover Cashback Debit Account.
To open an account, you'll need $100, but after that, there's no minimum balance required. Bonus is that LendingClub Bank provides an APY on their checking accounts – up to 0.15% APY. You'll also earn up to 1% unlimited cash back on debit card purchases, and there are no monthly maintenance fees nor do you have to worry about ATM fees because there are unlimited automatic ATM fee rebates.
Summary
First, know that I don't have a debit account with Discover, so my opinion is unbiased. That said, after researching the product and writing this review, I've fallen in love with it.
The Discover Cashback Debit Account is an excellent product.
You have to put it on a different playing field when you're comparing checking accounts with traditional banks because, with an online-based account, you'll never have things like a physical branch to walk into.
I also can't think of the last time I walked into a PNC branch for anything (I have a checking account with them and have for years). I do all my banking online.
Once you take that factor out of consideration, Discover blows its competition out of the water with its debit account features. I can't recall the last checking account I've seen or reviewed that offered cash back on debit card purchases (especially at 1%, which is on-par with many credit cards).
I can personally speak for Discover's customer service, as well. I have a credit card with them and can honestly say their service is very close to what you see in the commercials. They answer quickly, and they're genuinely happy people looking to help you solve your banking questions.
So unless you've been with your bank for years and are very happy with what you have (and I'd venture to say that if you've read this far, you're considering a switch), you should strongly consider signing up for this account.
There's no risk to you since there are no monthly maintenance fees or minimum deposit requirements, so why not give Discover a shot?
If you do end up signing up, I'd love to hear your thoughts on how it's working for you – so please share your experiences in the comments below!
Read more:
5 Cool Discover it® Cardmember Benefits You Didn't Know About
Discover Online Savings Account Review: Reach Your Savings Goals Sooner