Just out of college, I'm making the leap from my parent's house to my own apartment. Here's a look at my upcoming budget, and some averages to help you figure out what it will really cost to move out on your own.
You love your mom, but let's face it – you can't live at your parents' house forever. Or, at least, you shouldn't. Of course, there's a reason you moved back home (or never left in the first place). The cost to live alone is high even in places with affordable rent.
Can you afford to move out on your own?
As we'll see, the cost to live alone depends a great deal upon what you'll have to pay for housing. Chances are, you'll fixate on the monthly cost to rent an apartment – with or without roommates – in your area. But, before you move out on your own, consider all of the new expenses you'll incur living alone.
Yes, rent is the big one
Depending on the cost of living in your area this could be hundreds or even thousands of dollars a month.
If you live in a major city you'll probably need to get used to the idea of living with roommates. If you're really against living with other people, get ready to pay a crazy amount to live in something the size of a walk-in closet.
If you're looking to live in a majorly expensive town such as NYC, D.C. or San Francisco, you'll need to study up on some affordable housing tactics specific to such pricey, competitive markets.
Otherwise, you might consider moving to a more affordable town that still has plenty going on for the young and budget-conscious crowd.
When you sign your first lease, you'll need to put down first and last month's rent and – often times – a security deposit. This is a good chunk of change you'll need to fork over. If an apartment goes for $800 a month, you're looking at laying out $2,400 just to move in. And it's not enough just to have the money for first, last, and security on hand.
As soon as you move in, you'll face lots of unexpected expenses to furnish your apartment. In addition, you don't want to sign a lease and be on the hook for a monthly rent payment without at least some emergency savings. You never want to fall behind on rent, but you certainly don't want to do it within the first few months of living there!
Related: How To Find The Best Apartment In Your City
Utilities
Sometimes utilities are included in your rent, but not always. There are a lot of bills to consider if your utilities aren't included.
Heat
Whether or not heat is included in the rent depends on the type of heating you have. If you don't control the heat in your apartment, but other units in your building do, it's highly likely the cost of heat will be included because the landlord has no way of knowing which unit uses how much heat.
Radiator, gas, or forced air heating can cost up to $100 a month depending on the efficiency of your apartment.
Water (hot water, cold water, and sewer)
Sewer and water have risen over the years and, on average, a family of four pays $40 per month. A one-person apartment will obviously cost substantially less.
If water is included in your rent make sure you clarify that this covers sewer, cold water, and hot water.
Electricity
Your electric bill will likely be the highest of your utilities, ranging from around $40 to potentially over $100 depending on the size of your apartment and how often you have your lights one, use the television, use appliances, etc.
If you've got an efficient apartment and use fluorescent compact light bulbs (what used to be the spiral ones) your bill may be a little lower than the average.
Air conditioning in the summer and heating in the winter (if it's electric) will drastically increase your electricity bill by $50-$100.
Gas for the stove
Older apartments still require you to pay for natural gas for your stove, but the price shouldn't be too high, only about $20 a month, usually less depending on how often you cook.
Washer/dryer
Some apartments come with a washer and dryer in the unit, but often you'll have to go to a laundromat.
If you wash your clothes every week you're likely spending $6-$12 dollars per load, which can cost you well over a couple of hundred dollars a year.
Use credit cards wisely
A quick and easy way to take advantage of credit cards is to put recurring bills like heat, water, and electricity onto your rewards credit card.
Some cards like the Capital One® Quicksilver® Cash Rewards Credit Card will actually give you cash back for the purchases you put on it.
So, if you put all of your utilities and groceries onto the card, you are actually getting cash back on the bills you are paying anyway! With both these cards, you'll get 1.5% cash back for all spending, and the Capital One QuicksilverOne card is even available for people with less than great credit.
Capital One QuicksilverOne Cash Rewards Credit Card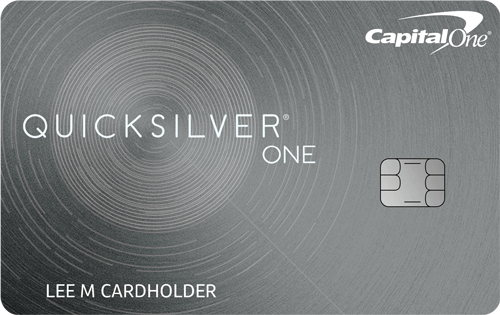 In A Nutshell
If you don't have the excellent credit needed to score some of the bonuses other Capital One credit cards offer, consider the Capital One QuicksilverOne Cash Rewards Credit Card. It's a terrific card for average credit and you can still earn 1.5% cash back on all purchases with a modest $39 annual fee.
Read review
Credit Score Requirements:
Credit Score requirements are based on Money Under 30's own research of approval rates; meeting the minimum score will give you the best chance to be approved for the credit card of your choice. If you don't know your credit score, use our free credit score estimator tool to get a better idea of which cards you'll qualify for. *Money Under 30 uses a FICO 8 score, which is one of many different types of credit scores. *A creditor may use a different score when deciding whether to approve you for credit.
What We Like:
1.5% cash back on all purchases.

Be automatically considered for a higher credit line in as little as six months.

No foreign transaction fees and a modest $39 annual fee.
Other cards will also offer you travel benefits like air miles so you can fly home for less or take an end of the year vacation with the miles you racked up. You can do this for any recurring payments including your gas station visits, grocery shopping, and regular school supplies.
Parking and/or public transportation
Parking can be hard to come by in large cities. In smaller cities (like Portland, Maine, where I live) you can sometimes get away with parking on the street, but you could end up paying a heavy fee for snow ban parking and parking tickets if you don't move your car frequently enough.
If parking doesn't come with the rent or is not on-street, you could pay upwards of a couple hundred dollars for lot parking.
Furniture
Rarely do apartments (at least affordable ones) come furnished, so that's another large expense you'll have to consider.
You'll want to save some money to purchase a couch, mattress (if you don't already have one), chairs, a dining table, a TV and TV stand, etc.
You can get a lot of these items at thrift stores or big-box stores like Target and Walmart for fairly cheap. Make sure, if you're buying a mattress, you buy a new one. Used mattress are rarely worth the deal.
Related: The Best Items To Buy Used. Vs. New
Renter's insurance
Here's a harsh truth that many people don't know: If you rent an apartment, your landlord's insurance doesn't protect you from anything. If the building burns down, nobody is going to compensate you for your stuff. Worse, you'll be out of a place to live.
Fortunately, there's an easy (and relatively inexpensive) fix: Renter's insurance.
For a couple hundred dollars a year, a renter's policy insures your belongings from theft and damage and may provide compensation to help you move if your apartment becomes uninhabitable.
We know you're probably going to decline (or forget about) renter's insurance. Most renters take their chances and hope their apartment building won't burn down, destroying everything they own. But, renter's insurance an expense you should really consider. The $15-$30 a month payments could save you a lot of money and a lot of heartbreak.
Lemonade is a great, up-and-coming insurance company that offers renters insurance starting at just $5 a month. They're a peer-to-peer insurance company, meaning a group of people pools their resources by paying insurance premiums into a collective pot. Whenever a member of the group makes a claim, they take money out of the pot.
Food
Don't forget, when you move out you're leaving the comfort of college food (no matter how bad, at least it was something you didn't have to think about) or your parent's food.
If you haven't had to consistently pay for your own groceries, you probably don't realize how much it costs per month. And that doesn't include eating out.
The USDA released a study that shows the average thrifty food budget for an individual is around $180 a month!
Cookery
Since you now have to cook your own food, you also need things to cook your food in. Luckily you can find cheap plates, dishes, cups, pans, and more at Target, Walmart, or even thrift stores (Goodwill often has gently used kitchen sets for cheap).
Appliances
Almost all apartments come with a refrigerator and an oven, most even come with microwaves, so it's not something you should be too concerned with.
If you manage to find an apartment that doesn't have an oven or stove (probably an apartment that's heavily discounted), you should definitely consider getting a microwave, that way you at least have something to cook with.
Cable/internet
If you're really lucky your apartment will come with cable and internet included in the rent. If you're somewhat lucky it'll at least include wifi, but if not you're going to have to pay that bill. Internet tends to average about $50 a month depending on the provider.
You might want to skip the cable if you're on a budget. After all, you probably have Netflix, Hulu, and access to a sports bar, so who really needs cable?
Related: The Best Streaming Service For You
Don't forget about personal expenses
There are a lot of expenses to consider just for your apartment, but don't forget about all your other expenses as well.
When figuring out how much you can afford, factor in your debt payments (student loan, credit card, etc.), car insurance payments, medical payments not covered by insurance, an emergency fund, and money to spend on your nights out.
Summary
To give you a quick overview of the total cost, I'll break down the cost of the apartment I'll soon be moving into. Keep in mind that I'm living just outside of a major city so rent is much cheaper.
Rent (includes heat, water, sewer, and parking): $800, plus an $800 security deposit at move-in.
Electricity: I'll likely pay around $50 a month.
Netflix + Hulu Subscriptions: $18 a month.
Food: I shop weekly and spend around $40, so that's about $160-$180 a month.
Furniture: I got a lot of furniture off of Craigslist and recycled from friends and my parents, so in total about $300 for all my furniture (this is not usually the case, I got lucky and didn't have to spend a lot!)
Laundry: I'm lucky enough to be able to wash my clothes at my parents (the perks of living 30 minutes from home), but laundromats in my area cost about $6-$8 for washing and drying one load of laundry.
Transportation: I pay about $30 every two weeks, or just more than $60 a month.
Total: $2,188 for the very first month, about $1,088 every month after (not included personal expenses).
Read more: