You have the money in your checking account, but that doesn't mean you can access it. It's better to know your daily spending limit on your debit cards before you have an embarrassing moment at the store.
Does your debit card have a daily spending limit? Most likely, yes. A debit card spending maximum is set by the individual bank or credit union that issues the debit card. Some debit cards have spending capped at $1,000, $2,000, or $3,000 daily.
Try to spend more than the maximum allowed, and your debit card will be declined even if you have enough money in your checking account. Very embarrassing. There are, however, some steps you can take to deal with debit card spending limits.
Why worry about debit card spending limits?
It's not every day we need to spend more than $1,000 on a debit card. But it happens. Especially if you don't have or wish to use a credit card for major purchases, you may find yourself needing to pay a big car repair bill, book a vacation, or make another large purchase that will cost more than your debit card spending limit.
Daily limits are placed on your card for security reasons. This way your bank account won't be drained of funds if theft or fraud occurs.
Related: Charge Cards—A smart alternative to debit and credit cards
Ask your bank or credit union what your debit card limits are
Before you can deal with a debit card spending limit, you need to know what it is. A few banks publish this information on their Web sites, or print the information on the paperwork that comes with your card.
If not, you'll need to call up your bank or credit union or ask a teller the next time you're in. Be sure to determine both your ATM cash withdrawal daily limit and you debit card spending limit. They're different.
Typically, your cash withdrawal limit will be lower. Many banks set ATM withdrawal limits at $500 in a 24 hour period. Sometimes it's $1,000. Typically, your ATM spending limit will be higher. Also ask your bank if ATM transactions count towards your daily spending limit. (If so, and you have a $1,000 total spending limit, when you withdraw $200 from an ATM you could not then make a $900 purchase on your card).
Ask to change your debit card spending limits
Most banks will increase debit card limits if you ask. This increase can be either permanent or temporary, with some raises only lasting for a 24 hour period, so make sure you find out ahead of time.
Also be sure to find out when the increase will take effect. Sometimes it's instantaneous, other times it may take 24 or 48 hours, so if you go to make a big purchase right after hanging up with the bank, the transaction may still not go through.
Credit vs. Debit, Is Credit a Good Idea for You?
Alternatively, there are times when it is better to use a credit card than a debit card. If you have good credit or you would like to build up your credit history for use later on, then applying for a credit card is a good idea. If you use your credit card responsibly, spending can actually create positive credit history, making you a more likely candidate for approval on better cards in the future. Here's when it's a better idea to reach for a credit card than your debit card:
If you are short on cash but will be getting more soon
If you need to make a purchase that can be broken up into monthly installments
If you are paying a lot of interest on a previous debt and wish to consolidate under a lower interest rate
Of course, the one caveat to this is that you must use your credit card responsibly. This means paying at least your monthly minimum and not letting the interest accrue unnecessarily. If you can handle that, then a credit card is an excellent idea for you for several reasons, for example:
Credit cards help you build your credit
Capital One® Secured Mastercard®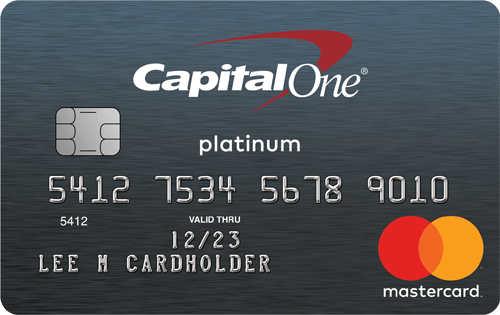 In A Nutshell
Owning a secured credit card can be a necessary step in bring your credit profile out of the gutter and the Capital One® Secured Mastercard® is one of the strongest secured credit cards on the market today. It's rare to find one that doesn't charge an annual fee and Capital One will automatically review your credit limit in as little as six months.
Read review
Credit score requirements:
Credit Score requirements are based on Money Under 30's own research of approval rates; meeting the minimum score will give you the best chance to be approved for the credit card of your choice. If you don't know your credit score, use our free credit score estimator tool to get a better idea of which cards you'll qualify for. *Money Under 30 uses a [FICO 8] [Vantage 3.0] score, which is one of many different types of credit scores. *A creditor may use a different score when deciding whether to approve you for credit.
What we like:
Start off with an initial credit line of $200 w/ a minimum deposit of $49, $99 or $200

Be automatically considered for a higher credit line in as little as 6 months with no additional deposit needed

No annual fee and no foreign transaction fees
As mentioned above, responsible credit card spending will actually build your credit and help you raise your credit score. Cards like the Capital One® Secured Mastercard® or the Capital One® Platinum Credit Card allow people with bad or no credit to start building their credit anew. Debit cards do not offer this type of advantage.
You can earn amazing rewards from credit card programs
Most credit cards today offer some sort of rewards program. These programs can often be highly lucrative, giving you real cash back, gift cards, and statement credits for the spending you are doing anyway. Even if you don't have great credit, you can earn rewards with a card like the Discover it® Student Cash Back.
The Discover it® Student Cash Back has no annual fee and gives you a tremendous bonus. At the end of the first year Discover will match all the cash back you've earned. It also earns you a generous 5% cash back on rotating categories every quarter, up to a $1,500 quarterly maximum. Quarterly activation is required for the bonus.
Credit cards offer other benefits too
Disclaimer – The information about the Wells Fargo Cash Wise Visa card has been collected independently by MoneyUnder30.com. The card details have not been reviewed or approved by the card issuer.
In addition to rewards points, credit cards offer valuable benefits including airport services, travel insurance and perks, and shopping advantages like extended warranty and purchase protection. Take, for example, the Wells Fargo Cash Wise Visa® card. You'll earn 1.5% cash back rewards and get benefits like cell phone insurance, 24/7 fraud monitoring, and an intro APR for balance transfers and new purchases.
Credit cards are an emergency line of credit
While we hope we'll never need it, a credit card is a good emergency fund in case the need ever does arise. Whether it's a medical emergency, an unexpected repair needed on your house, or a car part replacement that ends up costing you thousands of dollars you just don't have, credit cards offer you the flexibility to stay covered in these unpredictable times.
Debt consolidation
Another perk to credit cards is the introductory offers. Some will give you 0% APR for a limited amount of time. If you have debt or need to make a large purchase, this can save you hundreds or even thousands of dollars by cancelling the interest payments for that introductory period of time.
The Wells Fargo Cash Wise Visa® card that we mentioned earlier offers a great rate on purchases and qualifying balance transfers, the perfect solution for debt consolidation. By transferring your debt that is sitting on credit cards with higher interest to the Wells Fargo Cash Wise Visa® card, you will be able to apply your total payment amount to the debt instead of taking off a chunk of it to pay for the interest. In this way, you can systematically reduce your debt dramatically.
Summary
Still using only your debit card for daily purchases? Debit cards can be great at times—and sometimes credit cards are a better choice (if you use them responsibly).
Or, you may even consider using a check to make larger purchases. While checks seem outdated compared to debit or credit cards, it makes sense to use them if you need to purchase something that exceeds your debit card limit. As long as the check will clear, there is no limit to how much you can spend with a personal check. Here's how to fill out a check.
Read more: