The best food delivery apps save you time, support local businesses, and bring delicious food right to your door. We explored these apps to share our recommendations.
Long-time food delivery app, Grubhub, is one of the best options to conveniently have food delivered. Find a local restaurant, view their menu for your favorites, and place an an order seamlessly from the app. Grubhub is the best food delivery service to find deals and there's even an offer for new users to save when signing up.
Overview: Best food delivery apps 2023
Grubhub
Grubhub is one of the more established food delivery services in America. Their platform and easy-to-use app features more than 365,000 restaurants in 4,000 US cities.
Grubhub
Grubhub is one of the more established food delivery services in America, featuring more than 365,000 restaurant partners in over 4,000 U.S. cities. Grubhub offers a variety of special perks and discounts — especially for new users.
Offer: Take 20% Off New Diner Orders! Max discount $3. Just use code GH20. New diners only, valid through 10/10/23.
Pros:
Exclusive perks and discounts

Access to local favorites

Offers both pickup or delivery
Cons:
Some perks limited to Grubhub+
Sign Up
Delivery fees are often less than $7, but with Grubhub+ you can receive unlimited free deliveries that are over $12 from thousands of restaurants and stores, lower service fees on eligible orders, 5% back on pickup orders given in Grubhub+ credit and exclusive offers from select restaurants and stores. The benefits come at a price of $9.99/month. 
While their app is a little busier than others, their extensive search options can help you locate exactly what you're craving — and fast! Sort through restaurants by delivery fee, cuisine, rating, distance, and even what's new to the neighborhood. If you're a new user trying Grubhub for the first time then use a code when signing up (like ours above) and save.
I tested out Grubhub on a Saturday afternoon and ordered a black bean quesarito from a Taco Bell roughly seven minutes from my home. Here's what I experienced:
Time of order: 4:04pm
Estimated arrival: 4:25pm-4:35pm
Quesarito secured: 4:23pm
Cost
$2.99 – black bean quesarito.

$2.00 – "small order" fee.

$3.99 – delivery fee.

$0.37

– service fee.

$9.35 – total cost (not including tip).
Grubhub frequently features a promotion for signing up so new diners would have tasted a discount and saved on this total.
» MORE: Get food delivery and more from Grubhub.
DoorDash
Grubhub and DoorDash are, perhaps, the most alike among the apps featured in this article. However, in 2019 DoorDash overtook GrubHub in consumer spending market share and was rated the top on-demand food delivery service.
Founded in 2013, DoorDash is now available in more than 4,000 US cities, featuring connections with over 300,000 restaurants. Delivery fees vary on DoorDash — as with Grubhub. DoorDash's subscription, DashPass, $0 delivery fees and reduced services fee on all eligible orders,  5% back in DoorDash credits on pickup orders, access to member-only items and offers and more. In addition, DoorDash provides several deals and discounts — often prioritizing first-time users.
DoorDash's app is also a little complicated, but I found it easier to navigate than Grubhub's. You can filter through options based on the type of food you want, the price, ratings, and more, and they clearly list the delivery fees and estimated delivery time for each restaurant.
I tried out DoorDash on a Saturday and purchased a black tea lemonade from a Starbucks about eight minutes from my home. Here's what I experienced:
Time of order: 1:42pm
Estimated arrival: 2:38pm
Tea transferred: 2:30pm
Cost
$3.45 – black tea lemonade.

$2.00 – "small order" fee.

$0.00 – delivery fee (first-time offer; typically $5.99).

$0.62

– service fee.

$6.07 – total cost (not including tip).
» MORE: Sign up for DoorDash. 
Uber Eats
Although Uber Eats arrived on the scene a little later than its competitors — launching in 2014 — it has proven itself a formidable rival. An informal study conducted by MarketWatch in 2019 determined Uber Eats to be the cheapest food delivery service, after ordering a hamburger and fries through four different delivery apps. 
Delivery fees are easy to spot as you scroll through the Uber Eats app and seem to generally fall into a $0-$5.49 range (though they can be greater than $6). Delivery fees may increase when there are more orders in a certain area than there are couriers who can deliver them. Their paid subscription, Eats Pass, however can help cut costs. Eats Pass offers $0 delivery fee plus +5% off orders over $15, even when it's busy. You can also take advantage of exclusive perks for members. The price, like others on our list, is $9.99 a month.
The Uber Eats app is fairly simple and user-friendly. Delivery fees are easy to locate on the main search screen, and you can also limit your selection by price, delivery fee, and even dietary preferences — like vegetarian, vegan, and gluten-free.
I tried out Uber Eats on a Sunday afternoon and ordered an iced latte from a local cafe, about ten minutes from my home. Here's what I experienced:
Time of order: 1:15pm
Latest arrival: 2:05pm
Latte landed: 1:33pm
Cost
$5.40 – iced latte.

$2.00 – "small order" fee.

$0.00 – delivery fee 

$0.81 – service fee.

(-$2.16)

– promotion

$6.05 – total cost (not including tip).
» MORE: Sign up for Uber Eats.
Postmates
Postmates is unique among the food delivery giants, primarily because of what they historically deliver —  "anything from anywhere."
In a USA Today article, Postmates shared some of their most unusual orders — from a $3,400 dress for a user who'd stained her own to "the dopest and most colorful of the fake birds." Launched in 2011, Postmates offers delivery or pickup from more than 600,000 restaurants, retailers, grocers, and more.
Their subscription service, Postmates Unlimited, offers $0 delivery fee plus 5% off restaurant orders over $15 and grocery orders over $30.
I ordered through Postmates on a Saturday and purchased a cinnamon roll from Great Harvest Bread Company, about seven minutes from my home. Here's what I experienced:
Time of order: 1:54pm
Latest arrival: 2:39pm
Roll received: 2:05pm
Cost
$2.75 – cinnamon roll.

$0.00 – "small cart" fee ($1.99 discount applied with Postmates Unlimited).

$5.99 – delivery fee.

$0.58

– service fee.

$9.32 – total cost (not including tip).
Note that Postmates was acquired by Uber since I ordered so fees and details may have changed to coordinate with what Uber offers.
» MORE: Sign up for Postmates.
The competition
There are some other alternative options to those shared above for those who are fine having groceries or conveniently packaged ingredients to make their own meals delivered.
Seamless
Seamless has been a part of Grubhub since 2013 with both operating restaurant delivery services.
The same restaurants in your neighborhood that are on Seamless are also on Grubhub. They're different entities with desktop and app experiences (that mirror each other), so they're separate but together – truly one in the same. It's similar to how Postmates and Uber Eats operate now. The parent company markets Seamless to find your favorite meals in New York City and surrounding boroughs, but Grubhub can also be used.
---
delivery.com
Unlike the services mentioned thus far, delivery.com doesn't send out drivers to pick up and deliver your order. Instead, the app and website serve as a platform for businesses to deliver their own products.
Consequently, they are designed to work with a wider variety of businesses — including laundry services and catering companies — than the competitors above. However, even with their 15+ year history, delivery.com is the clear underdog among the food delivery platforms in reach, operating in just over 2,400 cities with 19,000+ merchants.
Delivery.com has a wide range of fees to match its wide range of businesses, but many of the featured restaurants have similar delivery charges as those on competing platforms — an average of $5-$6. However, they don't appear to charge any sort of service fee or "small order" fee.
---
Instacart
Instacart is an online grocery delivery service that has become increasingly popular in recent years.
It's a grocery food delivery and pickup service from local supermarkets and shops instead of prepared food from local restaurants. You may be more inclined to work for Instacart or with one of the best jobs like Instacart instead of having your groceries delivered.
Customers looking to have their groceries deliver may prefer using Instacart over a single retailer's grocery delivery because it gives you the ability to order from multiple retailers all from one app, providing a wider range of products.
---
Meal kit services
The top meal kit services don't deliver prepared food from local restaurants, but instead packaged ingredients and recipes so you can make the meals at home. The same concept applies, however: the food comes straight to your door.
The items we ordered above included a quesarito from Taco Bell and a cinnamon roll, which probably aren't the healthiest options. You can order a salad, some grilled chicken, but if want a healthy home-cooked meal and just want to save time and avoid grocery store lines, there are also Best healthy meal delivery services to choose from.
Our favorite is Home Chef because, just like like when you're ordering a local plate of food, you can Customize It and prepare a personalized meal that you selected. It's what we recommend both as our pick for healthy meal delivery service and overall top meal kit.
Our favorite meal kit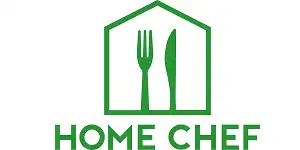 Home Chef
Rated #1 in customer satisfaction and our favorite meal delivery company.
Home Chef offers multiple meal choices each week with ample variety to meet dietary needs. While not the most adventurous or customizable meal box out there, Home Chef delivery fresh, quality ingredients and tasty recipes consistently.
Offer: Get 18 free meals (50% off your first 4 boxes)!
Pros:
Recipes are easiest to follow

Customize meals with your favorite protein

Super fresh ingredients, all measured out
Cons:
No vegan option (vegetarian only)
Choose Your Meals
» MORE: Try Home Chef or read our full Home Chef review.
How we picked the best food delivery apps
New users may have difficulty filtering through the best food delivery apps because they all share similar pricing models and restaurant selections. I recently explored these apps for myself and learned a great deal about what these services have to offer and how they rise above their rivals.
The key factors were popularity, consistency, reputation, price, variety and what was locally available. Your city may have a best food delivery app that better serves your specific area.
Tip
Outside a rewards program, consider mix and matching the best food delivery apps.

In addition to churning offers when signing up for these services, a local restaurant may offer a deal or key difference in your area on one meal service but not another.
Who the best food delivery apps are for
I have a habit of biting off more than I can chew. My husband knows this well and is no longer surprised when I announce plans to make dinner, walk the dog, fold the laundry, and bake a loaf of banana bread in an hour. In an increasingly fast-paced world, Americans like myself are simultaneously cramming schedules and craving convenience, and food delivery apps have found their niche in the space between.
The best food delivery apps are for people seeking convenience and a local favorite without leaving the house or office.
Who should avoid the best food delivery apps?
Outside of deals and limited-time offers, regularly using food delivery apps can be pricey. If cost is your concern, then food delivery apps may not always be the best option for your budget.
Couples or single folks may want to consider ordering straight from a restaurant, especially if you regularly order from the same establishment and they have in-house delivery or you have the time to pick up the food yourself. This helps you avoid the fees and you may even get your food quicker.
Families may be fine enjoying food delivery apps on occasion but regular use can stack up on having 4+ individual meals arrive at your door. Families fine with preparing their own food, however, who seek convenience and want to save time should check out the Best meal delivery services for families. This allows you to still try new meals as a family (or stick your favorites) while still still having the food delivered straight to your door at a price less than what you'd spend on a food delivery app.
What are food delivery apps?
In a space formerly occupied by pizza delivery boys and Chinese takeout, food delivery apps are shaking things up. Certain fast-casual establishments who use to have their own delivery drivers don't even offer the option anymore.
Long-time delivery app holdout Domino's has even an announced Uber Eats partnership. Orders placed on the Uber Eats platform will still be delivered by uniformed Domino's drivers, but it's another signal of the increased popularity of food delivery services.
Food delivery apps let you order your favorite meals and drinks from nearby restaurants without ever leaving the couch. They provide users with thousands of businesses to choose from, and delivery drivers can pick up your food just minutes after you've ordered.
Despite these perks, convenience still comes at a cost — literally. In addition to delivery fees, the apps charge a service fee (often 10-15% of your order), an occasional "small order" fee (typically $2 for orders under $10-$15), and may even increase pricing during peak busy hours.
Best food delivery apps: Grubhub vs. DoorDash vs. Uber Eats
| | Grubhub | DoorDash | Uber Eats |
| --- | --- | --- | --- |
| Best for | Deals | Reputation | Cost |
| Delivery fee (additional fees apply) | Typically less than $7 | Typically in the $0-$8 range | Typically less than $6 |
| Membership subscription option | $9.99 a month for Grubhub+ | $9.99 a month for DashPass | $9.99 a month for Eats Pass |
| Also delivers (may not apply in all locations) | Alcohol | Groceries, alcohol | Alcohol, groceries, more |
Summary: Best food delivery apps 2023
Grubhub and DoorDash are familiar names that have led the charge in sales. Uber Eats has been the definition of rapid growth, becoming the most widely available food delivery service with biggest userbase.
While these food delivery services may vary in size and scope and still operate very similar, they all bring something unique to the table. Give them a shot and see which one satisfies your appetite!