E*TRADE Review - Is It The Best Trading Platform For Frequent Traders?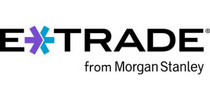 E*TRADE is perfect for frequent traders looking for no minimum investment requirement and plenty of fee-free funds. It's also a great option for folks looking for hand-off investing, through a robo-advisor.
---
Best for:
Frequent traders
Low min. investment
Managed portfolios
---
Editor's Note - You can trust the integrity of our balanced, independent financial advice. We may, however, receive compensation from the issuers of some products mentioned in this article. Opinions are the author's alone. This content has not been provided by, reviewed, approved or endorsed by any advertiser, unless otherwise noted below.
E*TRADE has rapidly become one of the most popular investment platforms, and it's easy to see why. They offer low fees for basic trading accounts and even lower ones for frequent traders.
The platform offers all types of accounts and can accommodate an almost unlimited range of investments. But in addition to self-directed brokerage accounts, they also provide several managed portfolio options, as well as banking services, complete with a line of credit collateralized by your account.
There's a lot to love about E*TRADE.
About E*TRADE
E*TRADE was founded in 1982 specifically as a platform centered on online trading for retail investors. Today the company has more than $65 billion in assets under management, more than 4,100 employees, and 30 local branches across the country. It's a publicly-traded company (NASDAQ: ETFC) headquartered in New York City.
The company has risen to fame as a discount broker, but also from its popular E*TRADE baby commercials.
But marketing aside, E*TRADE has developed into one of the very best trading platforms for any type of investor. It offers a top-level trading platform, knowledgeable customer support, the full range of investment options, as well as professionally managed portfolios. It's the perfect investment platform for anyone who wants to mix managed investments with self-directed investing.
E*TRADE features and benefits
Minimum initial investment
The minimum required to open a regular brokerage account is nothing and to open an E*TRADE Core Portfolios; it's just $500, while E*TRADE Blend, Diversified and Fixed Income Portfolios require minimums between $25,000 to $250,000.
Available accounts
Available accounts include:
Taxable individual and joint brokerage accounts
Traditional, Roth, SEP, SIMPLE and rollover IRAs and Solo 401(k) plans
Custodial accounts, trusts, and Coverdell Education Savings Accounts
E*TRADE investments offered
Available investments include:
E*TRADE
E*TRADE provides the opportunity to bank where you invest through E*TRADE.
It offers two checking account options:
E*TRADE Checking
This is a basic not interest-bearing account requiring a $100 minimum initial deposit. It comes with free, unlimited online bill payments, an ATM Visa debit card, free initial checkbook order, and no monthly account fees.
E*TRADE Max-Rate Checking
This is an interest-bearing checking account (paying 0.05% on all balances) with a minimum initial deposit of $100, online bill pay services, mobile banking, and free, unlimited ATM fee refunds.
The E*TRADE Premium Savings Account
E*TRADE's saving account is currently paying interest of 2.10% APY on balances as low as $1. The account has a $10 monthly account fee, but that's waived if you maintain an average monthly balance of at least $1,000, have combined account balances of $5,000 with the bank, or $50,000 in a linked E*TRADE Securities or E*TRADE Bank account. It can also be waived if you execute at least 30 stock or options trades per quarter.
E*TRADE line of credit (LOC)
The LOC is available on all E*TRADE accounts, allowing you to borrow up to 50% of your eligible collateral market value. It functions as a revolving credit line offered through E*TRADE, and interest rates are typically lower than what you will pay for margin interest.
However, the limitation on the LOC is that the funds cannot be used for margin purchases of securities.
E*TRADE mobile apps
The E*TRADE Mobile App offers all the functionality of the online version. It's available at the App Store for iOS devices, 10.0 and later, and is compatible with iPhone, iPad, and iPod touch. It's also available at Google play for Android devices, 4.4 and up.
The more advanced version, Power E*TRADE app, offers the following advantages:
Customer service
Customer support is available 24/7 by live chat. Phone support is available Monday through Friday, 8:30 am to 8:30 pm, Eastern time.
E*TRADE also has more than 30 local branches in various cities are around the country.
E*TRADE account protection
Your account is protected by coverage from the Securities Investors Protection Corporation (SIPC) for up to $500,000 in cash and securities, including up to $250,000 in cash.
E*TRADE also offers $0 liability against unauthorized use of your account, as well as complete payment protection, information privacy, optional digital security ID, smart alerts by text or email, and optional digital security ID.
The E*TRADE trading platform
The E*TRADE trading platform is Power E*TRADE. It comes with the following tools and features:
Interactive Charts: Allows you to formulate trading strategies with the benefit of more than 100 technical studies and 30 drawing tools
Technical Pattern Recognition Tool: You can automatically add technical patterns on charts, helping you to understand what they mean.
Snapshot Analysis: Enables you to evaluate the risk/reward probabilities of an option to trade before going forward.
Spectral Analysis: Explore "what-if" scenarios to help you better understand the risk and reward potential of an options trade before executing it.
LiveAction: Allows you to scan for unusual options activity or stocks, showing above normal volatility. You can then click on the individual security to get more information, or place a trade.
Bloomberg TV and News: E*TRADE provides live streaming news and insights from Bloomberg directly through the Power E*TRADE platform.
E*TRADE brokerage fees and pricing
E*TRADE's fee structure is as follows:
Stocks, ETFs, and options: Basic trading fee of $0 per trade, plus $0.65 per option contract.
Bonds: $0 for US treasuries purchased at auction or on the secondary market. Other bonds are $1 per bond, with a $10 minimum and a $250 maximum. There is an additional $20 commission for broker-assisted trades.
Mutual funds: $0 for no-load, no transaction fee funds. $19.99 per trade for transaction fee funds. $49.99 early redemption fee on no-load, no transaction fee funds.
Commission-Free, No-Transaction-Fee Funds: E*TRADE offers more than 250 commission-free ETFs, from major providers like Vanguard and iShares. They also offer more than 4,400 no-load, no-transaction-fee mutual funds.
Futures: $1.50 per contract, per side + fees. Bitcoin futures are $2.50 per contract, per side + fees.
Managed portfolios: Fees are described in each of the four managed portfolio sections listed below.
Retirement accounts: There are no monthly or annual fees for these accounts. However, there is a $25 charge for early withdrawals taken before age 59 ½, excess contribution removal, and recharacterizations. However, these fees will be waived with combined E*TRADE securities account balances of at least $100,000, or with 30 or more trades in the last quarter.
E*TRADE Core Portfolios – E*TRADE's Robo-advisor
Core Portfolios is E*TRADE's robo-advisor, offering complete professional investment management. If you notice that the word "portfolios" is plural, that's not a coincidence. The plan offers three different portfolio options:
Core Portfolios – This is the basic portfolio, comprised of US and international stocks and bonds.
Core Portfolios: Socially Responsible – This portfolio includes ETFs that focus on companies with favorable environmental, social, and governance practices.
Core Portfolios: Smart Beta – This is an actively managed portfolio in that includes a Smart Beta ETF. Smart Beta offers the ability to outperform the market, by favoring equities with certain characteristics that may improve overall performance.
One of the major advantages of Core Portfolios is that while you are given a recommended portfolio allocation, you have the option to make changes. For example, if the recommendation calls for 90% stocks, you can choose the lower it to 75% if that works better for you. Only a handful of robo-advisors enable you to participate in the investment process in this way. All taxable portfolios also offer tax loss harvesting.
Core Portfolios requires a minimum investment of $5,000, and has an advisory fee of 0.30% per year.
Other E*TRADE managed portfolio options
E*TRADE offers three other managed portfolio options for larger accounts:
Blend portfolios
You'll work directly with a financial consultant to create a customized portfolio. It will be designed based on your investment goals, tax situation and strategy preferences. Once constructed, it will be completely managed for you. The portfolio contains ETFs or mutual funds, or a combination of both. You'll need a minimum investment of $25,000, and the annual advisory fee starts at 0.90% for portfolios up to $100,000, stair-stepping down to.0.65% on accounts of $1 million or more.
Dedicated portfolios
Similar to the Blend Portfolio, you'll work with a financial consultant to design a customized portfolio. Except this portfolio adds stocks to the investment mix of ETFs and mutual funds. The portfolio is actively managed, which means it attempts to outperform the underlying market. The account requires a minimum of $150,000, with an annual fee of 1.125 % on the first $1 million. The annual fee gradually declines to 0.95% for accounts over $5 million.
Fixed income portfolios
For investors looking for a fixed income portfolio, E*TRADE offers this option. You'll work with a financial consultant, and you'll get a custom bond portfolio built by a portfolio manager. Portfolios can be designed for both taxable and tax-free accounts. The portfolio is invested in either investment-grade corporate bonds or municipal and US government bonds. You'll need a minimum of $250,000 to open an account, and fees start at 0.75% per year on the first $1 million. They gradually decline to 0.65% on portfolios over $3 million.
Fixed Income Portfolios also offers Laddered Portfolios at a reduced fee. This portfolio minimizes risk by purchasing bonds with staggered maturities. Since it's not actively managed, the fee structure is lower, starting at 0.45% for the first $1 million, then declining to 0.35% on accounts over $3 million.
Who is E*TRADE best for?
E*TRADE is an excellent choice for virtually any type of investor. But it will certainly be best for the following specific types:
Fund investors
With more than 250 commission-free ETFs, and 4,400 no-fee mutual funds, investing in funds through E*TRADE is a great strategy to maximize the return on investment from your funds.
Investors looking to blend managed portfolios with self-directed investing
Four managed portfolios give you the ability to have at least some of your portfolio (or even all, if you choose) professionally managed, while being able to engage in self-directed investing through your brokerage account.
Options traders
The Power E*TRADE platform is particularly well-suited to options trading. In fact, it's generally regarded as one of the top options platforms in the industry. If you're a frequent options trader, E*TRADE is a good choice.
E*TRADE is also a solid choice if you like to do your banking where you invest. It's not full-service banking, since they don't offer certificates of deposit or most loan types. But they do provide interest-free checking, high-yielding savings, and a low-interest line of credit secured by your investment account.
Pros & Cons
P
r
o
s
Lower fee structure for frequent trades — $0 stock trades can't be beat.
Low minimum initial investment — No minimum gets a brokerage account opened for you.
Managed portfolios — E*TRADE offers no less than four managed portfolio options.
E*TRADE — Allows you to bank where you invest. Offers free checking, high interest savings, and a low interest line of credit secured by your investments.
Fee-free funds — 250 commission-free ETFs and 4,400 no-transaction-fee mutual funds.
Hybrid investment options — Excellent platform to mix both self-directed investing with managed options.
C
o
n
s
High fees on most managed portfolios — Fees range from a low of 0.30% on Core Portfolios to a high of 1.125% on the Dedicated Portfolio. These are higher than many competing platforms.
Phone support limited to weekdays only — This is in contrast to some competing brokerage firms that offer 24/7 customer service.
Summary
If you're a frequent trader looking for a low-minimum investment account, and plenty of fee-free funds, E*TRADE may be everything you've been looking for.
E*TRADE also has plenty of managed portfolios, for those looking for hands-off investing.
Read more