Vanguard Digital Advisor is the perfect robo-advisor for investors who love Vanguard's low-cost index funds and want personalized guidance without paying a fortune in advisory fees.
Vanguard Digital Advisor
Vanguard Digital Advisor is a low-cost robo-advisor offered by Vanguard, the world's largest provider of mutual funds.
Vanguard Digital Advisor combines Vanguard's famous low-cost index funds with personalized strategies and advice for your unique investing goals.
Pros:
Vanguard's unmatched reputation

Advisory fees as low as 0.20%

ESG option
Cons:
Not for active traders or stock pickers

$3,000 account opening minimum
Learn More
Vanguard Digital Advisor can help you grow your investment portfolio for retirement or other goals by selecting, trading, and rebalancing investments for you.
What is Vanguard Digital Advisor?
With millions of customers around the world, Vanguard has become one of the largest investment companies in the world. Vanguard was founded in 1975 by John Bogle, a professional investment manager who believed that investing in low-cost index funds was the best strategy for everyday investors. Though it was a radical idea at the time, Bogle was onto something. Vanguard now manages nearly $8 trillion in assets for clients around the world.
Vanguard Digital Advisor is Vanguard's robo-advisor service that provides guidance for investors who want help planning for retirement and other goals, choosing investments and managing their portfolio over time.
How does Vanguard Digital Advisor work?
You can easily sign up for Vanguard Digital Advisor from the main page of their website. Just click "Ready to Sign Up?" on the homepage and you will be on your way!
Vanguard Digital Advisor will then provide a brief introduction of the services offered, as well as an option to log in if you've already created an account in the past. If you are new, start creating an account by selecting "Continue".
First, you'll need to provide your name, email address, and date of birth. You'll also be asked whether you're still working or are retired.
Next, it is time to set up a username and password, as well as a security question. The security question will help you access your account if you ever forget your login information, so make sure to choose a question that you will remember the answer to, like the name of your first pet.
Once you have created your login information, the next screen prepares you for the questions to come. You'll need to know your retirement goals, as well as all your current income sources. To make the process easier, gather any information that you might need before clicking "Continue".
Once you've clicked through, the next step will ask you about how you file your taxes, like the specific state that you file in. This helps Vanguard's Digital Advisor direct you on saving for your future.
Next, you will need to answer some questions about your annual salary, how often you're paid, and any additional income your household receives.
You'll then need to tell Vanguard Digital Advisor about your current savings situation. At this step, you can connect to a savings account and let the advisor tally up what you've already saved.
Connecting an account is advised, as it can help ensure a more accurate depiction of your savings. But, if you haven't started saving for retirement, that is fine, too! You can input "$0" into the answer field.
Vanguard Digital Advisor uses this figure to help track how you are already doing with your retirement goals and to project your retirement outlook.
Now, you will be prompted to input the percentage of your income that you are setting aside for retirement. If you aren't already doing so, now is a good time to start!
Next, Vanguard Digital Advisor will need information on your monthly expenses. If you aren't sure what your total is, you can click through the link to the handy "expense worksheet."
This worksheet helps you to break down your monthly spending by asking you to input how much you spend on things like housing, healthcare, and entertainment.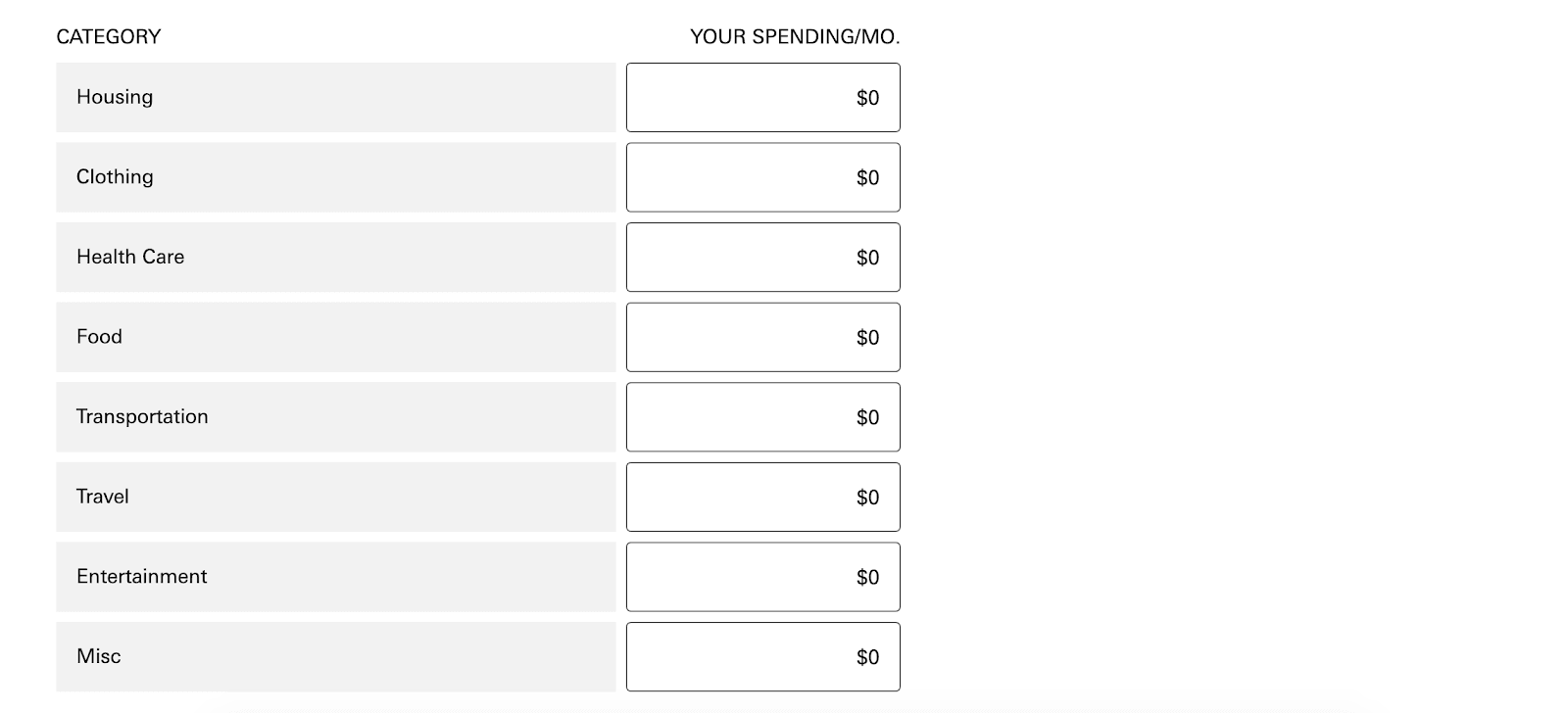 Now, in order to advise, select, trade, and rebalance your investment options, Vanguard Digital Advisor needs to determine your comfort with risk. You can adjust this level later if you realize you weren't conservative enough – or your adventurous side kicks in.
There are six scenarios you'll need to complete. You can do this by moving the slider to the left, or right, to state how much (or how little) you'd be willing to risk for a potential gain.
As you move the slider, you can see below it how much your willingness to accept risk affects your potential gain.
Vanguard Digital Advisor uses something called a glide path to show the strategy that Digital Advisor will take with your retirement-geared investments. Here is what that looks like with the risk level set at moderate:
Next, Vanguard Digital Advisor will gather information on your planned retirement by asking you when you would like to retire. In this field, you will enter an age range. You don't have to be exact with this since your retirement is likely far off in the future and not set in stone. If you don't know your plan quite yet, take a guess and you can adjust your strategies as your retirement plans become clearer.
Vanguard Digital Advisor makes the next step easy by providing an estimate of your future Social Security earnings for you. These are based on your planned retirement age, your birthdate, and your income. If you prefer, though, you can input your own estimate.
Some things can affect your retirement income, like continuing to work after retirement. If you plan to keep working, or you'll have a pension, this next step will give you a chance to include that into Vanguard Digital Advisor's calculations. All you have to do is check the boxes next to the relevant answers.
Once you've helped Digital Advisor estimate your post-retirement income, you'll need to factor in how much you'll spend. Vanguard Digital Advisor makes this easy, too, letting you simply input a percentage of what you're spending now.
Next, you'll see a chart that visually represents how much you'll have at retirement based on what you save now. You can change the monthly savings amount below the graphic, as well as the retirement age and number of years you'll live after retirement.
You can also see, for example, how much saving $100 a month can potentially affect your retirement goals.
Vanguard Digital Advisor assesses your choices and lets you know how well-funded your retirement savings will be. The information will then be put to use in getting you started with investing.
To use the Vanguard Digital Advisor, it is important to note that you'll need a Vanguard Brokerage account, which is registered as one of the following:
Individual taxable account.

Traditional IRA.

Roth IRA.
You will be asked to choose which account you would like to open for the Digital Advisor.
Once you select your account type, you will be directed to a different area of the Vanguard site. From there, you will be walked through the steps of ensuring that your account is set up. You'll need to provide your Social Security number, as required by federal regulations.
Vanguard Digital Advisor pricing

Vanguard Digital Advisor charges an annual advisory fee equal to 0.20% of your invested assets for index-fund portfolios. (If you want to add actively managed funds to your portfolio, the fee jumps to 0.25%).

New clients will pay no advisory fees for the first 90 days.

Vanguard Digital Advisor features
Although there are plenty of platforms to help with investing, there are several things that make Vanguard Digital Advisor stand out.
Easy-to-use interface
Vanguard Digital Advisor is a professional investment manager that makes advanced retirement planning easy. The interaction is all-digital, straightforward, with an easy-to-use interface.
Low minimum balance
All you'll need to get started with Vanguard Digital Advisor is $3,000 to invest. From there, you can start adding money, but it's comforting to know you can get started investing through a big-name investment company with a relatively low amount.
Low-cost investing
Vanguard strives to keep costs low by focusing on exchange-traded funds (ETFs), which keep fees to a minimum and have a low barrier to entry. Not only can you start investing with less money than would be required with other investment options, but Vanguard Digital Advisor's rates are low.

Robust dashboard
In the dashboard, you can see, at a glance, what your current assets are – as well as quickly access tools like a debt payoff calculator which lets you enter various monthly payments and see how your interest payments change and get an estimated date for when you'll be debt-free. This can be a huge help when you are creating a debt pay-off plan.
To dig in a little deeper, you can look at where your retirement savings balance is coming from. You can add the accounts you have with other financial institutions and see everything in one place.
Trusted name
With Vanguard Digital Advisor, you'll also have confidence knowing your funds are in the hands of one of the world's top investment companies.
Best of all, the robo-advisor is built on top of the respected Vanguard methodology so you'll benefit from that experience.
Investment options
Another great thing about Vanguard Digital Advisor is that your investment type is personalized. Although all of your investments will be in ETFs, your portfolio will be a customized combination of:
Vanguard Total Stock Market ETF

Vanguard Total International Stock ETF

Vanguard Total Bond Market ETF

Vanguard Total International Bond ETF
All of these are well-known classes of Vanguard ETFs.
Automatic rebalancing
After Digital Advisor selects and buys the ETFs noted in the previous section, the service automatically rebalances how much goes into each of those ETFs when it strays too far from the target asset allocation for the portfolio.
Retirement plan outlook
When investing, we all want some reassurance that you'll have the income needed to retire comfortably. The platform uses algorithms to not only help you set targets but to make sure you're on track to reach them. Vanguard Digital Advisor goes through thousands of possible scenarios and uses the information to provide a forecast of where you'll be when you reach your target retirement date. If you don't like what you're seeing, you can tweak my retirement savings strategy to correct your course.
Future growth
One of the most exciting things about Vanguard Digital Advisor is that it's still in the early stages. There's plenty more to come in the near future. Two new features are already in the works.
One is a feature that will help you determine how much you need to set aside for emergencies. Another will help you consider options for when you have a little extra money.
Who is Vanguard Digital Advisor best for?
Vanguard brokerage account holders (new or existing)
You don't have to have an account with Vanguard to use Vanguard Digital Advisor's retirement calculator, but you'll need to set one up for it to do its work. That said, I like that you can put part of your money with Vanguard and have funds in other accounts, too, then link them all up in Vanguard to see everything in one place.
New investors
Investors only need $3,000 to get started. But the easy-to-use interface makes it easy to see exactly what you need to do to live comfortably when retiring.
Consumers eliminating debt
Before you can start putting significant money away for the future, you'll probably first need to deal with your current expenses. Vanguard realizes that and builds tools like the debt payoff calculator.
Who shouldn't use Vanguard Digital Advisor?
People who wish to have hands-on control over their investments
Robo-advisors work best when you're willing to answer some questions and let the technology do the rest. If you are someone who wants to have control over all of your investments, Vanguard Digital Advisor won't be the right match for you.
Those wanting human advice
As advanced as robo-advisors have become, some people simply prefer the human touch. This isn't an option with Vanguard Digital Advisor, so you may want to look at other options if you'll want to interact with someone.
For a human-centered approach, Vanguard recommends its Personal Advisor Services, but the fee for that is slightly higher, at 0.30%.
Pros & cons
Pros
User-friendly interface — Investing can be daunting, but Vanguard Digital Advisor's approach makes it easy for even a novice like me to figure out where to start.
Low fees — You'll pay a target annual net advisory fee of about 0.15%, which is lower than other robo-advisors.
Low barrier to entry — With just $3,000, you can get started saving for retirement.
Full financial picture — Link to other financial accounts, and the Digital Advisor will take those assets into account when helping you plan your retirement.
Automatic funds management — If you prefer a "set it and forget it" approach, Vanguard Digital Advisor can take care of that.
Personalized investments — With Vanguard Digital Advisor, your money will be put into a personalized combination of ETFs designed to reduce your risk and maximize your earnings.
Debt reduction — Vanguard Digital Advisor can help you save to meet your goals of reducing your total debt.
Cons
No human advice — If you want to talk to a human advisor, Vanguard recommends their Personal Advisor Services, which comes with a fee of about 0.30%.
The competition
| | Vanguard Digital Advisor | Betterment | Wealthfront |
| --- | --- | --- | --- |
| Minimum investment required | $3,000 | $10 | $500 |
| Fees | No advisory fees for the first 90 days; 0.20% in advisory fees for an all-index portfolio or 0.25% for an active/index mix | 0.25% for Digital plan and 0.40% for Premium plan | 0.25% per year on amount invested |
| Unique features | Link to all your financial accounts, and the Digital Advisor will take those assets into account when helping you plan your retirement | All trading and rebalancing handled automatically | Automatically manages your money from direct-deposited paychecks |
Vanguard Digital Advisor stands out for its guided advisory approach, but there are other platforms that automate investing. Here are a couple of options to consider.
Betterment
If you took the Vanguard Digital Advisor risk assessment and ranked low to moderate, Betterment's strategy might be a good alternative. The platform helps to manage your money in a way that keeps risk at a minimum. It does this by filling your portfolio with low-cost, globally-diversified funds.
Like Vanguard Digital Advisor, Betterment has tools that do the trading and rebalancing on your behalf. You simply monitor the results. Betterment sets up your portfolio and manages it based on the information you provide about your own goals and risk tolerance.
Check out our full Betterment review here.
---
Wealthfront
Wealthfront uses a technology called Self-Driving Money™ to automatically manage your finances. Like Vanguard Digital Advisor, Wealthfront invests your funds in ETFs to keep your costs – and your risk – low.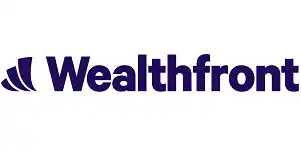 Wealthfront
Wealthfront is designed for young professionals, anyone from passive investors who want expert digital guidance, to people who want to be smarter with money. Investment management is automated with tried-and-true algorithms but strategic—and tuned in to your individual risk level.
Low fees, free planning guides, and multiple tax perks make Wealthfront worth a look.
Offer: Start investing today to get a $50 bonus with Wealthfront. Promotional terms apply.
Pros:
Automated management

Tax-loss harvesting

Ability to customize portfolios
Cons:
No fractional shares of ETFs in automated accounts

No human advisors
Get $50 bonus
MoneyUnder30 receives cash compensation from Wealthfront Advisers LLC ("Wealthfront Advisers") for each new client that applies for a Wealthfront Automated Investing Account through our links. This creates an incentive that results in a material conflict of interest. MoneyUnder30 is not a Wealthfront Advisers client, and this is a paid endorsement. More information is available via our links to Wealthfront Advisers.
One thing that sets Wealthfront apart is its full money management. Simply have your paycheck direct deposited into your Wealthfront account and the algorithms can do the rest. This includes paying your bills, making sure your emergency fund stays fully funded, and putting money toward your investments.
Check out our full review of Wealthfront here.
Summary
Vanguard Digital Advisor offers a dashboard that will help you invest while also keeping an eye on your financial health, all in one place. In reshaping and improving the experience of saving for retirement, Vanguard Digital Advisor is helping to make it easier and less overwhelming to get started with investing.
Vanguard Digital Advisor is an all-digital service. Digital Advisor's annual net advisory fee is approximately 0.15% across your enrolled accounts for a typical investment portfolio, although your actual net fee will vary depending on the specific holdings in each enrolled account. Vanguard Digital Advisor charges a 0.20% annual gross advisory fee to manage Vanguard Brokerage Accounts. However, we'll credit you for the revenues that The Vanguard Group, Inc. ("VGI"), or its affiliates receive from the securities in your Digital Advisor managed portfolio (i.e., at least that portion of the expense ratios of the Vanguard funds held in your portfolio that VGI or its affiliates receive). Your net advisory fee can also vary by enrolled account type. The combined annual cost of Vanguard Digital Advisor's annual net advisory fee plus the expense ratios charged by the Vanguard funds in your managed portfolio will be 0.20% for Vanguard Brokerage Accounts. For more information, please review
Form CRS and the Vanguard Digital Advisor brochure.
Enrollments in Vanguard Digital Advisor require at least $3,000 in each Vanguard Brokerage Account. For each taxable account you wish to enroll, the entire balance must be in the brokerage account's settlement fund (which is Vanguard Federal Money Market Fund). For each traditional, Roth, or rollover IRA you wish to enroll, the entire balance must be in certain allowable investment types (based on eligibility screening by Digital Advisor at the time of enrollment) and/or the brokerage account's settlement fund. We'll invest your assets in a portfolio of Vanguard ETFs, all of which are commission-free through a Vanguard Brokerage Account. Vanguard Brokerage Accounts are offered through and maintained by Vanguard Marketing Corporation ("VMC"), a registered broker-dealer and member FINRA and SIPC. If you decide to manage your investments on your own, you can buy and sell Vanguard ETF Shares through Vanguard Brokerage Services® or another broker (which may charge commissions).
Vanguard Digital Advisor's services are provided by Vanguard Advisers, Inc. ("VAI"), a federally registered investment advisor. VAI is a subsidiary of VGI and an affiliate of VMC. Neither VAI, Digital Advisor, VGI, nor VMC guarantees profits or protection from losses.