Improving your financial literacy can have a huge impact on your financial future. Read on to learn what financial literacy is and why it's such a powerful and important concept.
One of the best things I've ever done for myself is to improve my financial literacy.
Why?
Well, let me tell you!
Becoming financially literate has put me in control of my financial situation. You know the saying, "knowledge is power"? Well, it's true. When you know about your money – how to save it, spend it, and invest it – it gives you power.
When you know about your money, you are no longer at the mercy of someone else. You don't need to rely on the knowledge of another to tell you what to do. You don't have to put your trust in someone who might not have your best interest at heart. You put yourself in the driver's seat and you give yourself the ability to make informed decisions about your money that will benefit you.
Understanding investing can seem impossible, but Public is here to help – they make investing easy-to-understand, and even easier to start
While I believe financial literacy is important for everyone, I know it is especially important for women. More and more women are taking on the role of primary bread earners however, women are still not investing as much as men.
Today, I'll dive into the different aspects of financial literacy and offer tips for everyone, so no one has to stand on the sidelines and let their finances run their lives.
What is Financial Literacy?
So, what is financial literacy?
Let's break it down.
Literacy refers to the ability to read and write.
To take it a step farther literacy also includes the ability to understand, interpret, and communicate about a particular concept.
You are financially literate if you can read about and have conversations about finances, understand these topics, interpret them, and apply them to your life to improve your financial well-being.
How to Measure Financial Literacy
The Organization for Economic Co-operation and Development (OECD) has created a toolkit that is used to measure financial literacy and financial inclusion. This toolkit has been used to look at the financial literacy of diverse populations since it was initially piloted in 2010. Since then approximately 40 countries and economies have participated in the survey about adult financial literacy.
Some of the interview questions that are asked in regards to adult financial literacy include the topics of:
Planning and managing finances: (e.g. "who is responsible for making day-to-day decisions about money in your household?" How finances are tracked – such as the use of a banking app).

Active savings and financial shocks:

(Questions about how money is saved in the household (cash, bonds, investments) if you would be able to respond to a financial expense without borrowing money).

Financial goal-setting:

(Do you have any personal financial goals? If so, what actions have been taken to achieve that goal?).

Retirement plans:

(Confidence around financial plans for retirement, how you plan to fund your retirement).

Making ends meet:

(Does your income cover your living expenses? What do you do if you can't make ends meet (take money out of savings, use credit, etc.)?

Financial products and services:

(Have you heard of/do you hold any of the following products such as mortgage/hold loan/credit card/insurance/stocks etc.).

Attitudes and behaviors:

(Questions about how people feel about money – do you find it satisfying to save for the long term vs. money is there to be spent, do you worry about paying bills, etc.).

Financial knowledge:

(How would you rate your overall knowledge when compared with other adults in your country).

Household specific background information:

(How often you read, use the computer, watch t.v., etc.).
Why is Financial Literacy Important?
Think about this, how often do you make a financial transaction? This is everything from paying your rent, mortgage, or car payment to buying groceries or getting a massage. Most of us engage in multiple financial transactions every day.
You make multiple financial decision every day
Don't you think it's important to be knowledgeable on a topic that you are applying to your life multiple times per day?
I think we are doing a huge disservice to students by not having financial literacy be a part of the curriculum. Perhaps things are changing but when I was a student we were not taught the basics of personal finance. Even as I entered university and graduate school, I never encountered a class on personal finances. Of course, I was not in a business or finance program but, I would argue that a course in personal finance should be mandatory for everyone.
I'm not suggesting that trigonometry and physics aren't important parts of our education but, I don't use Pythagorean theorem or ponder quantum theory on a daily basis. I do, however, have to use my financial knowledge and skills to pay my mortgage, make a budget, and contribute to my retirement savings.
You want to avoid financial mistakes and financial catastrophes
There are a countless number of ways to screw up your finances. Whether it's using your student loans to fund a vacation or not paying your credit card off in full each month. Becoming financially literate can help with all of these things.
In the words of the great Maya Angelou,
"When you know better, do better."
When you know more about how credit works, how to automate your finances, and how to invest your money then you can do better financially.
On the other hand, if you don't understand interest rates or how the stock market works or even how to create a simple budget then it's difficult to make informed financial decisions.
You want to achieve long term financial goals
All of us have visions of what we want our future to look like. Whether it's retiring early and sailing around the world or just being able to help your kids pay for college, these goals cost money and require good financial decision making.
Financial literacy can help you to achieve your short and long term financial goals. Simply recognizing that you need to save for retirement or that you should open a 529 college saving plan for your children's education is a result of financial literacy.
How to Become Financially Literate
If you weren't lucky enough to have financially savvy parents who took the time to impart their money wisdom to you, all is not lost. I have some great news – there are tons of super accessible money resources available to help you improve your financial literacy. If you have the will (and you should have a will), then there are many ways to achieve this goal.
Money blogs and websites
The fact that you're currently reading this article on a personal finance website means you're off to a great start on your quest for financial literacy! You just need to keep going.
Read all of the reputable money content that you can get your hands on. The more you read, the more you learn. While some topics and concepts might seem foreign at first, it will get easier. One tip is to keep a running list of all of the financial concepts you don't understand and then keep looking them up. When I was improving my financial literacy Google was my best friend.
It takes time but soon the dots will connect and you'll start to speak the language of finance.
Personal finance podcasts
In our busy lives, it can be hard to carve out time to read all of the financial content. Another way to absorb this information is to listen to some awesome personal finance podcasts. When you are out for a walk or driving around doing errands you can turn on a podcast and learn while you're on the move.
Again, I found it helpful to keep a list of terms and concepts that I didn't understand in the notes app of my phone so I could look them up when I got to my computer.
Some of the personal-finance podcasts I listened to (and some I still do) include:
The Stacking Benjamins Show:

If you're looking for a light-hearted approach to personal finances this is a great choice. I was drawn to the conversational style that is offered by Joe and the Stacking Benjamin gang. This podcast is fun, sarcastic, and easy to follow.

SO Money with Farnoosh Torabi:

The SO Money podcast offers up a ton of amazing interviews with some of the world's top business minds from Tim Ferris to Barbara Corcoran and Arianna Huffington. Farnoosh also regularly addresses her listeners' specific personal finance questions – so, if you have a burning question you can send it in.

The Side Hustle Show:

If you're interested in starting a side hustle to make some extra money then this is the podcast you should be listening to. I love Nick's calm conversational style and I find that he gives some incredibly simple yet actionable tips during each episode.

Mo' Money Podcast with Jessica Moorehouse:

Jessica is Canadian, so her content is often directed at Canadians but she also has a lot of American guests on. I found this to be a great podcast for beginners and I like the informal and playful approach that Jessica takes.

Smart Money Mamas Show:

This podcast is great for busy moms who want to get a handle on their finances. The host, Chelsea, is a hedge fund investor turned online entrepreneur and she has built an amazing online community for women (specifically, moms). Chelsea discusses everything from investing to side hustles and even self-care.

Afford Anything with Paula Pant:

Paula is a former newspaper reporter turned freelance writer and real estate investor. Her podcast helps listeners determine how to make smart decisions about their money, time, and life and how people can align their daily behaviors and habits with the lifestyle that they value the most.
Find a financial mentor and/or financial advisor
Do you know someone who is really great with money? Maybe your mom or dad are amazing investors but never talked to you about it. Or, maybe you have a friend who works in the financial sector.
If you know someone who appears to have a great handle on their finances, meet them for coffee (in person or virtual) and ask if you can pick their brain. You can ask if they would be interested in a formal mentor-mentee relationship or even if they're willing to meet for an informal chat every once in a while.
If you don't know someone (which many of us don't), another great option: you can find a 5-Star Rated Financial Advisor using The Paladin Registry.
The Power Behind Financial Apps
There are also a number of apps you can check out that do a great job of promoting and supporting financial literacy. These include:
Public
Public is a social investing app. Their goal is to make investing more of a social experience. With the Public app, you're able to follow other investors, discover new companies that you might want to invest in, and also start investing with small sums of money.
The social nature of the Public app helps to promote financial literacy. By connecting with other people you are able to share ideas and wisdom on the topics of investing and finance. With the use of the Public app, you don't have to approach investing alone. You can follow other investors and share your financial insights.
Visit Public to learn more or read our Public review
Robinhood
Robinhood provides access to commission-free investing and requires no account minimum.
With the Robinhood app, you can manage your cash and invest in stocks, options, and even cryptocurrencies. Robinhood also offers a ton of content and articles on its website with the goal of making investing a little more accessible for beginners.
Visit Robinhood to learn more or read our Robinhood review.
Advertiser Disclosure – This advertisement contains information and materials provided by Robinhood Financial LLC and its affiliates ("Robinhood") and MoneyUnder30, a third party not affiliated with Robinhood. All investments involve risk and the past performance of a security, or financial product does not guarantee future results or returns. Securities offered through Robinhood Financial LLC and Robinhood Securities LLC, which are members of FINRA and SIPC. MoneyUnder30 is not a member of FINRA or SIPC."
Personal Capital
The Personal Capital app gives you access to experienced financial advisors, money management tools (e.g. how to create a budget), and long term financial planning tools. With the ability to link all of your accounts the Personal Capital App allows you to see all of your accounts and investments in one place.
This app makes it incredibly easy to track your spending and progress towards your long term financial goals.
Acorns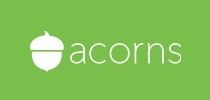 Acorns wants to help you build your money. One way that they help their users do this is through the use of tools like Round Up. The Round Up tool allows you to invest all of your spare change from everyday purchases. So, let's say you buy a muffin for $2.50 – the Acorns app would automatically round up to $3.00 and invest the $0.50 for you. It makes investing super easy.
Acorn also offers a ton of articles and videos from financial experts so that you can grow your knowledge and improve your financial literacy.
Visit Acorns to learn more or read our Acorns review.
E*TRADE
E*TRADE offers an award-winning app that allows you to trade on the market or access your accounts from anywhere. This app is designed for traders and investors who are looking for a totally digital experience.
E*TRADE is one of the older online brokerages, they were founded in 1982 and conducted their first online trade in 1983…I'm assuming that this company might be older than the majority of the people reading this.
If you're looking for access to a full range of investments and $0 commission trades then E*TRADE might be a good fit for you. The platform is easy and intuitive and their website has a ton of resources available for you to improve your financial literacy.
Visit E*TRADE to learn more or read our E*TRADE review.
The Power of Financial Literacy: See it, Do it, Teach it
A traditional method of teaching in medical school is "see one, do one, teach one."
See a knee surgery, do a knee surgery, teach a knee surgery. (Yikes!)
While I personally do not want to be the patient that is being operated on after a medical student has seen only one surgery – I understand the logic behind the method.
The idea is that as you acquire more responsibility, you become more independent. As humans, we also learn through experience. So, the only way to know if you can really perform knee surgery is to….well, perform knee surgery.
The same thing applies when it comes to your finances. You can read every single financial blog, website, and book there is but, if you don't start to apply some of the concepts and take action then you're never going to know if you can do it.
When it comes to "teach one," it has also been said that the best way to learn is to teach. So, if you really want to embed the financial concepts into your head, find someone who knows less than you and teach them. Not only are you doing yourself a service by solidifying your knowledge of the concept but you are also helping someone else to improve their financial literacy.
Summary
While improving your financial literacy will take some time and effort, the rewards undoubtedly outweigh the effort. In my experience, improving my financial literacy was an empowering experience. It made me feel in control of my money and it led me to make a lot of changes in terms of how I manage our household finances.
Financial literacy benefits everyone. You make multiple financial decisions every single day and yet many people go through the motions ill-equipped because not everyone is given a financial education.
If you're ready to take control of your financial future, to get your debt in order, to save for your retirement, or help save for your children's college education, then make financial literacy a priority.
Read more: