While having a hefty emergency fund and sticking to multiple saving goals sounds well and good, it's a cold hard fact that 78% of us live paycheck to paycheck.
If you have bills due and payday is still a week away, you may be in a tough position. Late payments and overdrafts can lead to big fees. That's where Earnin comes in.
Instead of expensive credit card interest or predatory payday loans, Earnin gives you early access to the money you've already earned. Best of all, it's free!
Keep reading to find out more about how Earnin works and if it makes sense for you.
What is Earnin?
Earnin is an app that lets you get paid as soon as you leave work. After connecting your bank and adding some information about your job, you can use Earnin to draw up to $100 per day backed by the money you've already earned.
There's no interest and no required fees. Just pay what you think is fair. The funds you borrow are automatically deducted from your bank account on your next payday.
How does Earnin work?
Earnin is a mobile app for Android and iOS. After a quick download, you'll be ready to create an account and get started.
Once you download the app, you start by creating a new account with your email address. After verifying and creating a password, it's time to add information about your employer and how you get paid. Earnin doesn't support remote workers and may require timesheets for processing.
Next, you connect your bank account. You need to connect the account so Earnin can pay you and deduct the portion of your paycheck on payday. I was able to connect my bank easily by entering my account's username and password in about a minute.
The next step is connecting to your employer. If your employer isn't already part of Earnin, it's easy to add your company.
When adding my workplace, I had to give location access to the app to know where I am all the time, which I wasn't excited about. I'm guessing this is so Earnin can tell if you really went to work.
After adding your workplace, you choose your primary checking account and can sign up for optional balance alerts if your account drops below a minimum balance you pick.
To get instant access to your cash, you'll need to add a debit card to your account. You can also set up a fingerprint login if your phone supports it.
That's it, you should be good to go!
Depending on your employer and bank, there may be a short delay finalizing your account for early withdrawals. In the meantime, you have access to the Earnin dashboard where you can learn more and access other services.
How much does Earnin cost?
Earnin comes with an unbeatable price: $0. That's right, it's completely free! There is no interest and no requirement to pay any fees. You don't have to pay a penny if you don't want to, but Earnin hopes you will pay a little something.
Instead of a fee, Earnin asks you to pay what you think is fair as a tip. Whether that's $1, $5, or a specific percentage of what you borrowed. Earnin encourages you to tip after each Cash Out. According to the website, Earnin is 95% community-supported and operates primarily using the tips from its members.
Earnin features
While it is best known for wage access, Earnin has some other useful features as well.
Here's a rundown on what you can find in the Earnin app:
Early wage access
The flagship feature of Earnin is early access to the money you've already earned. A payday loan alternative, this feature is completely free. Just pay what you think is fair.
Lightning speed payments
Connect your debit card to your account to enable instant payments. Using your debit card, Earnin can send funds to your account in minutes.
This works on evenings, weekends, and holidays. If you don't add Lightning Speed to your account, you will get paid in 1-2 business days in most cases.
Balance Shield
Because Earnin is already connected to your bank account, it can keep tabs on your balance for you. All users can view your balance when you log into Earnin on your phone. With the free Balance Shield turned on, Earnin will notify you if your balance falls below a specific level.
Health Aid
A newer feature in the Earnin App, Health Aid, helps you save money on medical costs. You upload your medical bill and Earnin will look for opportunities to save. A Community Advocate negotiates a lower bill or payment plan. Like the early payday feature, just pay what you think is fair.
Cash Back Rewards
Another newly added feature, Cash Back Rewards is a program to earn 1% to 10% cash back at thousands of partner stores. Shop through links in the Earnin app and you'll earn the bonus cash back.
Who should use Earnin
People who live paycheck to paycheck
Earnin is best for people who generally have a good handle on their finances but sometimes feel the squeeze on bills before payday.
People who carry a credit card balance
If you regularly carry a balance on your credit card, you may be paying big interest costs. Earnin, with no interest or fees, is a great alternative.
People who use payday loans
Payday loans are pretty much the worst financial product out there. If you ever take out payday loans, Earnin is a much better choice.
Pros
Get paid before payday — Withdraw up to $100 per day as soon as your shift ends. This increases to $500 per pay period if you use the app and successfully pay it back and show your ability to use the app responsibly.
No interest or fees — There are no required charges to use Earnin. Just pay what you think is fair.
Get paid instantly — Add a debit card to activate Lightning Speed. With a linked debit card, you can get paid near-instantly 24/7.
Cons
Doesn't support all jobs — You need a fixed work location that isn't at home or an online timekeeping system at work to use Earnin. You must be paid on a regular schedule with at least 50% of your direct deposit sent to a checking account.
Location access required — The app requires location access to function properly. This is a big privacy ask.
Earnin's competitors
| | Fees | Payment speed | Maximum |
| --- | --- | --- | --- |
| Earnin | Free (pay what you think is fair) | Instant | $100 per day / $500 per pay period |
| Even | $8 per month membership fee | Instant | Up to 50% of current net pay |
| PayActiv | $5 per pay period used | Instant | 50% of unpaid earnings up to $500 |
Even
Like PayActiv, Even connects to employer payroll systems to give employees early access to wages. Even allows you to put those wages into savings.
It charges an $8 per month membership fee with no other fees, interest, or costs.
PayActiv
PayActiv is an app that offers early access to earn wages as an employee benefit. It is free for employers and $5 per pay period used for employees.
There are no recurring charges or subscriptions. PayActiv members get access to an assortment of free financial wellness tools and can access funds in a variety of ways. You can only sign up if your employer offers PayActiv as a benefit, so talk to your HR department to find out if it is available.
My experience using Earnin
Easy to use mobile app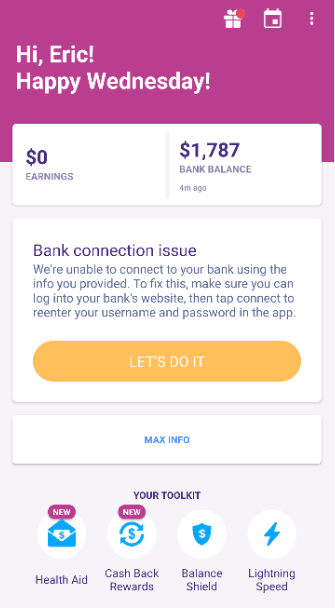 I gave the Earnin signup process and app a test run, though I didn't go through the entire withdrawal process. In my experience, the app is intuitive and easy to use. It supports one of the widest range of workers of any competing app.
Early access to wages
Once I was logged in and everything was set, I was easily able to get access to a portion of my paycheck early.
This is a great option if you're in a serious cash crunch and need relief until your next paycheck comes, this is a great alternative to expensive, predatory payday loans.
Low costs
Earnin hopes you will find the service worthwhile and does give you an opportunity to pay, but I wasn't hit with any charges for the core early wage access service. I really did just pay what I thought was fair.
Summary
Hopefully you manage your finances in a way that you have a cash cushion and live on a budget that doesn't stretch you too thin. But in reality, 78% of Americans live paycheck to paycheck, according to a study by CareerBuilder.
If you ever run into a difficult situation where you need quick access to funds, Earnin is a great way to do it. Check out Earnin today to sign up and learn more.
Read more