Advancements in technology have provided a lot of options to investors. If you have no idea about where or how to invest your money and robo-advisors don't appeal to you, then Fisher Investments might be the right place to start.
The company provides a tailored portfolio based on your needs, similar to a robo-advisor but with a personalized human touch. 
What is Fisher Investments?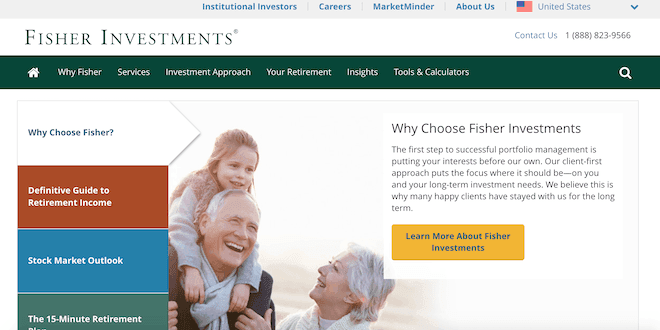 As of 2022, Fisher Investments has over $197 billion in assets under management, most of which is found within the Private Client Group of individual investors who receive advising, management, and more from Fisher. Fisher also manages more than $39 billion for corporations within its institutional investing sector and over $2 billion in employer retirement plans for businesses.
The company was founded in 1979 and continues to serve high-net-worth individuals. The term high-net-worth individuals refer to people whose net worth is at least $500,000.
How does Fisher Investments work?
Fisher Investments is solely a fee-based firm.
This implies that potential investors must pay a flat fee for investment management instead of each individual investment or trade facilitated by the firm. This structure ensures there is no conflict of interest and the company keeps your preferences in mind.
In a world where there is an ever-increasing trend of robo-advisors, Fisher Investments is a traditional human-guided investment management firm.
The significant difference between robo-advisors and Fisher Investments is that the latter doesn't take complete control of your portfolio.
An investment portfolio at Fisher Investments consists of fixed income securities (such as bonds), US and international stocks, and Exchange Traded Funds (ETFs). They are all part of an investment portfolio, and their respective weights depend upon the customer's desired goal.
How your portfolio is determined
There are many factors that Fisher Investments uses to determine your portfolio composition, such as your:
Investment horizon time

Cash flow requirements

Risk tolerance

Investment objectives

Outside income and assets

Any specific requests
Once the information has been collected, Fisher Investments will give a recommendation for your portfolio based on their assessments of the findings.
After signing up as a customer, you'll be invited to events such as client gatherings and investment roundtables for non-listed companies.
The broad and overall investment strategy is determined by the Investment Policy Committee which comprises five individuals, bringing an accumulated experience of 130 years in the investment world.
Though the main focus is on joint and personal accounts, the company also works with self-invested pensions, personal equity plans, corporate accounts, and even trusts like charity and university endowment funds.
Personal wealth management services
To get started with Fisher Investments as a Personal Wealth Management client, you will need at least $500,000 to invest.
If you qualify and sign up, Fisher Investments will provide investing and financial planning services. Let's talk more about what that looks like.
Portfolio management
As a client within the Personal Wealth Management service tier, you'll receive personalized advice from your Investment Counselor, who will work with other teams within the company to put together recommendations for your assets. 
Fisher Investments has a Portfolio Management Team that provides advising for individual investor portfolios as well as an Investment Policy Team that handles investment strategy at the company level.
Financial planning
This also includes identifying and tackling things that might be standing in your way when it comes to your long-term goals, such as your debt or spending habits. 
As a client, you'll work with your advisor to create a personalized financial plan that includes:
Estate planning

Tax planning

Financial planning

Social security maximization

Budgeting and banking support

Annuity evaluation

Insurance analysis
To do this, your Fisher financial advisor will get to know your financial situation and ask you a number of questions about your cash flow, timeline, and challenges. Then, you can review this with your adviser every year.
Read more: The financial planning pyramid: Which level are you on?
Institutional investing services
Fisher also offers exceptional service to institutional investors. Their client lists include major corporations, renowned universities, and even public pension trusts and foundations. The company has individualized strategies for each institution to ensure a path to success backed by groundbreaking market research. If you run a business and want to work with Fisher, consider this option.
Key features
Besides the experienced investment management and guidance, here are some of the other key features of the platform.
Constant updates
Through issuing periodic updates from the Investment Policy Committee, comprehensive quarterly reports, and daily online assessments, Fisher Investments strives to keep their investors updated and in the know.
Client programs
The company arranges events in over 60 cities exclusive to clients. The reason behind these events is to provide clients insight into the strategies being deployed by senior management and to make investors meet other clients. The activities include Fisher Forecast Seminars, Fisher Friends event, and even Investment Roundtables.
Attending the events is free of cost with no set limit on how many events each investor can attend. These events are an excellent platform for anyone looking for an in-depth look at the major happenings of the investment world.
Investment calculator
To arrive at your preferences for investments, you may require the use of external tools sometimes. Fisher Investments provides you with such calculators for your benefit and ease.
For example, the company has a 401(k) calculator to assess how significant or minimal changes can affect your retirement plan. It considers your salary, years left to retire, the percentage of salary being contributed, and estimated return on investments.
Fees and pricing
Fisher Investments doesn't charge commissions for individual trades or investments nor do they charge any hidden fees or extra charges for services rendered. Instead, the company charges a fee based on the size of your investment portfolio.
The fee ranges between 1%-1.5%, depending on the investment. Typically, balances up to $500,000 are charged a 1.5% fee while a lower fee is charged for higher balances.
A fee of this margin is competitive in the world of investment management. However, compared to robo-advisors, this fee seems much higher.
Sign up process
On its web platform, the company provides two main methods of getting in touch – a dedicated phone number and a contact form. The form offers the option of getting an appointment to an investment advisor or just sending a query. 
Fisher investments mobile app
The mobile app for Fisher Investments is only available for US residents via Apple's App Store and Google Play for Android. The app provides customers with daily news, highlights, and commentary.
Pros
Investment advice — Fisher Investments offer a detailed insight into their investment strategies. The company also provides advice and education to its clients to bring them up to speed with the latest happenings in finance and investments.
Customized and diversified portfolios — Fisher believes in the need to customize every investment portfolio, so it is aligned with the investor's preferences. With access to foreign bonds and stocks, Fisher Investments has the means to curate a diversified portfolio, one that meets your investment objectives and reflects your risk tolerance.
Personal Investment Counselor — Fisher Investments' customers have access to their own private investment advisor not on a commission.
Cons
Higher fees — Fisher Investments charges a much higher fee as compared to robo-advisors, but they also offer a more personalized and higher level of service
Who is Fisher Investments for?
High-net-worth individuals
The firm primarily caters to high-net-worth individuals, as the starting investment is set at at least $500,000. If you have no experience in building wealth through investments or don't have the time, Fisher Investments can handle it all.
Those who want a hands-on approach
People who seek a more personalized touch are at ease with Fisher Investments as they offer each client a dedicated personal investment counselor. The counselor will know your financial details and advise you with the best strategy for going forward. Investors can consult with their dedicated counselor at any time without limitations.
Who Is Fisher Investments Not for?
Day traders
Investors looking to day trade or trade more frequently, you'd probably be better served by one of the best online brokerage accounts for beginners. Look for one that doesn't charge commission fees and will allow you to trade quickly and easily. While you can invest in stocks with Fisher Investments, you may not want to wait for counseling each time you want to make a trade and you won't be able to trade directly though the platform.
Lower net-worth individuals
Not having $500,000 to invest doesn't automatically put you into the low-net-worth category, but it does put you outside of Fisher Investments' ideal client base. If you're a beginner in addition to not having half a million dollars burning a hole in your pocket, consider a different type of investment account.
Robo advisors, beginner-friendly trading platforms, and self-directed brokerage accounts are all good options.
Alternatives to Fisher
Fidelity Investments
Fidelity Investments caters to investors at all levels. Fidelity Investments charges less for self-managed accounts and has different fees for portfolio management and wealth management services. For investment accounts with a minimum balance of $50K, the firm designs a specific strategy based on your financial objectives.
Their fee generally varies and ranges from 0.20% – 1.5% with the lowest fee offered to the higher tier accounts. The company prides itself on flexibility, so investors looking for flexible options should find the firm useful.
Charles Schwab
Having a five-star rating in every category, Charles Schwab proved one of the top investment management firms in the country.
You'll need at least $1,000 to open a standard account and $5,000 for a managed account, and the firm is catering to investors at every level and not just high-net-worth individuals. Customers with an investment of $25,000 qualify for a portfolio consultation.
Edward Jones
One of the oldest companies in the industry, Edward Jones was formed in 1922. Since then, it has provided investment advice and portfolio management services. The company boasts over 13,000 offices which is more than any other brokerage firm. This has helped the company gain seven million clients.
Fees charged by the firm are slightly higher than other investment management firms. They range from 1.25% – nearly 2% for mutual fund fees.
Summary
Not everyone is at ease with managing their own investments. There is a massive trend of moving towards robo-advisors generated due to the lower fees.
The most compelling factor in choosing Fisher Investments over any robo advisor is that the company pursues active investment management as a strategy. Robo advisors use passive management which entails matching the performance of the market. Active investment strategy, which Fisher uses, aims to beat the market. Though robo advisors charge less, the personalized services offered by Fisher Investments are on a whole different level.
So if you've got money to invest and want a bit more of a white glove service, check out Fisher Investments.
Read more:
How to invest ,000: The 11 best things to do with your money
Best investment apps of 2023: Investing at your fingertips