If you're looking to make a big purchase—new furniture, musical equipment, even a coding boot camp—but don't have the cash at hand, the startup company Affirm, offers an alternative to plunking that three or four-figure balance on a credit card.
Affirm offers easy, quick financing with simple terms and no hidden fees. When making a purchase at a participating retailer you simply choose the option you like at checkout. You can sign up for an account at the Affirm website, or simply pick them as a payment option on the checkout page of their retail partners.
Unlike some personal loans, Affirm has no prepayment penalty, so if you pay your loan back before your final due date, you only pay the interest that has already accrued.
In an ideal world, unexpected expenses would always be covered by savings in an emergency fund, and big purchases would wait until you'd saved up the necessary cash. Life happens, however, and sometimes you need something you don't have the money to pay for at that exact moment. In that case, Affirm can help.
What is Affirm?
Affirm is basically a loan financing company. They allow online shoppers to purchase goods and services from online vendors and retail shops on credit. The credit can be paid off by the buyer through fixed monthly payments over time.
The main benefit of taking the credit facility route through Affirm is that they do not charge their clients any late fees on delays.
The company also charges no service or prepayment fee, or any other hidden charges. The lender offers up to $17,500 to clients in financing, directly through its partnering retailers.
How Affirm works
Affirm operates similarly to a credit card. The company allows you to make a purchase at an online store immediately and pay it back over time through fixed installments.
0%-30% interest rate
The interest rates typically go from 0% – 30%. The 0% financing option is offered only at a select few stores. Generally, borrowers have up to one year to pay the loan back.
Users are not charged extra for early repayment.
Good credit required
You need to have a good credit rating to use Affirm. When you make a purchase through the company, it carries out a soft check on your credit to assess your risk as a borrower.
The check does not affect your credit score. If you pass the check, your current credit score determines the interest rate you will be charged. The better score you have, the lower your interest rate.
A downpayment may be required
For some borrowers, the company may ask for a down payment that must be paid during purchase. This can be anywhere from 10% – 50% of the cost of the item.
Affirm may not approve the purchase if the borrower does not accept making the down payment.
Various repayment methods
Once you have been approved, Affirm offers three options to buyers at checkout.
Three-month repayment.

Six-month repayment.

12-month term.
After the buyer accepts one of their payment plans, the purchase is processed as usual. The online store will send you the product or service, and Affirm will transfer them the money for the purchase.
Affirm will then become the creditor and send you regular reminders for your monthly payments. These will generally start after one calendar month from the day that your loan is processed.
Creating and using an Affirm account
Before you can make purchases through Affirm, you will need to have an account with the lender. You can do this easily through their website.
You will need to be at least 18 years old and be a permanent resident or citizen of the U.S. to qualify. You must have a cell phone number and agree to receive texts from the company. It is also ideal to have a credit score of at least 550.
The company has also launched a mobile app that can be downloaded at the Apple store and Google Play Store to create an account.
Affirm is straightforward about what you will pay
Affirm promises you won't be hit with any hidden fees or prepayment penalties. For instance, if you come into an unexpected windfall (say, a bonus at work or a fat tax refund) and decide to use it to pay off your Affirm loan, Affirm is cool with that. They won't charge you a fee for denying them the additional interest.
Affirm won't even hit you with a late fee if you're late with a payment. (Crazy, right?) They will, however, probably not opt to give you another loan in the future. They also do not offer extensions on your loans, so be sure you pick a term long enough so your monthly payments aren't a burden.
Affirm is also an alternative to personal loans that offer fixed repayment terms and, in some cases, better interest rates than credit cards for borrowers with excellent credit. Affirm is attractive because it may offer you financing at the point-of-sale, whereas a personal loan takes between 24 hours and a week to get approved.
Affirm can help you avoid the siren song of minimum payments
Ideally, you might have access to a credit card with an introductory APR of 0% for 12 to 15 months. Then you'd be able to finance your purchase without paying any interest, provided you were able to pay it off before the introductory period ended and your interest rate shot up.
However, if you don't have access to those kinds of offers, or you know you're liable to give in to the siren song of making only minimum payments and pocketing the extra cash to spend elsewhere, then Affirm might be the better deal for you.
Affirm offers you concrete terms and a set repayment plan with a fixed monthly payment over a fixed amount of time. No need to worry about your own willpower—this will just be another monthly bill that is due in full. Do you ever waffle on paying your electric bill? I hope not.
That's not to say that using Affirm is completely risk-free, however. Like any credit product, it needs to be used responsibly. If you're a seasoned professional musician whose amp just got stolen on the first week of your comeback tour? Using Affirm to buy a new one is a no-brainer.
However, if you're a CPA who once played tuba in high school who's convinced you could be the second coming of Jimi Hendrix, if only you could get that sweet electric guitar you've been eyeing? Maybe rethink it. Making foolish purchases via Affirm is only slightly smarter than making them via a credit card with a high APR and major late fees.
Use our Loan Payoff Calculator to see how different payments and interest rates affect your loan.
Affirm's other features
Credit-building
If you do not have a high credit score or are new to the credit rating system because you are young, you may not get approved at most banking institutes for credit. However, you may still find it easy to qualify for a loan at Affirm after they have carried out a soft check on your credit history.
Once your loan has been approved and you make regular payments, Affirm will report your payments to the credit bureau Experian. Timely payments with the company will benefit your credit score, making it an excellent way to repair your credit.
Every Affirm loan you get will show up as a separate loan on your credit report, and every time you pay it on time, your credit score will rise further.
Point of sale loans
Although every company is different, point of sale loans work similarly for them all. The lender makes the payment to the retailer on behalf of the customer at the time of execution of a transaction. The outstanding balance is recovered from the customer over time.
Some of the payment companies offer the loan at 0% interest for selected stores. Others charge interest at reduced rates, 5%-10%. This is why such credit companies are gaining popularity.
Flexible payment schedules
One benefit of Affirm is that you can choose the payment plan that meets your needs. Select a plan with payback terms of three, six, or 12 months to pay off the short term credit when you want. You also get the option to choose how you pay off the credit, using online payments, bank transfers, checks, or debit cards.
Additional security
There is no credit card involved when paying through Affirm. As you do not have to provide a credit card number for any purchase made through Affirm, you will benefit from an additional layer of protection against fraud or identity theft.
Mobile connectivity
Affirm offers an easy-to-use mobile app that allows you to track your payments and manage your account from anywhere.
No late fee
In their efforts to keep your charges down, Affirm has removed all late fees on clients if they miss a payment. The customer may still get charged interest on the unpaid outstanding balance. It is more challenging to get another Affirm loan if you miss payments regularly. This could also harm your credit score.
No prepayment penalties
Most credit cards and loan issuers charge a penalty on clients for settling their credit early. This doesn't make sense from the customer's perspective. Affirm credit charges nothing extra for paying off your loan early.
If your circumstances change and you want to settle the credit early, you can do so with Affirm credit with no additional charges.
Soft credit pull
Affirm tests your credit score just like any other lender when assessing your application for approval. The significant difference is that Affirm financing will not hurt your credit score, whether you get approved or not. This is because the company uses a soft credit check, which will not show up on your credit statement.
Take multiple credits
Every credit application at Affirm is considered a separate, close-ended transaction that does not depend on existing credit lines with the borrower. That means you can have multiple Affirm loans going at once. As long as you make your payments on time, you should be good to go.
Terms and rates
| | |
| --- | --- |
| Loan amounts | Up to $17,500 |
| Typical APR | 10% – 30% (0% available at some retailers) |
| Origination fee | None |
| Funding time | Immediate |
| Payment plans | 3, 6, 12, 24, or 36 months (longer terms available at some retailers) |
| Soft credit check? | Yes |
| Qualification criteria | No minimum credit score and no minimum credit history |
| Best for | Borrowers new to credit who want to pay for a big purchase over time |
My experience using Affirm
Affirm makes things super easy for you to borrow at the point of sale. Here's a quick visual from their site to recap how it all works:
And as you can see, there are literally hundreds of stores that use Affirm as an option for payment (here's a snapshot of just a few):
So for example, right now Peloton is offering 0% financing through Affirm:
I think I'll go with the Basics Package: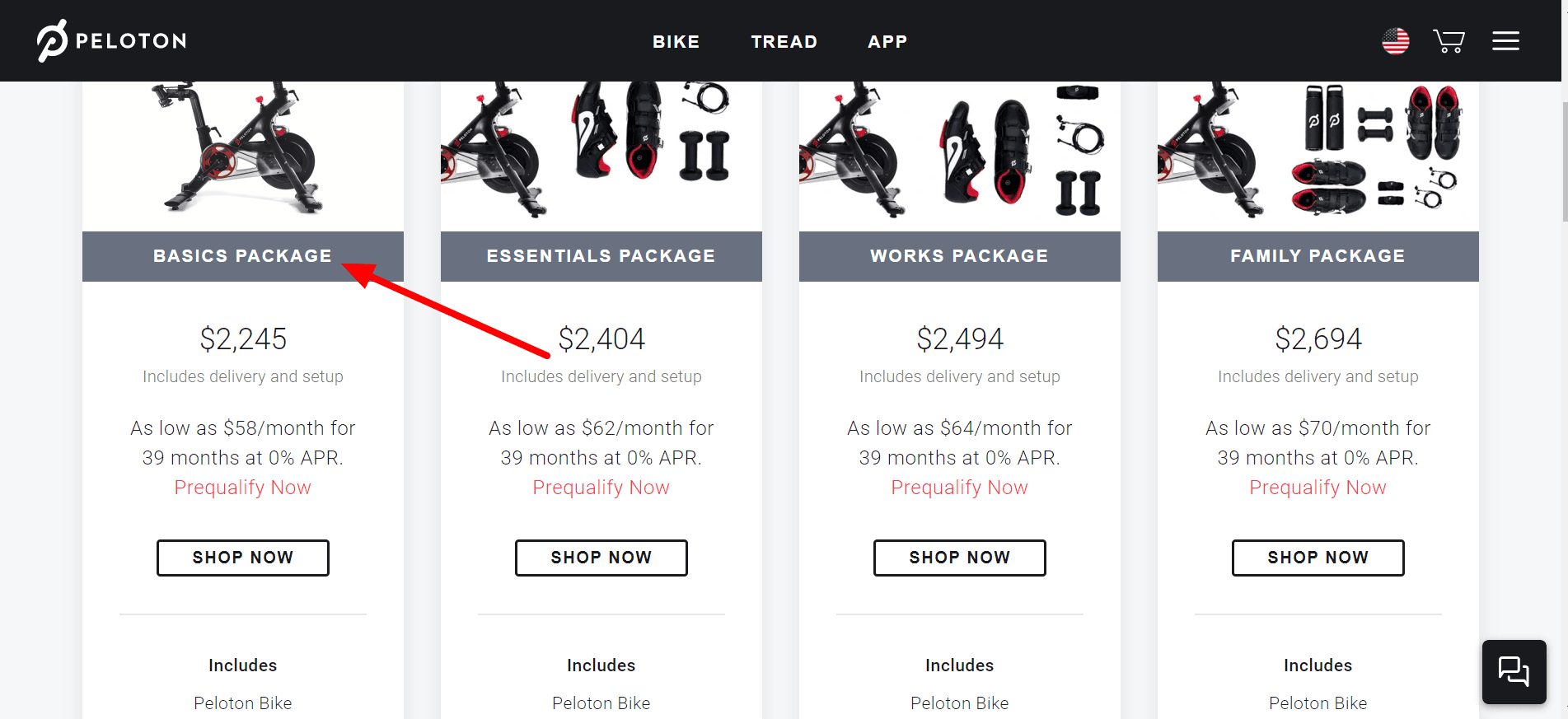 Now, once I go to add it to my cart, I'll get an option to do so regularly, or apply for financing through Affirm:
Once I click that link, a new window pops open with my options to finance through Affirm.
Now that I've seen my options, I'll click "See if you qualify," which gives me a new screen to enter my phone number.
Once I enter that, I get a pop up that says to enter the code they just texted me.
From here, you'll enter your information and proceed to a quick application. Once approved, you can go through the checkout process and set up autopay with Affirm.
Overall, the process is super fast and simple, and setting up payments through Affirm is really easy.
Is Affirm right for you?
Affirm loans will attract a particular type of consumer within a broader demographic. They are useful for people without a good credit score or those consumers trying to get out of credit card debt.
Affirm loans aren't ideal for impulse shopping because you can rack up debt and monthly payments pretty quickly. But if you are making a purchase after careful consideration and have a plan on how to repay the loan, then Affirm would be the right option for you.
Pros
Quick access to cash — Affirm is excellent if you need to make an urgent purchase but do not have a credit card.
Good interest rates — The interest rate offered on the purchase is much lower than what you would get elsewhere.
Take time making your payments — Affirm lets you make consistent payment plan spread over a long time.
Cons
You won't get approved if you don't have good credit — You'll need to have a good credit score to qualify for an Affirm loan.
You may have to pay a down payment — For some borrowers, Affirm asks for a down payment that must be paid during purchase. This can be anywhere from 10% – 50% of the cost of the item.
Alternatives to Affirm
Affirm is not the only loan purchase company in the market. Several other lenders offer fixed rates and terms for purchasing retail products online. 
Affirm is a relatively new company, but it has made significant gains in market share for users in the U.S. and Japan. Its selling point is the variable interest offered for shopping at different retail outlets. Since there is no processing fee and you can repay the full loan at any time, create an account, and compare loan terms while browsing online.
If you can get an offer for a low-interest charge, it may be the most suitable purchase financing option available.
| | Loans offered |
| --- | --- |
| Affirm | Purchase financing |
| Prosper | Personal, HELOC, Debt Consolidation, Home Improvement, Healthcare Financing |
| Earnest | Personal, Student, Debt Consolidation, Home Improvement |
| Credible | Personal, Student, Mortgage, Auto, Debt Consolidation, Home Improvement |
Prosper
Prosper is a peer-to-peer lending platform. Borrowers can find competitive rates for personal loans with two to five-year terms. Behind the scenes, loans are funded by investors, not Prosper itself. Prosper offers loan rates instantly without affecting your credit score.
Pros:
Instant rate check with no impact to credit

Peer-to-peer funding eliminates banks

Borrow up to $50,000

No prepayment penalty
Cons:
Origination fee

Some borrowers get a high APR
Learn More
Prosper offers loans for the medium-term (two to five years) with low interest rates similar to Earnest.
You can get loans for up to $50,000 – so this might be a good place to start if you're looking for debt consolidation options without a new credit card.
However, like most lenders, Prosper requires a credit score of 640 to qualify for their personal loans.
---
Earnest
Earnest may be an alternative to Affirm's 10-30% interest. They focus on low-interest loans for anyone looking to take out a personal loan, refinance their student debt, or take out a new, private student loan.
However, it's important to note that Earnest can offer these low APRs, only because they accept those with a credit score of 650 or higher. Only accepting these applicants allows Earnest to keep their risk levels down.
---
Credible
Credible is one of the most popular loan portals online today. It is a free tool that specializes in finding borrowers personal loans for the most competitive rates. Loan amounts range from $600-$100,000 and offer interest rates starting at 5.2% fixed APR (with autopay), See Terms*. Borrowers can expect to get repayment terms ranging from two to seven years.
Pros:
Best Rate Guarantee

Single application form

Personal information is not shared

Free to use
Cons:
Limited lending opportunities

Lender fees may apply
Learn More
Credible Credit Disclosure - Requesting prequalified rates on Credible is free and doesn't affect your credit score. However, applying for or closing a loan will involve a hard credit pull that impacts your credit score and closing a loan will result in costs to you.
Credible is a good first step when looking to find loans of any kind, but know that they don't offer direct loans of their own. Rather, they help you find all of your loan options in one place. That way you can choose the one that meets your needs.
They have a simple, one-page form that can help you find all of your rate options. And, once you decide to go with a certain lender, Credible will be there to help you go through the application process.
Credible Operations, Inc. NMLS# 1681276, "Credible." Not available in all states. www.nmlsconsumeraccess.org
Summary
Access to easy credit and online shopping stores have made things much easier for consumers. Today, you can shop and buy essential items even if you cannot afford them through lines of credit offered by the retailer and financing partners.
Affirm is a type of purchase loan that allows users to buy items instantly and pay for them later. It has varying rates of interest ranging from 0%-30%. There are no service charges or prepayment charges, and you can repay the loan in flexible three, six, 12, 24 or 36-month installments.
The company makes a soft credit check which does not affect your credit score, even if your loan is not approved. This makes Affirm credit a good choice for users with a low score or those who are new to credit.
Read more