Online shopping is amazing in so many ways: a nearly infinite selection of items that magically appear at your doorstep. But the drawback is that you're never quite sure if you're getting the right price. Even worse is when you finally make the purchase … just to find out that your item went on sale the next day!
Earny is an app and browser extension that can remove that frustration for you by securing you refunds on items where the price has dropped. Read on to learn more about how it works.
What is Earny?
Earny is a shopping app that helps you make sure you're not leaving money on the table. It helps you get up to 20% cash back when you're online shopping and claim refunds if prices drop after you buy. It is also available as a browser extension.
With Earny, you don't have to worry about constantly searching for the best deals. You can shop whenever you want, because if you miss a sale, Earny's got your back so you still get that price anyway.
How does Earny work?
Earny is very simple to use. You can download the app for iPhone or Android, or you can install a browser extension for your desktop.
I chose to download the browser extension for Chrome. 
Next, you'll need to sign up for an account. Earny will ask you to connect your email inbox.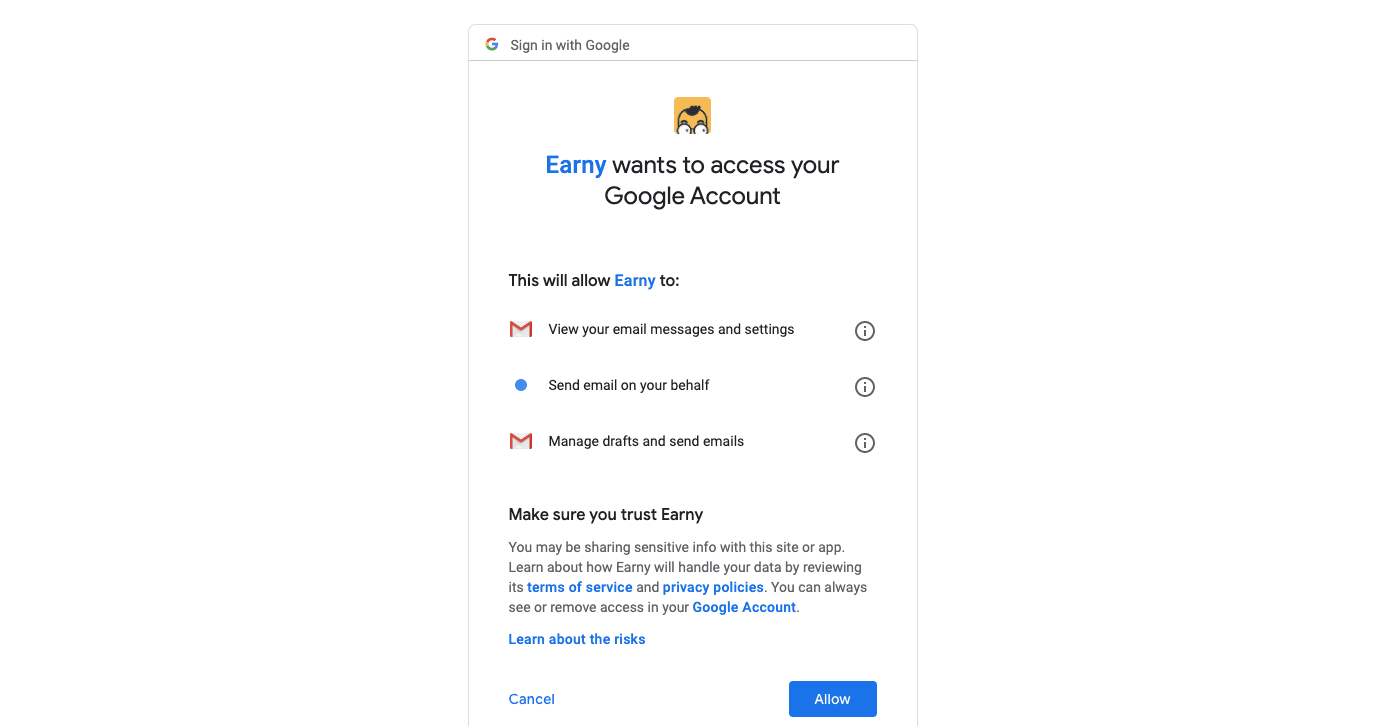 You can see the permissions Earny is asking for when connecting your email. I selected to connect it to my Gmail account. It asked me for permission to:
View your email messages and settings.

Send email on your behalf.

Manage drafts and send emails.
Those are pretty big asks for an app that I just downloaded. You should be wary of any app that wants such unrestricted access to your email account. At that point in the signup process, I decided to not go forward with using that email address, since I also have it connected to other services and didn't want to take the chance of a data breach.
You can check out the Earny terms of use and privacy policy for more detail on how they use your data, but rest assured they don't sell your personal data to third parties.
If you use a throwaway email, you might feel much more comfortable about granting those permissions. In fact, it's probably a good idea to use a completely separate email for online shopping that you don't also use with everything else.
Just make sure that you connect Earny to the email you use when you online shop, because that's how it finds refunds for you.
After you hook Earny to your email, it scans your inbox for digital shopping receipts and matches them to price reductions and discounts automatically. Earny is constantly monitoring the internet for price fluctuations. When Earny finds a lower price, it secures the difference for you on your behalf.
Note that Earny only works with its partner brands. However, there are more than 5,000 of them, so chances are good that your fave retailer is an Earny partner. Also be aware that price protection doesn't cover perishable items, such as groceries.
How much does Earny cost?
You can sign up for Earny for $19.99 a year, which is less than $2 a month. Earny estimates you'll see $200 of value at that price.
Earny features
Earny has a number of attractive features, plus some additional perks, too.
Price protection
Probably the most appealing feature is Earny's price protection. By linking your inbox, you never have to worry about timing a purchase again. Just shop when you're ready, and if your item goes on sale later, Earny collects your cash for you. According to Earny's support page, Earny's 15+ major retailers offer up to 90 days of price protection; just ensure the email you register with Earny is the same you use with the retailer. So even if a product goes on sale two months from now, Earny can secure the difference for you.
Earny's price protection works with: Best Buy, Bloomingdale's, Costco, Gap, Banana Republic, Old Navy, Athleta, J. Crew, Kohl's, Macy's, Nike, Nordstrom, Target, Zappos, and Home Depot.
Cash back
In addition to track price drops, you can also score cash back on your purchases by shopping through the Earny app. When you make a purchase, your cash back will show as Pending in the Earnings tab and will move to Current in 30-90 days. Then, when you've collected at least $15 in cash back, you can cash out your earnings. 
Price tracking and alerts
Add an item to your Earny watchlist and get notified if and when the price drops so you can take advantage of the lower price right away.
Amazon late shipping
Have you ever been burned by Amazon shipping not being as timely as promised? If that happens to you, Earny will help you collect a refund (up to $15) from Amazon right away — even if you're not a Prime member.
My experience using Earny
I love the premise of Earny and not having to wait for sales when I shop online. Sometimes I want to purchase an item on a Thursday, even though I know the sale doesn't start until the following Tuesday. With Earny, I don't have to worry about waiting for a sale. I can shop when it's convenient for me and let Earny claim the difference for me.
However, I will always be a little wary of turning over my email inbox to an app – even if that's how the app helps me save money! 
Who is Earny best for?
Earny has a lot it's offering at this point in time, especially if  you want:
Easy refunds
Stop waiting for sales and just buy what you need when you need it. Earny will make sure you didn't overpay.
Cash back on online shopping
If you're going to shop online anyway, you might as well do it through Earny, where you can earn up to 20% cash back on your purchases.
Popular retailers
You don't have to worry about being limited to weird brands or stores you've never heard of. Earny partners with actual, legit brands you're familiar with (and probably already have an account with).
Who shouldn't use Earny?
Don't go with Earny if you can't afford the yearly subscription fee, or if you're not much of an online shopper. You may not see enough savings to make the fee worthwhile, in that case.
Pros
Automatic refunds for overpayment — You'll get refunded for price drops.
Amazon late fee refunds — If your packages are late, you can get reimbursed.
Cash back — Don't shop without it; it's free money!
Popular retailers — Earny partners with stores that you will actually want to shop at.
Cons
Yearly fee — You're paying $20 a year to save money.
Privacy concerns — Earny requires powerful permissions to see your inbox and send mail.
Earny vs. competitors
Earny, of course, is not the only savings app out there. See how it stacks up to its competitors, some of which come from our list of the best apps to make money fast.
| | Earny | Capital One Shopping | MyPoints | Swagbucks |
| --- | --- | --- | --- | --- |
| Cost | $20 | Free | Free | Free |
| Formats | App, browser extension | App, browser extension | App, browser extension | App, browser extension |
| Main feature | Cash back, refunds | Coupon codes | Earn credits | Earn credits |
| Retailers | 5,000 | Thousands | 1,900 | Thousands |
Capital One Shopping
Capital One Shopping is one of the best free web browser extension and mobile app tools that automatically finds the best prices and applies coupons and promo codes when you shop online to save you money.
You can also earn shopping rewards credits at participating retailers redeemable for cash value gift cards.
Pros:
Always 100% free to use

Gets you the best deal available

Easy to earn free gift cards as you shop
Cons:
Requires sharing your data
Sign Up Free
Disclaimer – Capital One Shopping compensates us when you get the browser extension using the links we provided.
The Capital One Shopping claim to fame is that it will help you scan the internet to find coupon codes that actually work, helping you save money when you check out online. You can use the browser extension if you're shopping on a desktop, or download the app if you want to shop that way and earn rewards.
Capital One Shopping also offers a universal product search, hunting for your product of choice across tons of different retailers in order to find possible savings. You can also use its Watchlist feature to save an item to your list and get alerts when the price drops. However, Capital One Shopping doesn't take the extra step Earny does and help you get a refund if you've already bought it.
---
MyPoints
MyPoints is definitely one of the better rewards programs to sign up for and one of the most popular options for secondary income-seekers Earn earn rewards by taking surveys, watching videos, playing games and much more.
You can redeem your earned points through PayPal, on airline miles, or for gift cards at your favorite stores.
Offer: Earn $5 When You Take 5 Surveys!
Pros:
Easy-to-use free mobile app

Low-barrier for redemption

Variety of methods to earn points
Cons:
May not be able to take all the surveys

Some offers can be redundant
Sign Up Now
MyPoints is a savings app that helps you earn gift cards and retailer credit by performing activities such as surveys and games.
Although it's not the primary focus on the MyPoints site, you can use their portal to shop online and earn cash back in the form of credits, which you can cash out later. MyPoints partners with 1,900 brands to offer cash back opportunities for your online shopping. 
Read more in our full MyPoints review.
---
Swagbucks
Swagbucks is perhaps the web's no. 1 venue for taking surveys, watching videos, and playing games for cash online. The platform is well-built, well-reviewed, and available for Android, iOS, and through your internet browser.
Offer: Get a $10 Bonus*!
Pros:
Earn cashback with your daily routine

Multiple ways to earn

Free to join
Cons:
May not qualify for all activities

Can be time consuming
Sign Up Now
Much like MyPoints, Swagbucks is a site that rewards you for activities like taking surveys and watching videos, but they also offer a way to shop through them to earn cash back.
You can earn cash back through online retailers at Swagbucks, but you can also earn cash back if you're shopping in person at any of their in-store partner retailers, like PetSmart or H&M. That makes it handy if you'd rather just run out to the store instead of waiting for your purchase to be delivered.
Summary
Earny saves you the trouble of trying to time your online shopping to sales and deals. Just shop when you want and trust Earny to notify you if the price drops later. The price protection guarantee doesn't work on everything (groceries and similar perishables aren't covered) so you still have to make sure your purchase falls under their guidelines, but for those that do, it's peace of mind. 
Earny does require a yearly fee, but if you use the app as expected, you should see at least that much in value.