A bad credit score can make it more challenging to manage your finances effectively.
Although you may think that a bad credit score only compromises your ability to secure attractive financing terms, it can also impact your checking account options. With a bad credit score, you may have trouble getting approved for many accounts. 
With that, it is important to understand the best checking account options for bad credit.

Overview of the best checking accounts
Minimum opening deposit

: $0.

Monthly fees

: $0.
When you think of Discover, you may think of their prominent credit card options. But Discover also offers the Discover Cashback Debit account that might be exactly what you are looking for. You can enjoy the perks of cashback on your spending without a credit card. 
The no fee checking account allows you to earn up to 1% cashback on your debit card purchases. You can take advantage of this cashback offer on up to $3,000 of purchases each month.
Beyond this attractive perk, the account requires no credit check to open the account. This no-fee policy means that you won't be surprised with unwelcome fees cutting into your account balance.
Read our full Discover Cashback Debit Account review here. 
Minimum opening deposit

: $0

Monthly fees

: $0
Chime® offers a unique online money management experience that is very open to anyone with bad credit. When you open an account, there are no fees or minimums to be wary of. Instead, you can move forward without fear of a fee.2 
Chime®
Chime® provides customers with an online banking solution that doesn't have minimum balance requirements or charge monthly maintenance fees. Through their saving and checking account options, you can benefit from unique automatic savings features, early direct deposit, and more.
Pros:
Features that make it easy to save money

Early direct deposit

Fee-free ATMs
Cons:
Lacking some traditional offerings

Limits and requirements on paper checks

No joint accounts or secondary cards
Open Account
* Chime is a financial technology company, not a bank. Banking services provided by The Bancorp Bank, N.A. or Stride Bank, N.A., Members FDIC.
Learn more about Chime or read our full Chime review here. 
---
Juno
Minimum opening deposit: $0.
Monthly fees: $0.
You'd be hard-pressed to find an online checking account that matches what you can earn with Juno.
What I like about Juno, though, is that I can earn cash back on the purchases I make every day. Juno offers 5% cash back on purchases at five retailers that I choose from its list of participating merchants. I can earn cash back on my groceries and household items at Walmart and Target, as well as on my monthly spending with Netflix and Starbucks, among others (participating merchants can change). The cash back is limited to $500 in purchases each year for their Basic account, but I can upgrade to the Metal Membership and have that limit increase to $6,000 per year.
Beyond that, you get all the top features you'd expect in an online checking account. Remote deposits, easy transfers, integrations with all your favorite apps – all with no fees or minimum balance requirements. If you need cash, you'll have fee-free access to withdrawals at 85,000+ Allpoint® and MoneyPass® ATMs. All in all, it's a great online checking option if you want to make a little cash on your money.
Read our full Juno review here.
Minimum opening deposit

: $1.

Monthly fees

: $0.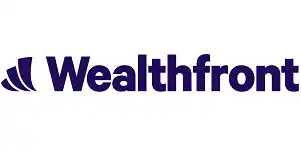 Wealthfront Cash Account
If you currently invest with Wealthfront, you have the option to get a higher interest rate than brick-and-mortar banks offer by keeping your money in Wealthfront's Cash Account.
This is not a traditional checking, savings, or even high-yield savings account, though. Instead, it is a cash account held at a brokerage firm.
Pros:
4.80% APY

Get direct deposits up to two days early

Invest quickly in your Wealthfront investment account

Relatively low fees
Cons:
No ATM fee reimbursement option
Get Started
MoneyUnder30 receives cash compensation from Wealthfront Advisers LLC ("Wealthfront Advisers") for each new client that applies for a Wealthfront Automated Investing Account through our links. This creates an incentive that results in a material conflict of interest. MoneyUnder30 is not a Wealthfront Advisers client, and this is a paid endorsement. More information is available via our links to Wealthfront Advisers.
The Wealthfront Cash Account is a great option if you plan to use Wealthfront's investing features as well. Even if you are just starting your investment journey, it can be nice to have everything in one convenient platform. As a customer with bad credit, you shouldn't have a problem opening this account if you are already working with Wealthfront. 
The Wealthfront Cash Account offers many standard checking account features. You can receive direct deposits, get a debit card, pay bills online, and deposit checks through the mobile app. But you won't be able to write physical checks right now. 
My favorite feature of this cash account is that it comes with an APY on your deposits. Currently, the APY is 4.80%. There may be better options out there but it's still a relatively attractive rate for a checking account. 
Plus, with the Cash Account, you get access to Wealthfront's Self-Driving Money™ feature. This feature allows Wealthfront to monitor your cash flow and ensure that bills are paid and that any savings leftover are put into the right investment accounts based on your personal savings goals.
Learn more about the Wealthfront Cash Account or read our full Wealthfront Cash review here. 
---
LendingClub Rewards Checking
Minimum opening deposit

: $25.

Monthly fees

: $0.
LendingClub offers the Rewards Checking account to consumers that have struggled to find a checking account that will work with them. The account is completely designed to meet your needs. In fact, this account's entire goal is to allow for a fresh start when it comes to your personal finances. 
The LendingClub Rewards Checking account comes with some limitations. You will have a $500 daily limit on your debit card (as a new client), for example.
But you will have access to a comprehensive financial dashboard that will help you take a better look at your budget, debts, and net worth. With everything in one spot, you can start to get a better handle on your finances. 
Learn more about the LendingClub Rewards Checking account. 
---
Peoples Bank Second Chance Checking Account
Minimum opening deposit

: $30.

Monthly fees

: $4.95.
Peoples Bank offers a second chance checking account that offers an opportunity for consumers with bad credit a fresh start. When you apply for this account, you'll need to have a $30 deposit ready. But you won't have to worry about a bad credit score standing in your way. 
After you open the account, you'll need to prepare for a $4.95 monthly maintenance fee. Besides the maintenance fee, you will not have to worry about any transaction or mobile banking fees. Plus, you'll have the opportunity to access a MasterCard Debit Card to conduct your business. 
If you live in Texas, you might have access to in-person service. But the services offered by Peoples Bank are available across the country. With a promise to serve those who have been denied a checking account due to past financial issues, this is a good opportunity. 
Learn more about Peoples Bank Second Chance Checking Account. 
Summary of the best checking accounts
How I came up with this list
Now that you've taken a look at the best checking accounts for bad credit, I'll share how I created this list. As you know, there are many checking accounts out there, here's why I chose these. 
No bad credit limitations
First of all, I sifted through accounts to find options for people with bad credit. Although there are countless checking account options available, the pool shrinks when you have a bad credit score. 
Low fees
Do you like having extra fees associated with your checking account? Neither do I. 
Many of the accounts designed for customers with bad credit have some fees associated with them. But I took care to avoid any accounts with totally outrageous fees. Just because you have bad credit doesn't mean that you should pay an arm and a leg to conduct your banking business. 
Accessibility
I sought to include a selection of banks with online and in-person options. You might prefer physical branches to an online platform, or visa versa. With that, I wanted to include options that would work best for you. So you'll find some options for both. 
What is a checking account for bad credit?
A checking account for bad credit is designed to look past your credit history. When you apply for a checking account, a bank will typically run a credit check and a Chexsystems report. The goal is to determine whether or not you're a responsible banking customer. With that, customers with bad credit scores often get turned down.
When a checking account is designed for bad credit, the bank is willing to work with you. Although you may have limited features, it gives you the opportunity to build a strong record of responsible banking.
Why should (or shouldn't) you use a checking account for bad credit
If you have bad credit or a negative banking record, then you should consider using a checking account for bad credit. Although you may have a rough financial past, use this new checking account as an opportunity to start fresh.
If you have a good credit score and a positive banking past, then you won't need to use a checking account for bad credit. Instead, you can take advantage of checking accounts with more attractive features.
Most important features of a checking account
When you are considering your options, take these features into account.
Eligibility requirements
If you are looking for a checking account that is willing to work with your bad credit, take a look at their eligibility requirements. Make sure that the account is willing to look past your credit history before applying.
Minimum opening deposit
Some checking accounts will require a hefty opening deposit. Others will not require one at all. Consider your unique situation. If you cannot make an opening deposit, you should shift your search to accommodate that.
Fees
As with all banking features, many checking accounts have fees throughout the experience. You might find a monthly fee or transactional fees. But they can all add up over time. Look for an account that minimizes your fee burden with the features you desire.
Finding the right checking accounts when you have bad credit is important. With the right account, you can transform your financial future with a fresh start. Take some time to explore your options and move forward today.