Engagement ring shopping. If you're lucky, you'll only have to do it once.
Not because the process is boring or difficult (online merchants have made diamond shopping fun-adjacent), but because a diamond ring is supposed to mean forever.
But can you get the same quality of diamond ring online? How trustworthy are online jewelers? And how can you be sure you'll love it from behind a computer screen?
Don't worry — we've got you covered. Here's everything you need to know about buying an engagement ring online.
Pros & Cons of Buying an Engagement Ring Online
Pros:
You're guaranteed a bigger selection when shopping online.
You can evaluate and filter each diamond by quality — so you don't have to rely on a commission-driven salesperson to give you reliable information.
You can customize a ring according to your specifications and immediately see what it will look like.
You'll usually pay much less for your ring, as online retailers don't charge extra for expensive overhead.
Cons:
You can't see the ring in person. Even with 360-degree views, you won't know exactly what it looks like until you get it.
If you don't know anything about engagement ring shopping, the task can seem a bit daunting. Some may prefer to have an expert hold their at a brick-and-mortar location.
Shopping online is not a quick process. More inventory means more to browse — and more to assess by yourself.
Tips for Buying an Engagement Ring Online
Find a Website You Trust
It's understandable to be skeptical about buying engagement rings online. You might think you're getting scammed or that your multi-thousand dollar purchase could get lost in the mail.
These are valid concerns — but any reputable online merchant will guarantee your order. After all, the jeweler's reputation is on the line.
Look for stores that offer a gemologist's certificate, like James Allen and Blue Nile.
Examine the Return Policy
Established online jewelers should offer at least 30 days to return an item after you've bought it — so you can inspect it for yourself, try it on, even take it to a different gemologist for an appraisal.
Don't Rush
OK, you've found a site you trust. Now throw on a pair of pants with an elastic waistband and pour a glass of wine — you're about to tumble down a deeper rabbit hole than you can imagine.
You've got quite literally hundreds of thousands of diamonds and settings to scrutinize — and tons of combinations of the two together.
You may find yourself with dozens of browser tabs open only to experience analysis paralysis, close them all, and do the same thing the next day. Be patient — the perfect ring will be worth the hours you've spent in research.
Make Sure Your Diamond Passes the Eye Test
Diamonds contain varying degrees of "inclusions," or imperfections, that you can see under magnification. However, some inclusions are so egregious that you can see them with the naked eye. If you're cool with that in exchange for a lower price, there's no worries. But you can often find a reasonably priced diamond with virtually invisible inclusions.
And when examining diamonds, don't just zoom in — try to zoom out to get an idea of what the stone will look like in real life. If it looks good to you (even though the description might point out imperfections), go for it!
Ignore Urban Legend Wedding Etiquette
Have you ever heard the "rule" that you should spend two, three or even four months' salary on an engagement ring?
That rule is horse apples. If you've got that level of disposable income, congratulations. Otherwise, as long as the ring makes your future sig-O happy, that's all that matters.
Where to Buy an Engagement Ring Online
James Allen
We recommend James Allen above all other online jewelers for engagement rings. It's got an enormous catalog of 500,000+ diamonds from highly reputable jewelers.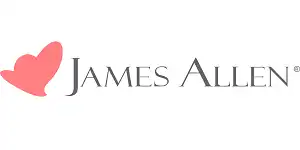 James Allen
James Allen is one of the big online jewelry retailers, famous for its low prices. With thousands of high-quality, conflict-free diamonds to choose from, easy customization options, and lifetime warranty, it's easy to see why James Allen is still considered an engagement ring king.
Offer: Get 50% off engagement ring settings with the James Allen BLACK FRIDAY SALE! *Exclusions apply.
Pros:
Larger selection

Easy customization for price and quality

Lower prices than brick and mortar
Cons:
Time-consuming selection process

Less expert guidance
Shop Now
* Applies only to engagement ring settings. Does not include loose diamonds, gemstones, and designer collections. Promotional discounts applied to an order are only valid for the item purchased and will not be applied to future purchases or exchanges after the sale ends. Cannot be combined with additional offers other than on-site discounted jewels and diamonds.
James Allen also exhaustively vets each stone themselves before they are mailed. You can also set other stones to a ring, such as rubies, emeralds, sapphires, etc.
One of the site's best features is an interactive 360-degree view of every single diamond in stock. You'll be intimately acquainted with your diamond well before it ever arrives at your doorstep.
There are loads of different filters you can use to find the perfect balance of price and aesthetic. Easy-to-use slide widgets let you prioritize certain attributes of the stone, from its clarity to its color and size.
James Allen is also lauded for its customer service. It offers free maintenance and cleaning — including "dipping" the ring to revitalize its brilliance.
» MORE: Read our full James Allen review
Blue Nile
Blue Nile is a close second in our ranking of the best retailer for engagement rings. It's got very similar characteristics to James Allen, and its stones are also top-tier. And yes, you can buy other precious stones, just like James Allen.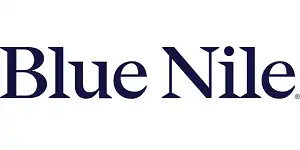 Blue Nile
Blue Nile is hands-down one of the most popular online jewelers — and it has been for quite some time.
With discount prices and a large inventory of loose diamonds, Blue Nile offers simplicity in narrowing down your search for the perfect match to your occasion.
Offer: Save 50% on select jewelry with Blue Nile's Black Friday and Cyber Monday sales!
Pros:
Enormous selection to choose from

Easily customizable options

All diamonds are conflict free
Cons:
Not all diamonds offer a 360-degree view

Can be time-consuming given selection
Shop Now
Blue Nile's customer service is (usually) highly praised, which is a big deal when making such an expensive online purchase. But something Blue Nile has over its competitors is a handful of brick-and-mortar locations around the U.S. There are currently only 22, but more are in the works. If you like the combination of expansive diamond inventory mixed with the perks of an in-person experience, Blue Nile could be the way to go.
An Achilles heel for the site is that it doesn't offer a 360-degree view of every diamond like James Allen. You may find a diamond perfect for your budget only to find a mugshot of the thing instead of a gorgeous interactive image. In other words, you won't be able to see how the light shines through it until you've received it.
» MORE: Read our full Blue Nile review
Rare Carat
Rare Carat offers a larger diamond inventory than both James Allen and Blue Nile combined. It works with lots of diamond retailers to give you the most choices. Plus, its fun quiz makes it easy to narrow down your search quickly.
There are a few reasons you might pass on Rare Carat, however:
The site only sells diamonds and settings —so if you're looking for other precious stones, you're out of luck.
Similar to Blue Nile, you can view many — but not all — stones in glorious 360 degrees. In fact, some diamonds don't even have a picture!
Reports are that the vendors Rare Carat uses aren't as reputable as sites like James Allen and Blue Nile. The company where the diamond originated can be a little ambiguous.
There are thousands of glowing reviews about Rare Carat. If you choose them, it's highly likely that everything will go perfectly. Still, it's worth noting the above.
How to Get a High-Quality Engagement Ring at a Lower Cost
The best tool for getting high quality at a low price is knowledge.
Adjust the 4 Cs
There are four main attributes that impact the cost of a diamond. You can compromise on some and demand perfection from others, depending on what's important to you. I'm talking about the "four Cs": color, clarity, carat, and cut.
For example, you may want a huge diamond and not mind if it's got tiny specks (inclusions) in it. Or you might not mind if the diamond is a bit yellow as long as it's super sparkly.
Let's take a quick look at these "four Cs" so you will better know the consequences of raising or lowering the quality of each.
Cut
The cut is widely considered the most important factor. A well cut stone will have better durability and will sparkle much more brilliantly than a poorly cut one. And it's that brilliant sparkle that everyone is looking for.
Clarity
Every diamond contains microscopic imperfections. The range in clarity affects how visible these imperfections are.
If you're comfortable getting a stone with a little lower clarity, you can save yourself some serious cash. In many cases, the imperfections aren't even visible to the human eye, so lowering the clarity slightly won't actually affect the way it looks to most of us. In fact, anything with a SI2 grade or higher will likely not have any visible imperfections.
Color
Selecting a diamond with a slightly colored tint can mean a huge price cut. And if you're strategic about how you set your stone, like setting it in yellow gold, you may not even notice the difference.
The only time you'll notice a stark difference if you compromise on color is when the stone is placed beside another (much more expensive) colorless diamond. In other words, you'll only be caught out when your fiancé(e) is comparing their ring to their friends' rings.
Carat
A diamond's carat affects its shape and weight. The carat value gives you some wiggle room in lowering the price.
The price jumps dramatically with each carat that you add, but if you opt for 1.94 carats instead of exactly two, the price won't jump as nearly as much. Once you reach that exact carat value, you incur a much larger price hike. The difference is barely noticeable, but avoiding the exact carat mark can save you a lot.
Cheaper Styles
The standard round shape is the most expensive option because of the high demand and its more brilliant shine. But if you opt for an alternative shape, you can save yourself quite a lot.
By choosing a less perfectly rounded shape like an oval, marquise, or pear, you'll lower the base price substantially.
Lab-Created Diamond
Lab-created diamonds generally sell for around 20% less than natural diamonds. Their look, durability, and quality are just as good as mined diamonds, but some people might not like the idea that their diamonds came from a laboratory instead of the Earth. Nevertheless, it's a great budget-friendly option.
Buy Your Loose Diamond Online (and Customize Your Ring Later)
If you've got something extra spectacular in mind for your ring, you may need to physically bring it to a jeweler and explain what you're looking for.
Still, you can buy your center stone online to save a mint — then bring it to the jeweler to figure out the design you're after.
The diamonds you purchase online are the same quality as those you'd find at a jeweler in your local mall. But online diamonds can cost up to 40% less.
That's because diamonds at a physical store are marked up to account for their overhead. Online retailers don't have to pay rent for a building, so they can afford to give you a big discount.
Reputable online diamond jewelers will let you customize your engagement ring by style, setting, and all the four Cs, giving you a ring that's not only one of a kind but also in your budget. Best of all, they understand that buying a ring is difficult online, so they make returns and exchanges easy.