Knowing how to save and invest on minimum wage comes down to taking advantage of technology and automation. Here's how to start saving more money than ever.
According to a 2017 report by U.S. Bureau of Labor Statistics, as many as 1.8 million workers were earning the federal minimum wage of $7.25 or even less. Though it's not always the case, earning minimum wage or below can make it difficult to save money.
Sure, you'd like to have money for emergencies (or just for fun) but if it seems like you're living paycheck to paycheck and can barely make ends meet, starting to save money might feel out of reach. The reality is that you can start saving money on minimum wage — even if it's just $5 at a time.
Here are some tips to help you start and cultivate a regular savings habit.
Make a budget
A budget is a spending plan that directs your money according to your goals. Once you create a budget, you can plan, ahead of time, how you will spend your money for the week, next two weeks or the entire month.
Many people find that when they create a budget, they are able to pinpoint areas where they are spending too much money. This is money they often end up diverting to their savings goals. For example, you might be able to minimize the amount of money you are spending on fast food or entertainment and put it towards savings instead.
There are a variety of budgeting methods that range from complex apps to simple pen and paper. I'm more apt to use a pen and paper myself!
Reduce your expenses
Once you get your spending categorized, look at some expense categories you can eliminate or reduce to boost your savings. Here are a few ideas to get you started:
Housing– consider getting a roommate or moving in with family.
Cell phone– switch to a less expensive plan.
Transportation– Swap out Uber/Lyft rides for public transportation.
Wifi– Share with a neighbor and split the bill.
Eating out and entertainment– Put a cap on what you are willing to spend each pay period for take-out food.
Increase your income
Just because you earn minimum wage, doesn't mean you can't increase your income. There are plenty of ways that you can earn extra money on top of your minimum wage earnings:
Deliver food with Uber Eats or Postmates
Deliver groceries with Instacart or Amazon Fresh.
Provide childcare with Sittercity or Care.com.
Sell things on Craigslist, Ebay, OfferUp, LetGo, Mercari or the Facebook Marketplace.
Rent out extra space in your home on Airbnb.
Share your car for extra money with Turo or GetAround.
Once you earn your extra money, commit to sending all or a portion of it to your savings accounts. Make sure you are intentional about this or you will just end up spending the extra money you earn!
Automate your savings
Once you make your budget and find extra money that can be funneled into savings, you can make sure you meet your savings goals with a little automation.
If you get direct deposit, your employer should be able to split your paycheck payment into separate accounts. You can complete a new direct deposit form and indicate the amount of money you want to go into your savings account.
Use savings and budgeting apps
Your savings goals should be a big line in your budget. If you don't want to automate your savings with your direct deposit payment, you can also use apps to help you save money without a lot of hassle.
Here are some apps that can help you start saving:
PocketSmith
PocketSmith is your all-around personal finance software that can help show you your entire financial picture. One of the best features of PocketSmith is its budgeting and saving capabilities. You can easily categorize, label, and annotate your spending, so you can keep track of where your money is going.
PocketSmith also lets you keep track of multiple income streams, which is perfect for those who have a day job and a side hustle or two on the side.
Empower
Empower not only helps you manage and track your budget, but you can also connect all of your financial accounts (including investment accounts) to Empower, that way you can see your whole financial picture in one place.
Empower also offers tools that can help you figure out how you're going to save for retirement.
Oh, and the best part? Empower is free to use!
(Personal Capital is now Empower)
Open a high-yield savings account
A high yield savings account means that you'll earn more interest on your savings balance. While many banks are paying just .01%-.05% interest on savings, high-yield accounts can offer you 1% – 2% interest, or even more. This means your savings can grow even faster.
Many of the banks that offer high-yield savings accounts are online. This means that they can save money by not having tons of brick and mortar locations. They pass these savings on to you in the form of higher interest rates paid out on your savings balance. Another plus is that many of these banks offer no-fee accounts so you can save even more money.
Before opening a savings account (online or otherwise,) you should also know that federal law dictates how many withdrawals (and certain types of transfers) you can make each month for this type of account. At the moment, these transactions are limited to six per month. If you decide to go this route, make sure you are using money that you can afford to keep in your savings account.
If you are ready to open a high-yield savings account, here are some options to explore:
Discover
Discover's Online Savings Account provides a secure place to not only keep your money, but also to watch it grow. Their high interest rate of 1.40% APY, is five times the National Savings Average!
If you are just starting your savings journey, Discover is a great place to get your bearings. Upon account opening, there is no required opening deposit and absolutely no monthly fee! This means that all you have to worry about is making deposits into your new high-yield account.
CIT Savings Builder
CIT Savings Builder offers one of the best high-yield accounts in the game and is for more serious savers. This account requires you to maintain a balance of at least $25,000 or make monthly deposits of $100 or more.
CIT Savings Builder is completely free from account opening and maintenance fees. This means that you don't have to worry about spending any of your fast-collecting interest on annual fees.
Use investing apps
If you think earning more money on your high-yield savings account is a great start to saving more money, investing will excite you even more.
Instead of earning just a 1% or 2% yield on your savings, investing in stocks and similar securities can garner yields of 5%, 10% or even more due to the "magic" of compound interest.
Investing apps vary in their investing approaches and how they work, but for the most part, they are all pretty easy to use. Robo-advisors can invest your money for you. If you don't feel comfortable researching stocks and trying to learn about the stock market, these apps could help you start investing anyway.
Typically, you'll be asked about your investing goals and the apps will make the investment decisions for you. As long as you make regular contributions to your account, the investment will be made for you. You've officially got no excuse not to start investing!
If you are interested in using investing as a way to boost your savings, here are some apps to check out:
Acorns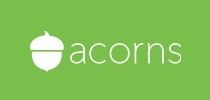 Acorns can help beginner investors get started for as little as five dollars, leaving no excuse to not invest.
By investing the spare change left over from purchases that you make through your linked credit and debit cards, you will barely even notice that you are investing at all. Whether you decide to use this spare change method of investing or decide to tell Acorns how much you would like to invest directly, you can't go wrong!
Stash
Stash is a robo-advisor that helps you invest in what you truly care about. By taking into consideration your goals and values, they are able to assist you in building a portfolio that is a true reflection of you.
With Stash, you don't have to miss out on your favorite investments just because you may be starting with limited funds. Stash allows users to invest in fractional shares, meaning you can begin investing for only five dollars!
Betterment
If you are in search of a robo-advisor, why not invest with Betterment? Betterment automatically invests your money into index funds based on your risk tolerance, leaving nothing for you to do, but watch your investments grow.
Their low annual fees and $10 minimum required investment to get started means that anyone can begin growing their portfolio, even on a budget.
Summary
Earning minimum wage doesn't have to stop you from meeting your savings goals. Though there will be challenges to starting and maintaining a strong savings habit on minimum wage, it's not impossible.
With some creativity, discipline, automation, and commitment, you can accomplish any financial goal — including saving and investing.
Read more:
Empower Personal Wealth, LLC ("EPW") compensates Webpals Systems S. C LTD for new leads. Webpals Systems S. C LTD is not an investment client of Personal Capital Advisors Corporation or Empower Advisory Group, LLC.