Self Review: Building Credit While Saving Money
Self can help you boost your credit score in as little as just a few months with payments as low as $25 a month. At the end of the term, you'll be issued the money you've saved in the form of a loan, with interest taken out. But, most importantly, you'll have an improved credit score that will help you as you apply for loans moving forward.
---
Best for:
Students
Aspiring homebuyers
On-time payers
---
Editor's Note - You can trust the integrity of our balanced, independent financial advice. We may, however, receive compensation from the issuers of some products mentioned in this article. Opinions are the author's alone. This content has not been provided by, reviewed, approved or endorsed by any advertiser, unless otherwise noted below.
If you've ever been denied credit, you know how frustrating it can be. Yes, you can check your credit report and dispute any errors, but the other suggestions aren't quite as easy. Paying every bill on time every month, without fail, will help you gradually see progress. But what if you're in a hurry?
That's where a credit-building loan can come in handy. Self lets you pay a small amount each month for a year toward a loan. Each month, your on-time payments are reported to all three credit bureaus to give you a boost in your score. At the end of the year, you'll get the money, minus a finance charge, in the form of a loan that's paid in full.
What is Self?
Based in Austin, Texas, Self Financial (formerly known as Self Lender), was founded in 2015 with a goal of helping consumers improve their credit. Self levels the playing field by offering affordable loans to customers who don't have a strong credit history.
Self's monthly payments start as low as $25 a month. Simply pay your loan on time each month and, at the end of a 24-month period, the money will be yours, minus a finance charge that includes interest and an administrative fee. Best of all, each on-time payment is reported to all three credit bureaus to give you even more lending options.
With Self, your repayment terms are based on the amount you contribute each month. Pay a higher amount and you'll have only 12 months to repay in exchange for having your loan in hand faster. A lower monthly payment gives you 24 months, but you'll have to wait two years to get your loan funds. But you'll only have to pay $48 a month to qualify for a 12-month loan.
How does Self work?
To set up an account, go to the Self website and click "Start building today".
You'll then be prompted for your email address. Once you've entered it, click "Join Self".
You'll be prompted to provide your first and last name on the next screen.
On subsequent screens, you'll set up a password and provide a mobile phone number. You'll also need to enter your street address.
The next step is for identity verification purposes. Self doesn't pull your credit report to approve you for an account.
You'll enter your Social Security number and birthdate.
Now it's time to choose how much you'll want your monthly payment to be. First, you'll have to pay a one-time $9 administrative fee to activate your account. In the second month, you'll start making payments. You can move the slider to adjust the amount, but $25 is the minimum. If you pay $25 per month, after two years, you'll have $520 and, hopefully, an improved credit score.
At the bottom of that screen, you'll get details on the interest rate you're earning on that monthly contribution. At $25 per month, I'd pay interest at a rate of 14.14% with an APR of 15.92%. The finance charge of $89 includes both the interest and that $9 administrative fee.
Next, you'll be asked to accept the electronic disclosure.
Once you've done that, Self will verify your identity and create your account.
After your account has been approved, you'll have access to a dashboard that shows you updated information on your account. You can see from the main screen where your credit score currently stands, along with the color-coding necessary to show you where you stand in the "Poor to Excellent" grading system. You'll also see on that screen your remaining loan payments.
The visually-appealing interface can serve as a great motivator as you're making those monthly payments.
Pricing for Self
You'll pay a $9 one-time administrative fee to take the loan. This $9 is non-refundable. After that, you'll choose your monthly payment amount, which can be from $25 to $150. Your monthly payment will directly affect how much you'll receive at the end of the term. If you pay $25 per month, you'll get $520 after two years, while $150 monthly payments get you $1,663 in only a year.
As for the interest you'll pay, Self charges a rate in the 14%-16% range, with the exact rate depending on the amount you've chosen to pay each month. This interest will be taken out of the amount you're given when you take your money out at the end of the term.
Self features
There are plenty of credit-building loan options out there. Here are a few features that make Self stand out from the rest.
Lower interest rate
Although Self charges a one-time administrative fee, it's relatively low, at only $9. Your interest rate is lower than some competitors, though, capping out at less than 16% APR. Some competitors charge 30% APR and above for those with a lower credit score. The cost savings can help you quickly recoup that $9.
Reporting to all three credit bureaus
The tough thing about trying to build your credit is that lenders check credit in different ways. Self reports your on-time monthly payments to all three credit bureaus to help you cover all your bases. Mortgage lenders, for instance, will pull a report from all three credit bureaus, then merge the information together to decide which score they'll use.
Early account payoff
Eager to get your loan money? You can pay off your account early to get your funds. However, in doing so, you'll lose one of the biggest benefits of a credit-builder account. Once your loan is paid in full, Self will no longer be reporting your on-time monthly payments to the three credit bureaus. But if you saw enough of a bump in your credit score that you're happy and you're ready to settle up, it's nice to have that option.
Relaxed qualification requirements
If you're seeking a credit-builder loan, chances are your credit isn't where you want it to be. While Self will run a soft credit check on you before approving your loan, they're more lenient than other lenders. They understand that their borrowers are interested in improving their credit, so they won't come in with the strongest scores.
Easy application process
The application is surprisingly easy, as long as you have a bank account or debit card. You'll just need to input some basic information and, after verifying your identity, you'll be set. You can then start making payments and in a year, you'll have a loan to show for your efforts.
Path to a credit card
Once you've made three on-time monthly payments on your Self loan, you'll qualify for the Self Visa® Credit Card. You'll also need to have made progress of at least $100 toward paying off your loan.
Your loan progress (also known as "savings") will be used as security on the loan, so if you've only paid $100 to date, you'll only have $100 as a credit line on your card. But it's a great way to get a credit card that you can use wherever Visa® is accepted.
Resources to help you manage your money
Self truly cares about helping you better your financial life. That's why they offer resources, including a blog, and a guide on how credit works. That way, as you use their service to build credit, you can educate yourself on how to keep up your credit score.
My experience researching Self
The first thing that struck me about Self is that the company seems to really care about their customers. You can tell that in the way that they are 100% transparent about their services. You can see exactly what you'll be expected to pay from the outset.
But mostly, it's the way they refer to their services, stating that they treat their customers the way the Self team would like to be treated. If you've been put through the wringer with lender rejections over the years, having a lender that genuinely wants to work with you can be a huge bonus.
What really appeals to me as I research their services, though, is how easy they make it to keep an eye on your score. That's what I'm there for, after all. I'm not a fan of digging through pages of credit reports, although you can see your credit history through the dashboard, too. I just like having everything simplified into charts and graphs when possible.
All in all, Self is a short-term approach to giving your credit score a little bump in the right direction.
Who is Self best for?
Credit-challenged consumers
Credit-building loans are designed for improving your credit score. If your score is in a good enough range to qualify for a traditional loan, and you need the money now, you may be better off going with other options.
If you're new to credit, you can build a solid credit score in a matter of months by paying your bills on time. But if you've damaged your credit, it can take a little longer through the traditional route, which is where a credit-building loan can come in handy.
Credit card seekers
If you're looking for a credit card, a Self loan can help with that. Although you'll only be able to charge the amount that you have in savings, once you have $100, that's $100 as a credit line you can use. Your activity will also help you build credit that will help you later qualify for an unsecured credit card.
Those on limited budgets
Self lets you make payments as low as $25, and the interest is taken out of your loan amount. So you'll have 12 to 24 months (depending on your term choice) to pay only $25 in exchange for a financial payout, minus interest and a $9 fee. That makes it perfect for those who have limited excess cash to spend.
Online borrowers
Self's services are provided completely online, with no local branches to visit. If you're comfortable using online lenders, this is a great option. You'll be able to set up ACH to make your monthly payments automatic. At the end of the term, the funds will be deposited in your account. No visits to a brick-and-mortar bank required.
Who shouldn't use Self?
Frequent late payers
The very thing that makes Self a valuable credit-building tool can also work against you. Self reports your payments to all three credit bureaus. If you aren't sure you'll be able to pay on time each month, a credit-building account could be a risky choice. But you can set things up so that your loan is automatically paid each month.
Those who need a quick turnaround
Credit-building loans are great for strengthening your credit score. But they also require that you wait for your money. Unlike traditional loans, where you receive your funds and make payments afterward, credit-building loans basically help you save your money, one month at a time, then hand it over to you, minus interest, at the end. In the case of Self, you won't get your funds until at least one full year of payments has passed.
Pros & cons
P
r
o
s
Flexible credit requirements — Self is designed to help consumers improve their credit, so you can qualify even if other lenders have turned you down.
Low monthly payments — You'll only have to pay the monthly amount you've chosen, which can be as low as $25, with interest taken out of the money you've saved.
Early payoff options — If you want access to your funds early, you can choose to cash out and get the amount you've already paid, minus interest and fees.
Helpful resources — Self offers plenty of educational materials to help you learn how credit works.
C
o
n
s
Fee for debit card payments — You can pay by ACH or debit card, but debit card transactions will incur a $0.30 + 2.99% fee per transaction.
Loan held until end — Like other credit-building loans, Self doesn't issue your loan until you've made all the payments.
Negative reporting for late payments — Self reports activity to all three credit bureaus, so late payments will likely hurt your score.
Self vs. their competitors
| | Self | Credible | Bad Credit Loans |
| --- | --- | --- | --- |
| Loan amount | $520-$1663 | Up to $100,000 | Up to $10,000 |
| Repayment terms | 12 to 24 months | 12 to 84 months | 90 days to 72 months |
| Turnaround time | 12 to 24 months | Varies, but usually within a week | Varies |
If your credit gets you turned down for personal loans, there are other options. Here are a couple of lenders that help low-credit borrowers get personal loans.
Credible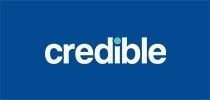 Credible kicks off with a $200 guarantee that you'll find the best rates anywhere through them. Credible doesn't specialize in low-credit borrowers, but like Bad Credit Loans, it's a service that shops multiple lenders. APRs can go as high as 35.99%, but you can improve your chances at a better rate by signing up for a shorter repayment term.
One of the best things about Credible is how easy it is to get quotes. You'll answer a few questions and get instant quotes. The entire process takes only a few minutes. If you like one of the offers and accept, you'll be taken to a more detailed application and a hard credit pull will take place.
Bad Credit Loans
Bad Credit Loans isn't a credit-building loan. Instead, the site presents your loan request to multiple lenders with the goal of offering you multiple quotes. You aren't obligated to accept any of the offers, so it's a great way to shop a variety of lenders at one time to see what's available. Since Bad Credit Loans specializes in borrowers with less-than-stellar credit scores, you're at more of an advantage than you'd be if you shopped a traditional loan aggregator.
The bad thing about going with a loan aggregator is that you'll be faced with the high interest rates that lenders charge those with lower credit scores. But you'll have money in hand from the start, and you can request loans of up to $10,000, although you'll limit your options by requesting higher amounts.
Summary
Self can help you improve your credit in as little as a few months. You'll just need to put at least $25 a month in for a period of 12 to 24 months, and that money will be available to you at the end of the term in the form of a loan. Although you will pay interest on the money, you may find the lower interest rates a better alternative to traditional loans for borrowers with lower credit scores.
Read more: