If you buy groceries online, your grocery buying experience is quicker and more convenient. But is it cost effective?
There's a growing number of online services that make buying groceries easy and convenient. But the real question is whether these services actually save us money.
We've researched several of the most popular online food services and the answer we've come up with is this: it depends. As you'll see below, there are a lot of different factors that determine how much you can save by buying groceries online.
First, a few factors to consider
Lifestyle
It may be weird to think about your time in terms of dollars and cents, but for those who really do value their time, the convenience of online food services may be worth much more than the potential added costs.
Buying habits
If you find yourself buying more than expected at the grocery store, shopping online is a good way to stick to your list and avoid impulse buying.
It's also a good way to be more methodical while price shopping or comparing prices based on weight.
Gas spending
Some delivery services cost extra, but they may actually amount to less than the cost of gas to drive to and from the grocery store (depending on where you live, of course).
Other savings
If online shopping does cost extra, there are some ways you can offset the costs. A credit card that issues rewards could give you the extra funds you need to shift to a more convenient shopping method.
The Chase Freedom Unlimited® card (with no annual fee!) gives you 1.5% cash back or more on all your purchases. You'll also earn 5% cash back on all travel booked through Chase Ultimate Rewards®. You can increase your savings to as much as 7.5% by signing up for a Chase Sapphire Preferred® Card, or Chase Sapphire Reserve® Card and spending your points on the Chase travel portal. In addition, you'll get 3% cash back on dining and drugstore purchases and 1.5% cash back on other purchases. Plus, as an intro offer: an additional 1.5% cash back on everything you buy (on up to $20,000 spent in the first year) - worth up to $300 cash back! That's a HUGE incentive and bonus on the reward front.
Read more: Best Chase credit cards: Review and compare
Best online food services overview
Best online food services
HelloFresh
Best for: Time-strapped grocery shoppers
How it works
HelloFresh is just one of many food delivery services that delivers meal kits right to your door. Rather than buying a bunch of groceries and cooking food throughout the week, they deliver recipes for each meal as well as all the ingredients, pre-cut and pre-measured so that all you have to do is cook it.
HelloFresh
HelloFresh offers over 30 different meals to choose from that can accommodate a variety of different diets and preferences. The recipes are easy to prepare with simple step-by-step instructions that anyone can follow, and the ingredients provided are always fresh.
Offer: Get 16 free meals + free shipping + 3 surprise gifts!
Pros:
Easy meal prep

Meals are diet-friendly

Eco-friendly and convenient packaging
Cons:
More expensive than some competitors

Not allergen-friendly

Delivery window can be inconvenient
Select Plan
Cost
Starts at $6.99 per serving, plus $5.99 for delivery.
Pros
Prevent food waste-A lot of us end up buying more groceries than we need. You may actually save money if you find yourself regularly throwing out food that's gone bad.
Save time-For many of us, time really does equal money. So paying a bit more to avoid the onerous meal prep could actually help us save.
Cons
More expensive-Each meal costs a minimum of $6.99. If we purchase the ingredients ourselves, the cost per meal can be much lower.
Visit HelloFresh today or read our full review.
---
Instacart
Best for: Comparison shopping
How it works
Instacart partners with more than 190 retailers including local stores and national chains, offering same-day grocery delivery of both perishable and non-perishable items.
Cost
$14.99/month for free unlimited same-day delivery or $5.99 fee for orders of $35+ and $9.99 for orders under $35.
Pros
Easy comparison shopping-With a huge inventory from multiple retailers, it's super easy to compare prices and find the best deal.
Easier budget-conscious shopping-Having an overview of your bill as you're shopping makes it easy to remove items that don't fit your budget and be conscious of your total.
Online savings-Instacart often has great promos and sales for extra grocery savings.
Cons
Can't use coupons-Unfortunately, Instacart doesn't allow you to use traditional coupons that you would use at a physical grocery store.
---
Home Chef
Best for: Quick and easy meals
How it works
Home Chef works just like HelloFresh. They delivery meal kits right to your door, with fresh, pre-measured ingredients that you can quickly prepare.
Our favorite meal kit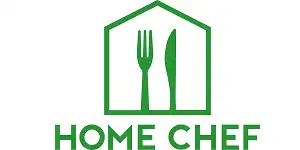 Home Chef
Rated #1 in customer satisfaction and our favorite meal delivery company.
Home Chef offers multiple meal choices each week with ample variety to meet dietary needs. While not the most adventurous or customizable meal box out there, Home Chef delivery fresh, quality ingredients and tasty recipes consistently.
Offer: Get 18 free meals (50% off your first 4 boxes)!
Pros:
Recipes are easiest to follow

Customize meals with your favorite protein

Super fresh ingredients, all measured out
Cons:
No vegan option (vegetarian only)
Choose Your Meals
You can choose between a variety of food options, and decide how many times a week you would like your box delivered.
Cost
Starts at $7.99 per serving. 
Pros
Save time-Home Chef offers meals that range in the amount of time they take to make. You can choose from plenty that take 30 minutes or less.
Fresh ingredients-Home Chef has very fresh ingredients that vary, so you always have something exciting to try.
Cons
Cost-Home Chef is an expensive alternative to grocery shopping.
Become a Home Chef member today or read our full review.
Other ways to save on groceries
If you're looking to lower your monthly grocery spending, there are ways you can do so without moving over to online shopping.
Use rewards credit cards
There are plenty of rewards credit cards out there, some of which specifically cater to grocery store and dining purchases.
Savings apps
Coupons have been around for ages, and now there are a ton of new apps to help you save big on groceries.
Swagbucks is a great example of a savings app. All you have to do is take a few surveys here and there to earn points towards gift cards. You can redeem those gift cards at places like Amazon and Walmart.
Swagbucks
Swagbucks is perhaps the web's no. 1 venue for taking surveys, watching videos, and playing games for cash online. The platform is well-built, well-reviewed, and available for Android, iOS, and through your internet browser.
Offer: Get a $10 Bonus*!
Pros:
Earn cashback with your daily routine

Multiple ways to earn

Free to join
Cons:
May not qualify for all activities

Can be time consuming
Sign Up Now
Avoid food waste
Americans are throwing out billions of dollars of food every year. Avoid buying more than you need by making a shopping list and sticking to it.
This also means avoiding the classic grocery store meander that leads to impulse buying.
Sales
Pay attention to sales. Load up on your favorite on-sale essentials if you know you'll have to buy them eventually.
Just try not to be too caught up in the sale mentality. You may just end up buying something you'll never use because the sale was good.
As the online food delivery competition continues to grow, it's becoming easier to have your cake (delivered) and eat it too.
Having the control to make online purchases at your leisure can definitely have its financial advantages. But online delivery by no means guarantees a cheaper grocery bill than its brick and mortar counterpart. The verdict really depends on how you shop, live, and eat.